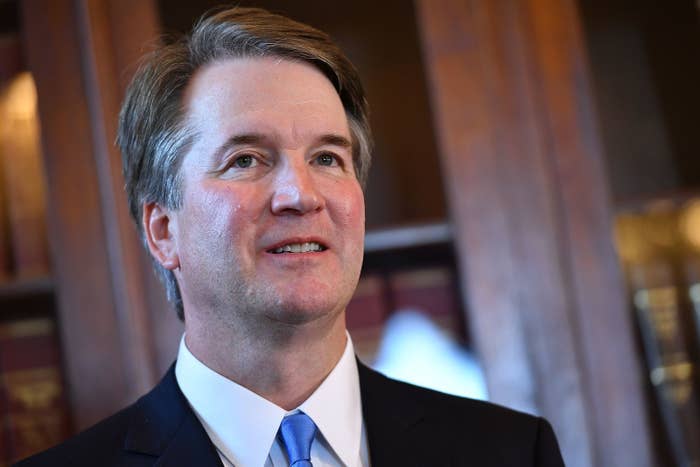 Senate Judiciary Committee members are planning to interview Supreme Court nominee Brett Kavanaugh and the woman who has accused him of sexually assaulting her in high school next Monday. But on Tuesday, a spokesperson for Sen. Chuck Grassley, who chairs the committee, said they have not gotten a response from her lawyer on their invitation to testify.
Grassley scheduled the Monday hearing after a 51-year-old professor, Christine Blasey Ford, went public with allegations that Kavanaugh tried to sexually assault her more than three decades ago when the two were teenagers in high school. Ford accused Kavanaugh of pinning her to a bed at a house party, groping her, and trying to force himself on her.
Ford's lawyer Debra Katz told the Today show on Monday that Ford was willing to testify before the Senate. But Grassley's office said in a statement Tuesday that the committee has not heard from her. Kavanaugh has said he will testify.
"Our staff reached out to Dr. Ford's lawyer with multiple emails yesterday to schedule a ... call and inform her of the upcoming hearing, where she will have the opportunity to share her story with the Committee. Her lawyer has not yet responded," Grassley spokesperson Taylor Foy said in the statement.
Foy said in a later statement that the committee has also "made contact with other alleged witnesses based on the Washington Post's reporting [of Ford's story]" for interviews with staff under oath, though the committee did not identify those potential witnesses.
Katz has not returned repeated requests for comment from BuzzFeed News. Ford declined to comment on the incident to BuzzFeed News earlier this month, before the allegation was made public.

Kavanaugh has denied Ford's allegations. In a statement released by the White House on Monday, Kavanaugh said: "This is a completely false allegation. I have never done anything like what the accuser describes — to her or to anyone. Because this never happened, I had no idea who was making this accusation until she identified herself yesterday."
Democrats on the committee began pressing back on the proposed process on Tuesday, in letters to Grassley and the White House and a news conference by several senators held outside the Senate chamber.
For the second day in a row, Kavanaugh was at the White House on Tuesday preparing for questions from senators, according to a source familiar with the process.

President Donald Trump has said he is supportive of the committee interviewing Kavanaugh and Ford. "It's a process, speaking for all of the Republicans, we want to give everybody a chance to say what they want to say," Trump told reporters at the White House Tuesday. "A delay is certainly acceptable but we want to get to the bottom of everything."
Trump said he has not spoken with Kavanaugh about the allegations. Asked why, Trump said, "I haven't wanted to speak with Judge Kavanaugh because I know somebody will ask what you asked me, which is 'Have you spoken to him?' Specifically, I thought it would be a good thing not to — he can handle himself better than anybody he's a very outstanding man."
The president added that he is still "totally supportive" of Kavanaugh. Later Tuesday, at a press conference, Trump said he felt "terribly" for Kavanaugh and his wife. "I feel so badly for him that he is going through this, to be honest with you. I feel so badly for him. This is not a man that deserves this. This should have been brought up before — it should have been brought up long ago," Trump said.
Ford had raised the allegations against Kavanaugh in a letter sent to California Rep. Anna Eshoo and Sen. Dianne Feinstein in July. Feinstein and Eshoo kept the letter secret, with Feinstein explaining in a later statement that Ford had asked for confidentiality. After news reports came out about the letter, however, Ford decided to go public, telling her story to the Washington Post.
In the wake of that revelation, several Republican senators said they needed to hear from Kavanaugh and Ford about the allegations before moving forward with his confirmation. Republicans can only afford to lose one vote on Kavanaugh's nomination to the Supreme Court.
Republicans on the Judiciary Committee held a staff call with Kavanaugh on Monday evening around 6 p.m. to hear his side of the story. Democrats, arguing that the issue was too serious for a staff-level call, boycotted the conversation. Grassley's office called the phone call "standard practice when the committee receives allegations about a nominee."

"Judge Kavanaugh immediately accepted this opportunity and answered all of our questions. His answers were forthright and candid," Foy said in the statement. "He said he looks forward to testifying in public."
In an interview Tuesday with radio host Hugh Hewitt, Grassley said that, at most, only two witnesses would testify at Monday's hearing — Kavanaugh and Ford, if she accepts. Asked if he would still hold the hearing if Ford didn't respond, Grassley didn't directly respond but questioned what the purpose would be if Ford didn't come.
Sen. Thom Tillis, a Republican on the Judiciary Committee, said he wasn't aware of the scheduling issues with Ford. But asked if the hearing should go on if Ford does not testify, he said, "I think that if Judge Kavanaugh wants to come before the committee we should move forward."
Republicans on the committee huddled in Senate Majority Leader Mitch McConnell's office on Tuesday. After the meeting, Sen. John Kennedy told reporters that not much had changed, but that the committee still plans to hold a hearing on Monday and that it could be public or held behind closed doors, "whatever Ms. Ford wants," he said. "We're here [to] hear anything she has to say."
"I'm hoping that she comes," Kennedy added. "I want to hear her side of the story. I think the American people want to hear her side of the story. I think Judge Kavanaugh— I want to hear what Judge Kavanaugh has to say. And we have done all we can do to make that possible. If somebody doesn't show, or does show, or doesn't like the time, we're going to try to be as accommodating as we can. But the hearing is set for Monday."

The 10 Democrats on the Senate Judiciary Committee released a joint statement Tuesday arguing that more witnesses should be brought in to testify, including Mark Judge, whom Ford identified as being in the room when the alleged assault took place. But Democrats say Grassley has blocked those requests.

In a letter sent to White House counsel Don McGahn. Sens. Dick Blumenthal, Doug Jones, and Patrick Leahy asked a series of questions about when McGahn knew about the allegations by Ford and what he did about them. They also asked several questions about the letter released on Sept. 14 from 65 women who said they knew Kavanaugh in high school and attested to his "character" and "integrity."
In a Tuesday statement, Feinstein, the ranking Democrat on the committee, questioned Grassley's plans to have "only two witnesses invited to testify" at the Monday hearing.
"Compare that to the 22 witnesses at the 1991 Anita Hill hearing and it's impossible to take this process seriously," Feinstein said. "What about other witnesses like Kavanaugh's friend Mark Judge? What about individuals who were previously told about this incident? What about experts who can speak to the effects of this kind of trauma on a victim? This is another attempt by Republicans to rush this nomination and not fully vet Judge Kavanaugh."
Hill wrote an op-ed in the New York Times on Tuesday sharing her perspective on how the committee should conduct the upcoming Kavanaugh hearing. Hill advocated appointing a "neutral investigative body" to probe the allegations and present its findings to the committee. (Grassley has not indicated any plans to do this.) She urged the committee not to rush into a hearing, saying that "would signal that sexual assault accusations are not important" and likely lead to facts being missed — the timing of Monday's hearing was "discouraging," she wrote.

Sen. Susan Collins tweeted Tuesday that she was writing a letter to Grassley and Feinstein recommending that Ford's lawyer get time to question Kavanaugh, and that Kavanaugh's lawyer get time to question Ford. Collins is not on the Judiciary Committee but is one of the key swing votes on Kavanaugh's nomination. "Such an approach would provide more continuity, elicit the most information & allow an in-depth examination of the allegations," Collins wrote.
While Ford's letter has been made accessible to senators and the White House, Kennedy noted that members of the Judiciary Committee still haven't heard much of Ford's side of the story. "I haven't even heard the allegations. I haven't seen the letter," he said. "The New Yorker knows more about this than I do, and I sit on the Judiciary Committee. We're going to have a hearing on Monday, y'all are welcome to come."
Grassley told Hewitt that he hadn't decided yet when to reschedule a committee vote on Kavanaugh, which had originally been slated for Sept. 20. "We're going to take this step by step," he said.
Republicans had hoped to have Kavanaugh confirmed before the Supreme Court's next term starts in October.
"I don't know how [you] can say I'm just not going to appear. She has the option of a closed session, with cameras or without. We want her to appear," Republican Sen. Jeff Flake told reporters. "And as she said, before we made the decision, that she wanted to appear. So that's what we want."

A lawyer for Judge — the person who Ford said was in the room when the alleged assault took place — sent a letter to Grassley and Feinstein on Tuesday, providing a statement from Judge asserting that he has "no memory of the alleged incident" and "never saw Brett act in the manner Dr. Ford describes."
He also said he "do[es] not wish to speak publicly regarding the incidents described in Dr. Ford's letter."
Statement from Mark Judge: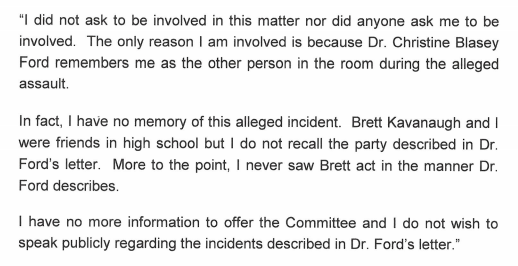 On Sept. 14, however, Judge gave an interview to the Weekly Standard's John McCormack, after the allegations had been reported but before Ford had been named or come forward to tell her story to the Washington Post. In the interview, McCormack wrote that Judge "categorically denied ever witnessing an attempted assault by Kavanaugh."
This is a developing story. Check BuzzFeed News on Twitter for the latest updates.