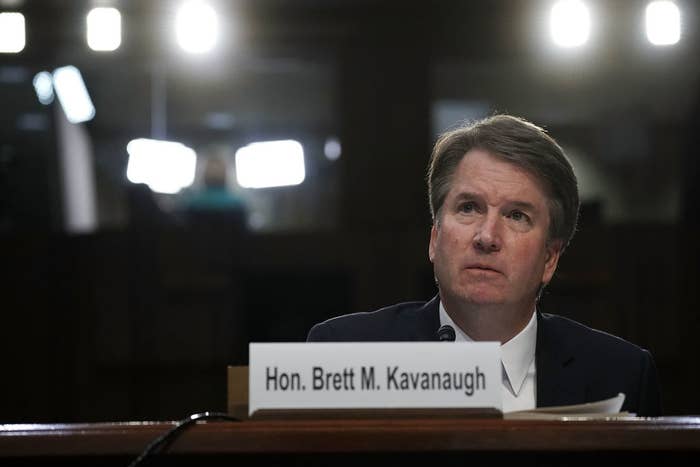 The woman who accused President Trump's Supreme Court nominee, Judge Brett Kavanaugh, of sexually assaulting her at a house party 36 years ago is motivated only by the desire for her story to be heard and is prepared to testify before Congress, her attorney said Monday.

Christine Blasey Ford, a 51-year-old professor from California, revealed her identity in an interview with the Washington Post on Sunday, after media reports confirmed the existence of a confidential letter containing the allegations, which she sent to California Rep. Anna Eshoo, who forwarded it to Sen. Dianne Feinstein in July.
Ford accused Kavanaugh of pinning her to a bed when they were both teenagers in high school, groping her, and trying to force himself on her. Kavanaugh has denied the allegation. Ford initially declined to come forward and asked for confidentiality, according to a statement released by Feinstein's office when news of the letter first broke. But she told the Post that once the information was out, she felt "like my civic responsibility is outweighing my anguish and terror about retaliation."
Speaking on the Today show on Monday morning her attorney, Debra Katz, said her client had already been subjected to "many very vicious, sexually violent emails from total strangers" since coming forward.
"No one in their right mind, regardless of their motive, would want to inject themselves into this process and face the kind of annihilation that she will be subjected to by those who want this nominee to go through," Katz said in an interview with Savannah Guthrie.

"This is not a politically motivated action. In fact, she was quite reluctant to come forward and she was in fact outed after she had made the decision not to come forward."
Asked whether Ford considers Kavanaugh's actions attempted rape, Katz said: "She does. She clearly considers this an attempted rape; she believes that if it were not for the extreme intoxication of Kavanaugh, she would have been raped."
Ford declined to comment on the incident to BuzzFeed News earlier this month, before the allegation was made public.

White House spokesperson Kerri Kupec said in a statement on Monday: "On Friday, Judge Kavanaugh 'categorically and unequivocally' denied this allegation. This has not changed. Judge Kavanaugh and the White House both stand by that statement."

Kavanaugh himself said in a subsequent statement, released via the White House on Monday: "This is a completely false allegation. I have never done anything like what the accuser describes — to her or to anyone. Because this never happened, I had no idea who was making this accusation until she identified herself yesterday.
"I am willing to talk to the Senate Judiciary Committee in any way the Committee deems appropriate to refute this false allegation, from 36 years ago, and defend my integrity."
Kavanaugh was spotted arriving at the White House on Monday morning by a CNN reporter; a source familiar with the process told BuzzFeed News that he was there to prepare for potential questions from senators, and that he routinely did nomination preparation there.
Speaking with reporters Monday afternoon, President Donald Trump said he had not spoken with Kavanaugh. Trump said he wished Democrats had brought the allegations to light sooner, "but with all that being said we want to go through the process." Asked if Kavanaugh had offered to withdraw, Trump replied, "What a ridiculous question."
"If it takes a little delay it'll take a little delay," Trump said. "I'm sure it will work out very well."
Someone who witnessed the alleged assault, Mark Judge, a former classmate of Kavanaugh's at Georgetown Preparatory School, had questioned earlier reports of the allegations, before Ford came foward. Katz claimed that Judge had previously said, in tweets, articles, and books that are no longer public, that he "routinely engaged in tremendous drinking and really inappropriate behavior" and would at times "black out" as a teenager.
Katz added that Ford would be prepared to testify in front of the Judiciary Committee, in the context of Kavanaugh's fitness to serve: "She's willing to do whatever it takes to get her story forth," she said.
"She believes these allegations obviously bear on his character and his fitness and the denials also bear on his character and fitness.
"She's taken a polygraph, she's a credible person, these are serious allegations and they should be addressed. Yesterday the White House would not even have the nominee acknowledge whether he knew her, and he's not being forthcoming."
White House adviser Kellyanne Conway told Fox News on Monday, "This woman should not be insulted and she should not be ignored."
She added that several senators were now of the opinion that both Ford and Kavanaugh should give evidence to the committee: "I've spoken with the president, I've spoken with Sen. [Lindsey] Graham and others, and this woman will be heard."
Conway also pointed out, however, that Kavanaugh was "a man of character and integrity, who's been through six FBI vettings."
Senior Republicans have voiced concerns about the allegations arising now, but Graham said Sunday that the committee should hear from Ford and listen to her concerns quickly, to "compare that against all other information we have received about Judge Kavanaugh."
Sen. Jeff Flake also said this weekend that members should hear from Ford before moving forward with a committee vote slated for Sept. 20. "I would not vote yes until we hear more from the woman who's come forward," Flake told the Wall Street Journal. In a letter Monday to Grassley, all 10 Democrats on the Senate Judiciary Committee asked to delay the vote and called on all senators to insist the FBI investigate the allegations.
On Monday, Republican Sen. Susan Collins — who is not on the Senate Judiciary Committee but is considered a key swing vote on the nomination — tweeted that "Professor Ford and Judge Kavanaugh should both testify under oath before the Judicial Committee."
In comments on Monday afternoon, she noted, "If Judge Kavanaugh has lied about what has happened, that would be disqualifying." She added that he "emphatically" denied the allegations contained in the letter when she spoke with him on Sept. 14.
Grassley so far has resisted calls to schedule more hearings or to delay the vote. In a statement early Monday afternoon, Grassley said he was trying to set up phone calls with Kavanaugh and Ford, and that Feinstein had refused to join him in that effort.
"Anyone who comes forward as Dr. Ford has deserves to be heard, so I will continue working on a way to hear her out in an appropriate, precedented and respectful manner," Grassley said.
Following the initial reports of Ford's letter, Grassley had released a letter of support from 65 women who said they had known the nominee since his high school days, and claimed that "[f]or the entire time we have known Brett Kavanaugh, he has behaved honorably and treated women with respect."

A woman who had known Kavanaugh since high school told BuzzFeed News she helped organize the letter and sent it to friends in the area, following initial reports of the allegations against the nominee.

On Monday, a group of more than 200 women who are alumnae of Ford's Maryland high school signed a letter in support of her, the HuffPost reported.
"We believe Dr. Blasey Ford and are grateful that she came forward to tell her story," a draft of the letter, signed by Horton-Arms alumnae from the classes of 1967 to 2018, said. "It demands a thorough and independent investigation before the Senate can reasonably vote on Brett Kavanaugh's nomination to a lifetime seat on the nation's highest court," the letter said.
Ford's experience "is all too consistent with stories we heard and lived while attending Holton," the letter stated. "Many of us are survivors ourselves."
The head of Holton-Arms School, Susanna Jones, said in a statement Monday that she was proud of Ford for speaking out about the alleged sexual assault that occurred when Ford was a student there.
"In these cases, it is imperative that all voices are heard," Jones said. "As a school that empowers women to use their voices, we are proud of this alumna for using hers."
Zoe Tillman, Paul McLeod, and Tasneem Nashrulla contributed to this report.

This is a developing story. Check back for updates.