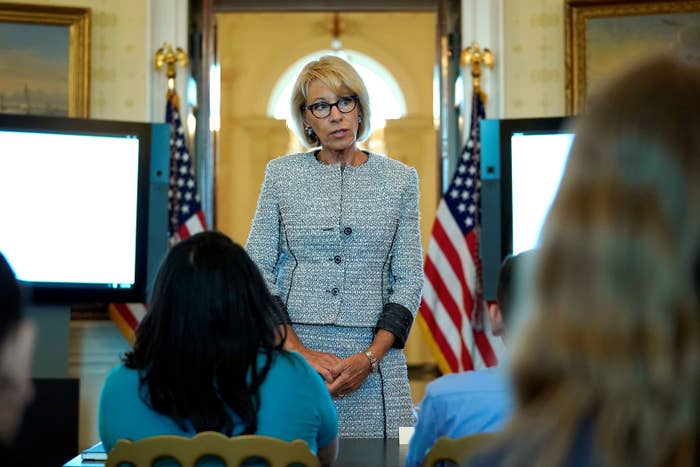 Education Secretary Betsy DeVos on Friday released new proposed regulations on how schools should handle sexual assault that will give more benefit of doubt to the accused and walk back Obama-era directives that critics said were unfair to men.
The proposals, which would affect the way schools must interpret the federal Title IX gender equity law, were months in the making and contained some major surprises, including a new requirement that colleges conduct live hearings for sexual assault cases.
Under the US Department of Education's proposed regulations, schools must let an accused person cross-examine their accuser through a third party, will be able to use a higher standard of evidence to decide an accused student's guilt, and will not have to investigate reports of off-campus sexual assaults involving students.
The regulations detail several new steps K-12 schools will have to take investigating sexual misconduct cases. And the proposed guidelines narrow the definition of sexual harassment that schools are on the hook for addressing.
The regulations would apply to any school receiving federal funding, meaning all public school districts, virtually all colleges and universities, and some private K-12 schools taking government dollars. Certain provisions would only apply to higher education institutions, but not K-12 schools, and vice-versa.
DeVos vowed in September 2017 to reform what she considers a broken system for adjudicating sexual assault on college campuses, citing examples of male students who she said were unjustly punished after being accused of abuse.
"Throughout this process, my focus was, is, and always will be on ensuring that every student can learn in a safe and nurturing environment," DeVos said in a statement. "That starts with having clear policies and fair processes that every student can rely on."
The Trump administration estimates that the regulations will save schools nationwide between $286 million and $368 million over 10 years by having fewer sexual misconduct cases to investigate. Victims' rights lawyers believe the regulations are designed to give schools an excuse to ignore sexual harassment on campuses.
"The goal is to basically reduce the obligation of schools to address sexual harassment," said Elizabeth Tang, an attorney at the National Women's Law Center. "What the department is doing is inviting schools to ignore sexual harassment."
The regulations do not go into effect right away, and could change. The proposal is going through a governmental process known as "notice and comment." It has been printed in the Federal Register, and now any member of the public has 60 days to submit their opinion about the proposed rules in writing to the Education Department. The department's political appointees will then decide whether the proposal needs tweaking. The process will likely take months, and several education lawyers expect legal challenges to the regulations, both from victim advocates who view the policies as unfair, and from colleges that think they are too prescriptive.

"I absolutely guarantee there will be litigation," said Scott Schneider, a lawyer at Husch Blackwell, a firm that represents large universities.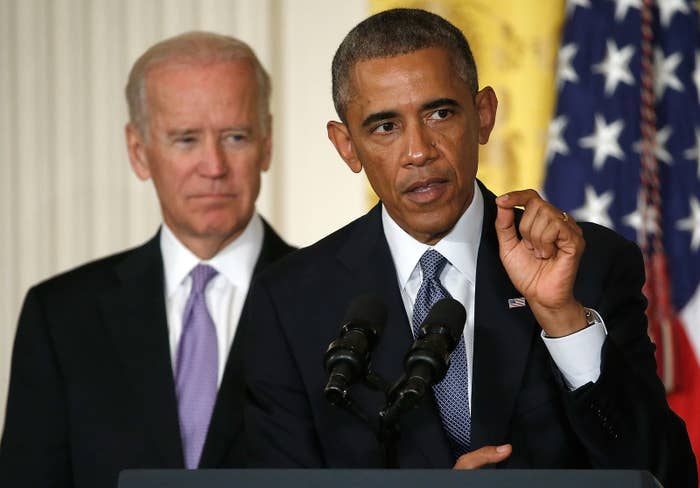 Many of the proposals would change how misconduct investigations are handled. The regulations would do-away with the commonly-used "single-investigator" method — in which a single person interviews both parties, witnesses, collects evidence, and decides whether an accused student is responsible or not. Going forward, another party would review the investigator's findings and draw a conclusion, and colleges would need to have a live hearing to allow cross-examination.

After a decision is reached in an investigation, K-12 schools would be required to provide a report to the accused and accuser detailing how administrators came to their conclusion and what punishments, if any, will be issued. Colleges have already had to do this for years, under another law called the Clery Act; K-12 students have complained that without such a process, they've been left in the dark.
The department would only find a school in violation of Title IX if it's "deliberately indifferent" to an allegation of sexual misconduct — raising the bar on how badly a school has to handle an investigation before it's found in violation of Title IX. Deliberate indifference essentially "means doing something other than nothing," said Erin Buzuvis, a law professor and expert on the history of Title IX. "It doesn't matter whether it's effective or not."
The Obama administration tried to crack down on colleges that mishandled sexual assault cases, ordering major reforms at many universities, and publicizing which schools violated the law. At the same time, campus activists forced examples of universities allegedly mistreating sexual assault victims into the national spotlight.
But lawyers, conservative think tanks, and some columnists have argued that the Obama administration's tactics resulted in unfair outcomes for male students accused of sexual assault. University administrators complained the Obama administration was too aggressive in dealing with universities. The Trump administration agreed.
Leading up to the release of the proposed regulations, the White House Office of Management and Budget met with men's rights groups and attorneys for the accused, as well as victims' rights groups and civil rights organizations like the Human Rights Campaign and the Southern Poverty Law Center.
The Trump administration is "just trying to get it balanced," insists Cynthia Garrett, copresident of Families Advocating for Campus Equality, who lobbied the department on behalf of accused students. Garrett believes that currently it's too easy for schools to find students in violation of a sexual assault policy, but now "maybe it's going to be a little less easy."
But Jessica Davidson, head of the activist group End Rape on Campus, alleged that DeVos had disregarded concerns from victim advocacy groups that lobbied the administration to keep Obama-era guidelines. "Not only did she see us as her opposition, but she also saw us as hysterical liars, and that goes beyond partisan politics in a way I think is really, really harmful," Davidson told BuzzFeed News.
Activist organizations and higher education professional groups have issued guides explaining how people who want to get involved can participate in the notice and comment process.

This is a breaking news post. Please come back for updates and follow BuzzFeed News on Twitter.