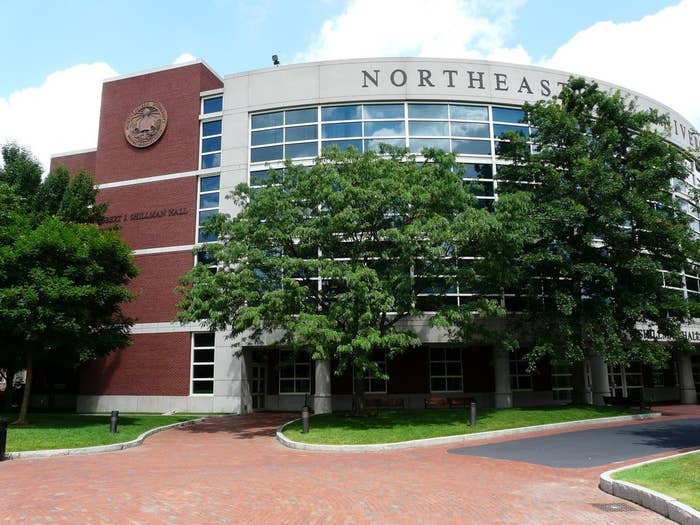 In 2011, Katherine Rizzo says she was raped by a fellow student at Northeastern University, a private college in Boston. After a university police department investigation and hearing, the accused assailant was found "responsible" for sexual assault with penetration, but he appealed the decision based on a "procedural error," according to official documents. Before the next hearing could take place, he swiftly withdrew and transferred to another college.
Rizzo, defeated after the more than 130-day-long hearing process, dropped out of school.
Two years later, as students across the country started to attract attention for filing federal complaints against their colleges for mishandling sexual assault, Rizzo became curious about what had happened to her case. After she pressed her former school for information, Northeastern told her that her assailant had successfully argued for his appeal by claiming that the "level of consent" the hearing board used to find him responsible was "too high."
On Wednesday, Rizzo filed a formal complaint with the U.S. Department of Education's Office for Civil Rights alleging that Northeastern violated sexual assault survivors' rights under gender equity law Title IX, Title II of the Americans with Disabilities Act, and the Clery Act, which mandates that schools accurately report campus violence.
Although Rizzo is no longer within the 180-day statute of limitations for filing a Title IX complaint, she and End Rape on Campus, the activist coalition that helped Rizzo write her complaint, hope her story will draw attention to the limitations of the statute, as well as the way schools define consent and allow guilty parties to transfer without consequence.
Northeastern did not respond to requests for comment.
End Rape on Campus said at least seven students from different schools had approached the group for help since May 1, when the Department of Education released a list of 55 colleges and universities currently facing Title IX investigations over their handling of sexual abuse complaints.
The higher-than-usual number of students contacting the organization also was likely prompted by the White House's new guidelines for combatting campus sexual assault, released on April 29.
Rizzo's story shares the same themes as many other rape survivors' accounts: In her complaint, Rizzo claims administrators discouraged her from reporting her assault and failed to inform her of her rights. They did not help her negotiate the lengthy adjudication process or provide her with mental health resources, even after she told the university she had been diagnosed with post-traumatic stress disorder.
Rizzo's assailant was a friend and fraternity brother she knew from Greek life events. She says she repeatedly told him she did not want to have sex when they went home together after a party, but that he had sex with her anyway and did not stop until he had finished, even though she told him he was hurting her. It took her a few hours to realize she was raped.
"When you think of rape, you think of a guy in a dark alley," she said, "not this guy that I thought was my friend."
Rizzo went to Northeastern's University Health and Counseling Services the next day. An administrator told her they were unable to provide follow-up care beyond one session and that she should contact a local rape crisis center. When she called the center, they told her they were booked for months.
Rizzo reported the assault to the Northeastern University Office of Student Conduct and Conflict Resolution (OSCCR), then went on medical leave at the end of the semester for mononucleosis. She says Northeastern wouldn't allow her to return in the spring because she didn't seem "emotionally ready."
In the meantime, Rizzo heard nothing from OSCCR, and eventually emailed them to ask when her hearing would take place. The date was finally set for April 4, 2012, more than four months past her report. The day before, OSCRR gave her a packet with written testimony from some of her sorority sisters and a student in her assailant's fraternity whom she had previously been involved with.
One former sorority sister, whom Rizzo had known for only two months, wrote that Rizzo's "sexuality towards men" did not change after her attack and that she "continued to pursue men in the same way she did before the incident had occurred." In general, Rizzo did not "act any different in general and appeared to do things the same as she was before." She also said that Rizzo had been in a bad mood the evening of her attack because her assailant's frat brother told her he no longer wanted to see her, which Rizzo contests.
During the hearing, adjudicated by untrained undergraduates, Rizzo says she was treated differently than her assailant, who was allowed to ask her questions directly.
"If I hadn't taken debate in high school and been able to go into that part of my brain and try to see it that way instead of someone attacking my character, I never would have been able to go through with the hearing," Rizzo said. "It was horrendous."
Despite the "inequitable" hearing, Rizzo's assailant was found responsible and allowed to remain on campus to finish his semester before potential sanctions were enforced. Then, he appealed and transferred out of school before the process was completed. Rizzo, frustrated with the process, dropped out of Northeastern for good.
It wasn't until Rizzo asked for more information about her case in 2014 that she learned that the "procedural error" her assailant appealed on was a "too high" level of consent.
In an email, Mary Wegmann, director of the Office of Student Conduct and Conflict Resolution, told Rizzo that "the Appeals Board decided the original Hearing Board raised the burden of proof for the charged student by requiring him to affirmatively demonstrate proof that he received verbal consent."
Quoting from the Appeals board, she wrote, "…the Board used a higher standard for consent than what is required by the CSC…. The Conduct Board placed a higher burden of proof on the issue of consent than is necessary under the CSC definition. Such an error impaired [the charged student's] right to a fair opportunity to be heard during the hearing process and clearly affected the Conduct Board's decision."
Northeastern's Code of Student Conduct (CSC) defines consent as "a voluntary agreement to engage in sexual activity proposed by another" and states that consent requires "mutually understandable and communicated words and/or actions demonstrating agreement to participate in proposed sexual activity."
"[My assailant] thinks that just because I didn't punch him in the face, I consented," Rizzo said, "and the school apparently thinks that's a valid argument too."
In 2010, The Daily Beast ranked Northeastern the 30th most dangerous campus in the country; Rizzo said the administration often emphasized various safety precautions to current and perspective students. But in the end, she says, Boston didn't make her feel unsafe, her college did.
"Being raped was horrible, but in the end, that's not why I left," Rizzo said. "It was the way Northeastern treated me."