This is Please Like Me, BuzzFeed News' newsletter about how influencers are battling for your attention. You can sign up here.
Shapewear WILL be sold during the apocalypse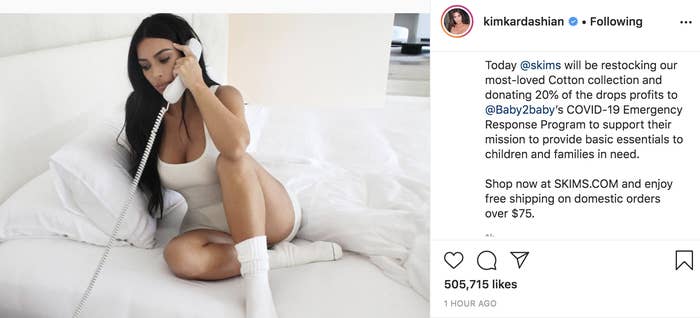 Things are quickly changing, and everyone has had to adjust to a new, sad, and stressful reality.
However, the one constant in life — or at least in my life — is that some influencers are always going to be opportunistic or just cringe in how they respond to world events. It's concerning, but also weirdly comforting?
Take Kim Kardashian West, the queen of seizing online opportunities, and her recent "helping people in need" post that's mostly promo for her shapewear line, Skims.
"As a mother, helping families in need during this time is especially important to me," she wrote, before mentioning the organization Baby2Baby that provides children in need with diapers and other necessities.
"Today @skims will be restocking our most-loved Cotton collection and donating 20% of the drops profits to @Baby2baby's COVID-19 Emergency Response Program."


As some people have already noted angrily in the comments, donating 20% of the profits is laughable. Kim has enough to give from her own pockets, but of course, she will use the crisis to push her products first. Charity is charity, so thank you? But also, Kim is gonna Kim.

When I reached out to her reps to ask if she has donated privately or outside of her brand campaigns, her team responded, saying they "don't comment on personal donations."

As she's showing us, some influencers and celebs continue to be a bit out of touch, cringeworthy, and self-serving.
But as angry as posts like Kim's make me, they've also given me a kind of comfort in these strange times that I'm having trouble accepting. I can't help but feel assured by any kind of normalcy these days, like:
• Influencers proselytizing their ~positive vibes only~ message: Don't worry about a thing! Here's a sexy nakey pic of me.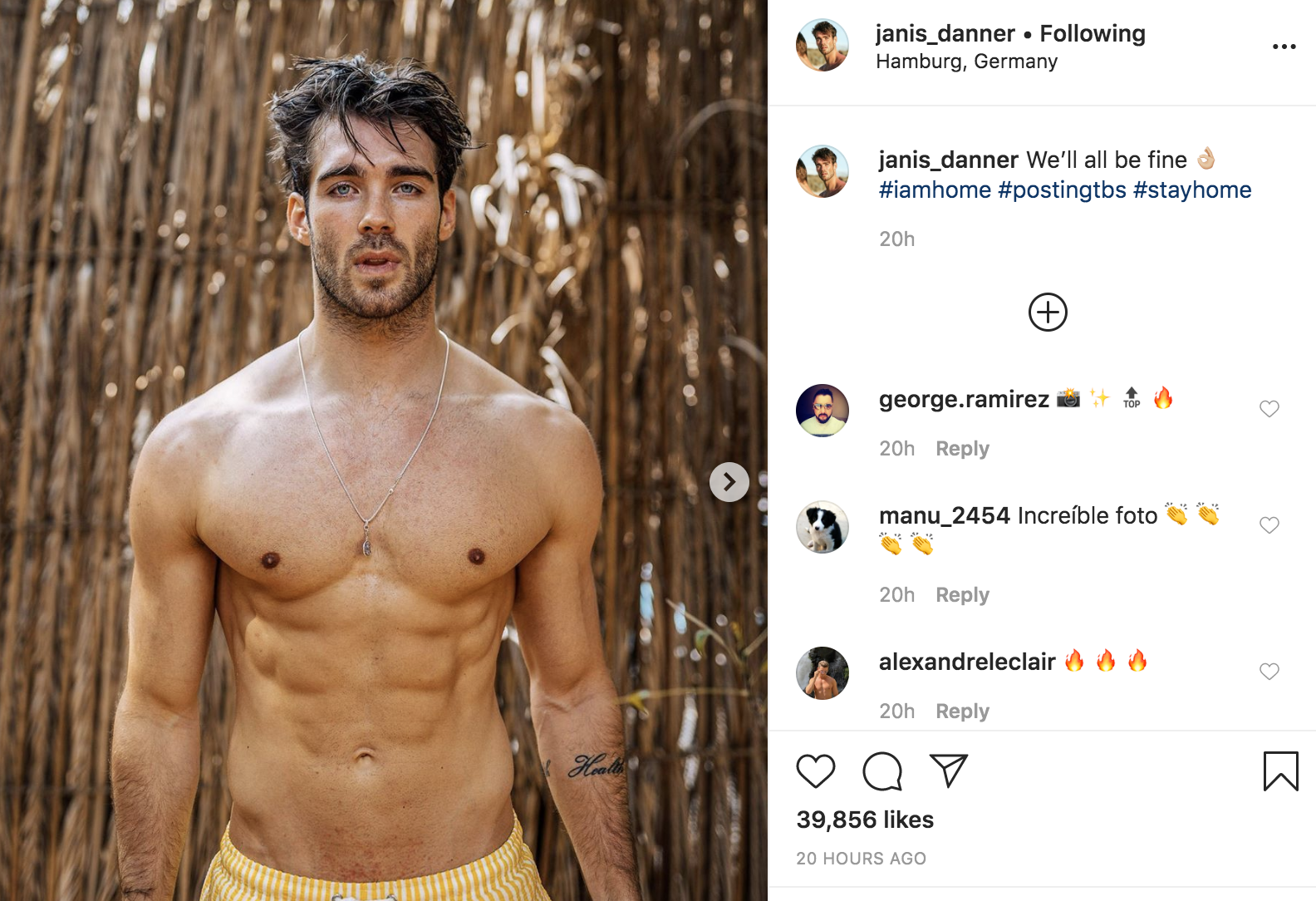 • Influencers showing people every mundane aspect of their lives — except now it's all very mundane.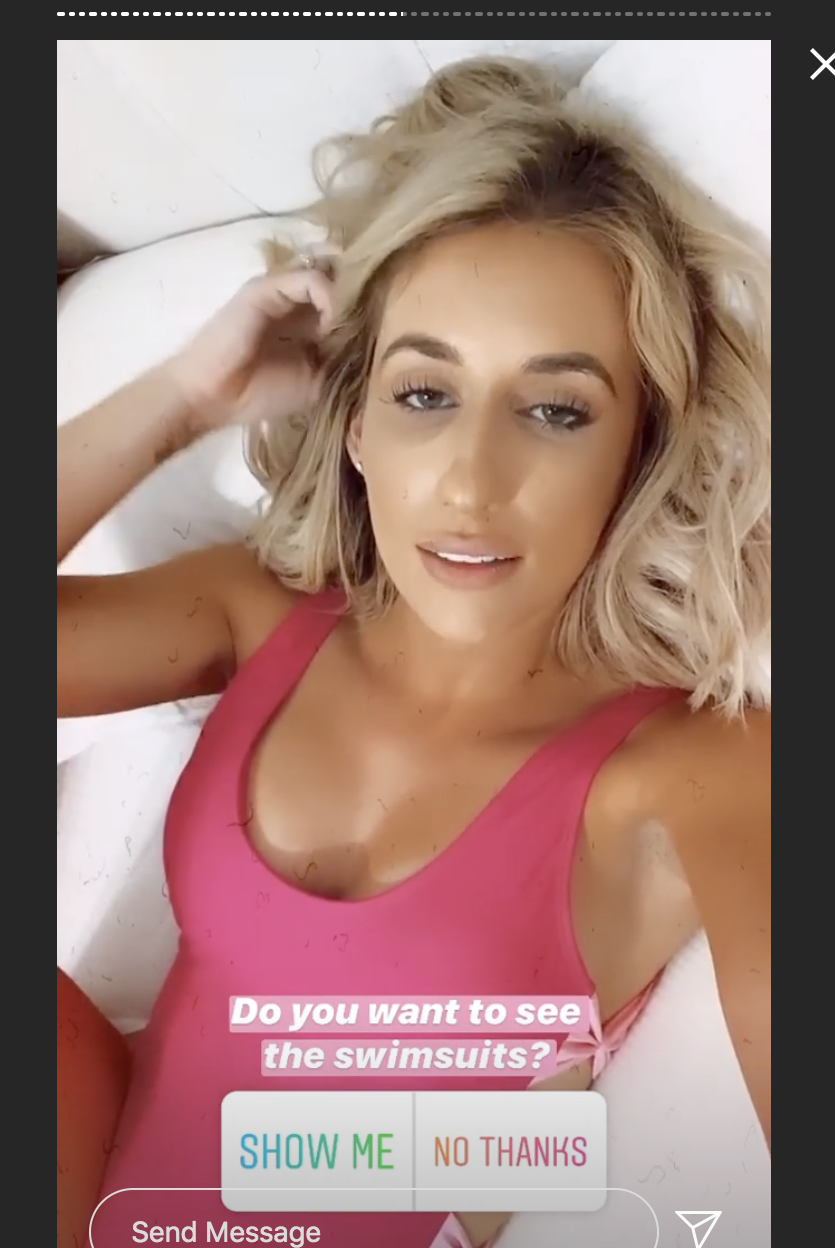 • Influencers running out of places to have photo shoots — and even photos to share. Some are resorting to showing us their entire iPhone camera rolls. LOL.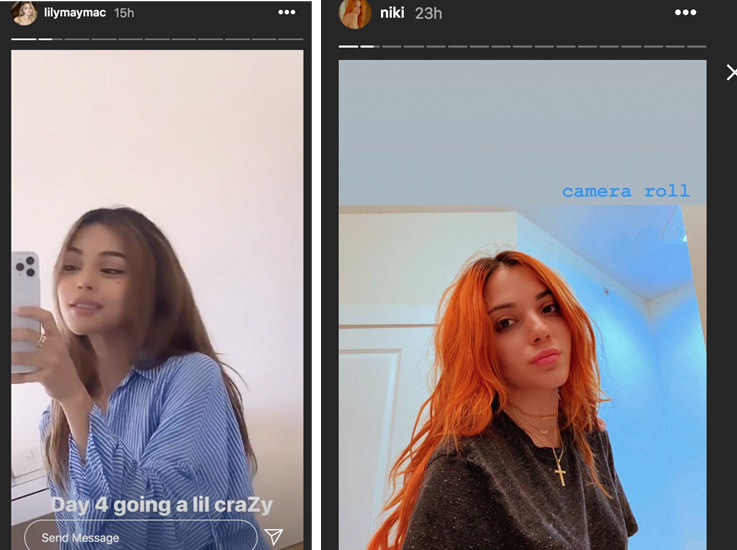 And all of the wonderful chaotic energy in this photo and caption: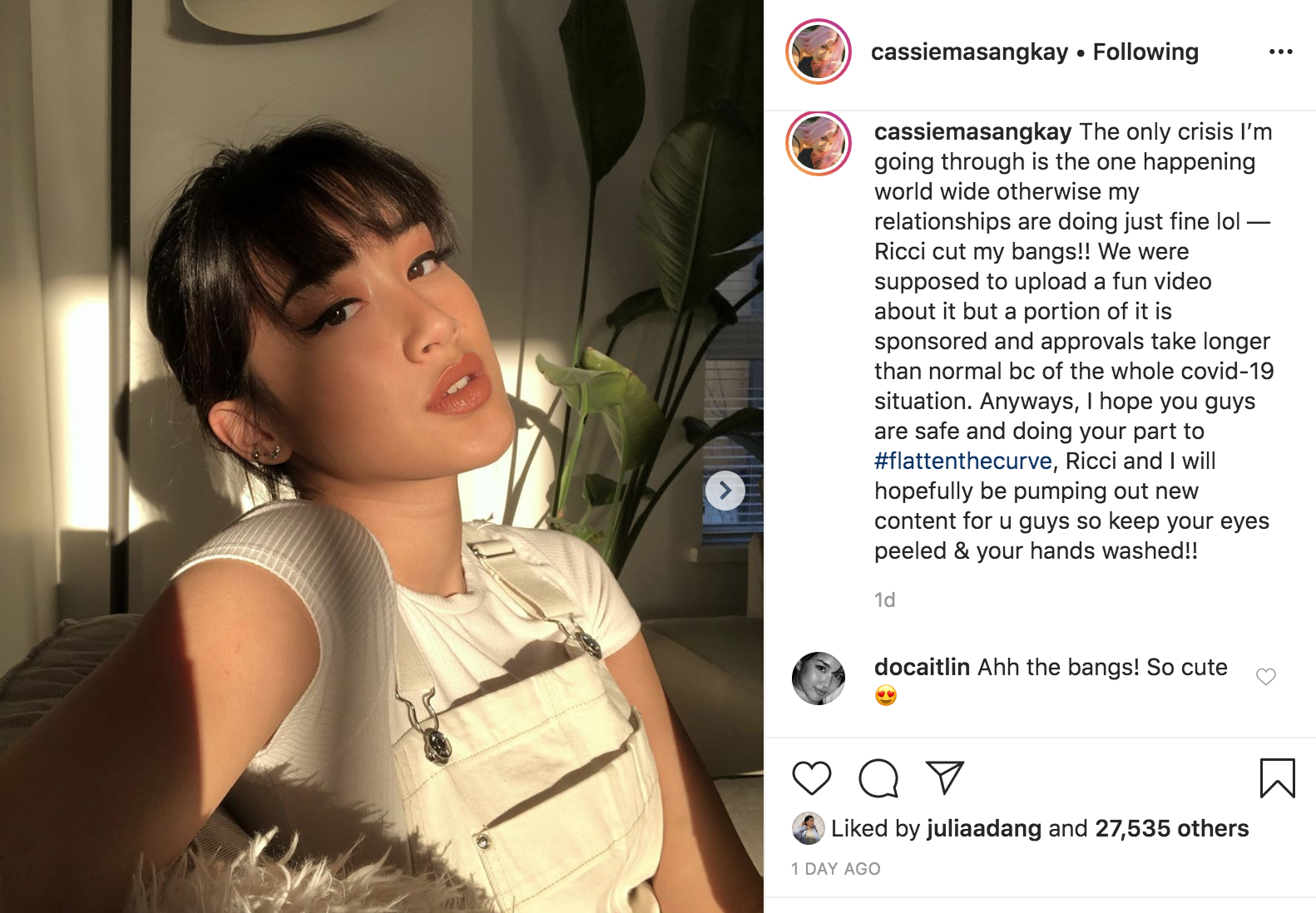 "Ricci [her friend] cut my bangs!! We were supposed to upload a fun video about it but a portion of it is sponsored and approvals take longer than normal bc of the whole covid-19 situation. Anyways, I hope you guys are safe and doing your part to #flattenthecurve, Ricci and I will hopefully be pumping out new content for u guys so keep your eyes peeled & your hands washed!!!"
Couldn't have said it better myself.
—Tanya
True Life: I Got Asked to Be in a Loop Giveaway With Savannah Labrant
Last week, I received an intriguing email. The subject read: "Savannah Labrant (6.2M Followers) + stephemcneal Instagram Giveaway!"
I quickly realized little old me had been asked to participate in an infamous loop giveaway on Instagram! Even if you don't know the term, you probably have seen these giveaways many times. It is when a huge account on Instagram (Kylie Jenner for example) offers their followers a chance to win a prize if they follow a bunch of smaller accounts.
I was curious. What would it take for a normie like me to be included in a loop giveaway with a big account like infamous YouTuber Savannah Labrant? I emailed Social Stance, which told me I could expect a "projected growth" of "15-30k new followers" by participating, but there's no guarantee I'd get any.
OK, but what's the catch? Turns out, I had to pay to play: $5,000 to be exact. However, Social Stance offered me a 30% discount for being a first-time user (wow, thanks!).
Maybe I'm naive, but I truly had no idea people were paying this much money to participate in loop giveaways. It looks like 74 accounts are participating, which means the profits from this giveaway would total an incredible $370,000 if everyone got the same offer as me. It's possible that some of the accounts paid less, and that some people were paid to participate, but still, those numbers are mind-boggling.
These loop giveaways are a good example of a major problem with Instagram and influencer marketing. If you want to have a big account and you have enough money, you can pay thousands of dollars every month entering these "giveaways" and gain a few thousand followers every time. Sure, some may unfollow you, but some may stick around no matter what your content is. Eventually, you can grow your account so large through these artificial means that you can use your "influence" to get more and more brand deals and ads. And eventually, you may even get big enough to host your own loop giveaways, and cash in on all the other people desperate to "make it" just like you.
The worst part about this in my opinion is that there are SO many genuine influencers on Instagram who are producing quality content and have quality followers who followed them for that content. The problem is that it is MUCH harder to grow an audience that way than by doing these giveaways — or just overtly buying followers. It can be much harder for these influencers to get brand deals because their followings look small in comparison to the fakes (although some brands are counteracting this by looking at engagement rates instead). Still, it's a vicious cycle.
And the icing on the cake? Social Stance told me the giveaway would be for $10,000, a stroller, a car seat, and a tricycle. When Savannah announced the giveaway on her feed, she framed the giveaway as an act of goodwill.
"I know it's tough right now with the quarantine, especially with those who are unable to work.. so I'm so excited to team up with Social Stance to be able to gift one deserving family," she wrote.
I'm gonna make a quarantine vow: only following genuine people who are actually interested in posting quality content, not get-rich-quick schemes. Will you join me?
—Stephanie