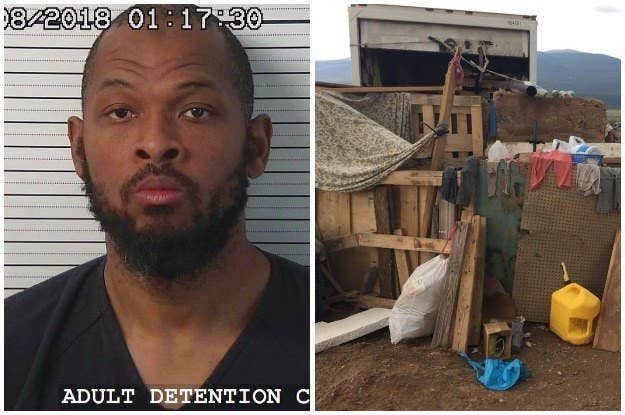 Two men who were arrested at a remote New Mexico compound where 11 children were found living in squalid conditions were allegedly training the kids to carry out school shootings, according to court documents filed by prosecutors Wednesday.
The children were taken into protective custody after authorities found them with little food and water, living among leaking propane and broken glass.

Siraj Ibn Wahhaj, 40, and Lucas Morton, 40, are accused of training the children "to kill as many people as possible" in school shootings, according to documents filed by prosecutors.
Prosecutors said the foster parent of one of the 11 children stated that the child had been trained to use an assault rifle "in preparation for future school shootings."
Ibn Wahhaj was arrested after law enforcement officials raided the compound in Amalia, New Mexico, after a two-month FBI-led investigation related to the disappearance of Abdul-Ghani Wahhaj, who turned 4 on Monday. On Monday, the remains of a young boy were found, although the body has not yet been identified.
Ibn Wahhaj was booked Friday on a Georgia warrant for custodial interference in connection to Abdul-Ghani's disappearance. Morton was charged with harboring a fugitive. Three women found at the compound were also arrested, and all five adults face 11 counts of child abuse.
When Ibn Wahhaj was arrested last Friday, there was a brief standoff that ultimately ended peacefully. He was said to be heavily armed with an AR-15 rifle and other firearms and ammunition.
All five adults pleaded not guilty to the charges Wednesday and were ordered to be held on no bond pending a hearing, according to court documents.
Three of the adults — Ibn Wahhaj and two of his sisters, Hujrah Wahhaj, 38, and Subhanah Wahhaj, 35 — are the adult children of a prominent Brooklyn imam, Siraj Wahhaj, who has repeatedly pleaded on Facebook for information about his missing relatives. The third woman arrested has been identified as Jany Leveille, 35, and is believed to be married to Ibn Wahhaj.
Imam Siraj Wahhaj, 68, is the religious leader at the Masjid At-Taqwa in the Bedford-Stuyvesant neighborhood of Brooklyn. He converted to Islam in 1969 and often tours nationally and internationally speaking about Islam at conventions, forums, and fundraisers for Muslim communities.
"Dear Brothers and Sisters," Imam Siraj Wahhaj began in a January Facebook post, "please make duas [prayers] for the safe return of our children and grandchildren: Siraj, Hujrah, Subhanah Wahhaj, son in law Luqman (Lucas) Morton, and daughter in law Maryam (Jany) Leveille and their children (our 12 grandchildren). We believe they may be traveling together. If you have any information or know their whereabouts, please contact Clayton County Police Department."