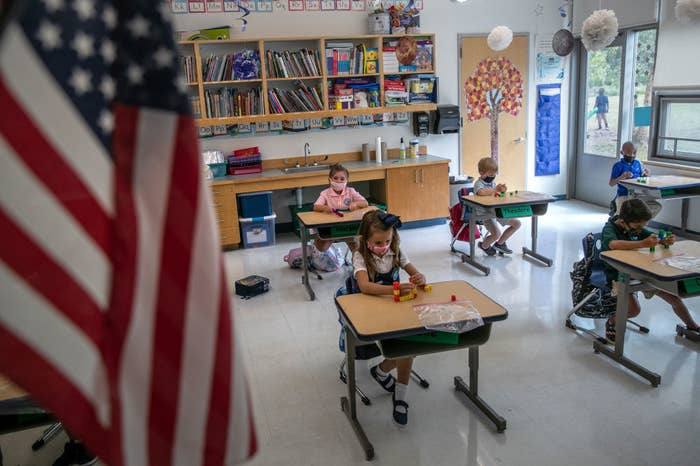 From the moment Scott Atlas joined the White House's coronavirus task force, one of his loudest rallying cries has been to open all schools. A few weeks ago, he crowed on Twitter about new research that backed him up — or so he claimed.
The study in question found no significant coronavirus transmission from young children to adults. "OPEN the schools!" the neuroradiologist tweeted.
But the paper did not say it was safe to open schools during a pandemic. In fact, it had nothing to do with schools. It was about childcare centers for kids aged 6 and under, and it explicitly stated that its findings did not apply to K–12 schools or colleges.
Atlas's claim took the study "completely out of context," Walter Gilliam, the Yale professor who led it, told BuzzFeed News. "It would be nice, if he's going to talk about science, to have actually read it or read a journalist's take on science, not just make up some stuff."
Seven months into the US pandemic, children and their families are paying a steep price for the government's failure to control a virus that is now once again surging across most of the country. After schools shut down en masse, President Donald Trump and Atlas insisted that they should all reopen for in-person classes this fall. In areas where they did, many feared that massive outbreaks would follow.
Those concerns seem to have been mostly overblown: Early data suggests that, at least so far, schools are not COVID-19 superspreading sites. But Atlas's assertions that there is "zero excuse" to keep schools closed, and that kids "almost never" transmit the virus, oversimplify the risks that reopened schools can face. That's according to researchers studying the issue, including some whom Atlas has cited — erroneously, they say — to argue for universal in-person instruction.
A school has a better chance of avoiding outbreaks if it's in a community with low transmission and if it's adhering to safety protocols, the researchers say. There will be exceptions, however: some schools may be able to keep cases low even in areas with high transmission, for instance. And clusters of cases can still pop up even when all those boxes are checked.
That makes the calculus for reopening different everywhere. "I think there's ample room to open schools and to keep them open through a pandemic," said David Rubin, a pediatrician and researcher at Children's Hospital of Philadelphia. "But to do so without recognizing that kids can transmit this virus, and there can be outbreak events originating in schools that can impact teachers or can impact caregivers at home, to me, is just not true."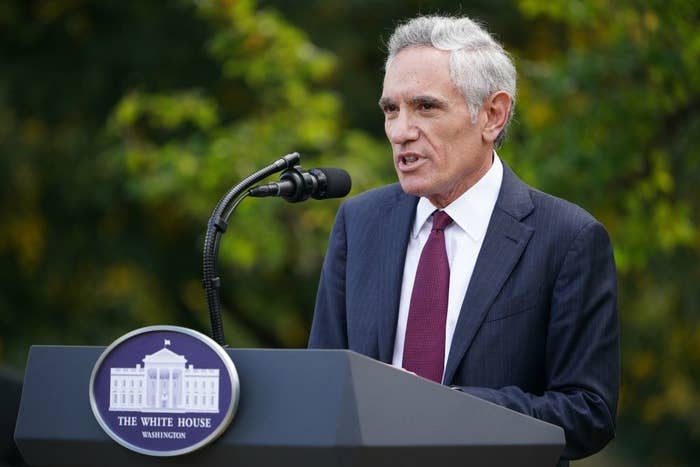 In two months, Atlas, a senior fellow at the conservative Hoover Institution at Stanford University, has become the most visible and controversial presence on the White House's coronavirus task force. Unlike other members, such as Anthony Fauci, he does not have expertise in infectious diseases or epidemiology, which he considers an asset. "I have a background in medical science, but my role really is to translate medical science into public policy," Atlas told the site UnHerd. "That's very different from being an epidemiologist or a virologist with a single, limited view on things." (He did not return multiple requests for comment.)
Atlas reportedly helped push the CDC to narrow its criteria for who should get tested. This month, Twitter removed a message of his — "Masks work? NO" — for violating its policy against sharing "false or misleading content related to COVID-19 that could lead to harm."
And he has embraced the Great Barrington Declaration, a push for the unprecedented public health strategy of reaching herd immunity during a pandemic without a vaccine. "Vulnerable" people should be isolated, the proposal argues, and the rest of society should be reopened, including schools, so the virus can spread unchecked. But scores of health organizations and infectious disease experts say this plan would be practically impossible to carry out and would cause many needless deaths.
Atlas has been demanding to keep classrooms open even before many of them first closed and the world had much data about how the virus affected children. On March 13, Atlas proclaimed that there was "no medical reason to broadly close schools." During a Senate committee hearing in May, he argued to "open all K–12 schools." In July, he declared: "Closing schools denies science."

And schools were the first thing Atlas focused on as a newly minted member of the White House's coronavirus task force. During his first week on the job in August, Atlas spoke at a White House event dedicated to resuming in-person education.
In seeking reelection, Trump is making schools a centerpiece of his administration's insistence on business as usual. "We have to open our schools," he said during the presidential debate on Thursday. "We can't close up our nation or you're not going to have a nation."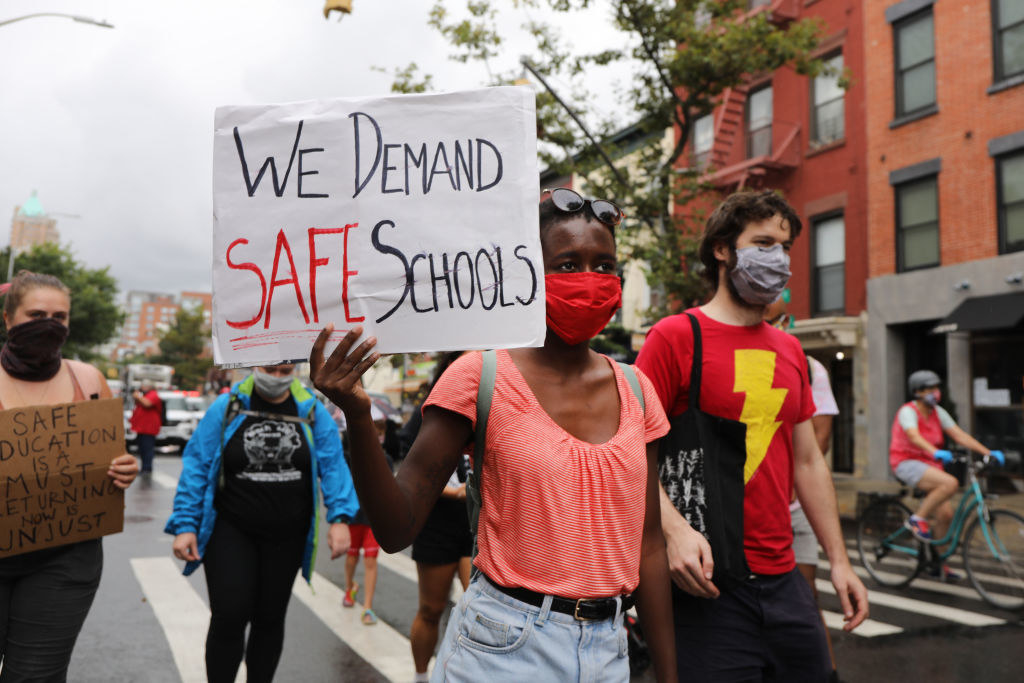 Just about everyone agrees that in-person learning is the ideal. School closures disrupt learning and socializing, increase anxiety and depression, and burden working parents. In many large districts that started the year with all-virtual schooling, enrollment has declined. Low-income students of color are feeling the greatest impacts: They are cut off from a crucial source of meals and are disproportionately affected by the digital divide exacerbated by distance learning.
According to Atlas and researchers who share his view, these costs outweigh the health benefits of preventing COVID-19 in kids. Children and adolescents can get infected by the virus, but for reasons still not understood, they are much less likely than adults to get severely ill or die.
But other experts, even those who agree that society should prioritize opening schools, do not share Atlas's one-size-fits-all stance.
The American Academy of Pediatrics advocates for in-person instruction as much as possible. "The importance of in-person learning is well-documented, and there is already evidence of the negative impacts on children because of school closures in the spring of 2020," its recommendation states. When this guideline was released in the summer, members of the Trump administration seized on it as support for their push to open schools.
"Schools are essential businesses, aren't they?" Atlas tweeted, not long before he joined the taskforce. "AAP says it's extremely harmful to keep them closed."
But that was not the full story: The guidance also acknowledged that "the current widespread circulation of the virus will not permit in-person learning to be safely accomplished in many jurisdictions." In a follow-up statement after Atlas's tweet, the AAP and educator groups stressed that "public health agencies must make recommendations based on evidence, not politics."
One major reason to proceed with caution, according to experts, is that while children's risk of transmitting the virus appears to be very low under age 10, it increases with age. A contagious student could infect not just a fellow classmate, but an adult in the room.
"If they transmit it to a teacher or a staff member that has an underlying condition, those individuals are at higher risk of complications with COVID," said Tina Tan, a pediatrics professor at Northwestern University's Feinberg School of Medicine and a spokesperson for the Infectious Diseases Society of America.
To date, evidence from around the world indicates that schools are not intrinsic COVID-19 hot spots. Based on data from 191 countries from Feb. 10 to Sept. 29, Insights for Education reported "no consistent pattern between school status and infection levels." Many country-specific factors, such as the economy, testing, tracing, and healthcare capacity, likely all play a role in how much the coronavirus spreads in the population, according to the independent nonprofit's report.
Countries where schools have opened have seen a dizzying array of outcomes. In Spain, for instance, cases spiked when schools were closed and kept rising when they opened. But in the United Kingdom, infections were low during the summer break and rose after schools reopened. In Croatia, meanwhile, cases rose during the break, then dropped after reopenings. And in Thailand, cases stayed relatively low when schools were both closed and open.
In the US, the CDC was criticized for confusing and at times contradictory reopening guidelines. The agency was reportedly under pressure by the White House to downplay the risks of in-person instruction. Many states, too, have unclear guidance, leaving 13,000 school districts to forge ahead largely on their own.
Stories of successes and setbacks abound. In New York City, where the virus has dramatically leveled off since the spring, schools have only seen a handful of cases. In Florida, cases among school-age children did not immediately spike after reopenings. Yet outbreaks have happened in Utah and Georgia. Some teachers have died from COVID-19, though it's not always clear where and how they got infected.
Overall, however, in-person learning seems to be going more smoothly than not, according to a new project, the COVID-19 School Response Dashboard, that is collecting data on reopenings. So far, school-submitted data about more than 200,000 students across all 50 states shows a low infection rate of 0.14%. Among the more than 81,000 staff working at these schools, the rate is slightly higher, at 0.37%.
Emily Oster, a Brown University health economist spearheading the project, shared an early version of these findings in the Atlantic this month. Contrary to fears "that school infections would balloon and spread outward to the broader community," she wrote, these "numbers are small — smaller than what many had forecasted."
Her essay, titled "Schools Aren't Super-Spreaders," caught Atlas's eye. In a recent appearance on Laura Ingraham's Fox News show, he said, "We have the recent studies finally coming into the so-called mainstream, even the magazines like the Atlantic, talking about 'schools should be open.'"
"Red states opened and the blue states did not, as opposed to everyone making a decision based on what the best science said."
But in an interview, Oster stressed that the data is preliminary and that she is not calling for universally reopening schools, despite what Atlas suggested.

"What I'm saying is in low-prevalence areas where the pandemic is under control, many of which do not have open schools, we should make moves in the direction of reopening schools in those areas," she said. She cited San Francisco, which just entered California's least-restrictive reopening tier thanks to declining virus rates, but whose schools will remain closed for the rest of 2020.
The major obstacle, in her view, is that school reopenings have become deeply politicized under the Trump administration.
"When the president said all schools should reopen, the divide on who was going to open meant that the red states opened and the blue states did not, as opposed to everyone making a decision based on what the best science said," Oster said. "This has gotten in the way of a lot of the things we need to do to make these reopenings as safe as possible."
Rubin, the pediatrician at Children's Hospital of Philadelphia, is also encouraged by what he's seeing. He is leading a team that is tracking reopenings and compiling safety guidelines for school districts.
Understanding the exact nature of an outbreak is important, and Rubin said most of the transmission he has analyzed is happening off campus, during carpools or slumber parties or athletic events with lax hygiene protocols, and brought onto school grounds. Rapid contact tracing is key, but hard numeric thresholds are becoming less useful than initially thought for deciding when to open or close, according to his team's guidance. Instead, schools should make these calls as part of a constant dialogue with their local public health department.
Schools improve their likelihood of staying open when the whole community works to keep virus levels low, and when students, teachers, and staff comply with masking, surveillance for symptoms, social distancing, contact tracing, and hand hygiene, according to the group's recommendations. Even so, Rubin said, it is unrealistic to expect zero COVID cases — which, for some families and teachers, may be deeply uncomfortable or unacceptable.
"The question is: Are your school protocols strong enough to avert the likelihood that one of those people leads to an event in the school?" he said.
And each school's needs will differ depending in part on the level of spread in its community. "There's no way to universally do this," said Tan, the pediatrician at Northwestern. "Every school district is different."
Many schools may well be able to eventually open and keep the virus largely at bay. But it would be incorrect to say that schools and public health officials had all the tools and knowledge they needed to do so in the spring, Rubin said. It's taken until now for researchers in the US to start studying what makes a successful reopening in real time, and for other schools to learn from those findings.
"There's no way to universally do this. Every school district is different."
"The delay of a few weeks to get schools open in the beginning of the school year — to me, it's a small cost to pay for knowing that we're doing it safely," Rubin said.

He and other experts recommend that elementary schools be prioritized, given those students' relatively low health risks and the greater harm of keeping them at home.
A new study from Yale adds to the case for opening up settings with young children. Researchers surveyed 57,000 daycare centers across the US and compared coronavirus infections and hospitalizations among employees in sites that stayed open during the first three months of the pandemic with those that closed. There was no difference between them, leading the researchers to conclude that childcare doesn't pose a heightened risk of coronavirus transmission.
But "a lot of stuff they were doing in childcare providers, I just don't see how it could be replicable at all in a school — which doesn't mean schools can't be safe," said Walter Gilliam, the study's lead author and a professor of child psychiatry and psychology. "It just doesn't mean you can take this data and prove that they would be, because it's a completely different scenario."
These children were ages 6 and under and were kept in small groups of six to eight. The majority of employees also reported taking extensive safety measures, including disinfecting as often as three times a day.
From kindergarten onward, classes get bigger and harder to clean. Older students are constantly changing classrooms and mingling in hallways and during extracurriculars.
In his study on daycares, Gilliam took pains to point out that it "should not be applied to K–12 schools or universities," as did Yale's press release. That context was made clear in the Wall Street Journal and in other media outlets that covered it.
Atlas, however, did not register that key detail when he shared the Journal's story on Twitter earlier this month. "Where have I heard that before," he wrote. "Yep, it's the science...again. End the hysteria. OPEN the schools! #FactsMatter #TruthPrevails"
He also mentioned the study on Fox News. "We now have a consensus forming around the president's policy of protecting seniors and ending the lockdowns, opening schools and jobs," he said, citing "the new study from Yale that was just put out, talking about how there's very little transmission from children to adults."
When Gilliam found out about Atlas's spin, he was floored.
"We wrote up the science in a way we thought any layperson, without any medical or science training, would understand what this means and what this does not mean," he said, "but we were not able to dummy-proof it against the adviser of the coronavirus taskforce."
So he sought to set the record straight.
"You clearly need to read the science before tweeting it," he tweeted in response to Atlas's message. "I should know — I'm the study's lead author." So far, it's gotten seven retweets, compared to Atlas's 1,800.
What angers the researcher is not necessarily the claim that schools are safe to open, which could end up being true. It is that the coronavirus adviser does not seem to recognize the extent to which childcare providers bent over backward this year to keep their kids and employees safe, despite getting very little direction or resources from the government, Gilliam said.
"It's just a further slap in the face of the people you were supposed to be serving," he said, "and didn't."
UPDATE
This story has been updated to clarify Scott Atlas's role at Stanford University.