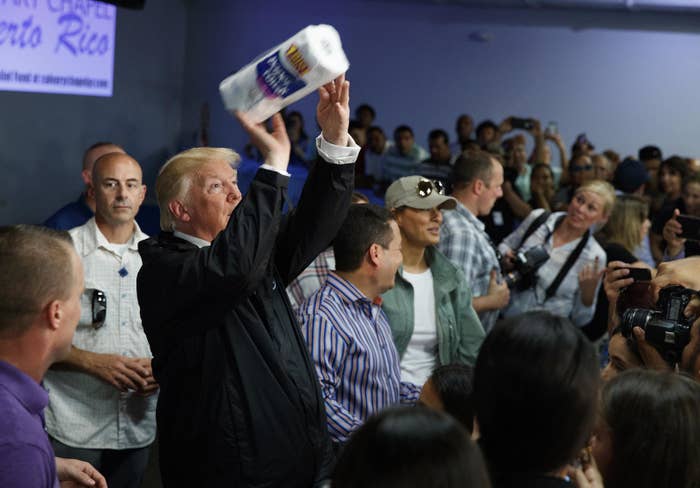 As the nation braced for another massive hurricane, President Donald Trump tweeted Thursday that he does not believe Hurricane Maria was responsible for nearly 3,000 deaths in Puerto Rico last year.
The Puerto Rican government finally acknowledged last month that 2,975 people in the US territory were killed in the storm. They had previously said the death toll was only 64.
However, Trump — without citing any evidence — said he thinks the updated figure is a lie. In a tweet, he proclaimed that 3,000 people "did not die in the two hurricanes that hit Puerto Rico."
According to the president, the updated figure is a conspiracy by the Democrats to make him look bad.
"If a person died for any reason, like old age, just add them onto the list. Bad politics," he tweeted.
He said this conspiracy was done as his administration was raising "billions of dollars" to help rebuild the island.
"I love Puerto Rico!" he concluded.
After hours of backlash, deputy White House press secretary Hogan Gidley released a statement that did not address Trump's claim, instead saying liberal media and Puerto Rico officials were exploiting the tragedy.
"As the president said, every death from Hurricane Maria is a horror. Before, during, and after the two massive hurricanes, the president directed the entire administration to provide unprecedented support to Puerto Rico," Gidley said. "President Trump was responding to the liberal media and the San Juan mayor who sadly have tried to exploit the devastation by pushing out a constant stream of misinformation and false accusations."
Carmen Yulín Cruz, mayor of Puerto Rico's capital San Juan, had earlier responded to Trump's tweets, saying, "This is what denial following neglect looks like: Mr Pres in the real world people died on your watch. YOUR LACK OF RESPECT IS APPALLING!"
The president has had a contentious relationship with Cruz since Maria slammed into Puerto Rico last year. Earlier this week, he called her "incompetent" and said his administration "did an unappreciated great job in Puerto Rico."
Cruz went on to tweet that Trump is "delusional, paranoid, and unhinged from any sense of reality," adding that he is "so vain he thinks this is about him."
"This is NOT about politics," she said. "This was always about SAVING LIVES."

Puerto Rico Gov. Ricardo Rosselló also criticized Trump's claim, saying, "The people of Puerto Rico in general don't deserve to have their pain questioned."
In a message posted on Facebook, Rosselló said he is confident in the number reported by the independent study.
"It's not the moment for political noise, for a fight, to use these things to benefit one party or another. It's the moment to remember all of those who lost their lives, the moment to recognize their pain and the sacrifice that everyone has made for the recuperation," he said.
The Puerto Rican government acknowledged the massive increase in the death toll after it was reported in an independent study by researchers with the Milken Institute School of Public Health at George Washington University. The study found that authorities did not do enough to prepare residents for the devastating storm before it struck in September 2017.
An internal Federal Emergency Management Agency report also acknowledged that the agency was woefully unprepared to deal with the Category 5 storm.
Following Trump's tweets Thursday, members of his own party began pushing back. Florida Gov. Rick Scott, often an ally of the president, tweeted that he disagreed with Trump and said the "extent of lives lost as a result of Maria is heart wrenching."
Sen. Marco Rubio, also a Florida Republican, lamented on Twitter that "these days even tragedy becomes political," adding that 3,000 more people died after the hurricane "than during comparable periods before."
House Speaker Paul Ryan countered Trump during a news conference Thursday, saying, "I have no reason to dispute these numbers. Those are the facts of what happens when a horrible hurricane hits an isolated place like an island."
On Tuesday, Trump said his administration's response to Puerto Rico in the aftermath of Hurricane Maria was "incredibly successful."
"I think [the response in] Puerto Rico was incredibly successful," he told reporters at the White House. "I actually think it was one of the best jobs that's ever been done with respect to what this is all about. Puerto Rico got hit not with one hurricane, but with two."
Trump's latest tweets on Puerto Rico come as another potentially life-threatening storm, Hurricane Florence, is barreling toward the Carolina coast.
Although Florence has been downgraded to a Category 2, the hurricane could cause massive flooding and devastation in the region and is still considered to be extremely dangerous.
Trump tweeted on Wednesday that his administration was ready to respond to the storm.
"We are completely ready for hurricane Florence, as the storm gets even larger and more powerful," he wrote.