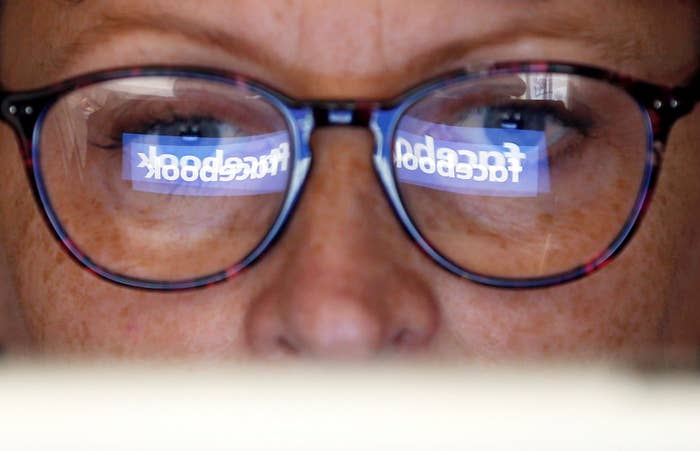 Facebook said it has once again been the target of coordinated political influence campaigns with activity that was consistent with, but not definitively tied to, Russian state–sponsored actors.

In a series of blog posts Tuesday, the company announced that it had removed 32 pages and accounts from Facebook and Instagram that were engaged in "coordinated inauthentic behavior" — including the creation and promotion of a protest event scheduled for Washington, DC, later this month. Facebook said the accounts identified and eliminated were not engaged in any direct electioneering or pushing of candidates ahead of the 2018 midterm elections, but sought to sow discord by posting about divisive social issues.
"As we've told law enforcement and Congress, we still don't have firm evidence to say with certainty who's behind this effort," Nathaniel Gleicher, Facebook's head of cybersecurity policy, said in a statement. "Some of the activity is consistent with what we saw from [Russia's Internet Research Agency] before and after the 2016 elections. And we've found evidence of some connections between these accounts and IRA accounts we disabled last year."
The identified pages, the earliest of which was created in March 2017, continues a trend seen in the lead up to the last presidential election in which bad actors used social media to rile up people by taking advantage of hot-button political and social issues. Following the 2016 election, critics and lawmakers hammered Facebook for being slow to identify these disinformation campaigns, which had direct ties to foreign governments.
At least 290,000 users followed one or more of the 32 pages and accounts that were removed from Facebook and Instagram, the company said. The accounts and pages, which had names including "Black Elevation" and "Resisters," created more than 9,500 organic posts on Facebook and one on Instagram. Between April 2017 and June of this year, the pages ran 150 ads that cost a total of $11,000 on Facebook and Instagram.
Facebook also noted that the pages created 30 events since May 2017, the largest of which had 4,700 users who were interested in attending. On a call with reporters Tuesday, Gleicher said that the dates for 28 of these events, including a supposed protest against Immigration and Customs Enforcement (ICE), had already passed, and that the company had not determined whether or not the planned events actually took place.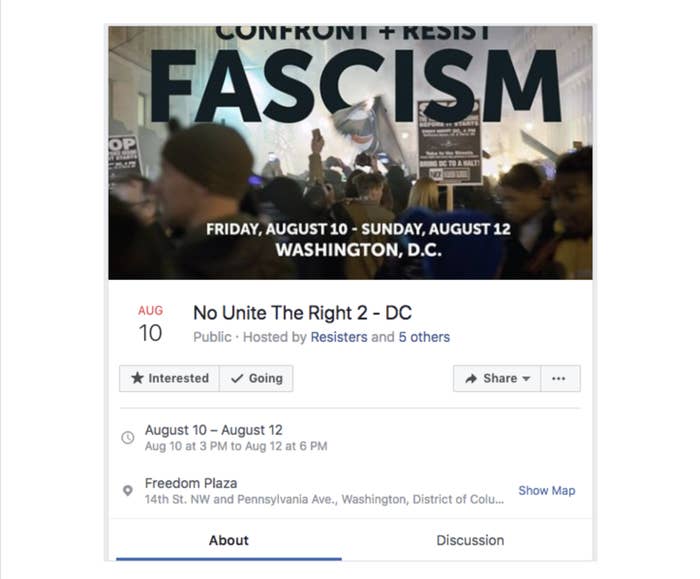 Part of the impetus for Tuesday's announcement, Gleicher said, was to get ahead of an event created by one of the pages that was scheduled for Aug. 10. That event, "No Unite the Right 2 – DC" was set to occur in DC's Freedom Plaza with organizers encouraging attendees to "Confront + Resist: Fascism." Gleicher said that users who had planned to attend the event would be notified that it had been created by a fake account.
During a conference call with reporters, Facebook Chief Operating Officer Sheryl Sandberg said that the company was "still in the very early stages of our investigation" and that the company "did not have all the facts." And while Facebook did not definitively accuse any one foreign government, Gleicher and Chief Security Officer Alex Stamos noted that there were "interesting but not determinative" signs that suggested Russian involvement, including the fact that an account that was later tied to the Internet Research Agency served as a coadministrator on one of the removed pages for seven minutes.

"Some of the tools, techniques and procedures of this actor are consistent with those we saw from the IRA in 2016 and 2017," Stamos wrote in a blog post. "Our technical forensics are insufficient to provide high confidence attribution at this time. We have proactively reported our technical findings to US law enforcement because they have much more information than we do, and may in time be in a position to provide public attribution."
According to a source, the FBI's Foreign Influence Task Force was among the law enforcement entities briefed by the company. Facebook's representatives had informed the Senate Intelligence Committee of its findings Monday.
While Facebook would not directly link the influence campaign to Russia, several Washington lawmakers seized upon the potential connection.
"Today's disclosure is further evidence that the Kremlin continues to exploit platforms like Facebook to sow division and spread disinformation, and I am glad that Facebook is taking some steps to pinpoint and address this activity," Virginia Sen. Mark Warner, the vice chair of the Intelligence Committee, said in a statement.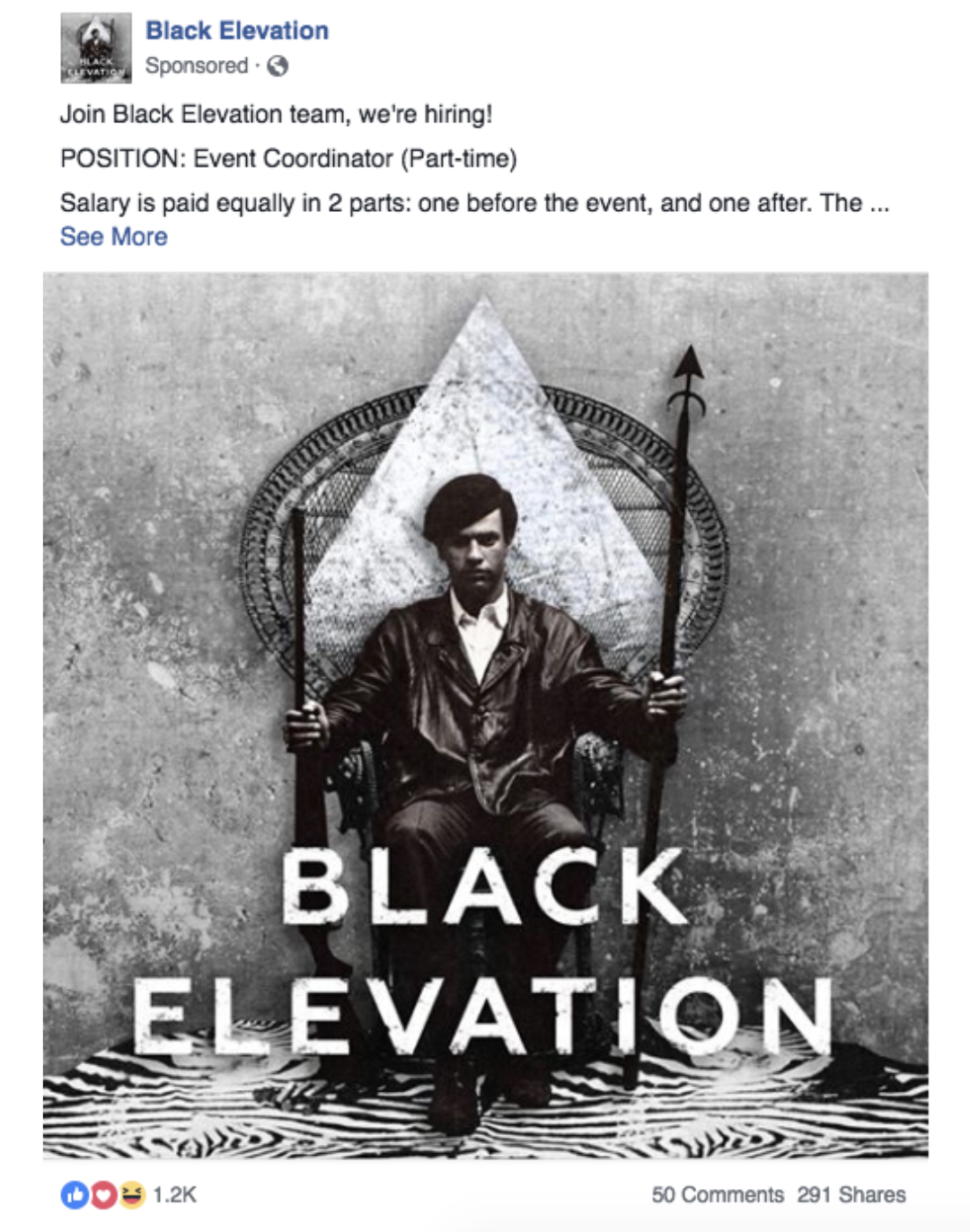 Oregon Sen. Ron Wyden, another Democrat on the committee, said the ads identified by Facebook appeared "to come from the exact same playbook" as the 2016 influence campaign, in which the Russians "pretended to be appealing to the left in order to suppress the vote and get Trump elected."

"Vladimir Putin is apparently determined to hijack Americans' outrage against Donald Trump and his administration for his own purposes: weakening America and ensuring that his corrupt dictatorship can act with impunity around the world," Wyden said in a statement.
North Carolina Sen. Richard Burr, the chair of the committee, did not explicitly tie the influence campaign to the Kremlin. "The goal of these operations is to sow discord, distrust, and division in an attempt to undermine public faith in our institutions and our political system," Burr said in a statement. "The Russians want a weak America."
Burr also confirmed to reporters that Facebook had previously briefed him on the influence campaign.
The committee is set to hear from experts Wednesday morning as part of a public hearing on social media platforms and foreign influence. In September, the committee is expected to hear from technology executives, including Sandberg, in another public hearing on the subject.
Warner and other lawmakers have introduced legislation to regulate technology platforms by requiring them to be more transparent, but the bill has not yet made it to a vote on the Senate floor.
Kevin Collier contributed reporting to this story.