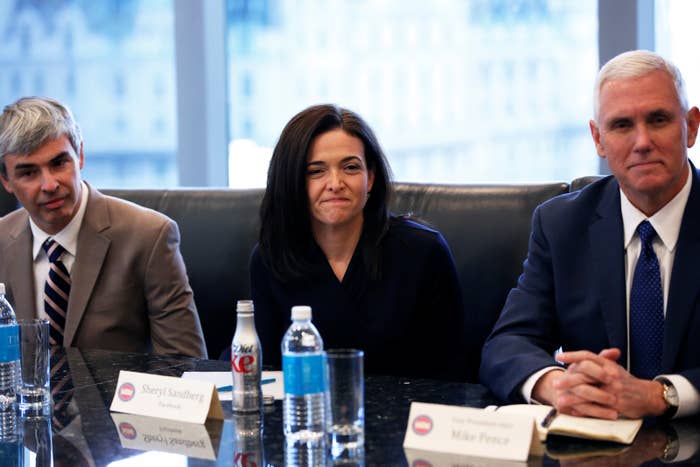 Internet executives are expected once again to face a grilling by lawmakers about foreign interference on their platforms — this time before the top congressional committee investigating Russian election meddling.
Leaders from Facebook, Twitter, and Google will likely testify before the Senate Select Committee on Intelligence in September, according to committee chair Richard Burr. "I don't know the exact date but it's that first week," Burr told BuzzFeed News Wednesday.
A source familiar with the matter confirmed that the committee has invited representatives from Facebook, Twitter, and Google to testify in September. Sheryl Sandberg, Facebook's chief operating officer, and Jack Dorsey, CEO of Twitter, have both confirmed their attendance; Google CEO Sundar Pichai has not yet responded to the panel's invitation.
Burr said the hearing will come after an initial hearing "probably next week" with experts in the social media field. He was not certain which executives would appear before the committee in September, but suggested that they might be Sandberg, Dorsey, and an official from Google.
Spokespeople for Google and Facebook did not respond to a request for comment. A spokesperson for Twitter said the company had nothing to share at the time.
The request to appear in front of the committee comes at a fraught time for the three tech giants that have booming businesses but are under intense public pressure for their roles in election interference, the dissemination of misinformation, and the appearance of censorship. Silicon Valley executives have made several treks to Congress this year to testify in front of various lawmakers with the hopes of withstanding calls for stricter scrutiny and regulation.
In April, Facebook CEO Mark Zuckerberg testified at a joint hearing of the Senate Commerce and Judiciary committees and then had a subsequent meeting with the House Energy and Commerce Committee to answer questions about his company's relationship with disgraced political consulting firm Cambridge Analytica. Earlier this month, policy executives from Facebook, Twitter, and YouTube, which is owned by Google's parent company, Alphabet, appeared in front of the House Judiciary Committee to discuss how its members moderate content on their platforms.
The two social media hearings are the next part of the Senate Intelligence Committee's investigation into Russian interference in the 2016 election. Previously, the committee held hearings and, in some cases, has released reports on election security, the Obama administration's response to Russian meddling, and the intelligence community's January 2017 assessment on Russian meddling. The committee is expected to release a broader final report once it has completed the smaller reports.