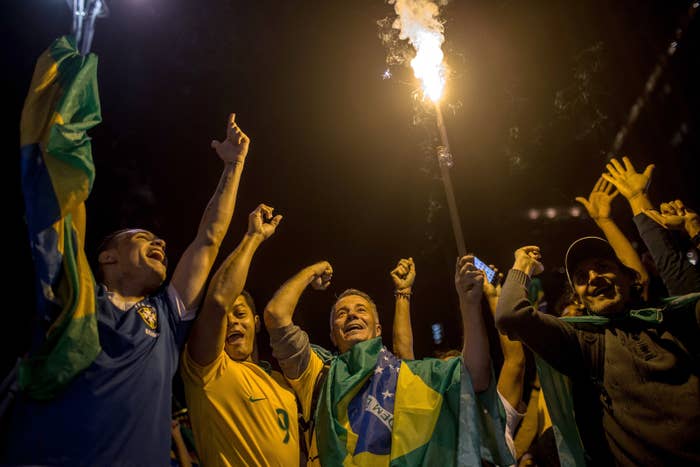 SÃO PAULO — Brazil's electoral commission declared Jair Bolsonaro the winner of the country's presidential election Sunday night, signaling a radical political shift rightward for Latin America's most populous nation and the world's fourth-largest democracy.
With 56% of the votes, Bolsonaro of the Social Liberal Party (PSL), defeated Workers' Party candidate Fernando Haddad, becoming the latest in a string of far-right populist leaders who have ascended to power around the world. Hundreds of supporters gathered around Bolsonaro's house in Rio de Janeiro Sunday night, setting off fireworks and waving Brazilian flags. Protesters also briefly clashed with police in São Paulo as news broke that he had won.
An ex-paratrooper turned Congress member, Bolsonaro positioned himself as an unlikely outsider in the presidential race, capitalizing on widespread voter anger at the country's sluggish economic recovery, record-high crime rates, and a massive corruption scandal that has ensnared much of Brazil's political class.
In a Facebook Live video after the election Sunday, Bolsonaro stated that the country could not keep "flirting with socialism, communism, populism, and the extremism of the left." He later said he planned to be a "defender of democracy," and follow "the Bible and the Constitution."

"The commitment I assumed with the Brazilian people was to create a decent government, committed to the country and the people. And I guarantee you that I will," Bolsonaro said in a victory speech. "Together, we will change Brazil's destiny."
But Bolsonaro's surprise victory has as much to do with the larger global trend of populism and far-right fanaticism as it does with Brazil's recent economic decline and rampant corruption. His use of populist nationalism — as well as his extreme solutions to crack down on crime, and his long history of sexist, anti-gay, and racist rhetoric — has drawn comparisons to US President Donald Trump and the Philippines' Rodrigo Duterte.
Trump called Bolsonaro to congratulate him on his victory Sunday night, in what the Brazilian president-elect described as "obviously a very friendly contact." The two leaders "expressed a strong commitment to work side-by-side to improve the lives of the people of the United States and Brazil, and as regional leaders of the Americas," according to a White House statement on the call.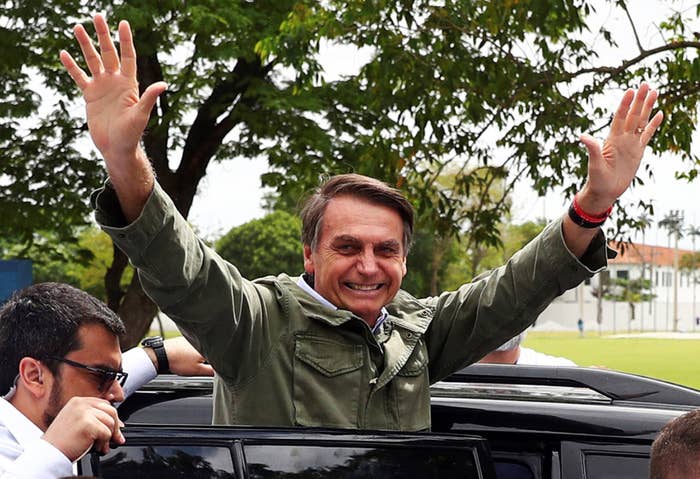 Bolsonaro's rhetoric, combined with his declared sympathy and nostalgia for the anti-communist dictatorship that controlled Brazil from 1964 until 1985, exposed deep divisions in the country. The presidential campaign was marked by acts of political violence; Bolsonaro himself was stabbed at a rally in September, and spent the final weeks of the race running his campaign from his hospital bed.

In the week's leading up to Sunday night's vote, a #MeToo-style women's protest movement — #EleNão, or "not him" — mobilized thousands of women against Bolsonaro. One of the most viral videos of this election cycle, filmed in 2003, shows Bolsonaro arguing with lawmaker Maria do Rosário. "I wouldn't ever rape you, because you don't deserve it ... Slut!" he says, before shoving her.
Bolsonaro hasn't hidden his disdain for Brazil's LGBT community, either. In 2016, in an episode of her Vice series Gaycation, Ellen Page confronted Bolsonaro, calling him "a major voice in the anti-gay movement in Brazil." He's also said that if one of his sons were gay, he'd hope they'd die in an accident, and called homosexuality "an affront to the family structure."
Once in office, Bolsonaro has said that he plans to "cleanse" corrupt politicians and bring down the country's soaring crime rates. He has seized on the intense resentment toward Haddad's Workers' Party, whose leaders have been heavily implicated in Brazil's Lava Jato scandal, or "Operation Car Wash," an investigation —named for a gas station in Brasilia where a currency exchange and money transfer service was used to launder outrageous sums of money — that has implicated 16 companies and led to 160 arrests and 179 indictments.

But similar to Trump, Bolsonaro has also ridden a wave of intense online misinformation, driven largely by WhatsApp. Brazil's biggest newspaper, Folha, released a bombshell report this month alleging that local marketing firms have been buying bundles of phone numbers and using them to send voters anti-leftist propaganda on WhatsApp.

Bolsonaro said in a Facebook video this month that if he becomes president, he aims to change a rule created by WhatsApp to limit the number of messages a user can send at once. And he wants to make it harder for Brazilian judges to suspend WhatsApp service in the country, which has happened three times between 2015 and 2016.
Grace Wyler contributed reporting.