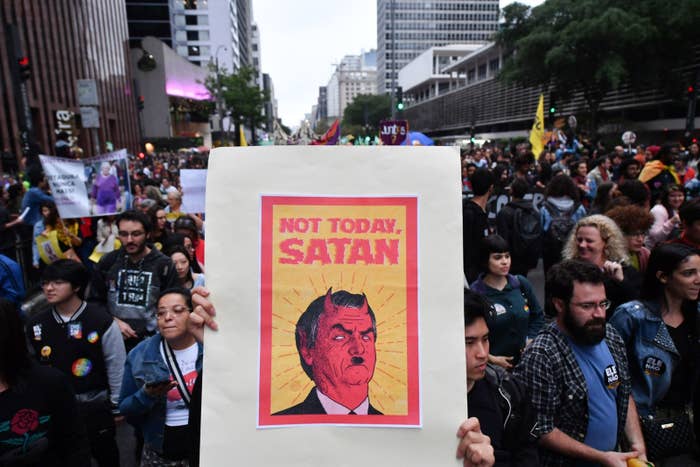 On Sunday night, Jair Bolsonaro won big in the first round of Brazil's presidential election. With 46% of the vote, he wound up just shy of the 50% that would have made him president. He'll go into a second round against runner-up Fernando Haddad, the former mayor of São Paulo and member of the leftist Workers' Party.
The former member of Congress has a long history of sexist, homophobic, racist, and borderline fascist rhetoric. He swept the country into a frenzy and has incited fears among his opponents of a military coup.

At a campaign rally in September in the city of Juiz de Fora, about 300 miles northeast of São Paulo, Bolsonaro was stabbed. His liver was perforated and he spent the majority of the final weeks of the campaign posting updates from his hospital bed on Facebook.

His brazen use of social media to create a far-right cult of personality has inspired many comparisons to Donald Trump. But his evangelic Christianity and hardline criminal justice platform align him more closely with populists like the Philippines' Rodrigo Duterte. His rise has as much to do with the larger global trend of populism and far-right fanaticism as it does with Brazil's recent economic decline and rampant corruption.
Here's what you need to know about the man who might become Brazil's next president.

1) Bolsonaro has dominated the internet in Brazil.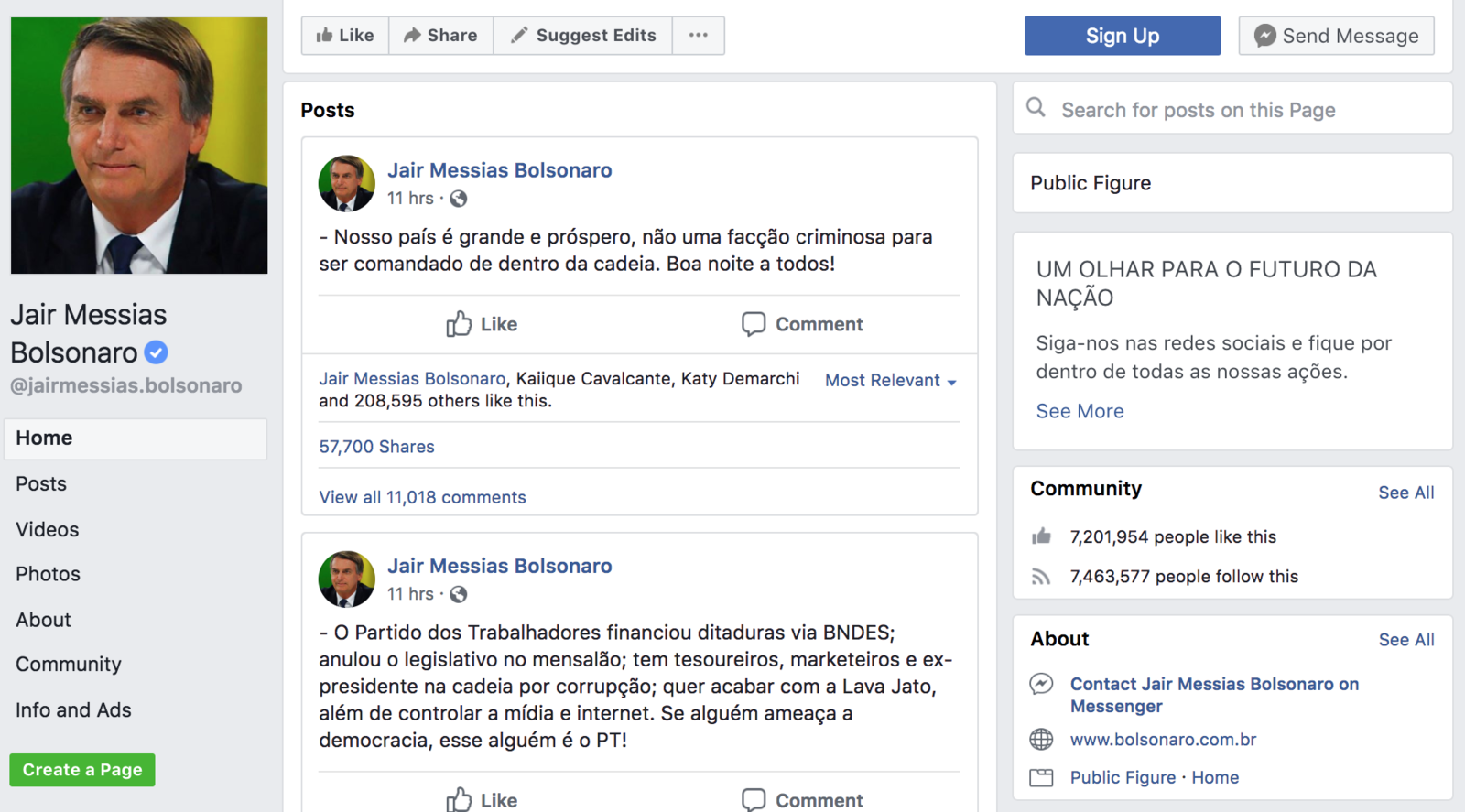 The Bolsonaro campaign's use of the internet has been compared to Donald Trump's use of Facebook ads and Twitter, but what Bolsonaro's team achieved is actually unparalleled. Bolsonaro only purchased 8 seconds of TV time in a country where television ads have all but determined the winner for years.
He has 7 million followers on Facebook. It's estimated that about a third of his followers on Twitter are bots. The mere mention of his name on social media can set off a firestorm of harassment and abuse. A report released in April found that 70% of the most politically active Twitter accounts in Brazil supported Bolsonaro.
In July, Facebook deactivated 196 pages and 87 accounts in Brazil for their part in "a coordinated network that hid behind fake Facebook accounts and misled people about the nature and origin of its content, all for the purpose of sowing division and spreading misinformation." Facebook didn't disclose what organization these pages belonged to, but senior organizers from Movimento Brasil Livre (MBL), or "Free Brazil Movement," a right-wing pro-Bolsonaro youth movement, confirmed on Twitter that many of their pages were affected.

But Bolsonaro's real strength is on WhatsApp. According to a study in 2016, nearly 100% of internet users in Brazil have WhatsApp. Due to WhatsApp's encrypted messaging structure and the peer-to-peer nature of it, it's impossible to know how prevalent pro-Bolsonaro misinformation is. But according to a WhatsApp monitor built by fact-checking group Eleições Sem Fake, the majority of the most-shared public WhatsApp posts in Brazil this weekend were rumors that Brazil's election commission was going to stop Bolsonaro supporters from voting.
2) He's praised the country's former military dictatorship.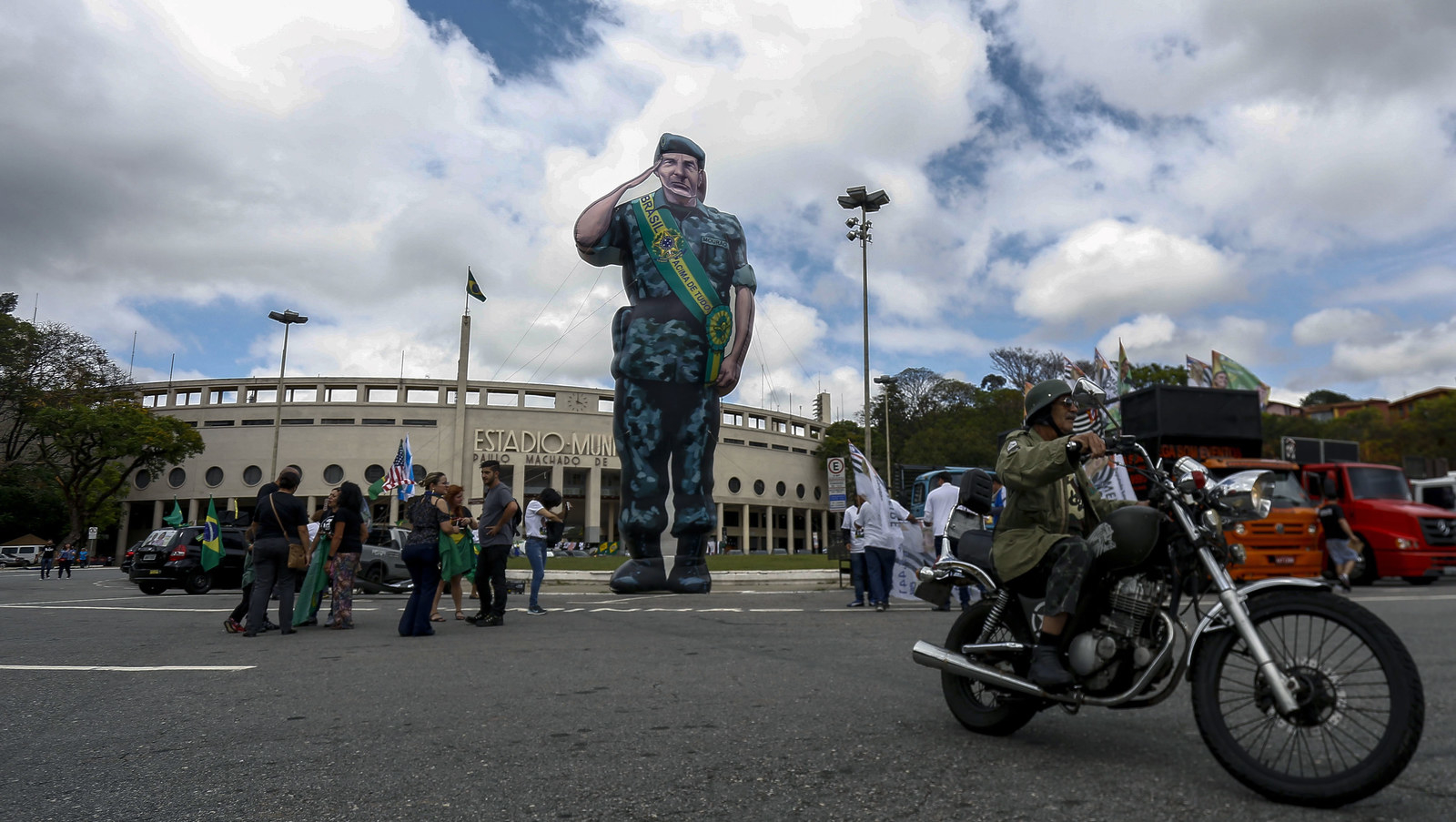 Bolsonaro, an ex-paratrooper, has also been accused of being a dictatorship apologist. After a coup in 1964, and with the support of the US government, a nationalistic anti-communist dictatorship controlled the country until 1985. Bolsonaro has long been a public admirer of it. He's also said that police should shoot to kill in confrontations with criminals.

"I am in favor of a dictatorship," he said in a speech in 1993. "We will never resolve serious national problems with this irresponsible democracy."
In 2015, he was quoted as saying the military rule of Brazil was "glorious." He's also said that if he ever became president he would stage a military coup on his first day.
He's also a fan of former Chilean dictator Augusto Pinochet, whose regime is responsible for over 3,000 deaths. Bolsonaro was quoted as saying Pinochet actually should have killed more people.
During impeachment proceedings against former president Dilma Rousseff, Bolsonaro made a speech praising Colonel Brilhante Ustra, who headed up the torture unit that tortured Rousseff when she was protesting the dictatorship.
3) He's repeatedly come under fire for misogynist comments against women.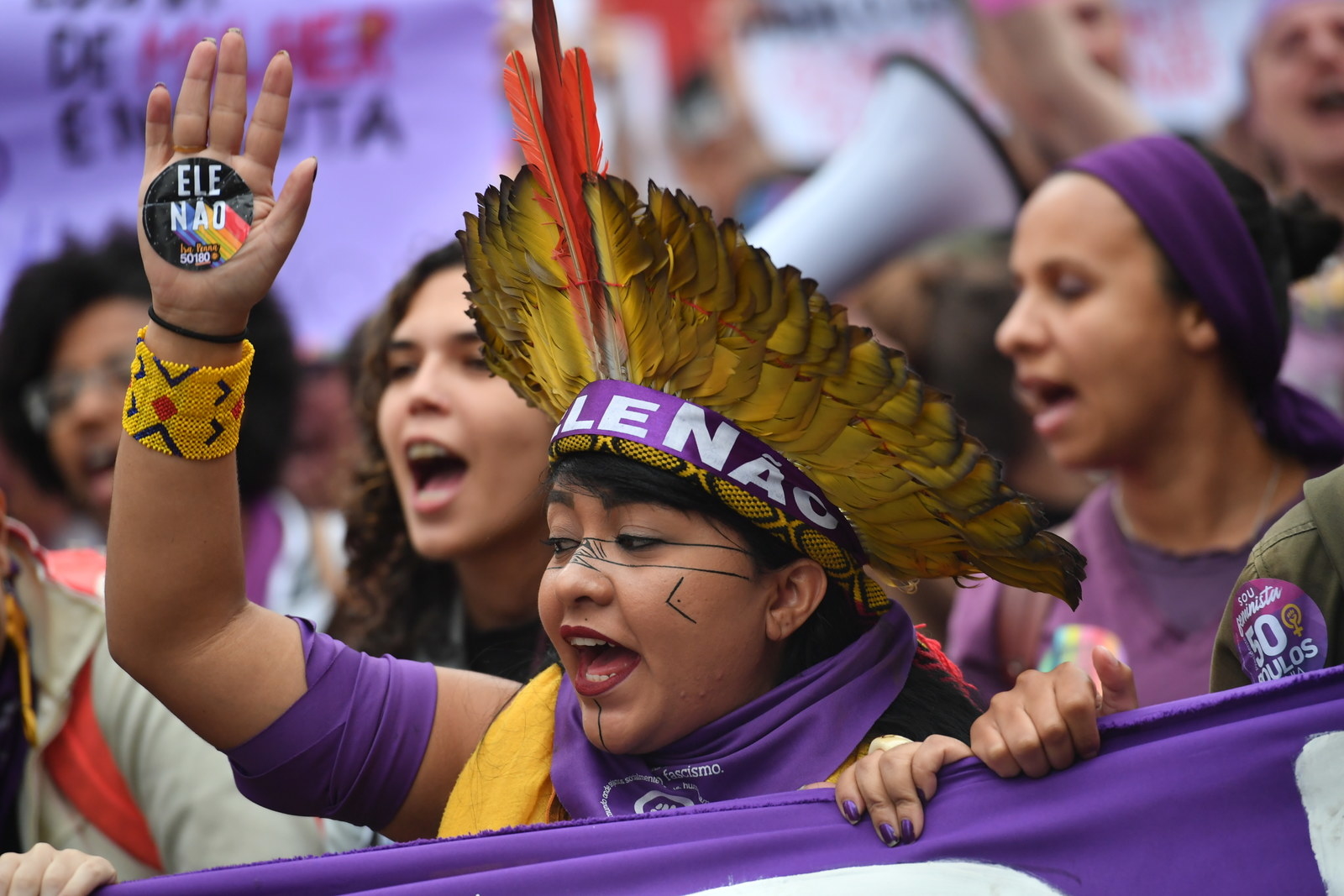 One of the most viral videos of this election cycle, filmed in 2003, shows then-member of Congress Bolsonaro arguing with lawmaker Maria do Rosario. "I wouldn't ever rape you, because you don't deserve it ... Slut!" he says, before shoving her. The video has been floating around Brazilian social media for years and one version of it on YouTube has over 3 million views.
Bolsonaro said it again during a debate in 2014. He was ordered by a Brazilian judge to pay a fine of 10,000 reals ($2,560) because of it.
In 2015, he argued that men and women don't deserve the same salaries because women get pregnant. He believes federal protections for maternity leave harm work productivity.
Bolsonaro has five children. The first four are male, and he has joked that he had a daughter out of "a moment of weakness."
He's also become the face of a #MeToo-style women's protest movement — #EleNão, or "not him" — that has mobilized thousands of women in the last few weeks. But his support among women has risen over 6 points following the protests.
4) Bolsonaro has said that "no father is ever proud of having a gay son."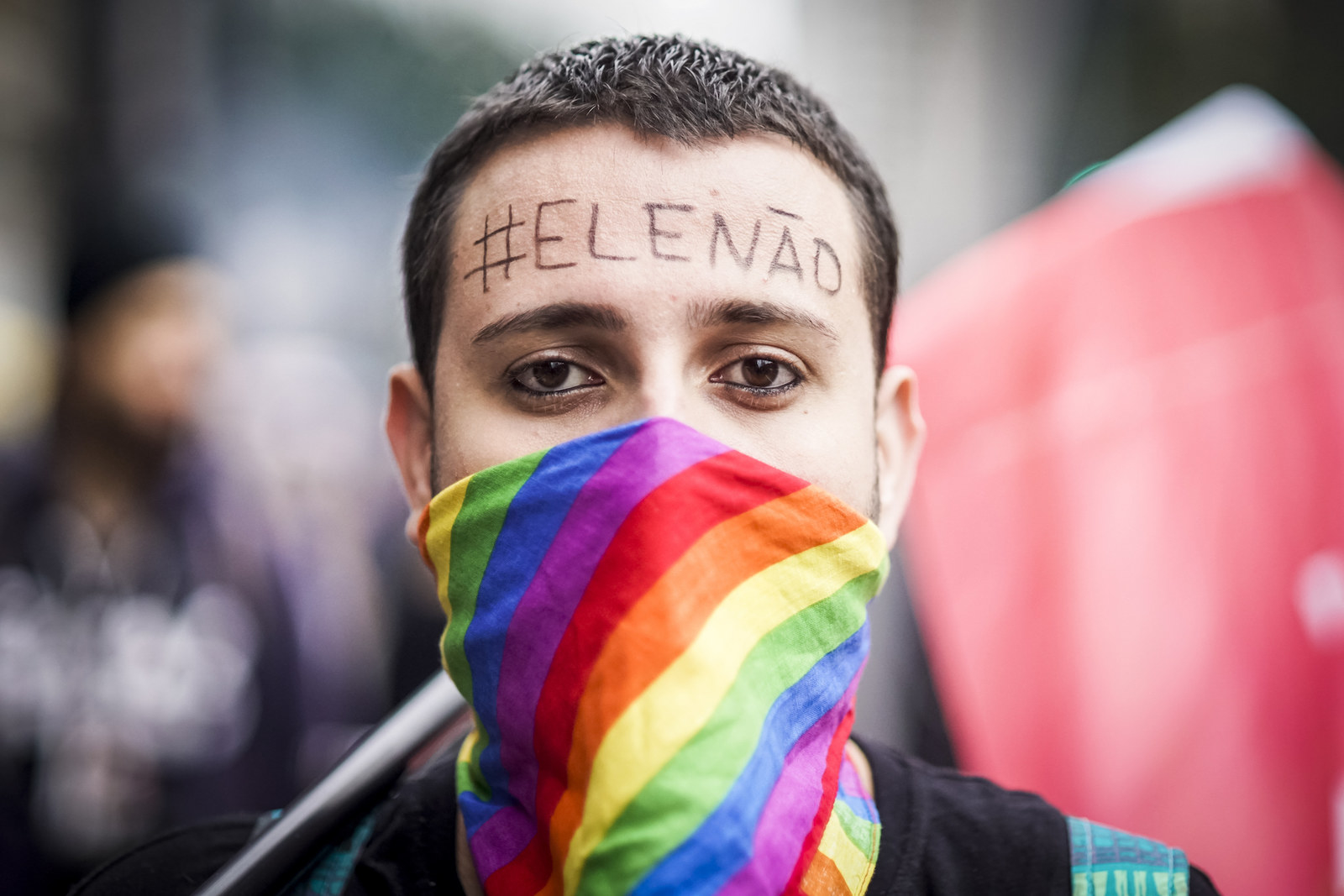 Bolsonaro hasn't hidden his disdain for Brazil's LGBT community. In 2016, in an episode of her Vice series Gaycation, Ellen Page confronts Bolsonaro, calling him "a major voice in the anti-gay movement in Brazil."

"I'm gay," Page says in her interview. "So do you think that I should have been beaten as a child, to not be gay now?"

"I'm not going to look at you and say, 'I think you're gay,'" Bolsonaro replies. "That doesn't matter to me. You're very nice. If I were a cadet in the military academy and saw you on the street, I would whistle at you. All right? You're very pretty."
Bolsonaro had to pay fine of a $150,000 reals ($39,858.00 USD) in 2017 for hate speech. In 2011, Bolsonaro went on CQC TV and said he couldn't have a homosexual child because they're too well educated to be gay.

He's said that if one of his sons were gay, he'd hope they'd die in an accident. He's called homosexuality "an affront to the family structure." He has said that homosexuality can be cured with enough "violence." And in the 2013 BBC documentary Out There, he told actor Stephen Fry "no father is ever proud of having a gay son."
5) He's anti-immigration and scorned both the country's indigenous population and descendants of African slaves.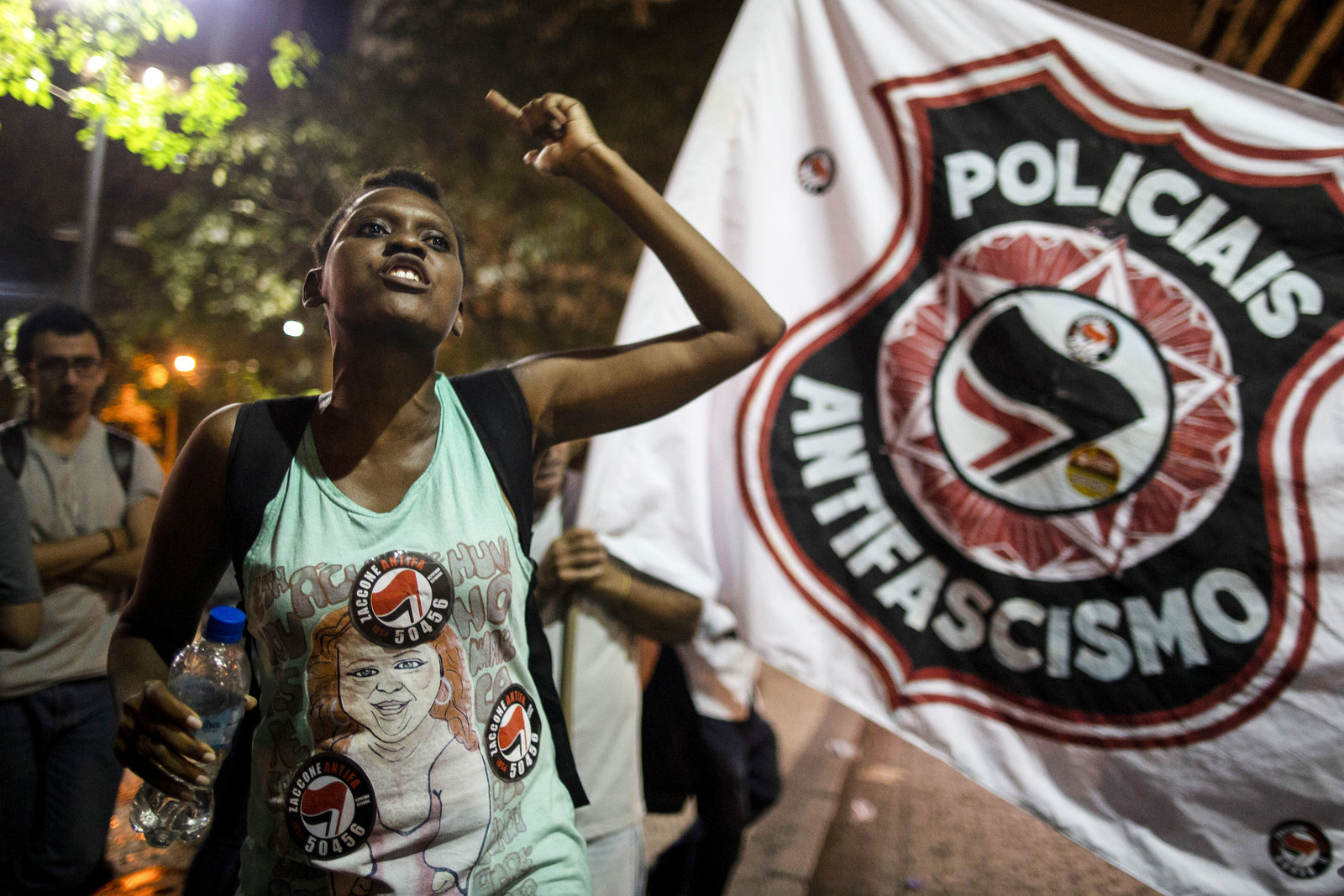 Bolsonaro is a vocal opponent of immigration. "If we open our border deliberately, we will be aggravating the situation towards disorder and misery," he tweeted in April. That same month, he made headlines for a speech where he said the descendants of Brazilian runaway slaves "weren't even fit for breeding" and described Brazil's indigenousness community living on reservations as "parasites."
He's also said that Brazil's indigenous community would rather have "electricity, television, blonde girlfriends and internet" instead of conservation reforms. Bolsonaro has called the accusations against him of racism baseless.
Bolsonaro also came under fire over the summer for comments about forced sterilization of the poor. "Only birth control can save us from chaos," he said in 2008. In June of this year, one of Bolsonaro's sons, Carlos Bolsonaro, a Rio de Janeiro city councilor, said his father was actually talking about removing the bureaucratic hurdles of getting tubal ligation or a vasectomy for better family planning.
6) The international far-right loves him.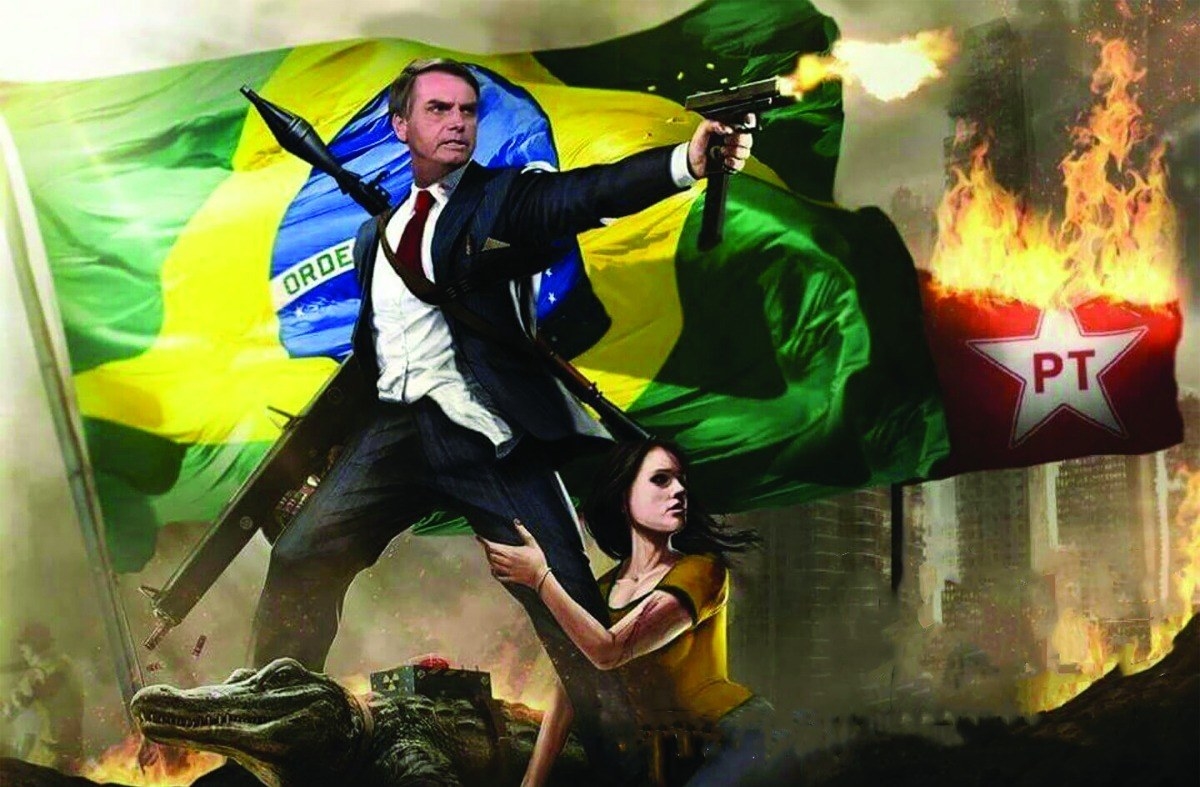 Bolsonaro's rise and rhetoric haven't gone unnoticed by Trump supporters and international far-right influencers.
On Sunday night, Infowars' Paul Joseph Watson — who is a vocal supporter — tweeted an edited video being shared by Bolsonaro supporters alleging electoral fraud. The Rebel Media's founder, Ezra Levant, threw his support toward Bolsonaro on Sunday as well, saying that calling Bolsonaro "far-right" was a smear. Far-right French activist Damien Rieu celebrated Bolsonaro's first-round win. Canadian YouTuber Stefan Molyneux released an hourlong video on Bolsonaro's stabbing. Pro-Trump subreddit /r/The_Donald tweeted that it's following the Brazilian elections closely, as well. And 4chan users have been holding "/hue/volution" threads — a play on "hue," a Brazilian internet onomatopoeia for laughter.
But perhaps the largest English-speaking supporter of Bolsonaro and his fanbase has been Gab, a far-right Twitter/Reddit clone. Gab's Twitter account spent Sunday night tweeting Bolsonaro memes and created a special section on their website for Brazilian users. The DFR Lab noted that in the weeks since Gab started to embrace Bolsonaro, their traffic had increased 18%.

"Gab is a thing, Bolsonaro is going to win, and you can't do anything about either. Stay mad BuzzFeed boy," a spokesperson for Gab told BuzzFeed News.

CORRECTION
Stefan Molyneux's name was misspelled in an earlier version of this post.