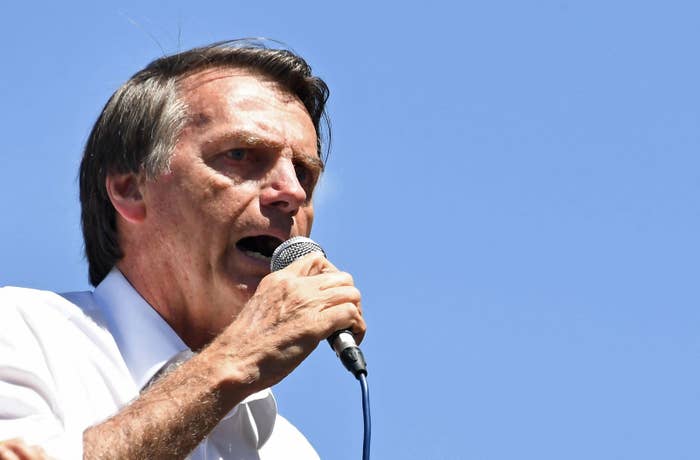 The frontrunner in Brazil's presidential election, often dubbed the "Donald Trump of Brazil," was stabbed Thursday while campaigning with supporters, but is expected to survive.

The stabbing took place as Jair Bolsonaro, a right-wing candidate, moved through a crowd in the city of Juiz de Fora, about 300 miles northeast of Sao Paulo. In a video of the incident, Bolsonaro is seen being hoisted above a crowd and giving a thumbs-up before being struck in the abdomen and keeling over.
Another video, apparently shot moments later, shows a group of men carrying Bolsonaro through the crowd while he holds a bandage against his abdomen.
Bolsonaro's son Flavio tweeted that his father was attacked and suffered a stab wound. However, Flavio Bolsonaro said that the wound was superficial. He asked that people pray for his father.

Brazilian newspaper O Globo reported that Bolsonaro suffered an injury to his liver and was undergoing surgery after the stabbing.
According to newspaper Folha de Sao Paulo, a suspected attacker was detained after the incident. Video from the scene showed that after the stabbing members of the crowd grabbed a man who appeared to wield a knife.
When asked about the attack, Gustavo Bebianno — the acting president of Bolsonaro's party, the Social Liberal Party — told Folha that "now it's war." Folha described Bebianno as Bolsonaro's "right arm" during the campaign.
Poll results released Wednesday showed Bolsonaro leading a crowded field of candidates for the Brazilian presidency. He previously served in Brazil's army and began his political career in the 1980s as a city councilmember in Rio de Janeiro. He later served in Brazil's Chamber of Deputies, the lower house of the Brazilian congress.
Bolsonaro is a controversial figure who has often been described in the press as "the Donald Trump of Brazil." In the 1980s, he said in a speech that he was "in favor of a dictatorship," and has defended a Brazilian military coup in the 1960s. He is known for taking right-wing positions on an array of other issues as well, including regulation and the military. In addition, he has said that he would rather see his son die than be gay, and in an interview with Time equated homosexuality with pedophilia.
The election, which will take place next month, comes after years of political and economic turmoil in the country that has toppled other political leaders. Popular former president Luiz Inácio Lula da Silva, or simply "Lula," is currently behind bars after being convicted on corruption charges. Lula had attempted to run for president again, even while incarcerated, but as of this week was expected to give up those efforts after a court ruled he was ineligible.

Lula's successor, Dilma Rousseff, was impeached in 2016. And her successor, current president Michel Temer, has faced multiple impeachment attempts and in 2017 was charged with accepting bribes.