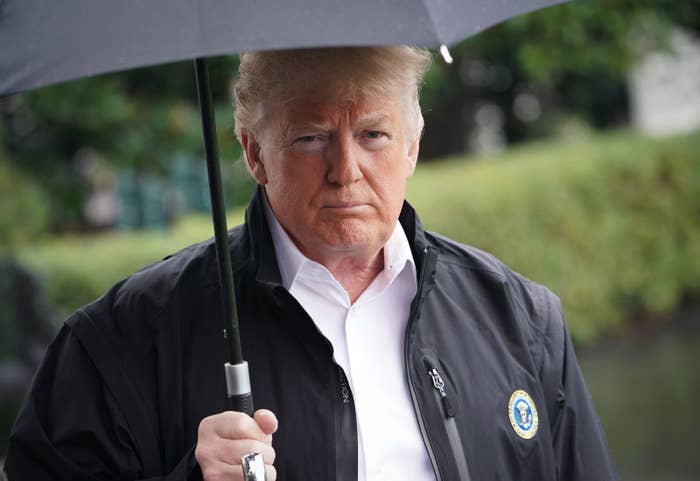 President Donald Trump called Stormy Daniels "Horseface" on Tuesday.

He made the comment after the porn star's lawsuit, which alleged that Trump defamed her in a tweet, was tossed on Monday by a federal judge.

The judge also ordered that Daniels, whose real name is Stephanie Clifford, should have to pay Trump's legal fees if he chooses.

"Great, now I can go after Horseface and her 3rd rate lawyer in the Great State of Texas," Trump said about the tossed lawsuit on Tuesday.

Michael Avenatti, Daniels' lawyer, did not immediately respond to BuzzFeed News' request for comment about whether or not Trump's legal team has reached out about those fees. Tuesday afternoon, Avenatti issued a statement on Twitter, calling the president a "liar."

Daniels herself responded to Trump also, saying that the tweet "demonstrated his incompetence, hatred of women and lack of self control."

Melania Trump's spokesperson did not immediately respond to a request for comment from BuzzFeed News. The first lady has spearheaded "Be Best," an anti-bullying campaign.

This is just the most recent remark in the president's long history of mocking women for their appearance.

On The Howard Stern Show, Trump repeatedly made disparaging comments about women. Referring to actor Nicollette Sheridan, he said: "A person who is very flat-chested is very hard to be a 10."

"I never thought she was good-looking," Trump said of Angelina Jolie. "I don't think she's got good skin. I don't think she's got a great face. I think her lips are too big, to be honest with you, they look like too big."
In 2012 he tweeted this about Arianna Huffington:

And this about Bette Midler:
In 2014, he said this about Kim Novak:
And this about Rosie O'Donnell:
"Look at that face!" he said of Carly Fiorina in 2015. "Would anyone vote for that? Can you imagine that, the face of our next president?"

Of Megyn Kelly in 2015, who was then a Fox News host, he said that she had "blood coming out of her eyes, blood coming out of her wherever" during her moderation of a presidential debate.
In 2016 he said that former Miss Universe Alicia Machado "gained a massive amount of weight."
That same year, at a rally, he criticized the appearance of a woman who accused him of sexual assault. "Yeah, I'm gonna go after her," he said about Jessica Leeds. "Believe me, she would not be my first choice."

That year, he also tweeted this meme of Ted Cruz's wife:
In 2017, this is what he said about MSNBC's Morning Joe cohost Mika Brzezinski:
A few months ago, he called former White House aide Omarosa Manigault Newman a "dog."