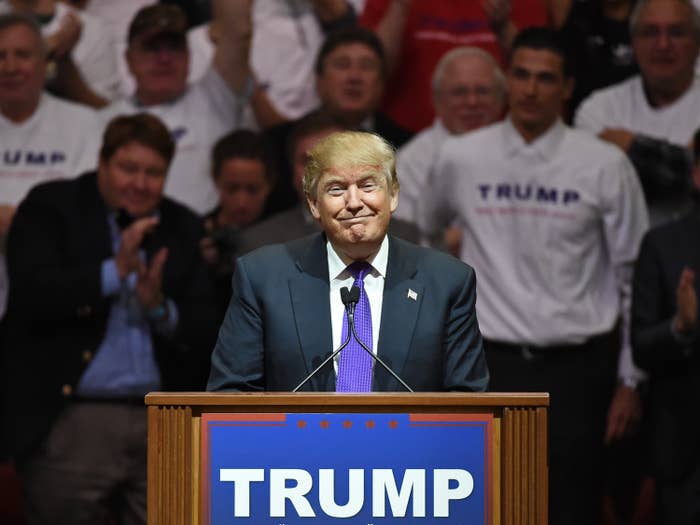 Donald Trump's rise toward the Republican nomination has been fueled, in part, by his candid and often crude style — more Howard Stern, say, than Mitt Romney.
And the roots of Donald Trump's rhetoric come, in fact, in part from The Howard Stern Show. Trump appeared upwards of two dozen times from the late '90s through the 2000s with the shock jock, and BuzzFeed News has listened to hours of those conversations, which are not publically available. The most popular topic of conversation during these appearances, as is typical of Stern's program, was sex. In particular, Trump frequently discussed women he had sex with, wanted to have sex with, or wouldn't have sex with if given the opportunity. He also rated women on a 10-point scale.
"A person who is very flat-chested is very hard to be a 10," he told Stern in one typical exchange.
Women make up a majority of the American electorate, and any of dozens of Trump's remarks would be considered a severe blow to most candidates for public office. Trump has, in the Republican primary, proven largely immune to the backlash that the laws of gravity in politics would predict, but there are also suggestions that he has a deep problem with some women voters: 68% of women voters held an unfavorable view of Trump in a Quinnipiac poll released in December. In a Gallup poll also released in December, Trump had the lowest net favorable rating out of all the candidates among college-educated Republican women. And should he win the nomination, his comments are sure to become ammunition for Democrats against what they have long cast as a Republican "war on women."
Trump has a history of making crude remarks toward women. He reportedly said of his ex-wife Marla Maples, "Nice tits, no brains," and more recently, he has called Fox News anchor Megyn Kelly a "bimbo" and a "lightweight" and said she had "blood coming out of her wherever" during the first GOP debate.
The focus of Trump's attentions when interviewed by Stern was commonly female celebrities — movie and television stars, recording artists, models, and media personalities.
Trump, in more than one instance, expressed his admiration for and attraction to Diana, Princess of Wales.
Months after Diana was killed in an automobile accident in 1997, Trump told Stern he thinks he could have slept with her, saying she had "supermodel beauty." In a different interview in 2000, Trump said he would have slept with her "without hesitation" and that "she had the height, she had the beauty, she had the skin." He added, "She was crazy, but these are minor details."
Describing Angelina Jolie, he said, "I never thought she was good-looking. I don't think she's got good skin. I don't think she's got a great face. I think her lips are too big, to be honest with you, they look like too big."
On several different occasions, Trump ranked or rated women on their looks.
In one instance, Trump ranked his top 10 most beautiful women, and while his then-girlfriend Melania Knauss took the top spot, Trump told Stern he definitely would have sex with Mariah Carey, Cindy Crawford, and Princess Diana, who also made the list. In another appearance, Trump assigned each of the actors on ABC's Desperate Housewives a score of 1 to 10 based on their attractiveness. He said of one of the actors, Nicollette Sheridan: "A person who is very flat-chested is very hard to be a 10." When he got to Marcia Cross, he asked Stern, "Would you go out with Marcia Cross or would you turn gay, Howard?"
In the interviews, Stern and his co-hosts often introduced the most vulgar elements into the conversation, but Trump was almost always willing to go along. Talking about Pamela Anderson's hepatitis C diagnosis in 2000, Stern asked Trump, "Would you do her, still?"
Trump replies, "No, I'm sorry."
Robin Quivers, Stern's sidekick, then asked Trump whether he would choose to sleep with Anderson or Whoopi Goldberg.
"You know, right now, I have to go with Whoopi," replied Trump. "Look, it's a terrible thing. It's a sad thing. You know, it's a terrible thing."
Trump also discussed his involvement with beauty pageants. After purchasing the Miss USA pageant in 1997, Trump said he would make the "bathing suits to be smaller and the heels to be higher." In 2005, when promoting the pageant on Stern's show, Trump said, "If you're looking for a rocket scientist, don't tune in tonight, but if you're looking for a really beautiful woman, you should watch."
Here's selected audio from Trump's many appearances: