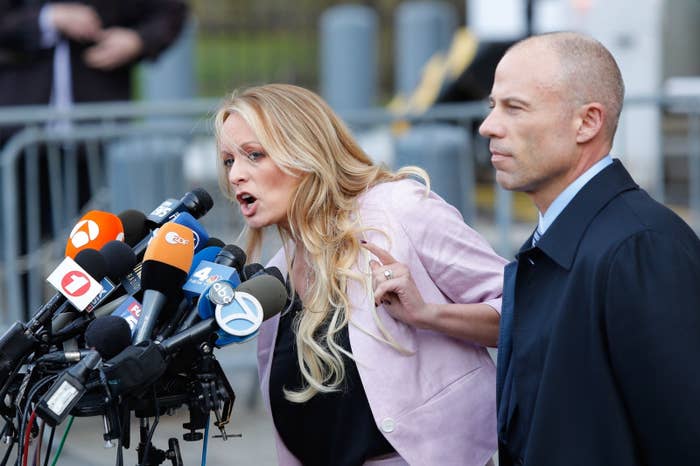 A federal judge on Monday tossed out Stormy Daniels' lawsuit alleging that President Donald Trump defamed her in a tweet, ordering Daniels to pay Trump's attorney's fees if he chooses to have her do so.
The April tweet followed the release by Daniels' lawyer, Michael Avenatti, of a sketch purporting to be of a man who Daniels says threatened her in 2011 regarding her claims that she had a relationship with Trump years earlier. In it, Trump wrote that the sketch was about "a nonexistent man." He then added: "A total con job ..."

Under laws aimed at encouraging free speech — known as anti-SLAPP laws, for strategic lawsuits against public participation — lawsuits filed alleging defamation can be dismissed early in litigation if they meet the laws' standards. If the person being sued can show that they were speaking about a public individual regarding a matter of public concern, then the person who brought the lawsuit needs to establish that they can make out a "prima facie" case of defamation — which basically means, that if everything is how the person suing says it is, would that be defamation?
Daniels, the adult film star whose legal name is Stephanie Clifford, brought the defamation lawsuit in addition to the litigation she had earlier been involved in over the hush agreement she signed in 2016 with Michael Cohen, Trump's longtime personal lawyer, regarding the claimed relationship.
US District Judge James Otero ruled that the tweet in question involved a public official and a matter of public concern. He then went on to rule that her lawsuit did not establish a possible case of defamation because Trump's tweet was — as Trump's lawyer, Charles Harder, argued — "non-actionable opinion, not a statement of fact about Ms. Clifford."
In Otero's ruling, he wrote that "Mr. Trump's statement constituted 'rhetorical hyperbole' that is protected by the First Amendment" — noting repeatedly that Daniels had presented herself, including to the court in the defamation lawsuit, "as an adversary to the President."

Specifically, Otero noted, "Ms. Clifford argues that Mr. Trump sought to silence her as a strategy to win the Presidential election, a clear argument against the legitimacy of Mr. Trump's Presidency. ... Mr. Trump issued the tweet as a rejoinder against an individual challenging him in the public arena. This is the definition of protected rhetorical hyperbole."
Under the Texas anti-SLAPP law, Otero dismissed the case and gave Trump 14 days to seek attorney's fees, should he choose to do so.
In a statement, Harder said of the ruling, "No amount of spin or commentary by Stormy Daniels or her lawyer, Mr. Avenatti, can truthfully characterize today's ruling in any way other than total victory for President Trump and total defeat for Stormy Daniels."
Avenatti, in a tweet, said Daniels will be appealing Monday's ruling.