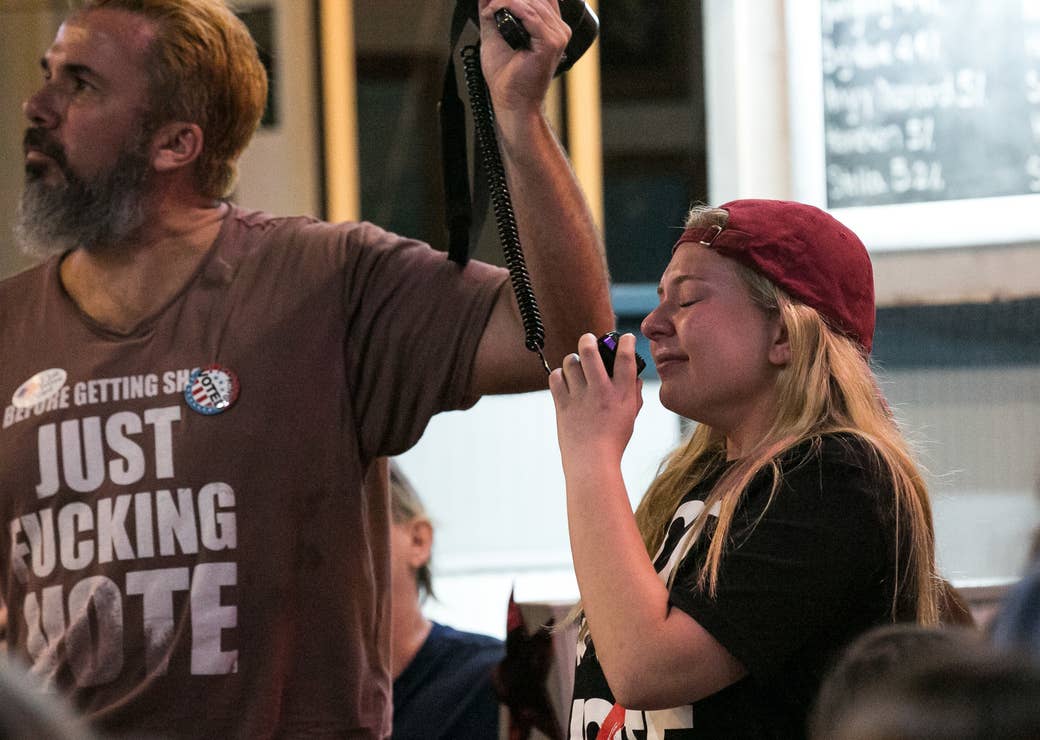 CORAL SPRINGS, Florida — Jackie Corin, the newly turned 18-year-old holding the March For Our Lives movement together, stood up to speak to the room full of activists, teachers, and parents of children who died in a massacre. It was 10:30 p.m. on Election Day at Hurricane Grill & Wings, a chain restaurant less than a mile from Marjory Stoneman Douglas High School, where 17 people were gunned down on Valentine's Day. And politicians with ties to the NRA were winning in her home state.
"I'm shaking with anger right now," the high school senior from Parkland said. "So, I'm going to make this short. It's like the same feeling I was getting the night of February 14, I'm so angry and I don't know what to do with that anger."
Corin's speech came at the conclusion of the March for Our Lives' movement's biggest test since the small group of roughly a dozen teenagers decided to become a political force after the shooting. The young activists spent the last several months relentlessly traveling the country in a massive effort to get young people to vote with a singular message: End gun violence. Nov. 6 was supposed to be a day to validate all that hard work.
But by the time Jackie got up to speak, David Hogg and Emma González, the faces of the national movement, had left the victory party. The activists who remained wiped away tears as Corin struggled, her voice cracking, to address the crowd. What the activists found was that change rarely comes suddenly — really it's slow, and incremental, and the opposition is strong.
"I feel like a rookie going into his first MLB game," Matt Deitsch, the movement's chief strategist and, at 21, one of the oldest organizers, said of election night.
The March for Our Lives team began Election Day in their "war room" in the rec room of a gated community. They called strangers, buddies, and even former middle school bullies to get them to vote. There was a world history textbook abandoned on one of the tables, pins that read "We Call BS," and candy.
The activists told BuzzFeed News that a successful night for them meant getting NRA-backed politicians booted from office and getting a record number of young people to vote.
Hogg — who rode through the space on an electric skateboard — told BuzzFeed News that after months of traveling the country, he was tired. He said that they were going to win. While talking into an iPhone, Hogg delivered an energetic appeal Tuesday afternoon. He told the thousands of viewers watching the war room's Periscope livestream to go to the polls. "Go out there and get five other people to vote," he told his audience.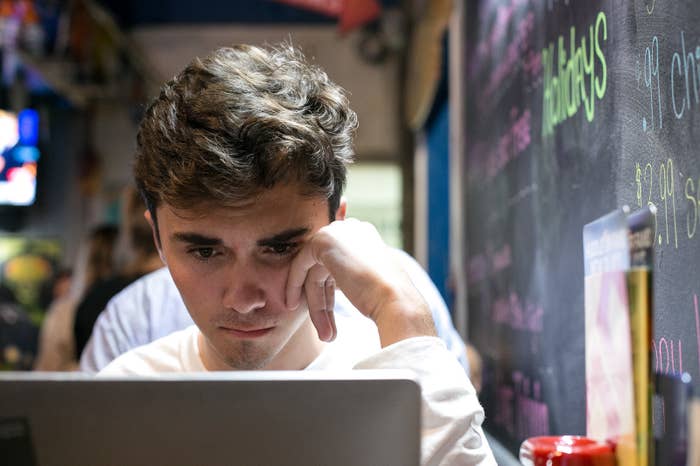 Corin made phone calls and patiently reintroduced herself several times. "You know where your polling location is?" she asked one person, after explaining what March for Our Lives was.
Alex Wind, a senior at Marjory Stoneman Douglas, was gleefully calling up his friends. "The country's watching," he quipped to a buddy. To another, who was at a polling place, he asked, "You feel energized and powerful?"
Adam Alhanti, who is a senior at Marjory Stoneman Douglas, and Brendan Duff, a graduate, drove around with a speaker and microphone exhorting people in the Parkland neighborhood to vote. They ended up picking up two strangers and driving them to the polls. "That's so dangerous," another MSD graduate, Sofie Whitney, told them.
Kirsten McConnell, a senior at the high school, even texted someone who bullied her in middle school and told her to get to the polls.
The teens spent some of the day on laptops looking at polls, which led to arguments about their effectiveness. González crumpled on the floor at one point, and just stayed there for a while.
They were exhausted, and you could see it.
Still, they had hope. "Youth voter turnout is up!" Hogg said effusively to his fellow activists.
Florida's tight races for governor and Senate would be a "litmus test" for the nation, he told BuzzFeed News. "Will Trumpism get you elected?" he asked.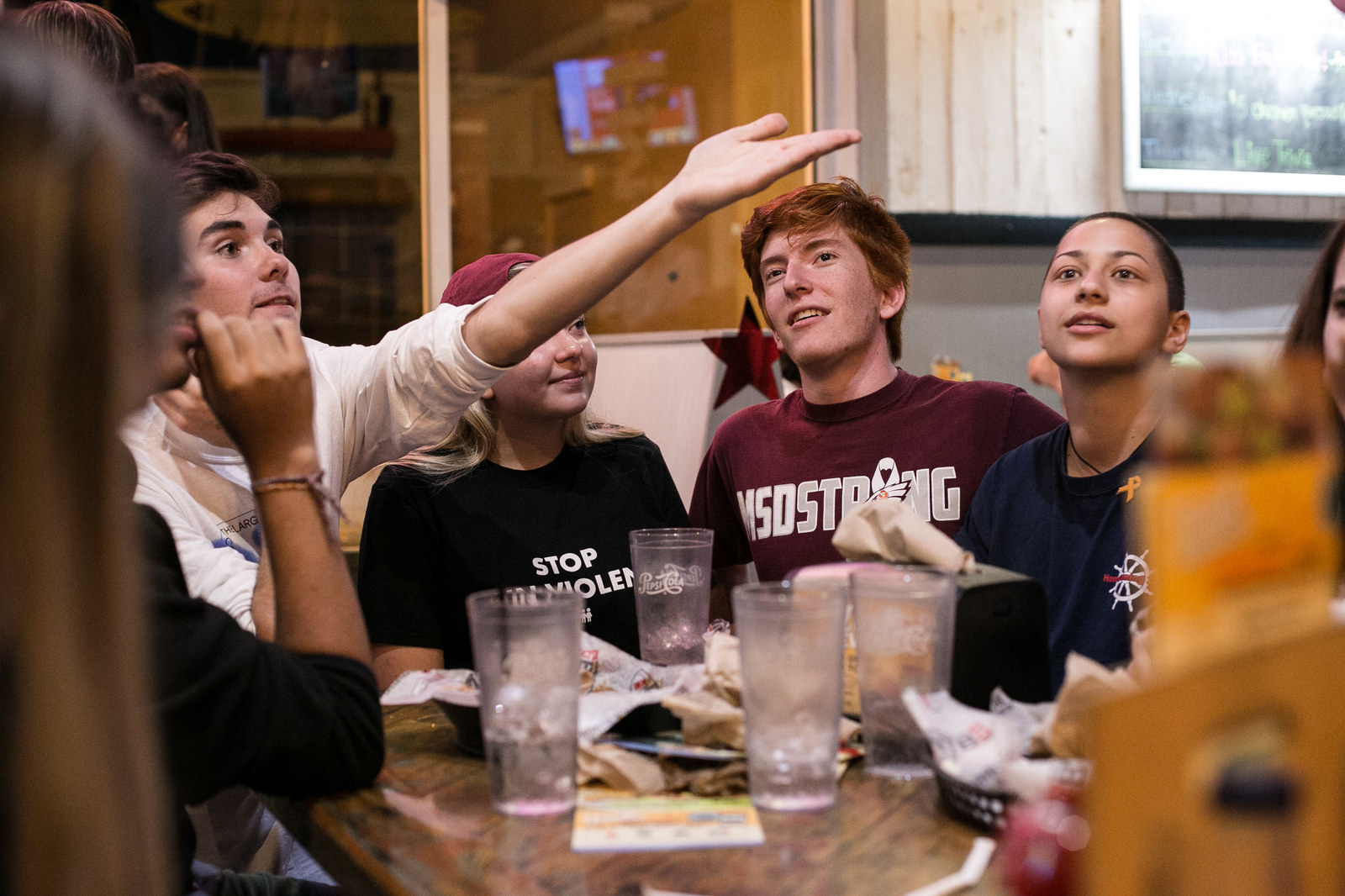 At night, the activists gathered at an election watch party at Hurricane Grill & Wings, where the parents, community members, and teachers from Marjory Stoneman Douglas High School gathered to watch the results. They spent the night hunched over their phones, one activist staring at an electoral map of Florida on his iPhone, lit up by Republican-leaning red districts.
There were moments of collective celebration, but many of the teen activists spent the night in expectant silence.
There were bright spots. When Republican Rep. Barbara Comstock of Virginia — who had an A rating from the NRA — lost, Hogg smiled in satisfaction. "I feel really good," Hogg said. He showed off a tweet to people in which he tagged her, her writing: "Bye @BarbaraComstock :)."
"Seeing someone like Comstock go down is awesome," Deitsch said. Hogg also was happy to see Lucy McBath, who ran for a House seat in Georgia, ahead. (She later declared victory, though her race hasn't officially been decided.) Her candidacy was catalyzed by the death of her son, who was murdered by a white man for playing his music loudly outside a gas station in Florida.
In July, they visited Roswell, Georgia, and McBath attended their event. "You said I inspired you-It's your kindness and struggle that inspires me and all those around you," González tweeted in August, with a photo of her and the then-candidate.
In Colorado, in a district that includes Aurora — where 12 people died in a mass shooting in 2012 — NRA-backed Rep. Mike Coffman was defeated by Jason Crow. March For Our Lives visited Aurora in July, too.
But at home, things were not going their way. Rick Scott, who has ties to the NRA, and Ron DeSantis, endorsed by the lobby, beat out their Obama-backed Democratic competitors in extremely tight races.
"Florida's always been like this," Deitsch said. He was seated outside of the main party, drinking what he said was his fourth beer.
"I'm not really surprised by the results, considering I live in Florida and I understand my neighbors," he said with a laugh. As for the NRA-backed politicians in office, he said, "their time will come eventually."
He said they were successful in expanding the electorate, adding, "and that work isn't going away anytime soon."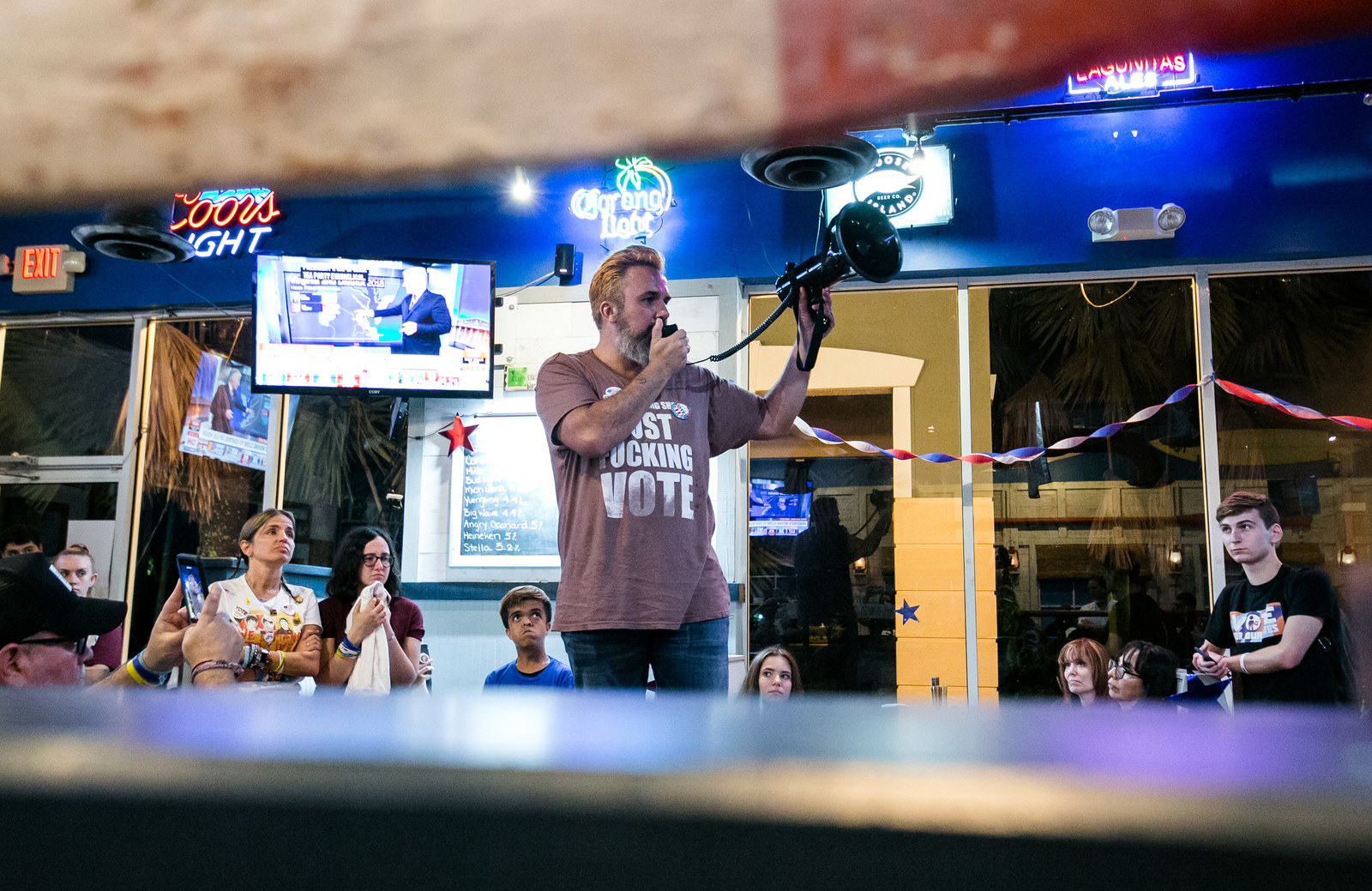 Deitsch said their mission is a "marathon, not a sprint" and they will use these results to how they approach 2020.
Hogg told a friend that the results might change what he does next with his life.
He had said that he wants to go to college next year, but now, he said, "I think I might need to take another two gap years."
About the results, Hogg said: "The incumbency advantage is insane." He also told a reporter that night: "Fuck gerrymandering," adding, "Honestly, young people are just going to have to run." Hogg himself has said that he plans to run for Congress when he's 25.
Not all of the activists were discouraged. Ramon Contreras, who is from New York, said the "House is looking good."
There are "morally just leaders in it," he said. When asked if it was hard to see other activists so upset about the outcome, he responded: "Yeah," adding, "lots of trauma."

Activists wiped tears away from their eyes as they watched Corin deliver her speech.
She was barely able to get words out as she wept. "I promise you, we do this every single day for your kids," she said, addressing the parents of victims. She then paused, to cry into her hand. "Come on, Jackie," someone yelled at her. "I'm sorry," Corin said. Parents of victims Nicholas Dworet and Joaquin Oliver also spoke at the end of the night.

"People love their guns here," Mitch Dworet said, facing the table of the teen activists directly.
"Don't get down," mom Patricia Oliver instructed, as she stood next to her husband, Manuel Oliver. "This is not allowed."
"We're not going to stop," Corin said in her speech. "I can tell you I'm doing this for the rest of my life." She looked at Manuel Oliver. "I promise."
After her address to the room, Corin found out that Rep. Steve King, a racist whose campaign Facebook page attacked González, won. She said, "Are you fucking kidding me?"