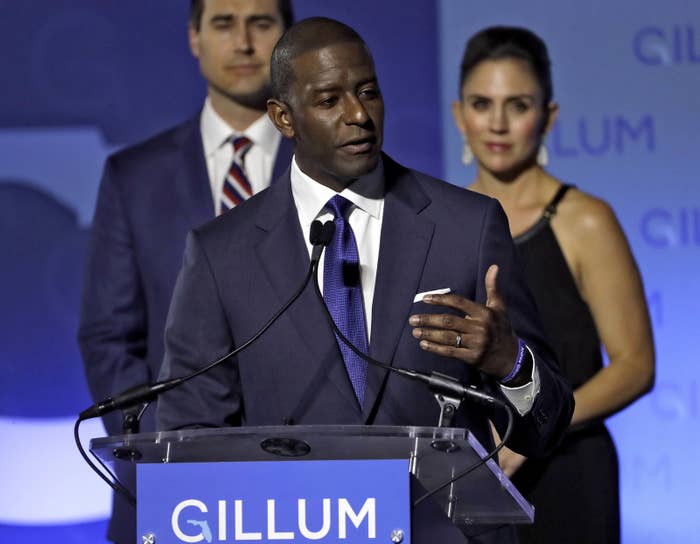 Democrat Andrew Gillum vowed to continue fighting for Floridians Tuesday night after conceding to Republican Ron DeSantis in the state's hotly contested gubernatorial race.
"I still plan to be on the front lines right alongside every single one of you when it comes to standing up for what it is that we believe in," Gillum told supporters.
"I sincerely regret that I couldn't bring it home for you," he added, choking up. "But I can guarantee you this: I'm not going anywhere."

Gillum, the mayor of Tallahassee, was a surprise primary winner and the state's first black gubernatorial nominee from a major party. DeSantis, a former congressman who resigned his seat in September to focus on his campaign, has been a strident supporter of Donald Trump and won the election with the backing of the president.
The general election contest almost immediately devolved into an ugly fight over race. On the first day of the campaign after the primary, DeSantis warned voters on Fox News not to "monkey this up" by voting for Gillum, drawing condemnation for the racially charged remark. Gillum was targeted by robocalls from a neo-Nazi organization, and in a viral moment from one of their debates said: "I'm not calling Mr. DeSantis a racist. I'm simply saying the racists believe he's a racist."
"I am blown away by the volunteers that joined with us on the trail. I'm blown away by you," Gillum said in his concession speech Tuesday. "This was from the very beginning an extremely, extremely difficult task."
"We're going to keep fighting, we're going to keep working, we're going to keep believing, and in all of that I believe that ultimately we will be victorious," he concluded.