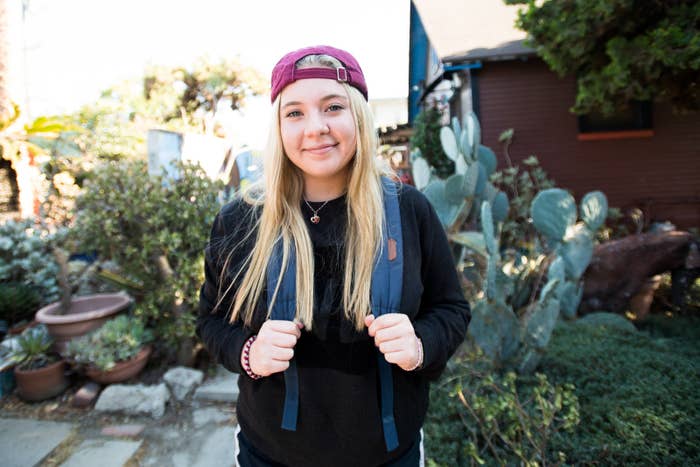 Teens do not flock to Jaclyn Corin for selfies like they do to Emma González, the face of the March for Our Lives movement. Jaclyn's tweets, unlike David Hogg's, don't drive news cycles.
Jaclyn, instead, is more of a behind-the-scenes "captain," said MFOL strategist Matt Deitsch.
"Real Gs" like her, he quipped, "move in silence."
March for Our Lives just wrapped a 60-day national bus tour, spreading its anti–gun violence message from Illinois to Connecticut, building relationships with high schoolers starting offshoot organizations, going on a media blitz, and, perhaps most importantly, reinforcing to teens nationwide that the Marjory Stoneman Douglas High School massacre survivors are still the young, immovable faces of the movement.
The "Road to Change" tour was Jaclyn's moment, befitting her quieter role in the group: She is the manager, the scheduler, the briefer, the details person. She even scrubbed the damn bus bathroom on Thursday.
"She got on a cleaning spree," Emma told BuzzFeed News, "and cleaned the entire bus in, like, an hour."
Remy Smidt/BuzzFeed News
Jaclyn Corin speaks at the tour's final stop in Newtown, Connecticut.
Now the bus tour is over, Jaclyn, 17, and the team are strategizing on how that momentum translates into November's midterm elections — and beyond that. They'll definitely continue to travel, "especially to colleges."
What they won't do is endorse candidates — they can't because they're a nonprofit, and Jaclyn said members of the group have differing political opinions anyway.
"There are people that aren't all on the right, or on the left, in the internal March for Our Lives. We do disagree and we have debates on other things, but something we all agree on is this nonpartisan issue," Jaclyn said, adding she personally is not a one-issue voter.

"It's all about endorsing policy" — such as their calls for universal background checks and a high-capacity magazine ban — "not people," she said.
She also has a different view about how some of the teen activists can leverage their enormous power on Twitter.
Cameron Kasky, for his part, tweeted hours after Alexandria Ocasio-Cortez upset an establishment Democrat in her primary, "This is AWESOME. We need more people like Alexandria in office." Hogg called her the "future president."
Kasky also drew attention to Sen. Ted Cruz's competitor in Texas, Beto O'Rourke, calling his campaign "remarkable."
While Jaclyn thinks this is "okay," it's not her approach. "I don't agree with them doing that," she said. "I think that they should just think that."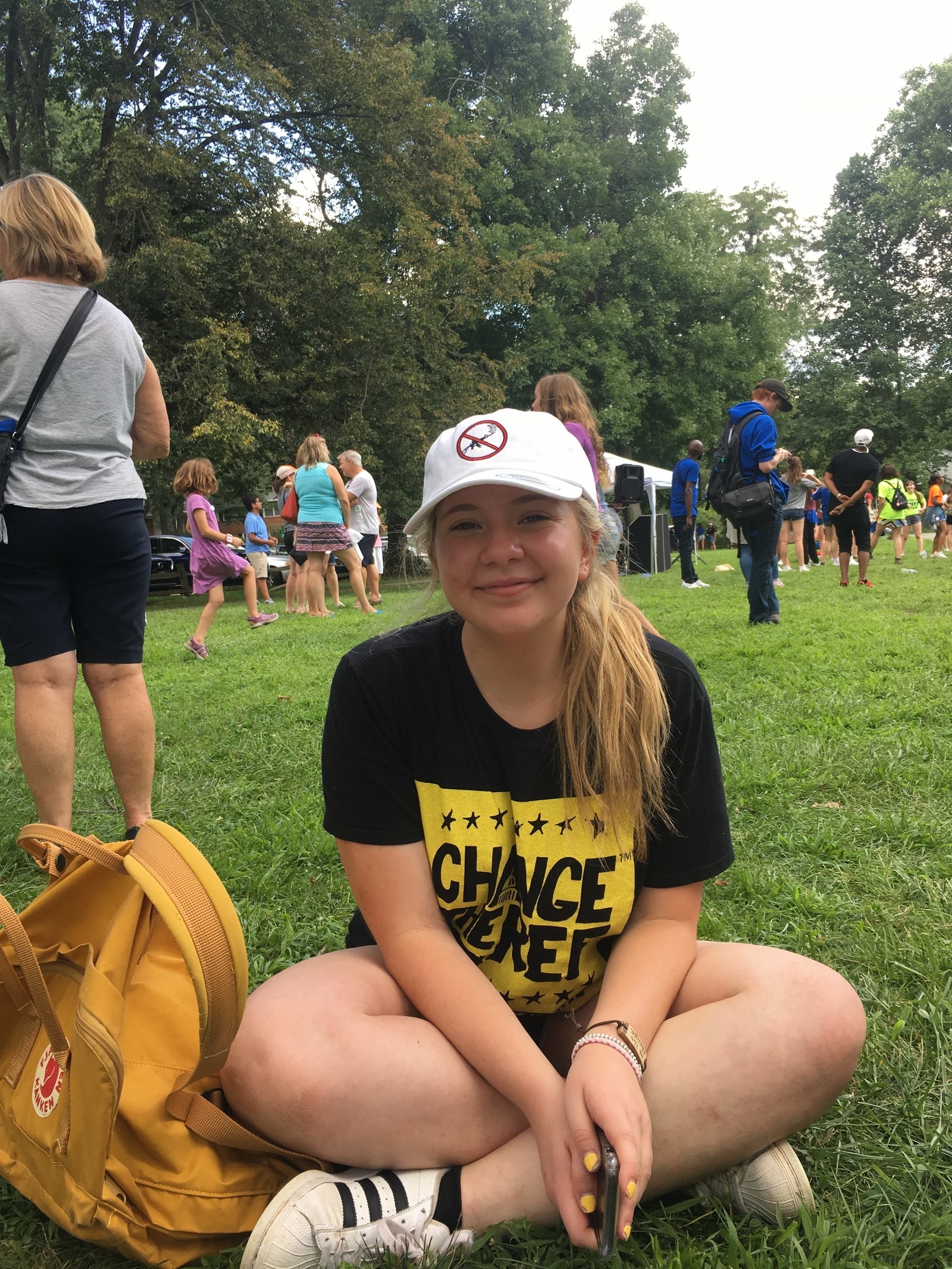 "Sometimes I'll call people out by stating a fact or something, but I won't publicly go out there and be like, 'This person is amazing. I want to be like them.' I would never tweet about that. I can just keep it in my head," she said.
"People are a little impulsive," she said, "because we're teens and we get mad."
She also was a bit too busy to tweet this summer while on the road. "I often, like, don't go on Twitter all the time, every hour, and look up things," she said, laughing. "Like, I have other shit to do."
Jaclyn spoke to BuzzFeed News last Wednesday while sitting in a dim church stairwell in Perkasie, Pennsylvania, with the voices of student panelists and applause from one of the group's final summer town halls audible in the distance.
"I'm good at getting into the grimy little details that people tend to wipe off and say, 'Oh, that will get done,'" she said. "I'm the one creating all the everyday agendas. I'm the one actually making people aware of what's going on, telling people what we're going to be doing."
She's also the point person for the "adults" of the group. March for Our Lives contracts with a major public relations firm, works with seasoned movement organizations, has an advance team, and has a board of directors filled with experts in their field. "What most of the staff did was help us do the things that I couldn't do, like book hotel rooms," she said.
Emma said that Jaclyn was the one who connected with local chapters for the tour. "Say we're going to Las Vegas and we're meeting up with Las Vegas survivors," she said, "somebody needs to make sure the MFOL Las Vegas knows that's what we're trying to do."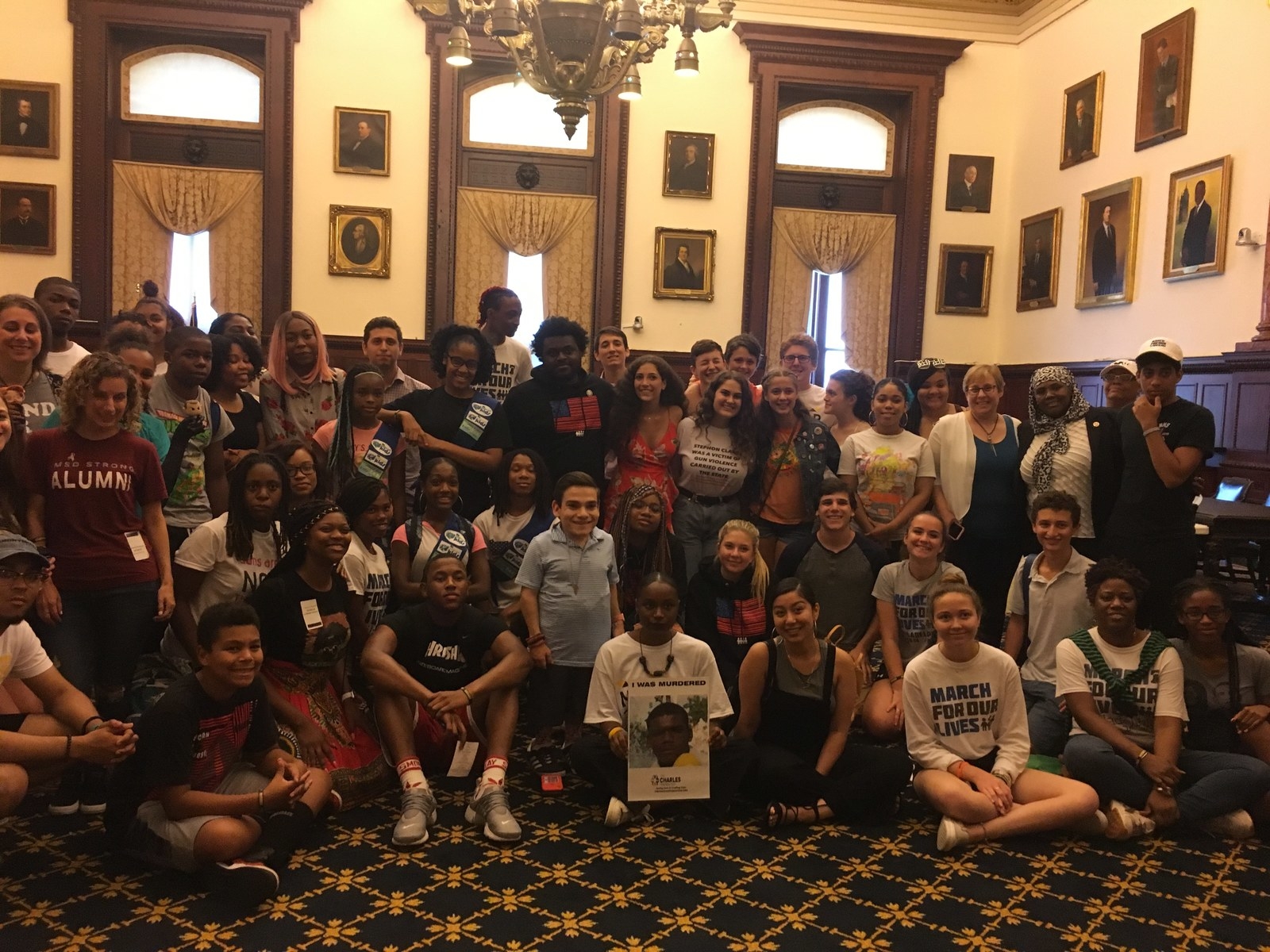 "Jackie's that person," she said, adding Jaclyn is "holding most of the strings on the balloons."
Jaclyn has been focused on the "grimy little details" from the beginning. The Sunday after the Feb. 14 mass shooting, she spent the night finishing what she called an "essay." It was essentially a press release for the group's first major action that she spearheaded: a bus trip for students to the state capitol to lobby for gun legislation.
This summer, the group traveled across the country, picking up other teenage activists along the way, registering people to vote, and cementing their relationships with local MFOL chapters, community groups, and teens who were activists long before the mass shooting in Parkland. Jaclyn worked 18 to 19 hours a day during the tour, her colleagues told BuzzFeed News.
Her skill, she said, isn't coming up with the ideas — but making sure the ideas are carried through. "I'm the person who will actually carry out those ideas and make it real, and make sure everything gets done perfectly, because I'm very anal when it comes to getting things done properly, and effectively, and putting out positive and proper messaging," she said.
The team registered more than 10,000 people to vote via the QR code on their merchandise, which opens the March for Our Lives website when scanned. They will soon be releasing numbers on the rest of their voter registration efforts this summer.
"Without her, this tour wouldn't exist."
"Without her, this tour wouldn't exist," Deitsch said of Jaclyn. "It's simple as that."
The national organization's next goal, Jaclyn said, is "building a clear-cut road of communication" between the local groups and the Parkland teens so they can be "in constant communication with kids across the country." This lets them "reach us if they have questions or advice."
To do this, they're in the process of building out Slack channels with local groups in Washington, Illinois, New Mexico, California, Iowa, and North Carolina. They're currently in communication with about 100 people — the idea is to grow that number significantly.
"It's all about personalizing how we can build out [for] the long term in every individual community," she said, by holding voter registration barbecues and town halls. "Grassroots is how you get the vote out."
Local groups can canvass for "the officials in their community that agree with" their agenda.
"It could be a Republican, it could be a Democrat, it could be a freaking Green Party member," she said.
Following an emotional spring after the attack, and an exhausting summer on the road, Jaclyn returns to Marjory Stoneman Douglas High School on Wednesday.

She intends to "finish what I started" — that is, getting her diploma.
She finds herself existing in two different worlds at the same time: the very public movement, and all of the time constraints it brings her and her fellow teen activists, and her ultimate desire to eventually go back to a quiet, normal teen life.
She's taking fewer AP classes so that she can keep up with the organizing work. But she's also excited to have a part of her life that is, for the first time in months, private.

"I'm not made for doing magazine cover shoots," she said. "I'm not made for taking picture upon picture with all these kids — I love it, but it's not something I expected to do with my life."
"I didn't sign up to be a model. I didn't sign up to be a motivational public speaker."
"I didn't sign up to be a model," she said. "I didn't sign up to be a motivational public speaker. It just came with the job and I accept that responsibility. But ultimately, I want to, we want to, go back and try to lead a normal life."
Still, the pull to the movement is strong. "This wasn't just a one-year affair," she said about the group's efforts. She's still looking forward to traveling through the midterms.
Speaking of those elections: Jaclyn turns 18 on Oct. 27. She'll be able to vote come November.