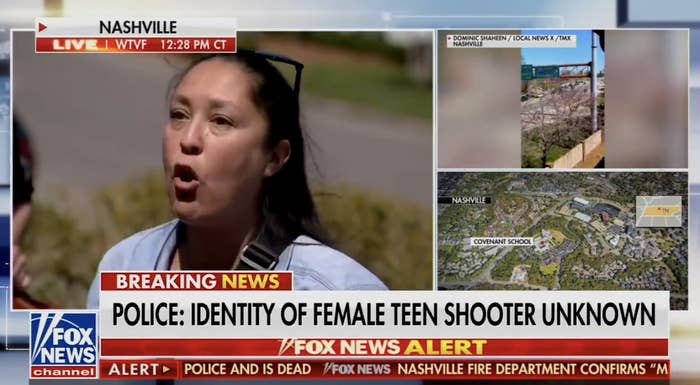 A mom who survived the July 4 shooting at a parade in Highland Park, Illinois, with her then-6-year-old son found herself once again at the scene of a mass shooting on Monday.
Ashbey Beasley asked a powerful question to reporters outside the deadly shooting at a school in Nashville.
"Aren't you guys tired of being here and covering this?" Beasley asked. "Aren't you guys tired of being here and having to cover all of these mass shootings?"
On Monday morning, a shooter killed three children and three adults at the Covenant School, a private Christian grade school. Beasley, who said she was in Tennessee to visit her sister-in-law, heard about the mass shooting and passed the reunification center.
And that's when Fox News and other stations caught her interaction with reporters on camera. Beasley told reporters that since surviving the Highland mass shooting in July, which left seven people dead and 48 more injured, she has been lobbying in Washington, DC, for gun control, meeting with more than 130 lawmakers.
"How is this still happening?" Beasley said. "How are our children still dying, and why are we failing them? Gun violence is the No. 1 killer of children and teens. It has overtaken cars.
"These shootings and these mass shootings will continue to happen until our lawmakers step up and pass gun safety legislation."
In an interview with USA Today on Monday, Beasley said she became drawn to activism after seeing how her son was struggling to cope with the trauma of the shooting.
"The activism has sort of become my therapy," Beasley told USA Today. "There's no absolute answer that's going to prevent every single gun death. But we have to do everything in our power to do the things that we know will work."
On Monday afternoon, Beasley was tweeting updates about the Nashville shooting. Her Twitter feed is full of calls for gun control and updates of her meetings with lawmakers, including one with Republican Rep. Matt Gaetz after a January incident where a toddler was captured on surveillance video playing with a loaded gun.
"I chatted w/@mattgaetz today," Beasley tweeted. "While I'm concerned that he said he doesn't believe in seat belts, I'm relieved that he agrees that a diapered 4-year-old year with a gun is horrible. That is common ground & we should work on #gunsafety solutions together!"
Shortly after the mass shooting in Highland Park, she attended a congressional hearing with gun manufacturers where the role of the firearms industry was being investigated for the country's high rates of gun violence.
"The idea that we, as a country, cannot go to a mall without the idea creeping in the back of our heads that someone could shoot us is unacceptable," Beasley told Nightline at the time. "That we are scared to send our children to school with fear that they won't come home is unacceptable."