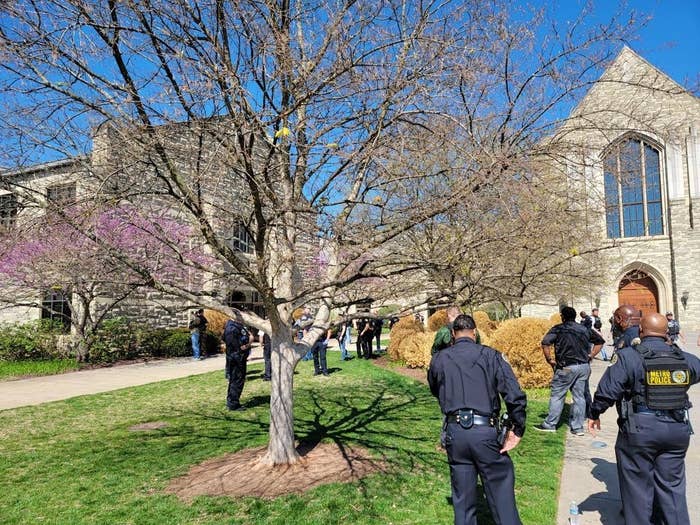 Six people, including three children, are dead after a 28-year-old shooter opened fire at a private Christian school in Nashville, police said.
The shooting occurred at the Covenant School on Burton Hills Boulevard, the Nashville Fire Department confirmed on Monday. The school is for students from preschool through sixth grade.
Nashville Police Chief John Drake said the suspect was a Nashville resident and was at some point a student at the school. Police have identified the shooter as Audrey Hale, who they initially said was a woman but later clarified was transgender. According to a LinkedIn profile, Hale used he/him pronouns.
A spokesperson for Vanderbilt University Medical Center confirmed in a statement to BuzzFeed News that three children with gunshot wounds were sent to Monroe Carell Jr. Children's Hospital at Vanderbilt. All three were students at the school and were pronounced dead after arrival. The other victims include three adult staff members.
Metro Nashville Police Department identified the children who were killed in the shooting as Evelyn Dieckhaus, Hallie Scruggs, and William Kinney, all 9-year-olds. The staff members killed were identified as Cynthia Peak, 61, a substitute teacher; Mike Hill, 61, a custodian; and Katherine Koonce, 60, the head of the Covenant School.
Speaking at a press brief following the shooting, Don Aaron, a spokesperson for the Metro Nashville police, told reporters that the suspected shooter entered through the school's side entrance around 10:15 a.m. with at least two assault-style rifles and a handgun. On Monday evening, the police said Hale entered the building after shooting out the glass of a door to the church.
Police called the shooting a targeted attack, adding that Hale had bought the firearms legally. Officers found a map of the school along with a "manifesto," police said.
"We've also determined that there were maps drawn of the school in detail, of surveillance, entry points, et cetera," Drake said.
He was killed by 10:27 a.m. after being "engaged" by Metro Nashville police.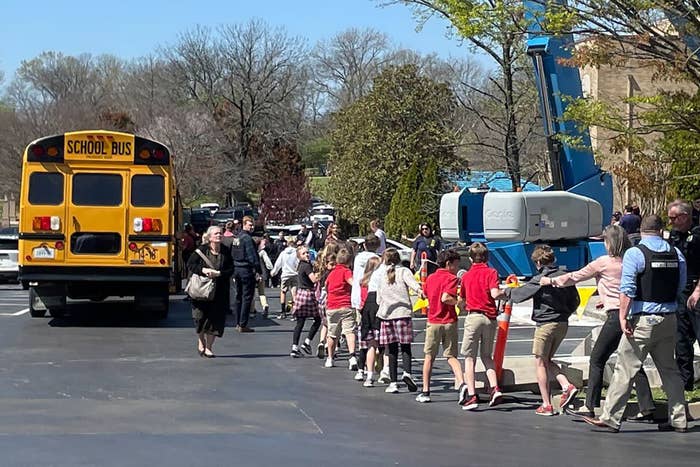 Drake told NBC Nightly News that he believed Hale targeted the school because of "resentment."
"There's some belief that there was some resentment for having to go to that school ... and that's why this incident occurred," Drake said.
Nashville police tweeted Monday evening that they found additional written material from Hale in Hale's car, which originally had helped them identify the shooter. Police have turned it over to the FBI, and it was revealed that Hale planned to target multiple locations, Drake said.
The American Public Health Association says gun violence in the US is a public health crisis. It is a leading cause of premature death in the country, responsible for more than 38,000 deaths annually. As of March 27, at least 4,190 people have died from gun violence this year, and another 5,676 have died by suicide, according to data from the Gun Violence Archive.
White House press secretary Karine Jean-Pierre said that President Joe Biden had been briefed on the shooting.
"Too often our schools and communities are being devastated by gun violence," Jean-Pierre said. "Schools should be safe spaces for our kids to grow and learn and educators to learn and teach."
Speaking at a White House summit for women-owned small businesses, Biden addressed the shooting by urging Congress to pass his assault weapons ban.
"We have to do more to stop gun violence. It's ripping our communities apart, ripping the soul of this nation, ripping at the very soul of the nation," Biden said. "And we have to do more to protect our schools so they aren't turned into prisons."
John Cooper, Nashville's mayor, tweeted a link to donate to the families of victims of the shooting.
"You can support the families of the victims of today's horrific shooting by donating to this fund," the tweet reads. "100% of the proceeds will go to victims' families. It is important that we stand together on this dark day for Nashville."
"The Community Foundation of Middle Tennessee is heartbroken by the horrific and senseless shooting that took place on Monday, March 27 at The Covenant School here in Nashville," the donation website reads. "Because of the outpouring of love from our generous and thoughtful community, we have established the Caring for Covenant Fund to manage the donations made in response to this tragedy. All donations made to the Fund, minus credit card fees, will be directed to The Covenant School to support the healing of those affected by this tragedy."