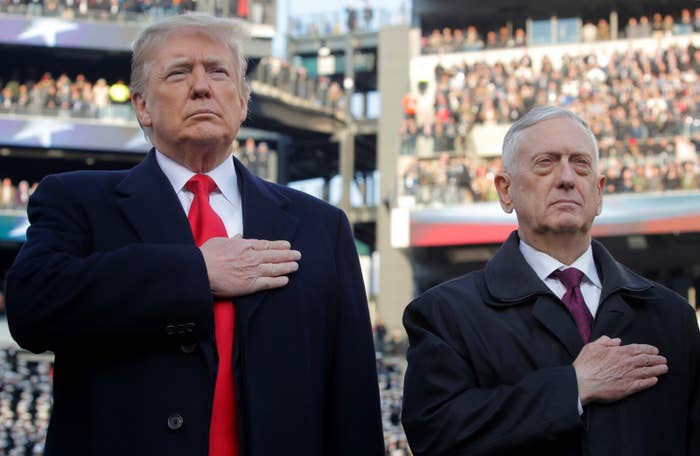 The president is replacing Defense Secretary James Mattis two months earlier than his planned retirement, amid concerns from Congress and the defense community over Mattis's exit from the administration.

Trump tweeted on Sunday that he will replace Mattis with Deputy Secretary of Defense Patrick Shanahan, who will take on the role of acting secretary of defense on Jan. 1.
"Patrick has a long list of accomplishments while serving as Deputy, & previously Boeing. He will be great!" Trump tweeted.
As Trump appears to acknowledge in his tweet, the deputy defense secretary automatically becomes acting defense secretary under federal law if the head of the department departs.
Mattis resigned on Thursday over Trump's foreign policy positions, most recently his decision to withdraw all US troops from Syria and significantly reduce the US military presence in Afghanistan.

"The secretary of defense serves at the pleasure of the president. The department remains focused on national security," said Department of Defense spokesperson Col. Rob Manning in a statement to BuzzFeed News.
On Friday, Brett McGurk, the US envoy for the global coalition to fight ISIS, also announced he was resigning over President Trump's decision to withdraw US troops from Syria.
When Trump announced the withdrawal from Syria on Wednesday, he tweeted, "We have defeated ISIS in Syria, my only reason for being there during the Trump Presidency."
In his tweets in the following days, Trump admitted that ISIS has not been entirely defeated, but said that "other local countries, including Turkey, should be able to easily take care of whatever remains."
McGurk — along with Mattis, national security experts, and many Republicans in Congress — sees the decisions in Syria and Afghanistan as deeply damaging to the global fight against ISIS.
"Nobody working on these issues day to day is complacent. Nobody is declaring a mission accomplished," McGurk said at a State Department briefing two weeks ago. "Defeating a physical caliphate is one phase of a much longer-term campaign."

In his resignation letter, Mattis wrote that he believed in "treating allies with respect," and that the US "must be resolute and unambiguous" in how it approaches countries like China and Russia, "whose strategic interests are increasingly in tension with ours."

He said his last day in office would be Feb. 28, 2019, "in order to ensure stability within the Department" and so that he could represent the department at a NATO meeting of defense ministers in February.

"We must do everything possible to advance an international order that is most conducive to our security, prosperity and values, and we are strengthened in this effort by the solidarity of our alliances," Mattis wrote.
He said he was resigning "Because you have the right to have a Secretary of Defense whose views are better aligned with yours on these and other subjects, I believe it is right for me to step down from my position."

Both resignations and Trump's decision to withdraw troops from Syria and Afghanistan have been met with concern from Republicans on Capitol Hill.
The outgoing chair of the Senate Foreign Relations Committee, Sen. Bob Corker, a Tennessee Republican, told CNN's Reliable Sources on Sunday he is "saddened for our country in being so unreliable."

"We're in the final stages. ISIS is now concentrated in the Euphrates River Valley. We're a few months away from finishing something that we started where we would annihilate a large number of ISIS members and we stopped," he said,
"I'm saddened for the broken relationships with countries that have been with us. I'm saddened for the many Kurds and others that likely will be killed and slaughtered by the Syrians or the Turks," he added.

Mattis's role, especially in the first months of the Trump administration, was widely seen as reassuring US allies that there would be continuity despite the new president's unpredictable statements.
"Very sorry to see Jim Mattis stepping down," Tobias Ellwood, a UK defense minister, tweeted about the news. "Trusted, respected and admired by friends and allies. Feared and revered by our foes. The most impressive military mind I've had the honor to know. Jim, my friend — our world will be less safe without you."
Before being tapped by Trump to be Mattis's deputy secretary of defense in March last year, Shanahan was a vice president at Boeing — the second largest defense contractor in the US — where he worked for three decades.
He was in charge of the company's commercial manufacturing sites in Renton, Washington state, and South Carolina, and previously worked on the military side of the company, where he ran the US Army helicopter plant in Philadelphia.