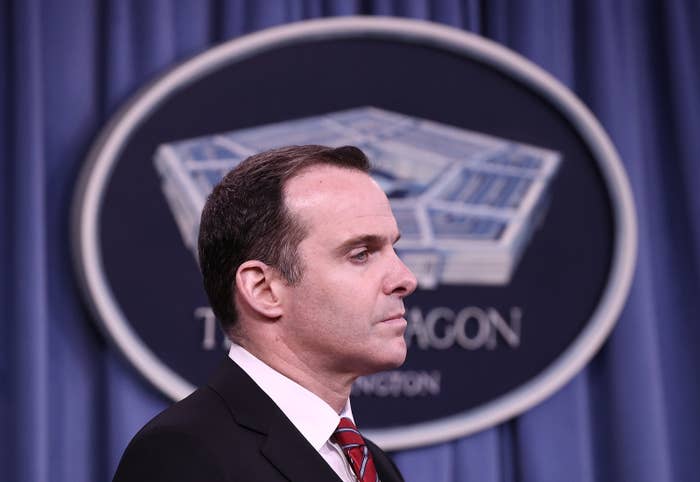 The US envoy for the global coalition to fight ISIS, Brett McGurk, is resigning over President Trump's decision to withdraw US troops from Syria, BuzzFeed News has been told.

McGurk, who has served in the post since 2015, had been set to leave his position in February, but moved forward his departure to Dec. 31 because he disagreed with Trump's plans. His resignation came just one day after Defense Secretary James Mattis announced he was leaving the Trump administration because of differing views with the president on defense and foreign policy. He had been a driving force behind the US partnership with the local soldiers that US troops will be leaving behind in Syria.
In a resignation letter given to Secretary of State Mike Pompeo on Friday and described to the Associated Press, McGurk said that, contrary to Trump's claims, militants in Syria were not yet defeated and that pulling US forces would encourage the growth of ISIS.
Just 11 days ago, McGurk said it was "reckless" to think ISIS was defeated and said the battle against the militant group was a "long-term initiative."
"Nobody working on these issues day to day is complacent. Nobody is declaring a mission accomplished," he said at a State Department briefing. "Defeating a physical caliphate is one phase of a much longer-term campaign."
Yet Trump suddenly announced the withdrawal of troops on Wednesday, writing on Twitter, "We have defeated ISIS in Syria, my only reason for being there during the Trump Presidency."
In subsequent posts he seemed to acknowledge that ISIS had not been totally eliminated but still maintained it was time for US forces to return home.
"On Syria, we were originally going to be there for three months, and that was seven years ago - we never left," he tweeted Saturday. "When I became President, ISIS was going wild. Now ISIS is largely defeated and other local countries, including Turkey, should be able to easily take care of whatever remains. We're coming home!"
On Saturday night, the president dismissed McGurk's resignation as a "nothing event," and claimed he did not even know the man leading the US role in the global coalition against ISIS.
"Brett McGurk, who I do not know, was appointed by President Obama in 2015," Trump tweeted. "Was supposed to leave in February but he just resigned prior to leaving. Grandstander? The Fake News is making such a big deal about this nothing event!"
US troops didn't arrive in Syria until 2015. Multi-pronged offensives to capture territory controlled by ISIS — following plans developed in large part by McGurk — were already underway in Iraq as well as Syria by the the time Trump took office.

Many national security experts, as well as several top Republicans, have expressed alarm at the president's decision, which was subsequently followed by an announcement that Trump was withdrawing 7,000 troops from Afghanistan.
"It's insane. Half my office wanted to go on strike when the withdrawal was announced," said one US military officer who has served in the anti-ISIS campaign, speaking on condition of anonymity because he isn't authorized to speak to the press. Commenting on Trump's Syria decision, the officer described the withdrawal as "sheer insanity and frankly cowardice."
He added: "I like Trump. [I] may not be a fan of everything, but I do agree with some things he's done. But this is stupid. And as you can see it has cost us a great leader in the form of Secretary Mattis."
The global coalition to defeat ISIS, for which McGurk serves as the US special envoy, was set up by former president Obama in 2014. The next meeting of the 79-partner coalition is to be held in February.
The president initially claimed Mattis was retiring; however, in his resignation letter released publicly, Mattis made clear his frustrations with Trump's decisions.

"We must do everything possible to advance an international order that is most conducive to our security, prosperity and values, and we are strengthened in this effort by the solidarity of our alliances," Mattis wrote, suggesting the president was emboldening US enemies, including Russia, by leaving Syria.
"Because you have the right to have a Secretary of Defense whose views are better aligned with yours on these and other subjects, I believe it is right for me to step down from my position," he wrote.
After tweeting about McGurk Saturday night, Trump then appeared to take a shot at Mattis as well. "When President Obama ingloriously fired Jim Mattis, I gave him a second chance," Trump wrote in another tweet. "Some thought I shouldn't I thought I should. Interesting relationship- but I also gave all the resources he never really had. Allies are very important-but not when they take advantage of the U.S."
One US military officer who served at top levels of the anti-ISIS coalition said he suspects that feeling of having been made to betray US allies in Syria is what drove Mattis to tender his resignation after failing to persuade Trump to reverse course in a face-to-face meeting at the White House.

"Mattis is a Marine, a man of his word. After his command in Iraq he personally met with every family of the Marines he lost," the officer said. Then referring to the US-created Syrian Defense Forces that were the primary partner of US troops in the fight against ISIS in Syria, he explained: "He made promises to the SDF, he broke them. I think that was the issue."
Former defense officials said they were not surprised that after two years of disagreements with Trump it was this order that drove Mattis to resign. Some said they wished the widely respected retired general had used the moment to be more forceful in his resignation letter, underlining the danger of the president's latest decision, which they said went against the advice and expertise of his military leaders.
"I wish it had been more of a rebuke. It was a missed opportunity," one former senior Pentagon official said, who was granted anonymity to speak frankly. "He was one of the few people who had credibility in the eyes of the American people to speak and be heard about the nature of this president."
A former military official wondered how Mattis' resignation, coupled with the Syria withdrawal, which reportedly saw Trump overrule all of his top military and national security advisers, will affect morale, as well as the commander-in-chief's popularity in the military. "I'm thinking of the [US Special Forces] captains in Syria having to tell the Kurds they have been working with that we are pulling the plug on them," the former official said. "That has to be a shitty feeling."
Mattis will continue in his role until the end of February.
Grace Wyler contributed reporting.