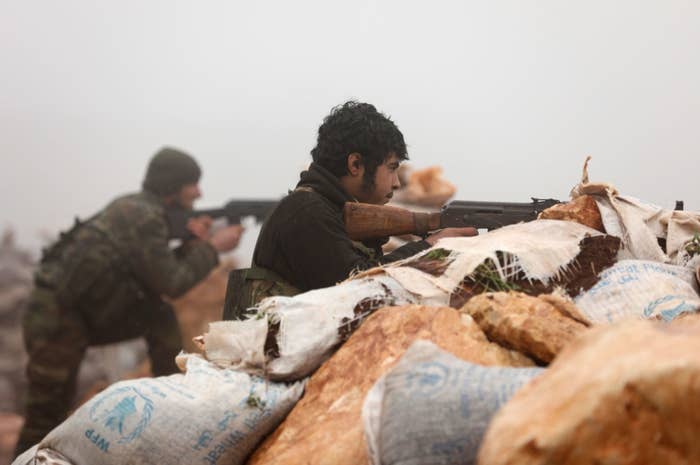 While Turkey's military assault on US-backed Kurdish forces in the Syrian region of Afrin has dominated the headlines, it's the city of Manbij to the east that is drawing the attention of the Pentagon and its NATO allies.
That's where US troops are operating alongside Kurdish allies, and where the US might confront a reality its planners hope never comes to pass, a confrontation with its Turkish NATO ally.
On Wednesday, Turkish President Recep Tayyip Erdogan threatened that Manbij would be his military's next target, raising the prospect of a military standoff between NATO's two largest armies.

So far the Trump administration's response to Turkey's military operation in Afrin, 60 miles from Manbij, has been muted. But when US troops were deployed to Manbij in March last year, a Pentagon spokesman called it a "visible reminder for anybody looking to start a fight."
It's unclear what comes next if that instigator is a NATO ally.
"We will clean our region from this trouble completely," Erdogan said on Wednesday, vowing to "foil games along our borders starting from Manbij… This operation will continue until the last member of the terror organization is neutralized."
In a call later in the day, Trump urged Erdogan to "exercise caution and to avoid any actions that might risk conflict between Turkish and American forces," according to the White House.
On Saturday, Turkey sent troops, supported by more than 70 aircraft, into Afrin, which has been controlled by US-backed Kurdish fighters, known as the YPG, for years. Turkey sees the YPG as a terrorist threat, an offshoot of a group that has fought a guerrilla campaign against the Turkish state for more than three decades. The US considers it the most effective military partner in the fight against ISIS, and has been arming the group over Turkey's fierce objections since at least last May.
Now the ongoing clash of interests between the two NATO allies could become real on the ground. If Turkish forces attack Manbij, the US will have to decide whether to turn its back on its military partner against ISIS, or risk a confrontation with its ally.

So far, the Trump administration, which has about 2,000 troops in Syria, has mainly watched from the sidelines, playing a delicate balance between reassuring Turkey and pleading for de-escalation. Defense Secretary Jim Mattis this week walked that line, trying to mollify Turkey by acknowledging its "legitimate security concerns," while also asking it to "exercise restraint in the military actions and the rhetoric and ensure that its operations are limited in scope and duration."
Secretary of State Rex Tillerson also put it mildly, saying he was "concerned about the Turkish incident" and that the US does "fully appreciate Turkey's legitimate right to protect its own citizens from terrorist elements."
The muted response seems only to have emboldened Erdogan, however. He vowed in a televised address that "we will take no step back." At the same time, the gentle US response has been seen as a betrayal by Syrian Kurds, who accuse the US of using their help to drive out ISIS and now just looking on as Turkey attacks them.
Before its offensive began on Saturday, the Turkish military gave the US advance notice that its forces were going to strike the Kurds in Afrin, Mattis told reporters.
The conflict highlights that the US has been in an untenable position for months, partnering with and arming a group that Turkey considers terrorists, while at the same time reassuring the Kurds of its full support.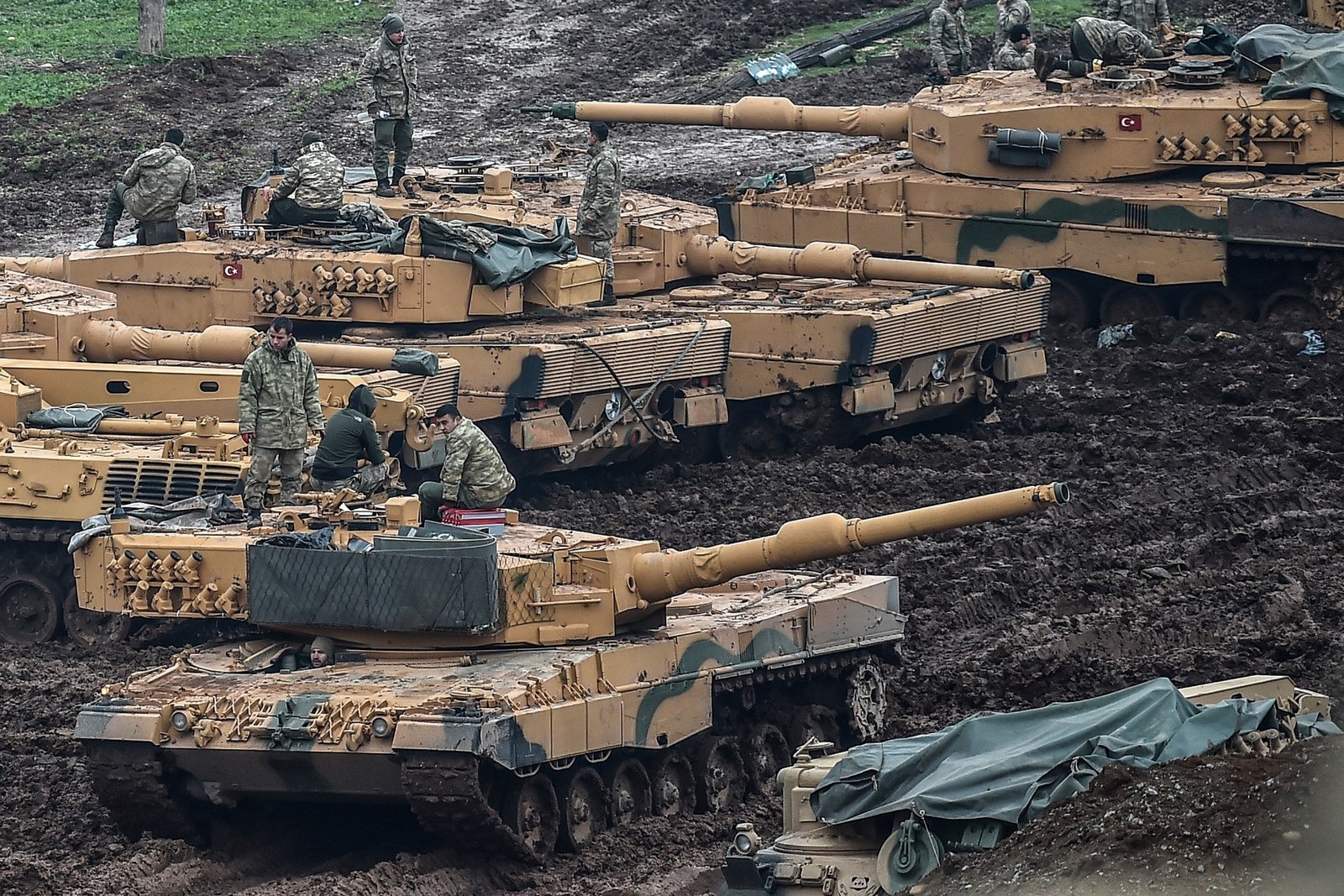 Senior Trump administration officials told reporters on Tuesday that Turkey was sending "conflicting signals" and wasn't being clear about its goals. It's more likely that the US just doesn't want to hear it – Ankara has stated its intent is to clear the Syrian border enclaves of Kurdish fighters and create a roughly 18-mile-deep zone "safe zone" between Afrin and the Iraqi border, according to Prime Minister Binali Yildirim.

Turkish troops, joined by allied Syrian rebels, reportedly captured several villages in the region including Shankal, Qorne, Bali, and Adah Manli, according to Turkey's state-run Anadolu news agency. But others, including the London-based monitoring group the Syrian Observatory for Human Rights, reported that the YPG had fought off Turkish troops from two villages. As of Wednesday, it was not clear how much territory the Turkish military had seized.
The Turkish government also claimed that its offensive, codenamed "Operation Olive Branch," had killed at least 260 YPG and ISIS fighters. Other reports gave much lower casualty numbers.
The US has publicly rejected the assertion that ISIS fighters are in the area.
"We do not see ISIS in that area," State Department spokeswoman Heather Nauert said on Tuesday. "This area that we're talking about, Afrin, was relatively stable…and now we're tremendously concerned about the situation."
Halfway across the globe in Indonesia, Mattis echoed the same talking point.
"The violence in Afrin disrupts what was a relatively stable area of Syria," he told reporters in Jakarta. "It distracts from international efforts to ensure the defeat of ISIS."
To avoid antagonizing Turkey, US officials have been couching the escalating fight as a distraction from what they call the shared goal of fully defeating ISIS in Syria.
"We are prepared to work with Turkey on legitimate security concerns, but prolonged operation risks giving life to ISIS as it's on verge of defeat," Brett McGurk, the US special envoy to the anti-ISIS coalition, who had just returned from Syria, said on Wednesday.
Turkey's air and ground offensive has already displaced thousands. An estimated 5,000 people have fled the fighting in the Afrin area, according to a UN report, with thousands more unable to leave. There have also been reports of civilian casualties, with women and children caught in the middle of the Turkish shelling.

The Trump administration, from the White House to the Pentagon to the State Department, has made it clear that it would prefer the fighting in Afrin end, but is not yet willing to pressure its ally seriously.
"As much as we are concerned about destabilizing activities in northwestern Syria, I want to make this clear as well, that ... as an important NATO ally, we fully understand Turkey's concerns about the PKK," Nauert, the State Department spokeswoman, said on Tuesday.
There have also been crossed wires between Trump, who has previously told Erdogan the US would stop arming the YPG and seemed to signal the same thing this week, and the Pentagon, which has said it does not intend to do so.

On his end, Erdogan on Wednesday called on Trump to stop the US from supporting the YPG with weapons. He defended the operation as a matter of national security for Turkey, saying it was aimed at "purging terrorist elements" from Afrin, according to a statement from the Turkish government.
Turkey's move does not come as a surprise – it has threatened to take military action ever since the US announced it would arm the YPG in May. The tension was exacerbated last week when the US announced plans to stay indefinitely in Syria, as well as create an armed force of 30,000 people, consisting mainly of Syrian Kurds, to maintain security in areas seized from ISIS.