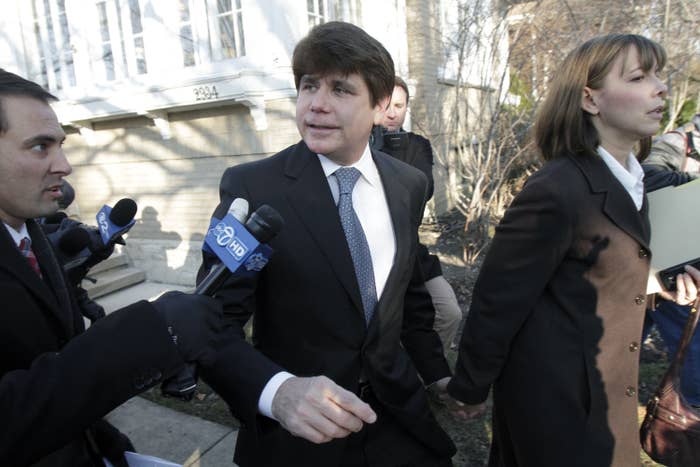 President Trump issued 11 pardons and grants of clemency Tuesday to people found guilty of corruption, tax fraud, lying to the White House, and financial crimes — including disgraced former Illinois governor Rod Blagojevich, whose supporters made personal appeals to Trump in Fox News appearances.
Blagojevich was convicted in 2009 over his efforts to sell off the vacant Senate seat of Barack Obama, and he was recorded in wiretapped phone calls looking for the highest bidder.
"I've got this thing and it's fucking golden," the then-governor infamously said in a wiretapped phone call as he discussed what he might be able to trade in return for appointing someone to the seat. "I'm just not giving it up for fuckin' nothing. I'm not gonna do it. And, and I can always use it. I can parachute me there."
On Tuesday, Trump also issued full pardons to former New York Police commissioner Bernard Kerik. He also pardoned financier Michael Milken.
Kerik, who had been nominated to lead the Department of Homeland Security under President George W. Bush, withdrew his name from consideration when questions arose about the immigration status of one of his household employees.
An ensuing investigation resulted in Kerik pleading guilty to felony charges of tax fraud and lying to White House officials during his vetting for the top job at DHS.
Milken, best known for his involvement in "junk bonds," had pleaded guilty to six felony counts of illegal securities trading.
Trump also signed executive grants of clemency to Edward DeBartolo Jr., Ariel Friedler, Paul Pogue, David Safavian, and Angela Stanton. He signed four executive grants of clemency and commuted the sentences for Tynice Nichole Hall, Crystal Munoz, and Judith Negron.
But the most high profile of Tuesday's pardons and sentence commutations was that of Blagojevich, whose blatant tone in the recordings permanently linked his name to corruption.
Blagojevich has been serving his time since March 15, 2012, at the Englewood Federal Correctional Institution in Colorado, where he was released Tuesday evening.
Trump's decision on Blagojevich came as little surprise; The president had spent months signaling that he had his eye on the case. As recently as Aug. 7, Trump told reporters on Air Force One that he was seriously considering commuting Blagojevich's sentence, believing that he had been "treated unbelievably unfairly."
"He's been in jail for seven years over a phone call where nothing happens — over a phone call, which he shouldn't have said what he said, but it was braggadocio, you would say," Trump said. "I would think that there have been many politicians — I'm not one of them, by the way — that have said a lot worse over the telephone." (Blagojevich was, in fact, convicted on the basis of multiple pieces of evidence, not a single phone call.)
On Tuesday, Trump called the former governor's 14-year sentence "ridiculous."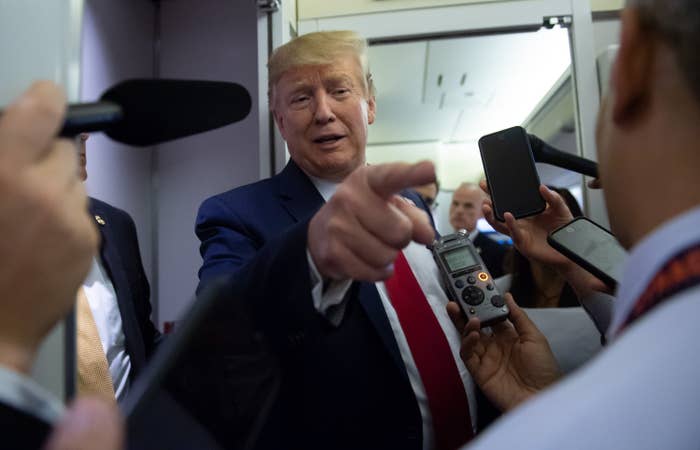 The two men also know each other personally. Blagojevich appeared in 2010 on Season 9 of Trump's former reality television show, The Celebrity Apprentice, where he proclaimed that he had the "skill and know-how to get things accomplished." At the time, Trump predicted that Blagojevich would be one of the show's breakout stars. That would prove not to be the case, as he was fired by Trump on the fourth episode.
Blagojevich was sentenced to prison in 2011 after being convicted of various "pay to play" schemes that involved state jobs, contracts, and exchanges of favors — the most infamous of which involved Obama's Senate seat. As governor of Illinois, it had been his duty to select and appoint a successor to the vacant seat, but federal investigators secretly recorded him discussing how he could leverage the opportunity for his own gain.
After being arrested and taken away in handcuffs in a 2008 dawn raid, roughly a month after the presidential election, he was subsequently impeached and removed from office.
Blagojevich unsuccessfully appealed his conviction up to the US Supreme Court. A federal appeals judge wrote in a 2015 opinion: "The evidence, much of it from Blagojevich's own mouth, is overwhelming." The Supreme Court last year once again refused to hear the case — the Justice Department defended his conviction — leaving him out of options for getting out of prison early through the courts.
In a statement, the White House said Blagojevich had already spent eight years in prison and that "people from across the political spectrum and from varied backgrounds have expressed support for shortening Mr. Blagojevich's sentence."
During his time in prison, the White House noted, Blagojevich had been spending time teaching GED classes to fellow prisoners.
Prior to Trump's decision, House Republicans from Illinois had cautioned him not to grant Blagojevich clemency. "Commuting the sentence of Rod Blagojevich, who has a clear and documented record of egregious corruption, sets a dangerous precedent and goes against the trust voters place in elected officials," said five Republicans from the state.
In between his arrest, trial, and eventual sentencing, Blagojevich continued to seek the media spotlight to proclaim his innocence, while also rebuilding his family's finances. He appeared on talk shows and The Celebrity Apprentice and attempted to participate in I'm a Celebrity...Get Me Out of Here! However, when a federal judge prohibited him from leaving the country to film the show, his wife, Patti, stepped in as a contestant — even eating a tarantula during filming.
Patti Blagojevich continued to advocate for her husband's release over the years, vehemently asserting his innocence in ways that seemed designed to draw the eye of the conspiracy-minded Trump. In a 2018 opinion piece for the Washington Examiner, she wrote that her husband's sentencing was heavily influenced by the "corrupt" Obama-era Justice Department and FBI. She appeared on Fox News, the president's favored channel, to defend her husband, saying that Blagojevich was the "only politician in the history of the United States that's in prison for fundraising."
Since taking office in 2017, Trump has granted 15 pardons to former felons, including many prominent conservatives. Among them are the controversial former Arizona sheriff Joe Arpaio, who was found guilty in July 2017 for racial profiling practices but was pardoned less than a month later; former Dick Cheney adviser Scooter Libby, who was indicted on charges related to an investigation regarding an information leak of a CIA officer's covert identity; and right-wing filmmaker Dinesh D'Souza, who was convicted of making illegal contributions to the Republican Senate campaign of attorney Wendy Long and pardoned later in 2018.
Zoe Tillman contributed reporting to this story.