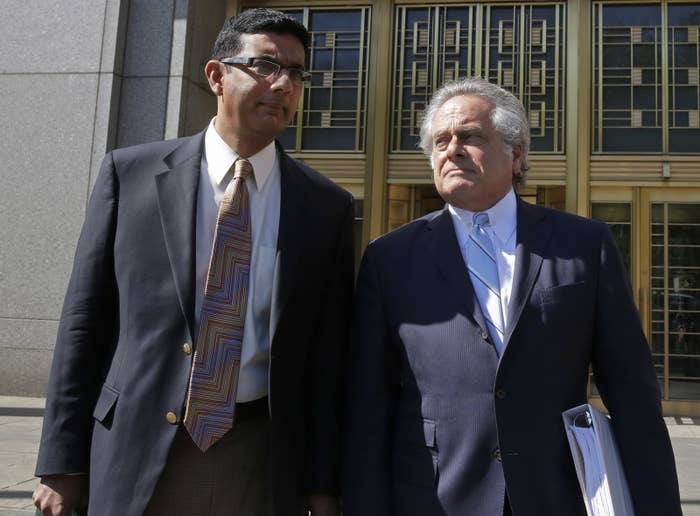 President Donald Trump said Thursday he would grant a "full pardon" to far-right commentator and conspiracy theorist Dinesh D'Souza, the second time he's rewarded a vocal supporter with clemency.
"I'm very relieved to have my record clean in a way that fully restores my faith in America, my American dream," D'Souza said in an interview on Laura Ingraham's radio program Thursday, according to NBC News. "Something that's hanging over you and you have the United States of America Versus Dinesh D'Souza, and that is now gone."

D'Souza pleaded guilty in 2014 to campaign finance fraud. His lawyers argued at the time that charges stemming from his illegal contributions to Senate candidate Wendy Long were politically motivated.
According to the FBI, in March 2012 D'Souza contributed $10,000 to Long's campaign on behalf of himself and his wife — attributing $5,000 from each, the amount permitted from any one individual under the Election Act.
Five months later, D'Souza instructed his assistant and a woman he was romantically involved with to donate on behalf of themselves and their spouses, with the promise he'd reimburse them for the contribution. The contributions totaled $20,000.
When Long confronted D'Souza about it, the FBI said he initially misled the candidate before admitting to what he had done and to knowing it was unlawful.
"I knew that causing a campaign contribution to be made in the name of another was wrong and something the law forbids," D'Souza said during a court hearing, according to Newsday.
Before pleading guilty, his lawyer, Benjamin Brafman, said D'Souza had been targeted "because of his consistently caustic and highly publicized criticism" of president Barack Obama.
Brafman said the donation "at most ... was an act of misguided friendship."
Speaking to reporters on Air Force One, Trump said he spoke to D'Souza for about three minutes on the phone yesterday — when the president said he would be pardoning him.
"I've always felt he was very unfairly treated," Trump said, adding that he has never met D'Souza in person. "And a lot of people did, a lot of people did. What should have been a quick minor fine, like everybody else with the election stuff….what they did to him was horrible."
The president went on to say that he is considering pardoning Rod Blagojevich, the former Governor of Illinois, who is in prison on federal corruption charges.
Blagojevich, who was also a contestant on "The Celebrity Apprentice," is "in jail for being stupid and saying things that every other politician, you know that many other politicians say," Trump said.
The White House also released a statement saying Trump think D'Souza is "a victim of selective prosecution for violations of campaign finance laws."

"Mr. D'Souza accepted responsibility for his actions, and also completed community service by teaching English to citizens and immigrants seeking citizenship.
"In light of these facts, the President has determined that Mr. D'Souza is fully worthy of this pardon."
D'Souza tweeted thanking Trump for the pardon, saying "Obama & his stooges tried to extinguish my American dream & destroy my faith in America. Thank you @realDonaldTrump for fully restoring both."

He then took aim at Preet Bahara, who was US Attorney when he was indicted, saying "KARMA IS A BITCH."
Bahara, on his end tweeted his reaction to Trump's pardon, saying that the fact remains D'Souza broke the law. "The career prosecutors and agents did their job. Period," Bahara tweeted.
D'Souza's wife, Debbie D'Souza, tweeted her thanks to Sen. Ted Cruz who put pardoning her husband on Trump's Radar.
Cruz responded calling it "a terrific day for Justice."
The White House did not respond to an inquiry on Cruz's involvement with D'Souza's pardon.
D'Souza released a 2012 film about President Obama that was largely criticized for for being intentionally misleading and for containing inaccuracies.
He is also known for pushing conspiracy theories, such as saying Adolf Hitler was not against gay people, and for spreading misinformation after the Las Vegas massacre:
Last year he also suggested the Charlottesville rally was staged, tweeting, "I wonder if whole #Charlottesville rally was a staged event."

D'Souza faced criticism in February for mocking a photo of the emotional Parkland school shooting survivors who watched as the Florida House vote down a ban on assault weapons.

"Worst news since their parents told them to get summer jobs," D'Souza tweeted.
He later apologized saying his tweet "was insensitive to students who lost friends in a terrible tragedy."
That same month he directed his more than 800,000 followers to a meme calling Obama "a gay Muslim" and Michelle Obama a man, but also called it "vile."
In his 1995 book "The End of Racism: Principles for a Multiracial Society," D'Souza argued that slavery is not racist.
"Was Slavery a racist institution? No. Slavery was practiced for thousands of years in virtually all societies … Thus slavery is neither distinctively Western nor racist," he wrote.

"American slave was treated like property, which is to say pretty well," he added.

In August 2017, D'Souza visited the White House to hand out copies of his new book, "The Big Lie: Exposing the Nazi Roots of the American Left," in which he repeats the far-right conspiracy theory that billionaire George Soros was a Nazi sympathizer.
Trump has previously pardoned controversial Sheriff Joe Arpaio, from Maricopa County, Arizona — a reward for a political supporter.

Arpaio was found guilty of criminal contempt for defying a federal judge's order to stop detaining people based on suspicion of their immigration status when there was no evidence that they had broken a state law.

Arpaio, who dubbed himself "America's toughest sheriff," established a polarizing national profile for his hardline stance on undocumented immigrants.

Trump has also pardoned Scooter Libby, the aide to former Vice President Dick Cheney; the late-boxing legend Jack Johnson and Navy sailor Kristian Mark Saucier.
A DOJ spokesperson confirmed that D'Souza "doesn't have a petition pending with the Office of the Pardon Attorney," a part of the process that past presidents have used for making most pardon determinations. Thus far, Trump has not relied on that process for any of his pardons.

Under the Justice Department's instructions for applying for a pardon, D'Souza would not have been eligible to seek a pardon yet, given that one of the requirements is that an individual wait five years after being released from confinement before seeking a pardon.
D'Souza, who was sentenced to eight months of "community confinement" in 2014, was released from confinement about three years ago.