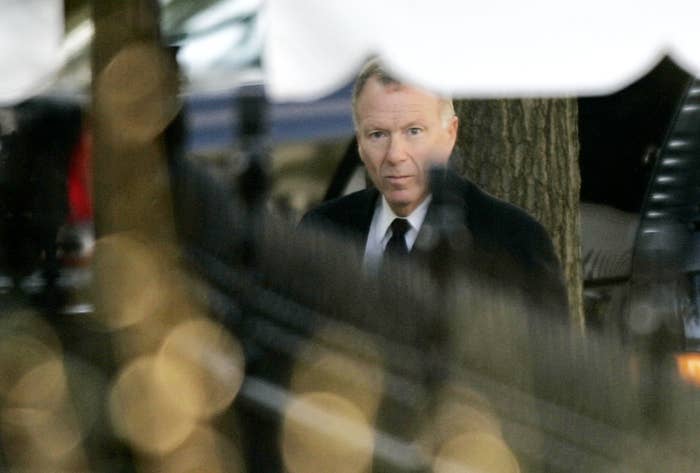 President Trump on Friday pardoned Scooter Libby, who was convicted in 2007 of committing four felonies during the FBI's investigation into the leak of the identity of CIA officer Valerie Plame Wilson.
"I don't know Mr. Libby," said Trump, "but for years I have heard that he has been treated unfairly. Hopefully, this full pardon will help rectify a very sad portion of his life."
Libby, then chief of staff to Vice President Dick Cheney, was convicted not for leaking Plame's identity but for perjury and obstruction of justice. During the investigation, Deputy Secretary of State Richard Armitage acknowledged that he had confirmed Plame's connection to the CIA to the Washington Post before Libby spoke with reporters on the subject. Armitage was not charged.
"We commend President Trump for addressing a gross injustice and granting the pardon," Victoria Toensing, who represented Libby at the time, said in a statement.
The White House's statement notes that in 2015, a key witness against Libby recanted her testimony and believed the special prosecutor, Patrick Fitzgerald, had withheld relevant information, and cites a court decision stating that Libby had "credible evidence" of his innocence.
President George W. Bush commuted Libby's sentence shortly after it was handed down, allowing Libby to avoid prison. Libby paid a $250,000 fine, performed 400 hours of community service, and served two years of probation, according to the White House.
The special prosecutor in the case was appointed by former FBI Director James Comey, who was serving as deputy attorney general at the time. Conservatives have long maintained that Libby was caught in the crosshairs of an overzealous and biased prosecution.
Toensing called the whole affair a "politically-motivated prosecution arising from a phony scandal that had no underlying crime as a basis for an investigation."
Karl Rove, former senior adviser to President Bush, told Fox News Friday that Fitzgerald had persisted for years in "trying to get somebody's pelt nailed to his wall."
"Mine and Scooter's," Rove said. "And he got Scooter."
Appearing on MSNBC on Friday when news of a potential pardon leaked, Plame said that any such action would have more to do with special counsel Robert Mueller's current investigation into Russian election interference than Libby's case.

"I think he is setting this up so that this is a strong signal to those that may be considering cooperating with the special counsel, with Mueller's investigation," she said.

Toensing said that Plame's comments were not to be trusted: "Valerie Plame lies. She went on MSNBC said that Scooter Libby leaked her name when she knows full well it was Richard Armitage. She also knows that she was not a covert agent under the law. If she had been, Armitage would have been charged."
Meanwhile, House Minority Leader Nancy Pelosi took issue with the pardon on Twitter.
"Trump is clearly trying to send a message with his pardon of Scooter Libby — he has no issue with rewarding those who lie under oath. But it does not change the facts: neither @POTUS or his allies are above the law."
When asked if the president was sending a message about Mueller's investigation, White House press secretary Sarah Sanders said, "Not at all."
"One thing has nothing to do with the other," she added. "And every case should be reviewed on their own merits."
Sanders also said she was not aware of any conversation between Trump and Cheney regarding the pardon.
Trump also issued a controversial pardon to former Arizona sheriff Joe Arpaio in August 2017.

Here's the full White House statement regarding Libby:

Today, President Donald J. Trump issued an Executive Grant of Clemency (Full Pardon) to I. "Scooter" Lewis Libby, former Chief of Staff to Vice President Richard Cheney, for convictions stemming from a 2007 trial. President George W. Bush commuted Mr. Libby's sentence shortly after his conviction. Mr. Libby, nevertheless, paid a $250,000 fine, performed 400 hours of community service, and served two years of probation.

In 2015, one of the key witnesses against Mr. Libby recanted her testimony, stating publicly that she believes the prosecutor withheld relevant information from her during interviews that would have altered significantly what she said. The next year, the District of Columbia Court of Appeals unanimously reinstated Mr. Libby to the bar, reauthorizing him to practice law. The Court agreed with the District of Columbia Disciplinary Counsel, who stated that Mr. Libby had presented "credible evidence" in support of his innocence, including evidence that a key prosecution witness had "changed her recollection of the events in question."

Before his conviction, Mr. Libby had rendered more than a decade of honorable service to the Nation as a public servant at the Department of State, the Department of Defense, and the White House. His record since his conviction is similarly unblemished, and he continues to be held in high regard by his colleagues and peers.

In light of these facts, the President believes Mr. Libby is fully worthy of this pardon. "I don't know Mr. Libby," said President Trump, "but for years I have heard that he has been treated unfairly. Hopefully, this full pardon will help rectify a very sad portion of his life."