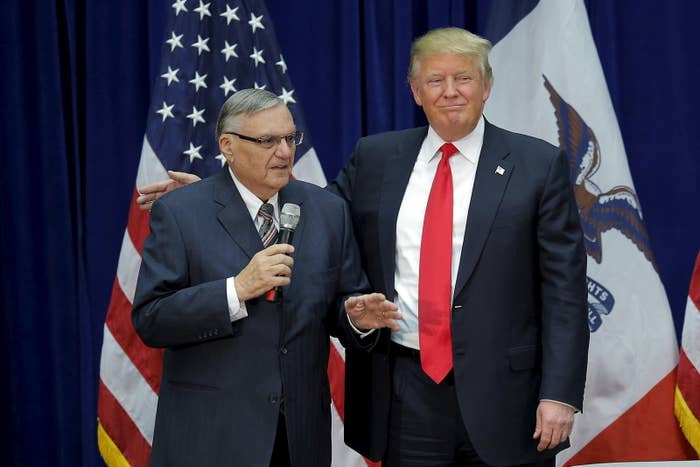 President Donald Trump on Friday pardoned former Arizona sheriff Joe Arpaio, rewarding a vocal political supporter who was convicted of contempt of court for refusing to halt a policing tactic to catch undocumented immigrants.
The controversial 85-year-old former Maricopa County sheriff, who lost reelection in 2016 after 23 years in office, was found guilty of criminal contempt in July for defying a federal judge's order to stop detaining people based on suspicion of their immigration status when there was no evidence that they had broken a state law.
Facing up to six months in prison for the misdemeanor offense, Arpaio's lawyers had said he would appeal. The White House, however, issued this statement:
Today, President Donald J. Trump granted a Presidential pardon to Joe Arpaio, former Sheriff of Maricopa County, Arizona. Arpaio's life and career, which began at the age of 18 when he enlisted in the military after the outbreak of the Korean War, exemplify selfless public service. After serving in the Army, Arpaio became a police officer in Washington, D.C. and Las Vegas, NV and later served as a Special Agent for the Drug Enforcement Administration (DEA), formerly the Bureau of Narcotics. After 25 years of admirable service, Arpaio went on to lead the DEA's branch in Arizona.




In 1992, the problems facing his community pulled Arpaio out of retirement to return to law enforcement. He ran and won a campaign to become Sheriff of Maricopa County. Throughout his time as Sheriff, Arpaio continued his life's work of protecting the public from the scourges of crime and illegal immigration. Sheriff Joe Arpaio is now eighty-five years old, and after more than fifty years of admirable service to our Nation, he is worthy candidate for a Presidential pardon.
Trump later tweeted the news, calling Arpaio a "patriot." "He kept Arizona safe!" Trump wrote.

On Saturday, House Speaker Paul Ryan criticized Trump's pardon.

"The speaker does not agree with the decision," Ryan spokesperson Doug Andres said in a statement. "Law-enforcement officials have a special responsibility to respect the rights of everyone in the United States. We should not allow anyone to believe that responsibility is diminished by this pardon." Ryan's criticism was first reported by the Wall Street Journal.

Senate Majority Leader Mitch McConnell's office referred BuzzFeed News to the White House when asked for comment on where the senator stood on Trump's decision to pardon Arpaio.

The Washington Post reported Saturday that Trump had previously been advised by the Department of Justice that dropping the criminal case against Arpaio would be inappropriate.

Carlos Garcia, an activist with Puente Arizona, a group that was at the center of organizing against Arpaio, said this is more than just the pardon of a criminal.

"It ties Trump to the white supremacist that is Sheriff Arpaio, and now Trump is showing us who he really is," Garcia told BuzzFeed News. "It's an affirmation that President Trump believes that what Sheriff Arpaio did to our community was right."
Garcia said Arpaio instituted policies that racially profiled Latinos and encouraged deputies to abuse their power in immigrant communities.
"What Sheriff Arpaio did was not just an attack on undocumented people — his attack was on all brown people," Garcia said. "This should serve as a warning to everyone that Trump will probably do something similar to what Sheriff Arpaio did in Maricopa County."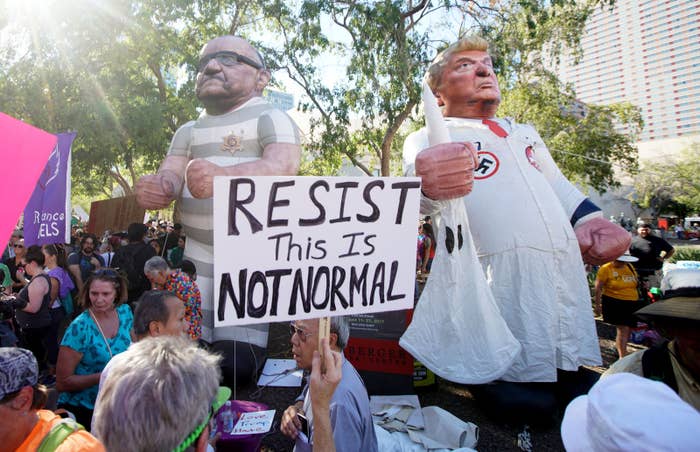 Phoenix Mayor Greg Stanton called the pardon a "slap in the face to the people of Maricopa County, especially the Latino community and those he victimized as he systematically and illegally violated their rights."
"This is not a proud day for Phoenix, but I'm proud that our city is moving on and moving forward from the divisiveness that defined the Arpaio era," he added.
Thomas A. Saenz, president and general counsel for the Mexican American Legal Defense Educational Fund, also blasted the president's decision, and called the Friday night announcement of the pardon an attempt to bury news of the decision.
"In a craven and gratuitous abuse of presidential power, Donald Trump issued a Friday-night pardon to an adjudicated discriminator and disgraced former sheriff," Saenz said in a statement. "He waited until Friday night, traditionally the night politicians bury their most embarrassing revelations to avoid weekday attention in the news."
Trump's decision, while sure to be controversial, is not surprising: The president has repeatedly signaled his intention to pardon the Arizona sheriff.

"Was Sheriff Joe convicted for doing his job?" Trump asked a crowd of boisterous supporters at a Phoenix rally on Aug. 23. "He should have had a jury, but I'll make a prediction: I think he's going to be just fine. I'm not going to do it tonight because I don't want to cause any controversy … but he should feel fine."

Trump also told Fox News on Aug. 13 that he was "seriously considering" pardoning Arpaio, who endorsed him during the 2016 election.
"He has done a lot in the fight against illegal immigration," Trump said. "He's a great American patriot and I hate to see what has happened to him."
The office of the presidency has immense pardon power. On Friday night, Justice Department spokesperson Ian Prior told BuzzFeed News, "The president exercised his lawful authority and we respect his decision."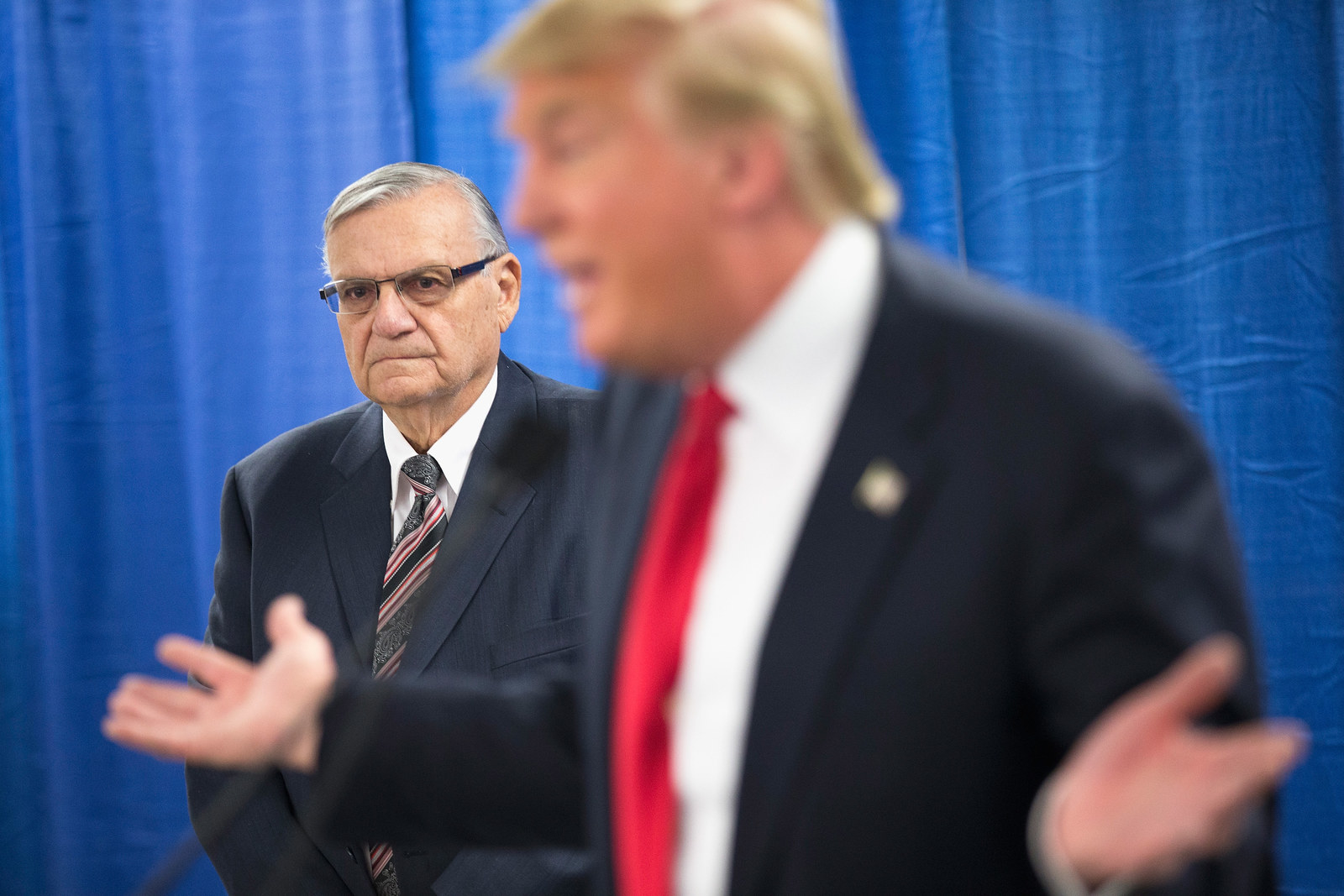 Arpaio had told the Arizona Republic newspaper on Aug. 9 that he would welcome a pardon, but was not expressly asking for one.
"Many, many people around the country are saying, 'Trump should pardon,'" Arpaio said. "I have not called him on this issue. I'm sure I could. ... I'm with him, pardon no pardon, and not asking him. Although, as I said, many other people are asking him."
On Friday, after hearing he would be pardoned, Arpaio told the Arizona Republica he was now inspired to continue his career in politics.
"I told my wife that I was through with politics," he told the Republic. "But now I've decided I'm not through with politics because of what's happening. I didn't ask for a pardon. It has nothing to do with a pardon. I've been saying this for the last couple of months. I've got a lot to offer."
Arpaio then tweeted his thanks to Trump, blaming his conviction on a "political witch hunt by holdovers in the Obama justice department." He then asked his supporters to donate money.
Arpaio, who dubbed himself "America's toughest sheriff," established a polarizing national profile for his hardline stance on undocumented immigrants.
Though federal authorities are tasked with enforcing immigration laws, Arpaio ordered his deputies to check the legal status of people they encountered. Deputies were instructed to arrest undocumented individuals and turn them over to immigration authorities for deportation, even if they had committed no crime other than lacking documentation.
When the ACLU sued Arpaio, accusing him of conducting racial profiling and violating the constitution, a federal district judge ordered the sheriff in 2011 to halt the practice. When Arpaio publicly refused to do so, the judge found him to be in civil contempt of court and recommended the criminal charge.
In July, another federal judge convicted him of contempt of court, finding Arpaio had shown a "flagrant disregard" for the law and had "willfully violated the [2011] order."
On Friday, ACLU Deputy Legal Director Cecilia Wang said that with his decision, the president had "chosen lawlessness over justice, division over unity, hurt over healing."
"Once again, the president has acted in support of illegal, failed, immigration enforcement practices that target people of color and have been struck down by the courts," Wang said. "His pardon of Arpaio is a presidential endorsement of racism."
Arizona's Sen. John McCain acknowledged that Trump had the authority to pardon Arpaio, but he said in doing so, the president was undermining the rule of law.
"No one is above the law and the individuals entrusted with the privilege of being sworn law officers should always seek to be beyond reproach in their commitment to fairly enforcing the laws they swore to uphold," he said in a statement. "Mr. Arpaio was found guilty of criminal contempt for continuing to illegally profile Latinos living in Arizona based on their perceived immigration status in violation of a judge's orders. The President has the authority to make this pardon, but doing so at this time undermines his claim for the respect of rule of law as Mr. Arpaio has shown no remorse for his actions."

Arizona's other Republican senator, Sen. Jeff Flake, tweeted Friday he would have "preferred that the President honor the judicial process and let it take its course." Both Flake and McCain are frequent Trump critics.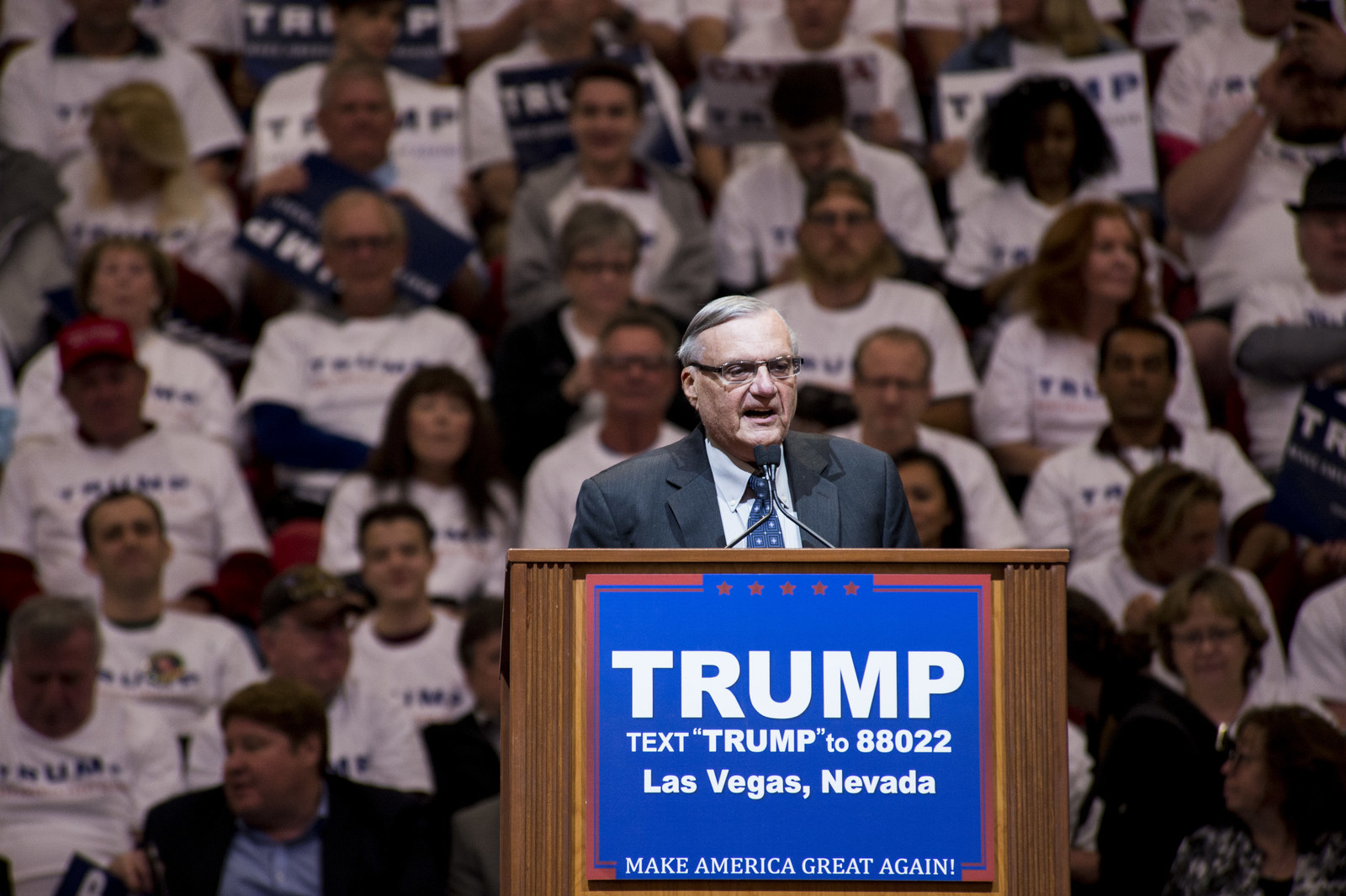 Latinos — Republicans and Democrats — had expressed worry that Trump doesn't fully understand how big an impact pardoning Arpaio will have.
"It seems as though conservatives say, 'Rule of law for me, but not for you. Opportunity for us, but not for you. Amnesty for Arpaio, but not for the hard-working,'" Artemio Muniz, chair of the Texas Federation of Hispanic Republicans, told BuzzFeed News this week.
Arpaio's conviction, as well as his election loss in 2016, marked a huge win for Latino and immigrant activists in Maricopa County who had campaigned to oust him for years.
But the sheriff had also worked to establish a close relationship with Trump after endorsing him in January 2016 — something the Republican candidate frequently referenced on the campaign trail. Arpaio appeared at Trump rallies and also spoke at the Republican National Convention.
"I mean, he knows borders, right? Amazing guy. Tough guy, but he's an amazing guy," Trump said of Arpaio in July 2016. "He's actually a quality person. He's a tough guy, but he's a quality person. He gets the job done. Amazing."
In August, speaking to Fox Business, Arpaio said he "really appreciate[s] the President's nice comments and support" and claimed that his conviction was "strictly a political hit."
Like Trump, Arpaio spent years peddling the conspiracy theory that former President Obama was not born in the US.

In a statement, the current sheriff who unseated Arpaio, Paul Penzone, said that despite Trump's actions, the voters had spoken.
"The court made its decision, the president made his, but the people had the final say in November."
Zoe Tillman and Lissandra Villa contributed reporting.