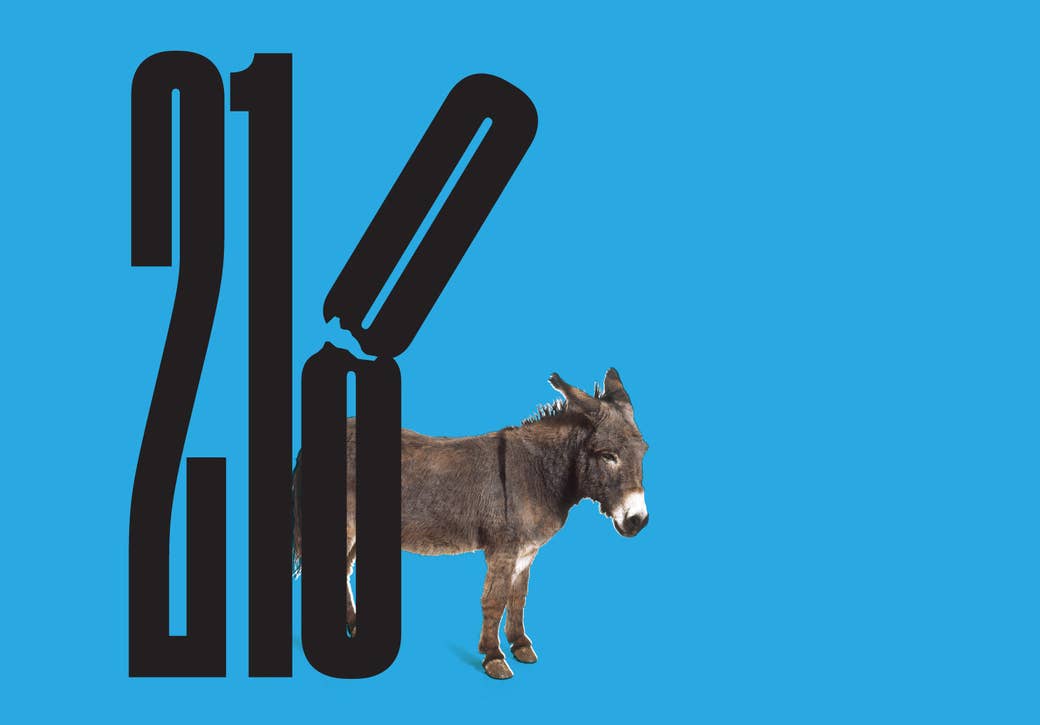 WASHINGTON — If you watch cable news, read Twitter, or listen to politicians of either party, you'll hear that the "blue wave" is coming: the widely assumed Democratic takeover of the House of Representatives.
But if Americans learned anything in 2016, it's that no political outcome is for sure — and that the polling currently tipping the Democrats' way can only tell you about what will probably happen.
And big questions remain about whether Democrats can pick up at least 23 more seats in the 435-member House, for a total of 218. Some of those races are open seats, but most are held by Republican incumbents trying to hang on.
The battle for the majority now centers around a number of districts across the country where either party could win on election night. Those districts are a diverse bunch. Some are in wealthy suburban areas where Hillary Clinton beat Donald Trump in 2016; others are places where Trump remains popular, but voters could end up siding with Democrats over issues like health care.
There's a lot at stake. If Democrats win the House, they'll be able to hold up Trump's agenda items and stop legislation they disagree with from going anywhere. And they'll be able to use the committees as political cudgels to launch investigations into Trump or to attempt to force him to release his tax returns.
Here are some of the big questions that are looming over races from California to New Jersey.
Will Trump's base turn out when Trump's not on the ballot?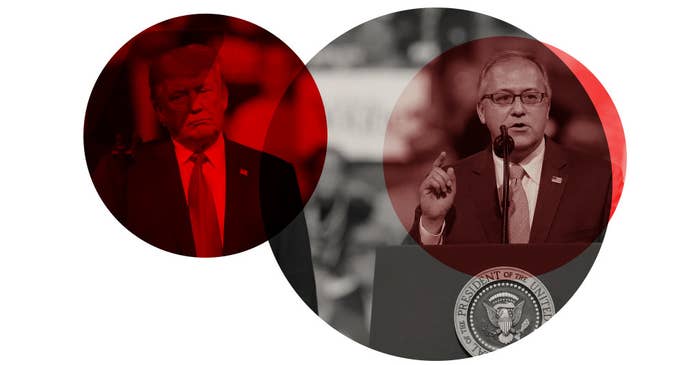 Donald Trump has taken to telling supporters at his campaign rallies: "I am on the ticket."
Some Republicans who are actually on the ticket hope the Republican base sees it that way.
Republicans view turning out 2016 Trump voters — especially the new voters who came out for him in 2016 — as critical to overcoming the enthusiasm gap with Democrats. The question is whether they will turn out for a Republican who isn't him.
In Iowa's 3rd District, Republican Rep. David Young is in a fight for his political life. His district is partly rural, but it also contains Des Moines and its western suburbs. Trump won the district in 2016 — 47% to 43% — but since then, his popularity in the state has declined. Fifty-two percent of Iowans said they disapproved of his job performance last month, according to Morning Consult, while just 44% approved. And nearly a full third of his district's voters are registered as independents. It's exactly the type of district Democrats think they can win this cycle — in part because of Trump's unpopularity with those independent, suburban voters.
But earlier this month, Young appeared on stage with Trump at a rally. "Thank you, Mr. President," he said, repeatedly, reciting a litany of issues he credited Trump with fixing.
The question is whether Republican voters will turn out to reward Republicans like Young for that loyalty.
"Are the Trump voters going to be Obama voters or not?" said Republican strategist Doug Heye, comparing it to the last president who saw massive losses for his party when he wasn't on the ticket. "Do they show up when he's on the ballot and not when he's not?"
Is the dislike of Trump enough to push out Republicans in districts Hillary won?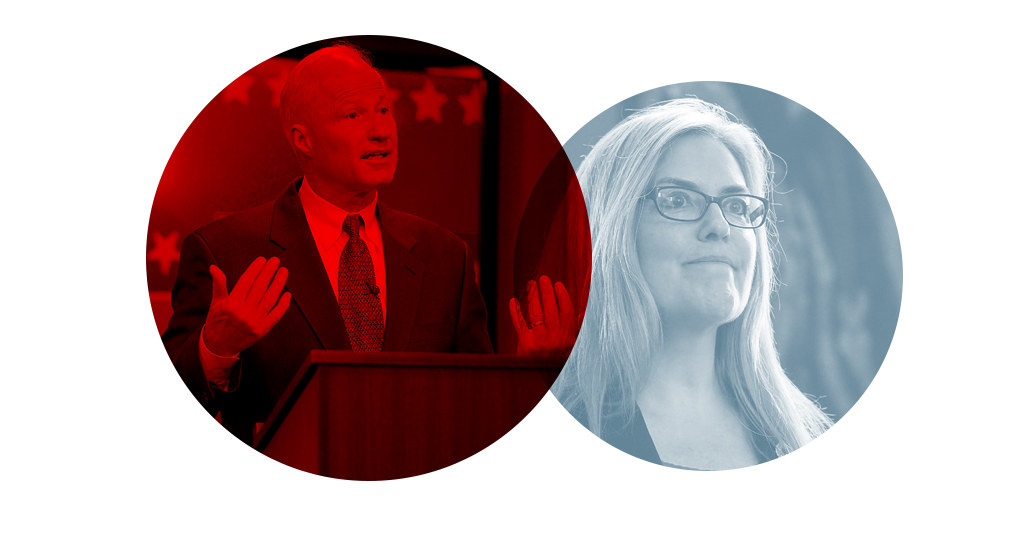 Colorado Rep. Mike Coffman has taken nearly every opportunity to try to distance himself from Trump. He voted against the House Republicans' Obamacare repeal. His strategy, he readily admits, is to localize the race. "I try and tune out the president whenever I can," he told BuzzFeed News last month.
The question is whether voters will let him.
Coffman is one of 23 House Republicans who won in 2016 in a district that went to Hillary Clinton. Nearly a third of those Republicans are not seeking reelection (one resigned in scandal, another is running for Senate). But those who are on the ballot have had to figure out how to handle Trump, who looms so large in politics that localizing any race has become increasingly difficult.
"It takes a lot of oxygen," Coffman acknowledged.
Coffman, in 2016, cut an ad in which he promised to be a check on Trump.
"He's had two years to fulfill that promise, and he's broken it," Jason Crow, the Democrat trying to unseat him, told BuzzFeed News. The Democratic Congressional Campaign Committee is running an ad saying exactly that.
In Virginia's 10th District, another district where Clinton won, Democrat Jennifer Wexton dubbed Republican Rep. Barbara Comstock "Barbara Trumpstock" in an ad, tying her to the president's policies, which are unpopular in this district that covers the DC suburbs in Northern Virginia.
Republicans hope they can localize these races as they have in past cycles. But if what voters are seeking is a check on the president, it could be a good year for Democrats.
Will traditionally Republican voters in the suburbs, especially white women, vote for Democrats this time?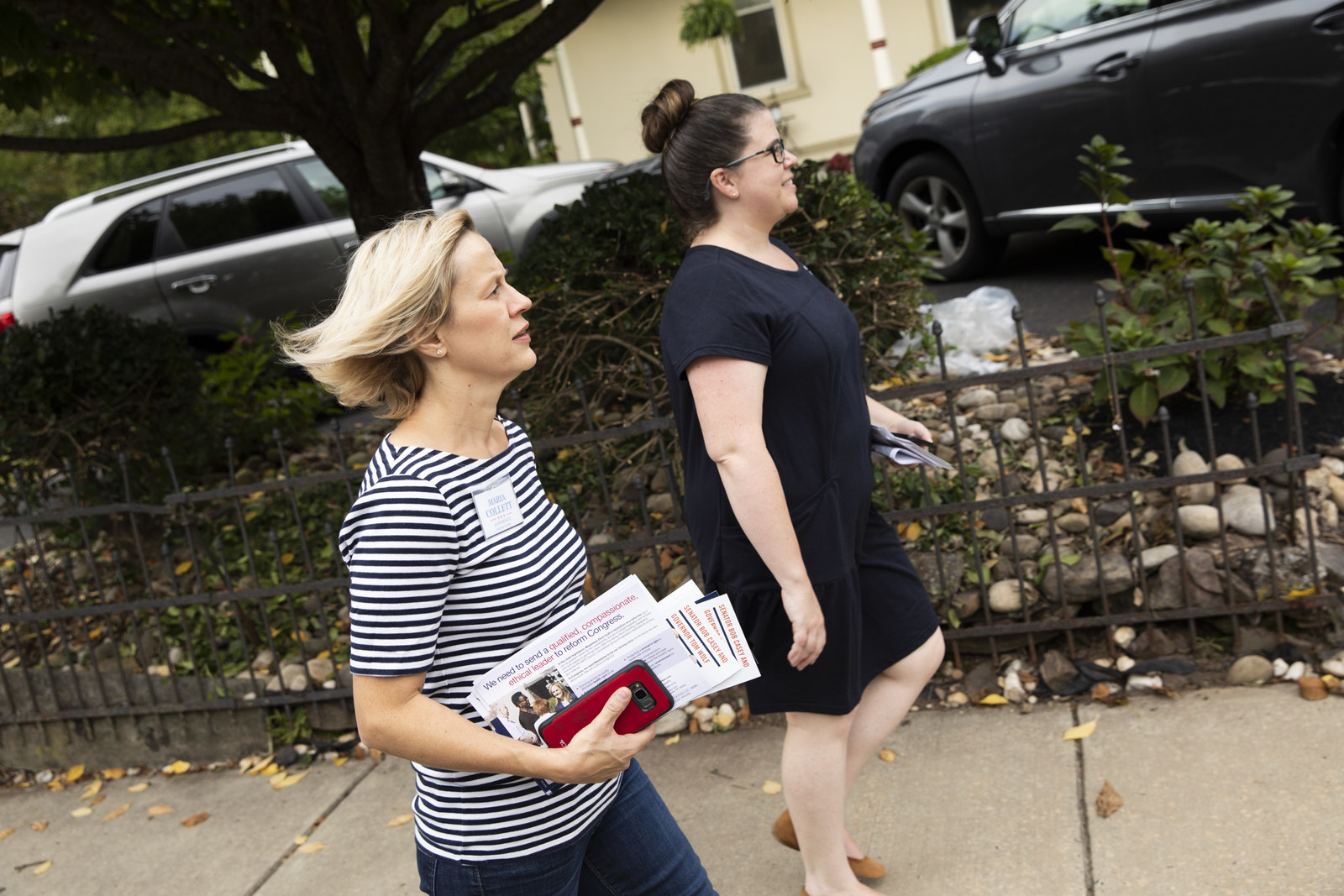 The suburbs have been a mainstay of the Republican Party for decades. But this time, that might change.
That's partly because suburbs themselves are changing: They're increasingly diversifying, bringing in more traditionally Democratic voters like young people and immigrants.
But a significant number of Republican-leaning voters — namely, college-educated white women — are turning away from the Republican Party, polling suggests, a shift that's fueled in large part by their strong dislike of Donald Trump and issues like health care. Suburban women in key House districts now favor Democrats by 27 points, a poll showed.
BuzzFeed News interviewed dozens of suburban women in three of those House districts and found that many had been turned off by Trump and the Republican Party's alignment with him. Many said they planned to vote only for Democrats in November, though they'd previously voted for both parties.
"I'm not a Democrat — I'm very independent," said Lucy, who lives in Silverdale, Pennsylvania, outside of Philadelphia. "But this time I'm going to go more Democrat." Trump, she said, "is just so repugnant — his mannerisms and his demeanor are awful."
Because of these suburban shifts, it's possible that a number of longtime Republican districts will vote for Democrats in November. In the suburbs of Richmond, Virginia's 7th District, Rep. Dave Brat is running against Democrat Abigail Spanberger. Brat, a member of the ultraconservative Freedom Caucus, has been a thorn the side of the Republican establishment since he was elected. But the super PAC tied to Speaker Paul Ryan is spending money to help him because Republican leaders worry that if they lose his suburban district, they might not be able to win it back for years to come.
In Minnesota's 2nd, outside of Minneapolis, Rep. Jason Lewis narrowly beat Angie Craig in 2016. Craig is running again, and this time, Democrats are hoping it will go differently — in part because Lewis's style, brash and politically incorrect, is similar to Trump's, in a way that may be turning off women voters.
One big thing this could mean: After the midterms, the blue and red divide between urban and rural areas could be even bigger than it is now. Minnesota is perhaps the best example of that. In November, Republicans could lose two seats in the state's suburbs but win two very rural seats, leaving Minnesota almost entirely politically divided among urban and rural lines.
Are traditionally Democratic voters, particularly millennials and people of color, going to show up at the polls?
A blue wave won't happen without a large number of Democratic voters actually showing up to vote. The issue for Democrats: Midterm voters are usually older and whiter than voters in presidential elections, and turnout is typically lower. That's why Democrats are pouring huge amounts of money and energy into bringing voters who normally might not show up in the midterms to the polls.
Step into any House district, and it's evident Democrats are energized and excited to vote. Democratic campaigns are raising record amounts of money and drawing enormous crowds. But there are also some potentially troubling signs for them. Chief among them is a worry that Latino voters may not be particularly motivated to vote this year. High turnout among Latino voters in districts in California, Texas, and South Florida could decide the fate of those seats and the House majority. But polling suggests many Latinos might not show up to vote in a midterm.
Some Democrats running in districts with large Hispanic populations have found themselves in races that are more competitive than initially expected. For instance, Florida's 27th District, which Clinton won by 19 points and whose current representative, Republican Ileana Ros-Lehtinen, is retiring, was thought to be practically a gimme for Democrats at the start of the cycle. It's a heavily Latino population and Trump is very unpopular. Polling in the race has been all over the place, but one recent poll found Democrat Donna Shalala trailing Republican Maria Elvira Salazar by two points, within the margin of error.
Democrats' biggest donor, billionaire Tom Steyer, has invested tons of money into boosting voter turnout, particularly among young voters. His PAC, NextGen America, says it has registered some 250,000 young voters across 10 states, including 50,000 in Florida and 40,000 each in Michigan and Pennsylvania, where there are scores of competitive races.
If turnout is high enough among black voters and young people, Democrats think they could win in districts like Georgia's 6th, where they see Democrat Lucy McBath, a black woman who lost her teenage son to gun violence, making headway in a district where Jon Ossoff, a young, white male candidate fell short in a special election just last year. Another popular black woman, Stacey Abrams, is running for governor in Georgia, which Democrats think will help them turn out voters statewide.
Something else that might affect voter turnout and hurt Democrats: voting restrictions. In Georgia, Democrats have protested the closures of some 200 precincts, some of them concentrated in heavily black areas; in North Dakota, the enacting of a strict new voter ID law is making it far more difficult for Native Americans living on reservations to vote.
Will health care issues like coverage of preexisting conditions drag down Republicans, especially in districts Trump won?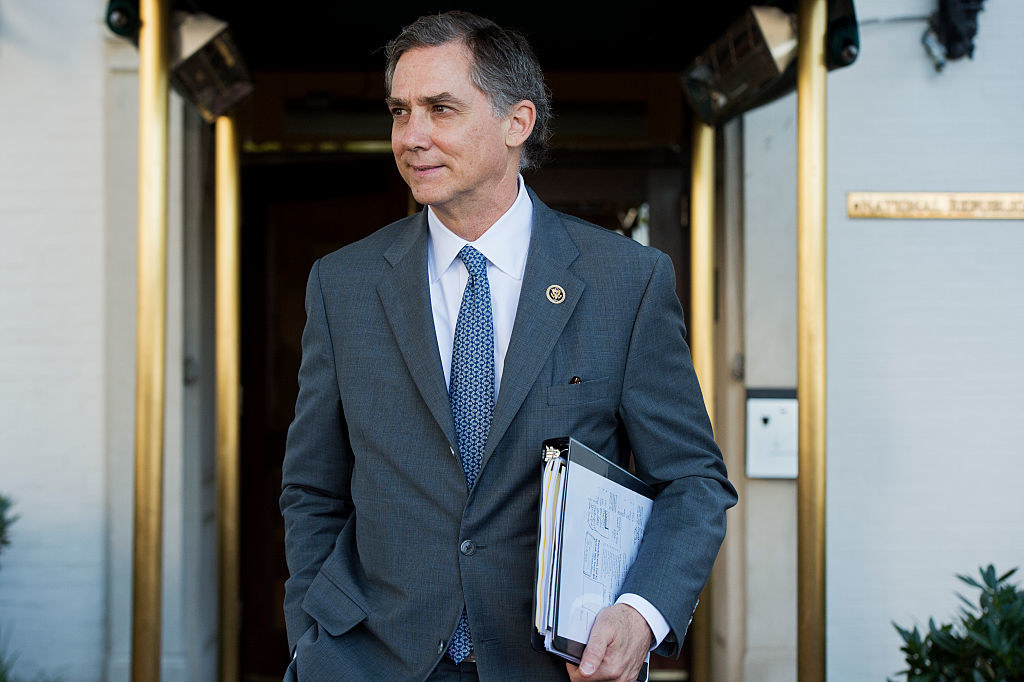 In their ads and speeches, Democrats running for Congress have been hammering Republicans repeatedly over a single issue: health care. They're focusing on the fact that most Republicans voted to repeal protections for people with preexisting conditions when they voted to kill the Affordable Care Act, something that doesn't sit well with lots of voters.
It's such a strong line of attack for Democrats that it's forced many Republicans to be on the defensive, promising they want protection for preexisting conditions in any new health care bills. Twenty Republican states, backed by the Trump administration, are currently suing to try to overturn the provision over preexisting conditions in the Affordable Care Act.
Last week, Trump tweeted a promise that "Republicans will totally protect people" with preexisting conditions, while "Democrats will not!"
Health care matters in every district in the midterms, but especially because it has helped make it possible for Democratic candidates to win, even in districts where Trump won — and where he's still pretty popular. One of those districts is Arkansas's 2nd, where Republican French Hill is in a tough race despite the fact that Trump won his district by 11 points in 2016 (Hill won by 21). Or look at Pennsylvania's 10th and 16th, two more conservative districts in a Trump-voting state that Democrats think they might win partly because of health care.
Will Republican scare tactics work?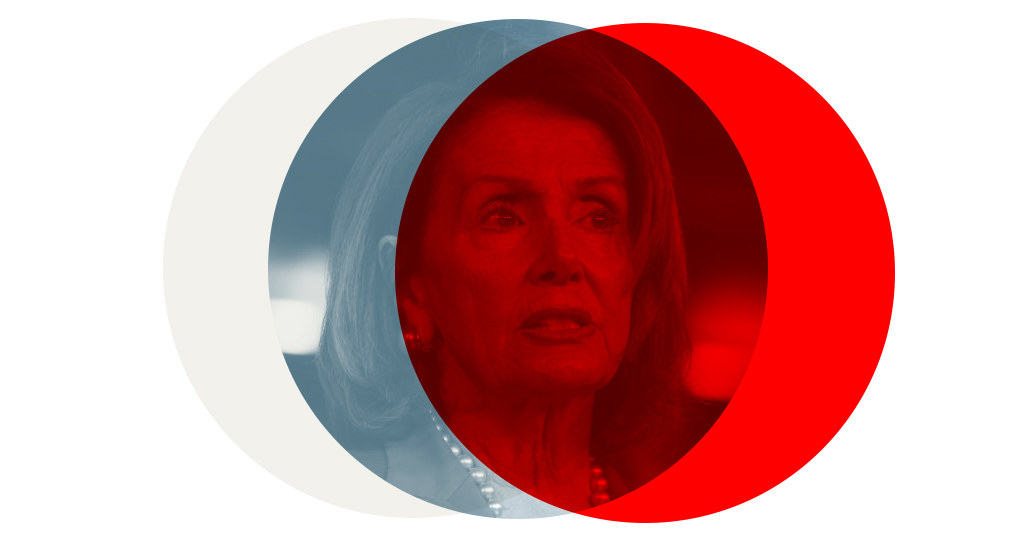 Republicans' midterm strategy has centered around stirring fears of increased immigration, lawlessness, and big government — along with a time-honored tactic of tying their opponents to Democratic leader Nancy Pelosi.
In the final weeks, Trump and Republican candidates have pointed repeatedly to the caravan of several thousand Central American migrants heading toward the United States. It's the continuation of a theme that Republicans have tried to use against Democrats all year, with scores of Republican ads attacking Democrats for supporting policies like the abolishment of ICE, "open borders," and sanctuary cities.
Many Democratic House candidates have explicitly come out against policies like abolishing ICE, but that hasn't stopped Republicans from attacking them on it anyway. Republican ads have also tied Democrats to Medicare for All, a single-payer health care plan that Republicans are betting proves unpopular with voters, even when the candidates themselves don't support the plan.
"Politics is a team sport," Sen. Lindsey Graham, a South Carolina Republican, said on the campaign trail recently. And, he made the case, Democrats are on the team that supports those things, whether they agree personally or not.
The question in midterms is whether those fear-based attacks will stick with voters. They proved effective for Trump in 2016, when fears about mass immigration and gangs like MS-13 helped propel Trump to the presidency. Trump has been ramping up his rhetoric and recently said he would sign an executive order to end birthright citizenship, though such a move would quickly wind up in court. And Republicans are hoping some of the fear-based attacks help turn out their base — particularly warnings that Democrats will try to impeach President Trump.
Then there's Pelosi, who has shown up in attack ads used against many Democratic candidates — even those who say they don't support her.
Earlier this year, it seemed Democrats might have found a way to neutralize the Pelosi attacks. Conor Lamb, the Democrat in a special election in a Pennsylvania district that had long been held by Republicans, said he wouldn't support her for speaker. Republican ads tying him to her seemed to have little impact. He won, very narrowly.
But a special election several months later showed the limits of that tactic. Danny O'Connor, the Democrat in an Ohio special election, had also said he wouldn't support Pelosi. But when pressed on the issue, he acknowledged that if she were the Democrats' nominee for speaker, and the other option were a Republican, he would vote with his caucus. He lost, very narrowly.
In South Carolina's 1st District, Democrat Joe Cunningham said he wouldn't support Pelosi for speaker. But the attack line from Republicans remained the same.
"Cunningham says he won't vote for Pelosi, right? 'Cause he knows all y'all hate that. But he won't tell you what Democrat he'll vote for," Graham told voters this month, in a closing argument that will no doubt echo throughout other districts. "This is a game he's playing with you," he added.
Is the Kavanaugh bump real?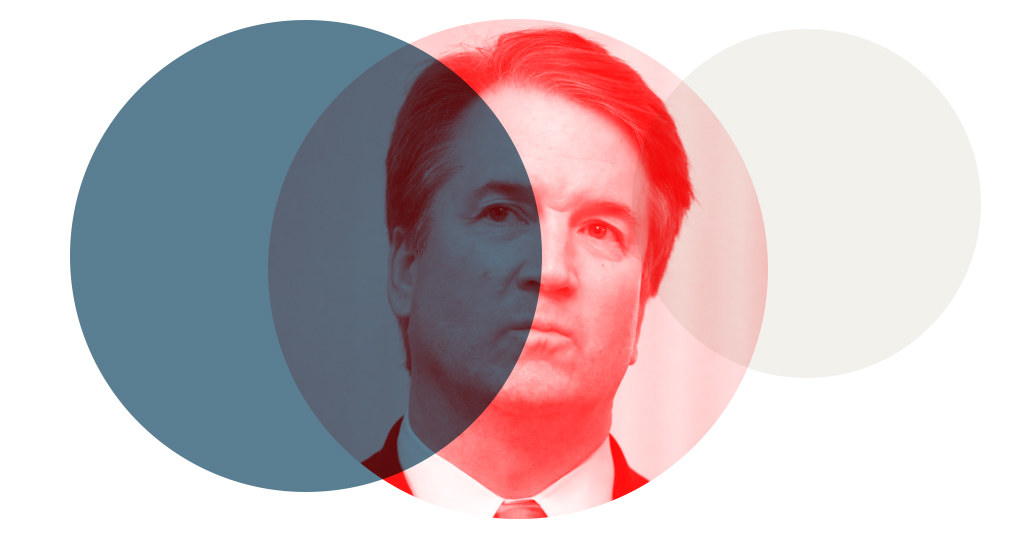 Republicans had found little cause for optimism this year, but the past few weeks have given them hope. Republicans say they are seeing an increase in enthusiasm among their voters, some of which they attribute to backlash against the way Democrats handled the fight over Brett Kavanaugh's nomination.
"I think the Kavanaugh thing woke up a lot of people," said pollster Chris Wilson, who said he's seeing references to it come up in polling and research.
Republicans acknowledge that it's not just Kavanaugh; some of it is likely the usual timing of people getting engaged a couple weeks before the election. But whatever's causing it, Republicans — who have been battling an enthusiasm gap for the entire cycle — are eager to capitalize. Trump has coined the slogan "Jobs not Mobs," referring to how Democrats handled the Kavanaugh hearings and viral videos of protesters angrily confronting Republican politicians and officials.
Republicans think this newfound engagement might help them shrink the map of competitive races, reducing the number of districts where they have to spend money in the final week.
If there is a Kavanaugh effect, it might be more of a factor in the Senate races. The competitive Senate races are largely in states where Trump won. And the confirmation gave Republican challengers an effective issue in some states where Democratic incumbents voted against the confirmation. If they had been in the Senate, those Republicans say, they would have voted to confirm the conservative justice.
To be sure, Kavanaugh could work against Republicans. More Americans disapproved of Kavanaugh's confirmation than approved of it, mostly because he's very unpopular among women. That could be worrisome for Republicans because they are already struggling seriously with women voters.
Republicans are pointing to races like North Carolina's 8th District, where Rep. Ted Budd is facing a challenge from a better-funded Democrat, or Washington's 3rd District, where Rep. Jaime Herrera Beutler has a more serious challenge than she's seen in the past, as the places where the Kavanaugh confirmation could make a difference. Those are among the races that weren't seen as particularly competitive at the start of the cycle, but, by virtue of good Democratic recruits and strong Democratic fundraising, became increasingly problematic for Republicans. A Kavanaugh boost, some Republicans think, might keep them from having to worry.
"This has redefined this election. This is a simple choice," Graham told a crowd on John's Island, South Carolina, at an event with GOP House candidate Katie Arrington. "Do you want the people who were willing to destroy Brett Kavanaugh's life in charge of your government?"
"I hope we kick their ass for what they did to him," he said.
How much do strong Democratic candidates — and strong Democratic fundraising — matter in red districts?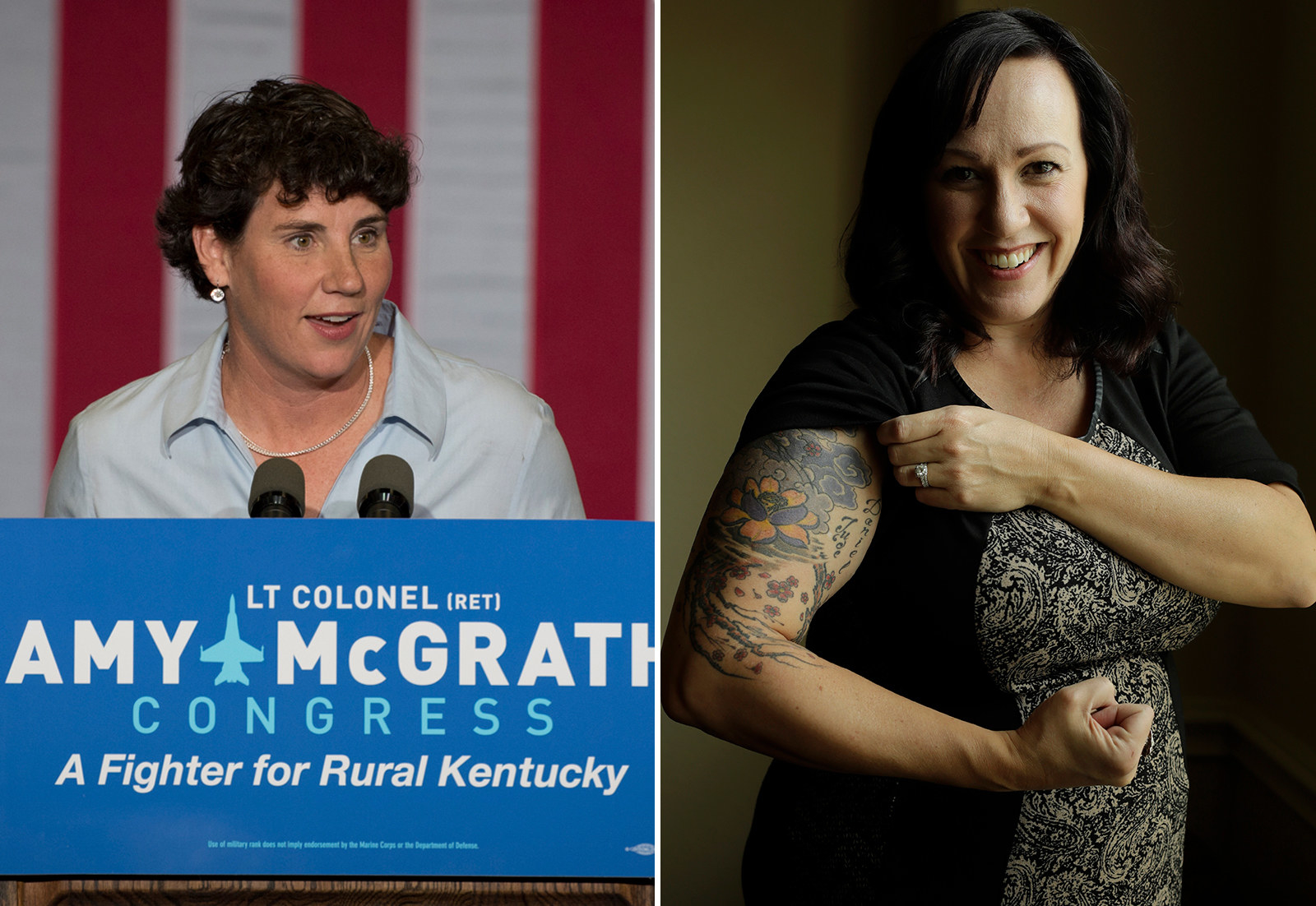 Whether it's because of Trump or the promise of a blue wave, one thing Democrats have done well this midterm is recruiting strong candidates to run for office — people like women and veterans, many of them first-time candidates, with backgrounds and biographical ads that they hope will connect well with voters. In some places, those high-quality candidates have helped Democrats compete where they normally wouldn't have a had much of a chance, partly because they attract voters but also because they attract donors. And this election, Democrats across the country are eager to give money to candidates they like.
But the question now is whether those candidates will be able to win those districts. Kentucky's 6th district is one example: Amy McGrath, the first woman Marine to fly an F-18 fighter jet in combat, is in a competitive race with Andy Barr that drew Trump to the district earlier this month. McGrath's almost-viral candidacy has helped her raise a staggering amount of money: $3.65 million just last quarter.
In some cases, strong candidates — who, in turn, raise large sums of money — have helped Democrats compete in places they wouldn't normally. It's still a long shot, but a viral video by Democrat MJ Hegar, an Air Force veteran, helped put Texas's 31st, which has long been considered a safe Republican seat, in contention. ●