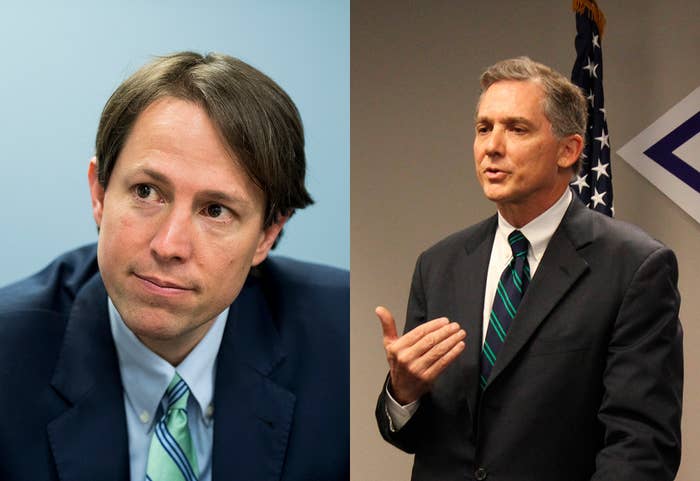 If you were to focus on one city to see how health care politics is shaping the battle for control of the states, of Congress, and, what the hell, let's say the very soul of the nation, you couldn't do much better than Little Rock, Arkansas.
It's a place with an economy massively reliant on health care. It's the only state in the country so far to level work requirements on Medicaid, resulting in thousands of people kicked off the program. It's a place that still celebrates native son Bill Clinton but voted for Donald Trump. It's a place where Democrats haven't been able to win in years. But it's also a place where a Democratic challenger has a shot at winning in Arkansas's 2nd Congressional District, and if he does, health care will be a huge reason why.
Clarke Tucker, the Democrat in the race, is a state legislator seen as something of a rising star. His name had been tossed around for higher office for a while when, last year, at the age of just 36, he was diagnosed with bladder cancer. "It changes your perspective on everything," he says in an interview during a campaign event.
After going through surgery and chemotherapy, Tucker said he's actually now in better physical shape than he was before because he takes his health more seriously. He's centered his run for Congress on saving pre-existing condition protections of the Affordable Care Act and often talks about his personal experience with cancer.
"You don't plan on becoming the poster child for pre-existing conditions, but that's the way it turned out," said Vic Snyder, the last Democrat to win the 2nd District. Democrats held the seat, which holds seven counties in and around Little Rock, for 128 of 136 years up until Snyder retired in 2011, but since then it's been solidly Republican.
After four straight election cycles of Republicans running — and mostly winning — on repealing the ACA, or Obamacare, this will be their first time facing the electorate since winning the House, the Senate and the White House. So far, the campaign promise of repealing Obamacare has not been filled, though pieces of the law have been partially dismantled through regulation.
Now it's Democrats who are running hard on health care, warning that Republicans will return America to the bad old days when people with pre-existing conditions could be denied health insurance. French Hill, the Republican incumbent in the 2nd District race, voted in favor of the House GOP bill to repeal the Affordable Care Act, which Tucker brings up often in a way similar to how Republicans used to attack Democrats on the ACA.
In 2010, just after Obamacare passed, health care appeared in fewer than 1 in 10 Democratic campaign ads, according to an analysis by the Wesleyan Media Project. This year more than half of all Democratic ads mention health care.
"The notion of having access to care with a pre-existing condition without going bankrupt or dying became a lot less abstract for us," Tucker said in a recent campaign ad using his history to highlight health care.
It's an issue with a broad reach. One in four people have a pre-existing condition that could have prevented them from getting health insurance pre-Obamacare, according to the Kaiser Family Foundation. That doubles to half of all people if you expand it to having immediate family members with pre-existing conditions.
Before the ACA, the common practice of underwriting meant insurance companies would reject people with pre-existing conditions or drive up their premiums, based on the likelihood that they will incur more health costs than a fully healthy person.
Insurance plans regulated under the ACA cannot refuse people coverage or charge them more based on their personal health conditions. Polling has consistently shown those provisions to be wildly popular, even as Obamacare polled badly. It's no coincidence that many Democrats like Tucker now stress pre-existing conditions protections while rarely mentioning the O-word, especially in red districts like Arkansas's 2nd.
"[Tucker] is in many ways kind of the poster child for this strategy. If it works, you get the feeling this will be the strategy for a while for Democrats," said Jay Barth, a pollster and politics professor at Hendrix College in Conway, Arkansas. "Of course the irony is this is the game plan of Republicans for four cycles turned upside down."
Still, this is Arkansas. Democrats once enjoyed decades of consistent success in the state until the Obama years. What hit them then wasn't so much a gradual change in taste but a swift and thorough bloodbath. Starting in 2010 they lost all three of the state's four congressional seats they held, plus both Senate seats. At the state level, decades of uninterrupted Democratic control gave way to Republican supermajorities. In just a few years, Arkansas was transformed from a largely Democratic state that dabbled in voting for Republican presidents to one of the reddest states in the nation.
Despite this, Democrats are showing signs of confidence. Tucker has raised over $1.9 million, according to his campaign. Indie rock favorites Edward Sharpe and the Magnetic Zeros came to town to play his campaign rally. Civil rights legend Rep. John Lewis hit the campaign trail with him — about 20% of the district's population is black and this turnout will likely decide the election.
The Democratic Congressional Campaign Committee has also thrown significant weight behind him. While Tucker's in-house campaign ads have focused on optimism and smiling faces, the DCCC backed him up with attack ads accusing French Hill of selling out. This year the Cook Political Report moved the race from "solid Republican" to "likely Republican" and then to "lean Republican."
"There is no doubt that we have put ourselves in a position to win," said Tucker. "There's no question about it in my mind." The campaign message seems to be resonating. When he introduces himself to a voter in Conway, Arkansas, the man immediately responds, "I've seen the commercials. I agree with you on health care for sure. That needs to be looked at."
French Hill is door-knocking in North Little Rock and things have been uneventful for the two-term member of Congress until a door swings open to reveal a woman in her thirties wearing a bathrobe. She starts firing questions in rapid succession. Is he pro-life or pro-choice? Where does he stand on equal pay for women? Border security? Brett Kavanaugh? "You've caught an undecided voter," she says.

Hill fields them as they come. He is opposed to abortion up until the life of the mother is in danger. He is for equal pay for women. He's big on border security. He thought that the testimony of Christine Blasey Ford, the woman who accused Kavanaugh, was compelling, but he didn't like how Democrats handled the process.
The woman doesn't specifically commit to voting for him by the end, but she does seem to like him.
Hill is in the tier of Republicans for whom Donald Trump is a sort of double-edged sword. Hill outperformed Trump in the district in 2016 with 58% of the vote to Trump's 52%. Instead of invoking Trump, Hill's campaign ads focus on tying Tucker to Hillary Clinton and Nancy Pelosi. But Trump has many fans in the district, and one of Hill's challenges is motivating the hardcore Trump supporters who don't normally vote. When an older man answers his door by asking just one question — how will Hill support the president's agenda? — Hill is ready with a pamphlet that lays it all out.
Like many Republicans, he is fighting back by stressing his own support for pre-existing condition protections. While Republicans were expected to run on their tax bill, Hill's campaign ads just as prominently trumpet that he will protect people with pre-existing conditions, as well as Social Security and Medicare. Tucker has been hammering Hill for voting in favor of the House GOP bill to repeal Obamacare, but Hill counters that the bill did preserve pre-existing condition protections.
(The American Health Care Act, which passed the House but not the Senate, did preserve many of the protections of Obamacare. However, it also would have allowed states to waive protections to bring down prices. The Congressional Budget Office projected that 23 million more people would be uninsured compared to the ACA. Pre-existing conditions protections would have varied state by state, but sick people in states that opted for waivers would have faced "extremely high premiums," according to the CBO.)
While walking around North Little Rock, Hill says Tucker is just parroting the talking points of the national Democratic Party. "My obligation is to set the record straight on what Republicans want to do to fix the failings of Obamacare," he says. "Pre-existing condition [protections] are something that everyone bipartisanly supports."
One added pain in the neck for Republicans is a lawsuit by 20 red-leaning states, led by Texas and including Arkansas, that argues all of the ACA is unconstitutional including pre-existing condition protections. It is currently before a federal court in Texas. The state initiative has put federal Republicans on the defensive, but they've justified the lawsuit by saying they would pass a replacement for the ACA before the court case is resolved.
Lacking Obamacare as a fertile target, some Republicans have turned to a new one — Medicare for All. The idea is far from universally accepted Democratic Party policy, and many Democrats are openly critical of it. But that hasn't stopped ads like this New Mexico spot from the National Republican Congressional Committee featuring a trembling woman telling her gravely ill child "it'll be OK" despite being unable to see a doctor because Medicaid for All took away her insurance.
The target of the ad, Democratic nominee for New Mexico's 2nd District Xochitl Torres Small, isn't even an advocate of Medicare for All. Several campaigns have deployed similar ads despite the Democratic nominees not actually being in favor of the policy.
But it is true that many prominent Democrats, including expected presidential contenders like Bernie Sanders, Elizabeth Warren, and Kamala Harris, are proponents of universal health care. Star candidates like Alexandria Ocasio-Cortez in New York have risen to prominence on promising aggressive reforms such as Medicare for All.
This has essentially split the Democratic Party. In big cities and blue states with lots of progressive voters, universal health care has become the rallying cry for politicians looking to appeal to the left. In swing states and districts, Democrats are calling for more tempered reforms. Like many, Tucker is a proponent of creating a publicly run health insurance option on the individual markets (the "public option" was supposed to be part of the ACA, but Democrats couldn't get 60 votes for it in the Senate).
This has all combined to put voters in something of an impossible position. They've got to choose between one party that had a solid plan but didn't do it, and another party that has multiple plans and no one knows which one they'll go for. Unless you work in economics or the health industry, how do you know which way is up?
The answer for many is to focus on what they do know, and that is that they don't want to go back to a system where having diabetes or a heart condition or cancer makes it impossible to get health insurance. In Arkansas's 2nd District, as with many other races, winning could come down to which side can convince more people they're on the right side of the pre-existing conditions issue.
Hill still says he doesn't expect the race to be close. But he says that the Democratic base is animated and Republicans need to work hard to win normally safe seats like his. "They're galvanized. I fully expected and predicted this," he says before heading to knock on another door. "It is President Trump's first off-year election, so I'm leaving nothing to chance."
CORRECTION
Hendrix College is in Conway, Arkansas. An earlier version of this post misstated its location.