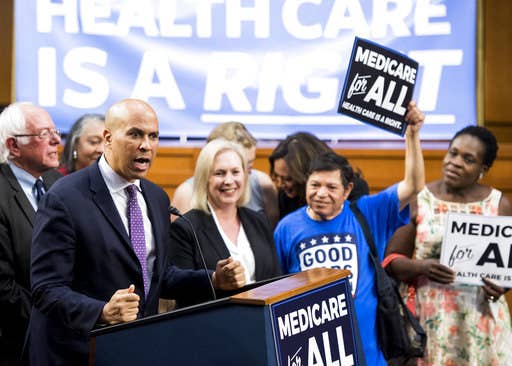 Democrat Cindy Axne isn't a fan of the progressive health care plan Medicare for All. In a primary race in southeastern Iowa this spring against an opponent handpicked by Sen. Bernie Sanders, Axne painted herself as a moderate on health care, saying she'd rather focus on "practical" solutions like fixing the Affordable Care Act than passing the single-payer plan championed by Sanders.
But Axne's Republican opponent is going after her as a Medicare for All backer anyway.
"Cindy Axne and her liberal allies support government-run health care that experts say will cost $32 trillion," says an ad by David Young, which pastes Axne's face next to House Speaker Nancy Pelosi's. The health care plan, which goes unnamed, will "raise taxes for everyone," the ad warns — "But for Iowa seniors, it's worse. Their plan ends Medicare for seniors as we know it."
On the surface, Medicare for All looks broadly popular. Ask Americans if they support "a policy of Medicare for All," and more than 70% say they do — including more than half of Republicans. That's a number that has not gone down since the idea began to pick up steam among Democrats.
But Republican campaigns and strategists are betting that, particularly in the country's most competitive House districts, the party's embrace of Medicare for All is actually a Democratic vulnerability. Support for single-payer health care has become one of the central lines of attack for Republicans this year.
Republicans hammered Democrats for supporting "government-run health care" in dozens of attack ads from candidates and outside groups — even Democrats like Axne, who haven't come out in favor of the plan to put all Americans onto a single, government-run health care plan. A Washington Post fact check found at least 15 recent ads that falsely cast Democrats as Medicare for All supporters.

The ads against moderates who haven't backed Medicare for All, Republicans say, are fair game in part because the health care plan has become so entrenched in the Democratic Party.
"It's a litmus test now," one conservative strategist told BuzzFeed News.
The focus on Medicare for All from Republicans also offers a preview of a line of attack that is likely to extend into the 2020 presidential elections.

Though it isn't an explicit part of the party's platform and many Democrats, including House Speaker Nancy Pelosi, remain skeptics, Medicare for All is backed by 123 House Democrats and several prominent senators — including most of the party's top presidential contenders, like Sens. Kamala Harris and Elizabeth Warren.
"Democrats are going to continue to talk about it," said Jesse Hunt, a spokesperson for the National Republican Campaign Committee, which has run ads attacking Medicare for All — including one this week featuring a woman with a sick child being told she can no longer see her doctor. "We'll be happy to talk about it as well."
There is little evidence, yet, to show that the ads actually work. They don't seem to be denting the numbers of many Democratic candidates they target. And in 2018, health care is generally an issue that's seen as a strong point for Democrats, not Republicans. After years of a Republican advantage, voters think Democrats better handle health care issues by a 15-point margin, according to a recent Fox News poll.
Republicans are also facing a deluge of health care–focused ads themselves from Democrats who criticize them for voting against the Affordable Care Act and protections for pre-existing conditions.
With the Medicare for All ads, Republicans are hoping to capitalize on an underlying problem for Democrats: While the term "Medicare for All" — which goes unmentioned in conservative ads — is popular, the plan itself is loosely defined and little understood by the public. In the midterms, Republicans see an opportunity to define one of their opponents' central campaign platforms before the Democratic Party does.

In focus groups with voters of all stripes, one Republican strategist said, people became increasingly disillusioned with Medicare for All once they were told certain claims about what it would involve. In some cases, polling backs this up: In California, for example, support for a single-payer plan dropped 12 points once people were told it would require raising taxes.
An ad from vulnerable Republican Kevin Yoder called "Nightmare" — which superimposes a picture of his opponent, Sharice Davids, on top of the text of the House Medicare for All bill — ticks through a list of the claims Republicans think offer them an advantage.
"She's so extreme she wants to abolish all private, employer-provided insurance," the ad says. It claims Davids would "kick 178 million Americans off their insurance" and "force them onto government-run health care." The bill, the ad says, would "end Medicare as we know it," close hospitals, double taxes, and "bankrupt our country."
Some of those claims are fuzzy, and even inaccurate. Though the bill would transform Medicare, it wouldn't cause seniors to lose their insurance, and the program's $32 trillion price tag, from a study cited by many ads, may actually be $2 trillion less than the cost of keeping the current system.
Still, the ads are tapping into an American anxiety about government-run services — the same type of fear that fueled broad opposition to Democrats' first attempt to overhaul health care, the Affordable Care Act, in the years immediately after its passage, handing huge electoral victories to Republicans. (The ACA has since become significantly more popular.)
In going after even Democratic moderates, Republicans are also capitalizing on a tension within the Democratic Party: Candidates in swing districts are walking a careful line between their more conservative districts and the party's vocal progressive wing. As a result, they've often been unwilling to embrace Medicare for All — but they also haven't condemned it.

Instead, candidates say that while they back other plans, they are "open" to the possibility of passing Medicare for All eventually, or that they want to "move in the direction of" Medicare for All.
Ann Kirkpatrick, an Arizona Democrat, said throughout a bruising primary that she didn't support Medicare for All, preferring instead to offer an option for people to buy into Medicare — a common compromise among more moderate Democrats that wouldn't result in people being forced to leave employer-sponsored plans. But Kirkpatrick was unwilling to rule it out altogether.
"I'm not going to say [Medicare for All] is not at some time possible," she told BuzzFeed News earlier this year, in the midst of a primary battle against progressive challengers who vocally supported the plan. "But I do have concerns. I haven't seen any good information on how we pay for that."
Kirkpatrick even echoed Republicans' line that the more voters understood of the plan, the less they liked it. "Initially it sounds good to voters. But when you start talking about, how do you pay for it, what do you do for veterans, what happens to employees whose employers are paying for it — they haven't thought about those things."
That position — and being labeled "the only candidate who doesn't support Medicare for All" by a primary opponent — didn't stop Kirkpatrick from being the subject of a Republican attack ad earlier this week. The ad said she wanted to "go further" than Obamacare, "supporting a plan that could threaten Medicare as we know it."