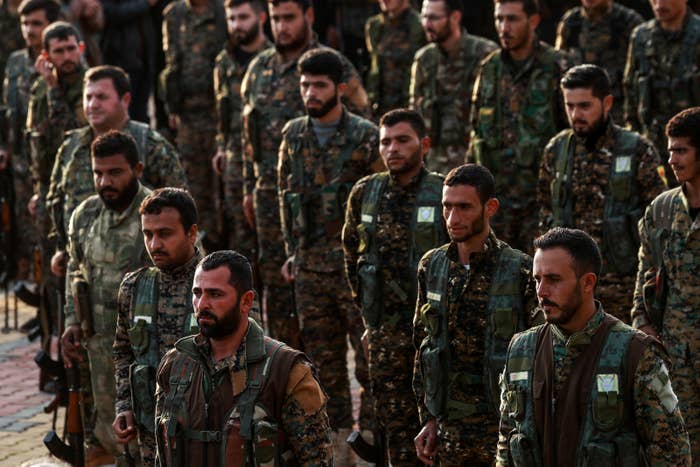 WASHINGTON — The US is set to withdraw from a special forces base in Syria that has been the subject of repeated Russian complaints, and that some US officials have cast as a key part of US efforts not just to defeat ISIS but to counter Iranian influence in the country.

Muhannad al-Talla, a rebel commander at al-Tanf, a US base near the Syrian border with Jordan, told BuzzFeed News that the base would see the withdrawal of the US troops who have trained and fought alongside rebels there, adding that he was helping to inventory and remove equipment. A US official confirmed that US troops will leave the base as part of President Trump's decision to pull US forces from Syria.
The withdrawal at al-Tanf added to the concerns among US partner forces in Syria that they will be abandoned mid-fight — and it came as Secretary of Defense James Mattis issued a resignation letter stressing the need for the US to stand by its allies.
Mattis resigned on Thursday, writing in his letter that US cooperation with its allies is key to its stability — just as US officials and analysts tracking the conflict were fretting over the ramifications of abandoning US allies in Syria. "One core belief I have always held is that our strength as a nation is inextricably linked to the strength of our unique and comprehensive system of alliances and partnerships," Mattis wrote. He cited the "Defeat-ISIS coalition" as "proof."
At the same time, citing Russia, Mattis stressed a need to be "resolute and unambiguous in our approach to those countries whose strategic interests are increasingly in tension with ours."
The closure of al-Tanf reinforced the view that Trump's surprise decision to pull US troops from the country threatens to do the opposite of what Mattis laid out: While US allies in Syria face the sudden prospect of destruction, the removal of US troops will strengthen the hands of Russia and Iran.
Russia has repeatedly objected to US presence at al-Tanf. A Russian official earlier this month expressed "growing concern" about the "illegal occupation of the 55-km zone around the base in al-Tanf," calling it "the basic source of destabilisation in that part of Syria."
Trump's decision also came less than three months after national security adviser John Bolton announced that US troops would remain in Syria as long as Iran and its proxies did. Bolton reportedly lobbied Trump not to close al-Tanf, envisioning a role for it in the US strategy to check Iranian influence. Russia, which entered the civil war in 2015 to prop up Assad, meanwhile praised Trump for the planned withdrawal, with Russian President Vladimir Putin calling it the "correct" decision.
But sources in the US and Syria warned that the withdrawal would keep the US mission of defeating ISIS from being completed. They also said that abandoning US allies in the unfinished fight puts US credibility at risk. "How can such a decision be issued by a superpower in this way?" asked Ahmed Khader Al-Mahaya, a media officer in al-Tanf. "ISIS has now turned into a new type of fighting, relying on sleeper cells and small groups that carry out surprise attacks. They have not been eliminated."
A contingent of hardened ISIS fighters still holds a pocket of territory in eastern Syria, battling a Kurdish-led coalition of fighters, called the Syrian Democratic Forces (SDF), that US troops armed and trained for the mission. As with the fighters at al-Tanf, US special forces have been fighting ISIS alongside the SDF, and their presence has also deterred attacks from Syrian, Turkish, Iranian, and Russian forces. Now, faced with the prospect of being left on their own, the SDF might not finish the job.
"I don't see how they keep the focus on ISIS while faced with an existential threat from Turkey," said a US military officer who has worked at senior levels of the anti-ISIS coalition, referring to Turkish threats to invade SDF territory. The SDF is dominated by Kurdish fighters linked to the PKK, which has been fighting a decades-long insurgency in Turkey, and Ankara has been upset about the partnership from the start. Trump's decision to withdraw US troops followed the Turkish threats and a phone call with Turkey's president.
"If I was [SDF leadership] and I saw that we're leaving relatively quickly, and at a time when they're fighting the most vicious, hardcore ISIS fighters, I would be thinking: Where's my indirect fire coming from? Where's my [air support]? Where's my Medevac?" the US officer said. "I would really question how many more Kurdish lives I am going to waste on ISIS when the US is pulling out."
US officials had signaled continued support to the SDF until Trump's surprise decision. Congress sent the same message with continued approval of US funds and assistance to SDF areas, said Dana Stroul, until recently a senior professional staffer on the Senate Foreign Relations Committee and now a fellow at the Washington Institute for Near East Policy. "Clearly this wasn't discussed with the SDF over time," she said. "It was policy by tweeting."
More than ever, the US relies on local forces to fight its counterterrorism campaigns. The so-called "by, with, and through" strategy is arguably more effective than large US troop deployments in places like Iraq and Syria — and it is more politically viable with a war-weary American public. The strategy calls on local forces like the SDF to carry out the brunt of the combat while US special forces and air power act as a force multiplier. The US partnership with the SDF was meant to be a showcase of this strategy.
"If you're a local partner and the US is saying, 'We would like you to risk your life and the lives of your family to work with us,' there is a question now of whether the US can be trusted to see the fight through," Stroul said. "The big lesson that I would take in a regional capital is that the US is unreliable as a partner. You couldn't find a counter-terrorism expert in the US government or outside the US government or in the Middle East or elsewhere who believes that ISIS has been substantively defeated. And we gave our word to these local partners that we would have their backs."
A regional security official said Trump's abandonment of the SDF would leave a "bitter aftertaste" with other US allies. "It also plays directly into Iran's messaging: the US is not a reliable partner," he said. "The US will now have to think long and hard next time it calls on local partners to bear the brunt of war."
A sudden US departure would risk not just SDF forces but the stabilization efforts the US has been leading in former ISIS territory, which range from rebuilding areas destroyed by US airstrikes to demining efforts and capacity-building for local security forces and governments. In addition to addressing humanitarian concerns, these efforts were intended to help prevent an ISIS resurgence. The US withdrawal raised concerns about how the projects will move forward and who will provide the security guarantees they need.
"They just pull the plug with no warning, no plans — it's crazy," said Sasha Ghosh-Siminoff, executive director of People Demand Change, a nongovernmental organization that carries out US-funded development work in northeastern Syria. "What the hell happens to all that money and all the plans? You have hundreds of millions and maybe even over a billion in U.S. aid and development contracts that will be left in limbo."
Ghosh-Siminoff noted that Saudi Arabia and the UAE, at US urging, had recently pledged $250 million in stabilization aid, and that the work of other countries and organizations in SDF territory requires a guarantee of security. "All that money is tied to US government presence and force protection. The French, Canadians, and other countries who were ramping up and preparing to help with stabilization will not show up with that if there is no force protection from the US government."