US Special Forces are deployed in southern Syria as part of an operation to train and assist Syrian rebels fighting ISIS, according to rebel leaders and current and former US military officials.
A source in the US-backed coalition battling ISIS also provided BuzzFeed News with photos of what appeared to be these Special Forces soldiers working with the rebels, though it was unclear if they were taken in the field or during a training exercise.
The deployment — which a military contractor working with the coalition said has been ongoing for about six months — is centered on a secret base called Tanf near the Iraqi border. Experts say the region, which stretches along Jordan and Iraq, is a developing center of gravity for ISIS as it loses territory elsewhere.
US commandos there are training and mentoring two pro-Western rebel groups while also accompanying them on combat missions as part of the anti-ISIS campaign developed under then-President Barack Obama and continued by the Trump administration.
Details of the US troop presence in the area around Tanf first emerged on April 9, when a large-scale ISIS assault on the base was defeated by US special forces, rebel fighters and coalition airstrikes. A Pentagon statement at the time noted that fending off the attack was a combined effort by coalition and rebel partners. US press reports, citing US military officials, said that a US Special Forces unit was in the area during the attack and had mobilized to help repel it. The commander of the rebel unit based there and the coalition military contractor told BuzzFeed News that US troops are in fact based at the facility.
"They're sleeping over multiple days at a time," the contractor said, speaking on condition of anonymity to have the freedom to discuss a previously secret deployment freely. "In the past there had been a 10-day limit on how long an individual [US] unit can stay [inside Syria], but that is either lifted [already] or will be shortly." A US defense official told BuzzFeed News that he was unaware of any such scheduling or subsequent changes to troop rotations.
Elite US commandos from special operations units like Delta Force and the SEAL Teams have periodically engaged in combat throughout the fight with ISIS in Syria and Iraq, and US troops have suffered casualties in both countries. US troops have long been embedded with the Kurdish-dominated Syrian Democratic Forces on a separate front in northeastern Syria. But the regular presence of US troops during combat operations in this sensitive region has not been formally announced. The contractor said he hoped that publicizing the presence of US troops would reduce the possibility that the rebel units in which they are embedded will come under attack from the Syrian regime and its allies in Hezbollah, various Iran-backed Shiite militia and Russia, all of whom are stationed nearby.
The US military has repeatedly insisted that its forces are staying away from the frontlines in its training missions in Syria, Iraq, and Afghanistan. But in several instances, it appears that US troops are moving closely alongside the local counterparts, putting them in harm's way.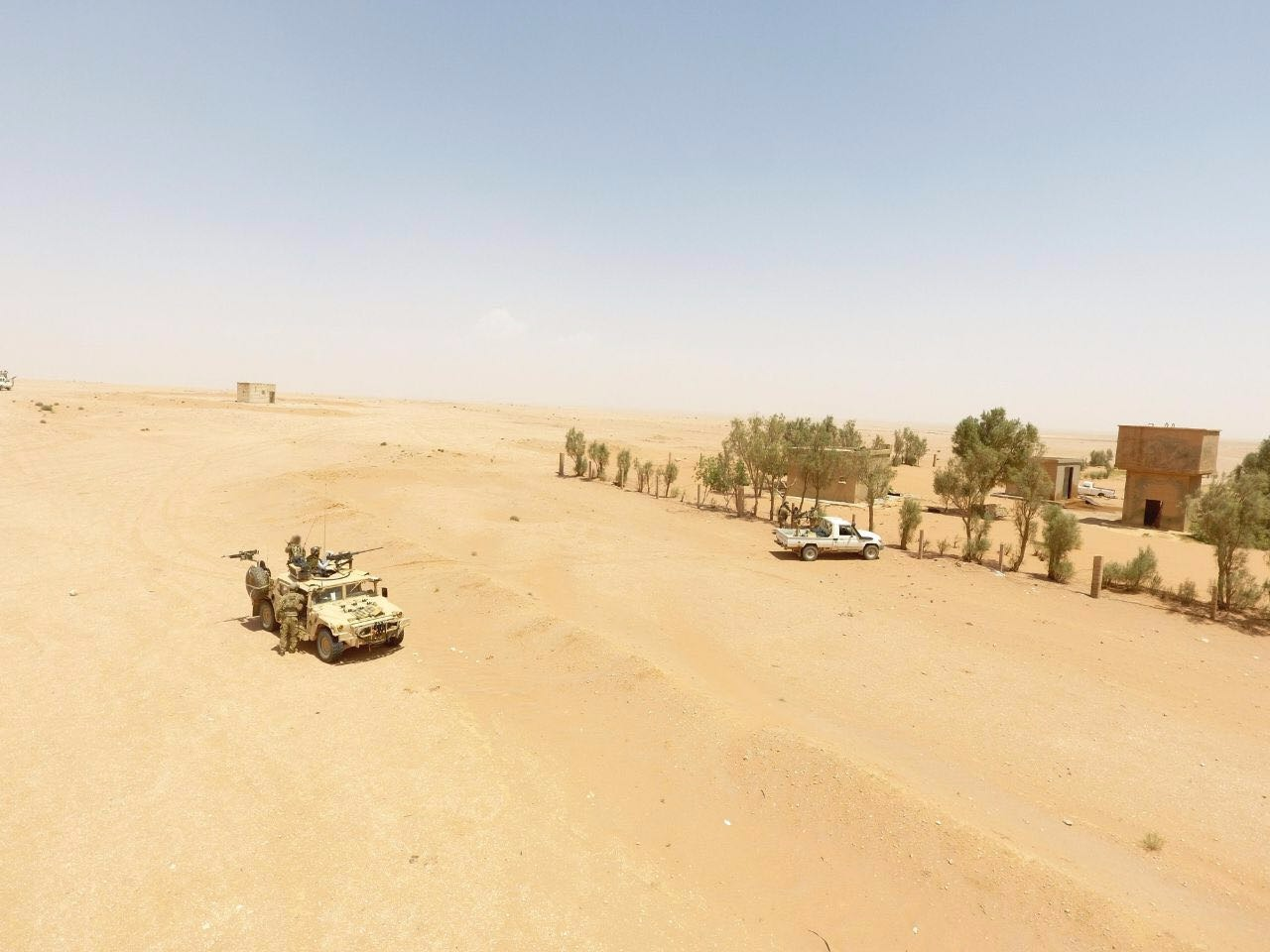 Mohannad Ahmed al-Tallaa, the commander of the rebel battalion stationed at Tanf, said they began working with US troops at the base late last year. A former officer in an elite Syrian army unit, he defected early in the civil war and has been a vital player in the rebel fight in Deir Ezzor, a province in eastern Syrian that has become a major ISIS stronghold. He created the battalion, called Maghaweir Al-Thowra, or Commandos of the Revolution, with the aim of working with the US-backed coalition to free Deir Ezzor from ISIS, he said, adding that he and his men now live with their US partners. "I'm sitting with them right now," he said when reached by phone on Tuesday night; men with American accents could be heard speaking English in the background.
Tallaa said the US had provided his battalion with "good weapons," though not tanks, and that the coalition has backed them with airstrikes. He also said the US troops accompany the battalion on operations regularly. "In general they make the plans with us and they come with us on the operation in the second line. If we need support in the first line, then they come and support us there," he said. "And sometimes ISIS [attacks] from other directions, and [the US troops] stop them."
"The Americans are really good fighters, and they know how to implement the strategy," Tallaa added. "I'm proud to fight beside them."
But he declined to provide more details of how the US troops operate in the field. "Please don't ask me these kinds of questions, because I'm not allowed to talk about this," he said.
Tallaa said the operations had been mostly small-scale so far; in the last three they had captured ISIS checkpoints around a nearby mountain. But they were building up to a larger offensive to take Abu Kamal, an important ISIS-held city in Deir Ezzor near the border with Iraq.
At the same time, he said, he was also keeping an eye on the regime, which has attacked US-backed rebel groups throughout the war. "They are about 70 kilometers [43 miles] from us — not only the regime, but also Hezbollah, Iran and other militia. We saw their flags," he said. "And if they attack us, we have to attack them back."
A rebel official who works closely with the US in southern Syria said that US troops have also participated in operations in the region alongside a second rebel group, called Shuhada al-Qaryatayn, which is based not far from Tanf. He described the support the US troops bring to rebels in the field as varied. "How to deal with the suicide bombs. How to deal with mines," he said, speaking on condition of anonymity to describe sensitive US military operations. "How to move across difficult terrain. Where to use their night vision. How to do the logistics. Just experience. They're experts."
The contractor said the Americans were from the 5th Special Forces Group, which focuses on the Middle East, as part of a revamped "train and equip program" coordinated by the US Department of Defense to develop a handful of vetted Syrian rebel groups to confront ISIS. In 2015 the program was roundly criticized for having produced only about 100 trained rebels in northern Syria at the expense of hundreds of millions of dollars.
Maj. D. Allen Hill, the director of public affairs at US Special Operations Command Central, which supports Syria and Iraq, described the engagements of US troops on operations in southern Syria as complex and occasionally kinetic. "Advising and assisting is not limited to training," he said by email. "It's providing guidance and supporting them with the enablers such as intelligence, surveillance, and reconnaissance, logistics, medical and close air support assets available as needed to assist them in accomplishing their mission."
"They're not out there directly engaging the enemy," he added. "They are within their rights to defend themselves as necessary. The battlefield is fluid and the safety of our forces, and of our partnered forces is a priority. … They're partnering alongside them, but they're not directly involved in offensive operations where they are securing and holding key terrain."
Nick Heras, a Syria analyst at the Center for a New American Security, said that the area where these US troops have been operating is becoming increasingly important to the war on ISIS as the group's fighters are pushed from their strongholds elsewhere. The US military "assesses that the area of the city of Deir al-Zour to the Syrian-Iraqi border is the new center of gravity for ISIS," he said, adding that the US hopes to squeeze in on Deir Ezzor from Abu Kamal. "One place to stage an operation on Albu Kamal is via the Syrian Desert, and Tanf is critical to that."
"U.S. forces have been working with vetted Syrian armed opposition groups, like the ones you describe, for more than two years now," Heras said. "While neither Shuhada al-Qaryatayn nor Maghaweir Al-Thowra, are particularly powerful, they are willing to fight ISIS first, and are willing to be trained by American forces. These are two qualities that really matter to the American forces, so the size of these groups matters less than their ability to provide force protection for U.S. soldiers training them, and going out on raids with them."
With additional reporting by Munther al-Awad in Turkey and Nancy Youssef in Washington.