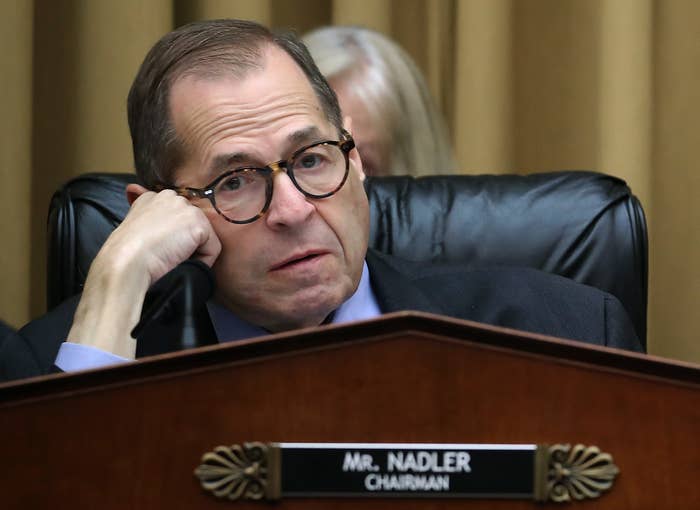 WASHINGTON — Two top Democrats deeply involved in the House's impeachment inquiry are taking heat from primary challengers who say they've dragged their feet on the investigation to hold President Donald Trump accountable.
Lindsey Boylan — who has made impeachment a central part of her campaign against Judiciary Committee chair Jerry Nadler in New York City — told BuzzFeed News over the phone on Monday, "Congressman Nadler really has, in my view, botched his role entirely in holding Trump accountable."
Boylan, 35, first came out for impeachment in February and has been pushing Nadler on the topic ever since, arguing for months that Nadler has wiggled around impeachment questions while at the same time conducting what he labeled impeachment inquiry hearings.
Boylan's statement comes after House Speaker Nancy Pelosi announced Friday that moving forward, the impeachment inquiry would be centered in the Intelligence Committee led by Adam Schiff. This handed a blow to Nadler, who up until then had been the face of the House's inquiry.
"The congressman has botched his role throughout this process, so it wouldn't surprise me that there's been a shift in leadership moving forward," Boylan said.
When asked what role the Judiciary Committee will play moving forward, a spokesperson for Nadler said the committee "will look at the evidence [the Intelligence Committee] gathers and examine it before we write any articles of impeachment to consider."
Last Thursday, Schiff and his committee members questioned Joseph Maguire, the acting national director of intelligence, about the whistleblower complaint (which sparked more than two dozen House members, including Pelosi, to come out in favor of impeachment) that alleges Trump abused his office by asking the president of Ukraine to help him dig up dirt on former vice president Joe Biden. Schiff concluded the open hearing with an interrogation of the witness that lasted more than 20 minutes, a strategy that hasn't been used much in the impeachment hearings thus far.
On Friday, several House members said the shift came mainly as a result of leadership deciding to use the conversation between Trump and Ukrainian President Volodymyr Zelensky as the focus of impeachment, arguing Schiff's Intelligence Committee is better positioned to investigate that issue than the Judiciary Committee.
"No, it's not about switching. It's about jurisdiction," said Rep. Pramila Jayapal, a Judiciary Committee member. "Adam Schiff is an excellent chairman of the Intel Committee. This is an Intel matter, the Ukraine issue is an Intel matter, and the thing is: It is the thing that is in front of us, it is easily understandable to the public, and it is happening right as we speak. So Adam Schiff is absolutely the right person to be leading this part."
Boylan, for her part, takes at least some credit for moving Nadler on the impeachment issue. "I'm glad that, with our pressure, we've moved the congressman in his authority to move closer towards impeachment — but what people really see, and I think what people really respond to, is the fact that they're seeing someone that is a fighter and who is going to say difficult things and act on them," she said.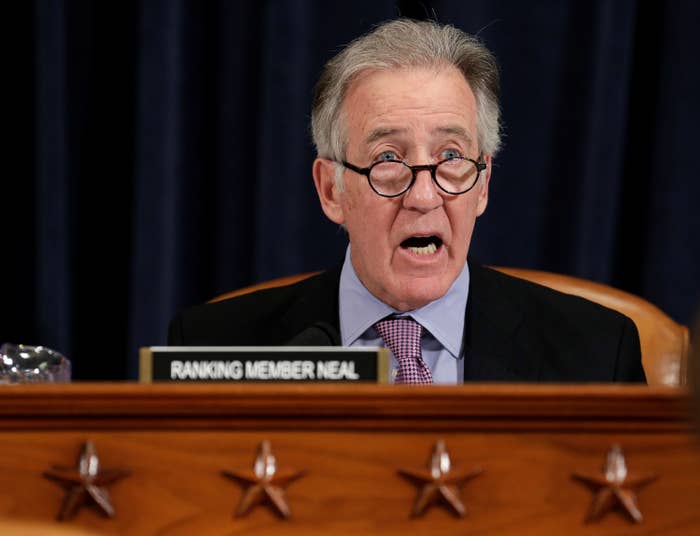 Richard Neal, chair of the House Ways and Means Committee, is coming under similar fire for his handling of the impeachment saga from his own primary opponent, Alex Morse, the 30-year-old mayor of Holyoke, Massachusetts. In an interview with BuzzFeed News on Monday, Morse said that he thinks it's too little, too late from Neal.

"I think he's handled the whole situation quite poorly, and I think that's indicative of the type of member of Congress he is," Morse said. "He's slow-walking. He's basically avoided doing everything he can to hold this president accountable. So while he's had incredible power to do so, he hasn't utilized it. And so it wasn't until Speaker Pelosi gave him adequate cover did he finally publicly say that he supported an impeachment inquiry."
In early July, New York Gov. Andrew Cuomo signed into law a bill that would allow some federal lawmakers to access Trump's New York state tax returns. Neal, in his role as the head of the Ways and Means Committee, is the only Democrat in Congress who would be able to do so, but he has not taken advantage of the law. He has argued that it would make his investigation look too partisan and told Bloomberg News in June that he does not "have jurisdiction over New York taxes."
On the campaign trail, Morse said voters have often expressed frustration with Neal's decision.
"Richie Neal is the one being sued by Donald Trump. Richie did not pick this fight but he will not shy away from it," Neal's campaign manager, Peter Panos, wrote in an email to BuzzFeed News. "No amount of threats or lawsuits will deter him from upholding his Constitutional duties as co-equal branch of government."
For Boylan, her impeachment focus has helped the first-time candidate make a name for herself in the race. She announced her campaign in April. By the time the Judiciary Committee held a hearing with former special counsel Robert Mueller in July, she had raised more than $350,000 (including her own contribution of $83,500) to unseat Nadler, championing the message to impeach Trump.
While she wouldn't say how much more she has raised since then, Boylan said she's seen a bump in individual donors both inside the district and nationwide during this fundraising quarter that ends Sept. 30.
As the investigation moves forward, Boylan said Congress should move toward a "swift vote" to impeach.
"The president gets more and more unhinged by the day, so the sooner we move forward, the better," said Boylan. The Chelsea resident is also pushing for the impeachment process to expand beyond the Ukrainian investigation and include other individuals who may be connected, such as Attorney General William Barr, Vice President Mike Pence, and White House adviser Stephen Miller.
"Because, at least in this latest revelation, it's clear that the president has not acted alone or in isolation, and we need to hold all of these people accountable," said Boylan. For now, at least, Democrats are focusing their investigation solely on Ukraine, and members have been reluctant to take the focus away from Trump.
Boylan also commended House leadership for having "seen the light" months after other members had moved on impeachment, specifically naming Reps. Al Green, Maxine Waters, and Rashida Tlaib.
Morse also raised concerns that more conservative members of Congress like Neal will get too much credit for the recent impeachment push, despite the fact that many representatives of color have long been calling for an inquiry. (A recent CNN story that painted five white, moderate Democrats who just joined the impeachment push as the driving force behind the formal inquiry was widely derided over the weekend.)
"I think they should be given the credit for really beginning this conversation and accelerating it in a way. So for members of Congress who have now all of a sudden come out for impeachment to see themselves as some sort of heroes…" Morse drifted off, and added: "You know, there were courageous members of Congress that put country before politics and political polls."
CORRECTION
Alex Morse said that Nancy Pelosi gave Richard Neal "adequate cover." He was misquoted in a previous version of this story.