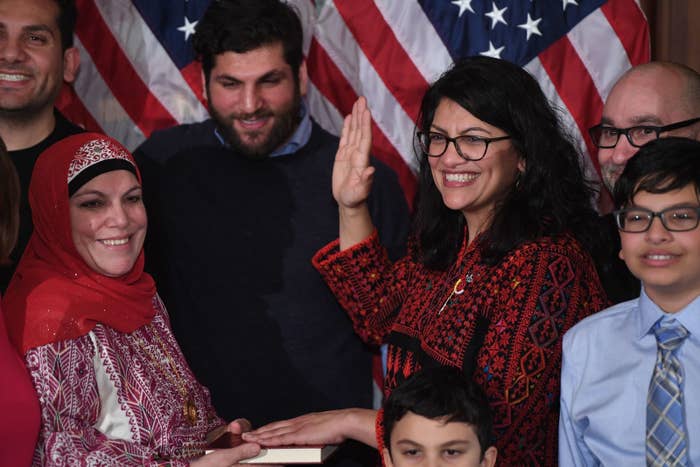 WASHINGTON — Fresh off of being sworn into the US House of Representatives, Rep. Rashida Tlaib, a progressive from Michigan, told a group of supporters on Thursday night that House Democrats would "impeach the motherfucker," though she did not name President Donald Trump.
"We're going to go in there and we're going to impeach the motherfucker," Tlaib is seen saying in a video at a Thursday evening reception. The Washington Post reported the event was held by MoveOn, a progressive activist group. (The account that originally tweeted out a video of Tlaib's remarks has since deleted it).
Tlaib's office also stood by the remarks, adding that the congresswoman was "elected to shake up Washington, not continue the status quo. Donald Trump is completely unfit to serve as President. The Congresswoman absolutely believes he needs to be impeached. She ran and won by making this very clear to the voters in her district." They pointed to an op-ed Tlaib published Thursday in the Detroit Free Press in which she argues that the "time for impeachment proceedings is now."
In an interview with Detroit's Local 4 TV station, Tlaib said on Friday she's committed to standing up to Trump and seeking his impeachment — and she was speaking her mind.
"It's probably exactly how my grandmother, if she was alive, would say it," Tlaib told Local 4. "Obviously, I am a member of Congress and things that I say are elevated on a national level, and I understand that very clearly. I am very passionate, and I grew up in an incredibly beautiful, urban community — the city of Detroit — born and raised. We say colorful things in interesting ways."
Asked about Tlaib's comments at a press conference Friday afternoon, Trump — who attacked Heidi Cruz's appearance during the campaign, called Mexicans "rapists," and bragged about grabbing women "by the pussy," among other things — said "her comments were disgraceful."
"This is a person that I don't know. I assume she's new," Trump said. "I think she dishonored herself and I think she dishonored her family, using language like that in front of her son and whoever else was there, I thought that was a great dishonor to her and to her family. I thought it was highly disrespectful to the United States of America."
Tlaib was elected to represent a Detroit district formerly occupied by Rep. John Conyers. The congressional seat was empty in Congress for more than a year after he resigned in the midst of sexual harassment allegations. Tlaib made history by being one the first two Muslim women elected to Congress ever in the 2018 midterms.
Her comments fly in the face of the official position of House Democratic leadership, which has long been that it's too early to talk about impeachment and that special counsel Robert Mueller must complete his investigation before Democrats can consider impeachment. Even the handful of House Democrats who supported impeachment before their party took control of the House have been backing off. Those members have said they're now in a better position to pursue information that will support their argument for impeachment, since they have subpoena power now that they are in the majority.
Even if House Democrats were all to get on board with impeachment, the likelihood of succeeding is slim: Impeachment would require two-thirds support from the Senate, which remains in Republican control.

Speaker of the House Nancy Pelosi's office did not immediately respond to a request for comment.
UPDATE
This story was updated to include Trump's response to Tlaib's remarks.