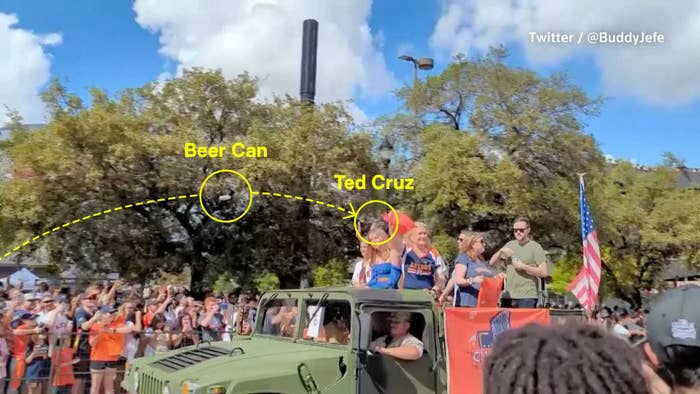 The Houston Astros fan who lobbed two beer cans at Ted Cruz during a victory parade in November has had the charges against him dismissed.
Joseph Halm Arcidiacono, 33, had faced charges of aggravated assault with a deadly weapon for the incident. But on Friday, a grand jury declined to indict him, according to court records obtained by the Houston Chronicle.
During the Nov. 7 parade, which was held to celebrate the Astros winning the World Series, Cruz rode on the back of a truck, waving to fans of his hometown team. But fans responded by loudly booing the Republican senator.
As he rode past the jeering crowd, Cruz had two cans thrown at him, videos of the incident showed. He appeared to block at least one with his hand, after which a security guard quickly stepped in front of him, pointing into the crowd toward the source of the object.
The Houston Police Department arrested Arcidiacono, who was released a short time later on $40,000 bail.

Police said the beer struck Cruz "in the chest/neck area," but a witness who filmed the incident said it actually appeared to "hit Cruz's hand or the hand of his security next to him."
"I took out my phone to record the booing and just happened to catch what I thought was a beer can flying at Ted Cruz," Weston Grove, 29, told BuzzFeed News.

Cruz did not require medical attention, police said. In a tweet, the lawmaker thanked police "for their quick action."
"I'm also thankful that the clown who threw his White Claw had a noodle for an arm," Cruz added.
It was not immediately clear whether the thrown cans contained beer or White Claw, as the senator claimed. Determined to report this story accurately, BuzzFeed News previously contacted Houston police. An officer said, "I don't know," when asked about the can's contents but noted they "were initially told a beer can."

During his initial court appearance, according to Click2Houston, prosecutors said Arcidiacono told officers, "I know, I'm an idiot. I'm sorry," during his arrest.

The night before the parade, Arcidiacono had sent a text to a friend, saying it was his "dream" to "throw one of the players a beer," adding that it would be "epic," his attorney, Bill Stradley, said in a statement.
"We have seen various videos and understand why Senator Cruz's security detail was alert for potential violence," Stradley said shortly after the arrest. "Instead, this was an Astros fan trying to toss drinks from his cooler to the Senator during a championship parade and not realizing how it would be perceived until he saw security's reaction."
Fans routinely toss beers to players during victory parades, Stradley noted. That same day, the Astros shared a video of their pitcher, Ryne Stanek, catching one and chugging it as fans cheered.
Arcidiacono is sorry "for how his actions alarmed Senator Cruz, his family, and his security detail and put a damper on an otherwise beautiful celebration for millions of Houstonians," Stradley said.
"Many generous, fun, semi-stupid, legendary moments have happened during Astros Championship Parades," he said. "Hopefully, many more of those moments will happen in the years to come."

Neither Stradley nor a spokesperson for Cruz immediately responded to a request for comment from BuzzFeed News on Monday about the charges being dropped.
This wasn't the first time Cruz had been on the receiving end of Astros fans' ire. Weeks earlier, at a game against the New York Yankees in the Bronx, spectators jeered the senator, calling him a "racist piece of shit" and "a disgrace," video footage showed.