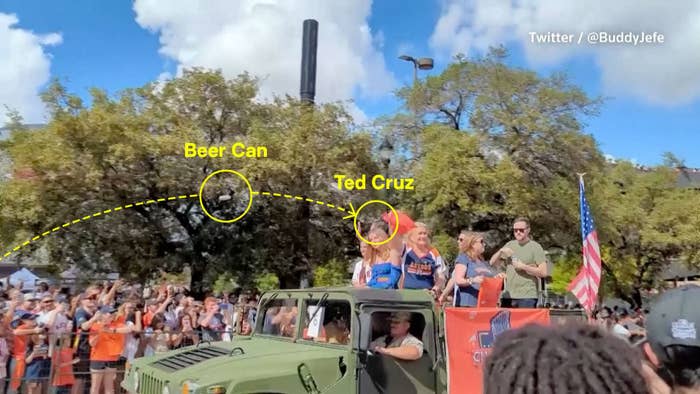 To a resounding chorus of boos from his own hometown's sports fans, Sen. Ted Cruz had two beer cans lobbed at him as he rode on a parade float on Monday.
The Texas Republican had been waving to the jeering crowd at the Houston Astros victory parade — which was held in celebration of their World Series win — from the back of a truck, videos show, when he was pelted with the cans.
He appeared to block at least one with his hand, and a security guard quickly stepped in front of him, pointing into the crowd toward the source of the object.
The man accused of throwing the cans was arrested on charges of aggravated assault, the Houston Police Department said. Joseph Halm Arcidiacono, 33, has since been released from jail on $40,000 bail, a spokesperson for the Harris County District Clerk's office told BuzzFeed News.
Police said the beer struck Cruz "in the chest/neck area," but a witness who filmed the incident said it actually appeared to "hit Cruz's hand or the hand of his security next to him."
"I took out my phone to record the booing and just happened to catch what I thought was a beer can flying at Ted Cruz," Weston Grove, 29, told BuzzFeed News.

Cruz "did not require medical attention," police said. In a tweet, the lawmaker thanked police "for their quick action."
"I'm also thankful that the clown who threw his White Claw had a noodle for an arm," Cruz added.
It was not immediately clear whether the thrown cans contained beer or White Claw, as the senator claimed. Determined to report this story accurately, BuzzFeed News contacted Houston Police and an officer said "that, I don't know" when asked about the can's contents, but noted they "were initially told a beer can."
According to court documents, Arcidiacono is accused of throwing "two unopened twelve-ounce liquor cans" from about 20 feet away, "striking the senator and causing him pain."
Arcidiacono "unlawfully, intentionally and knowingly cause[d] bodily injury to Rafael Edward Cruz," the court documents state, when he allegedly "used and exhibited a deadly weapon, namely an unopened metal beverage can."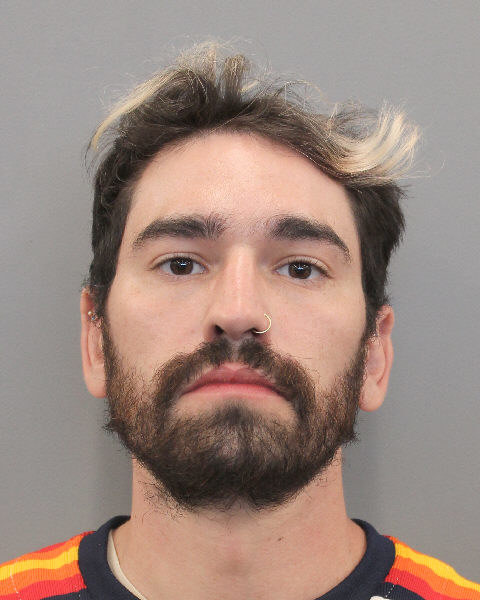 During an initial court appearance, Click2Houston reported, prosecutors said Arcidiacono told officers, "I know, I'm an idiot. I'm sorry," during his arrest.
This wasn't the first time Cruz had been on the receiving end of Astros fans' ire. Last month, at a game against the New York Yankees in the Bronx, spectators jeered the senator, calling him a "racist piece of shit" and "a disgrace," video showed.
Grove said the crowd seemed to be "kinda just shocked or maybe even confused" after the cans were thrown at Cruz.

"The booing stopped and it felt like people were thinking, Did that just really happen? And then five seconds later it was back to normal," he said. "Some people laughed and thought it was funny, I will say."
Grove could not confirm whether the thrown cans were beers or White Claws.
"All I would say is that I encourage everyone to make their voice heard by voting today and in the future," Grove added. "We all have more in common than we realize and Houston coming together to support and celebrate the Astros perfectly encapsulates that."