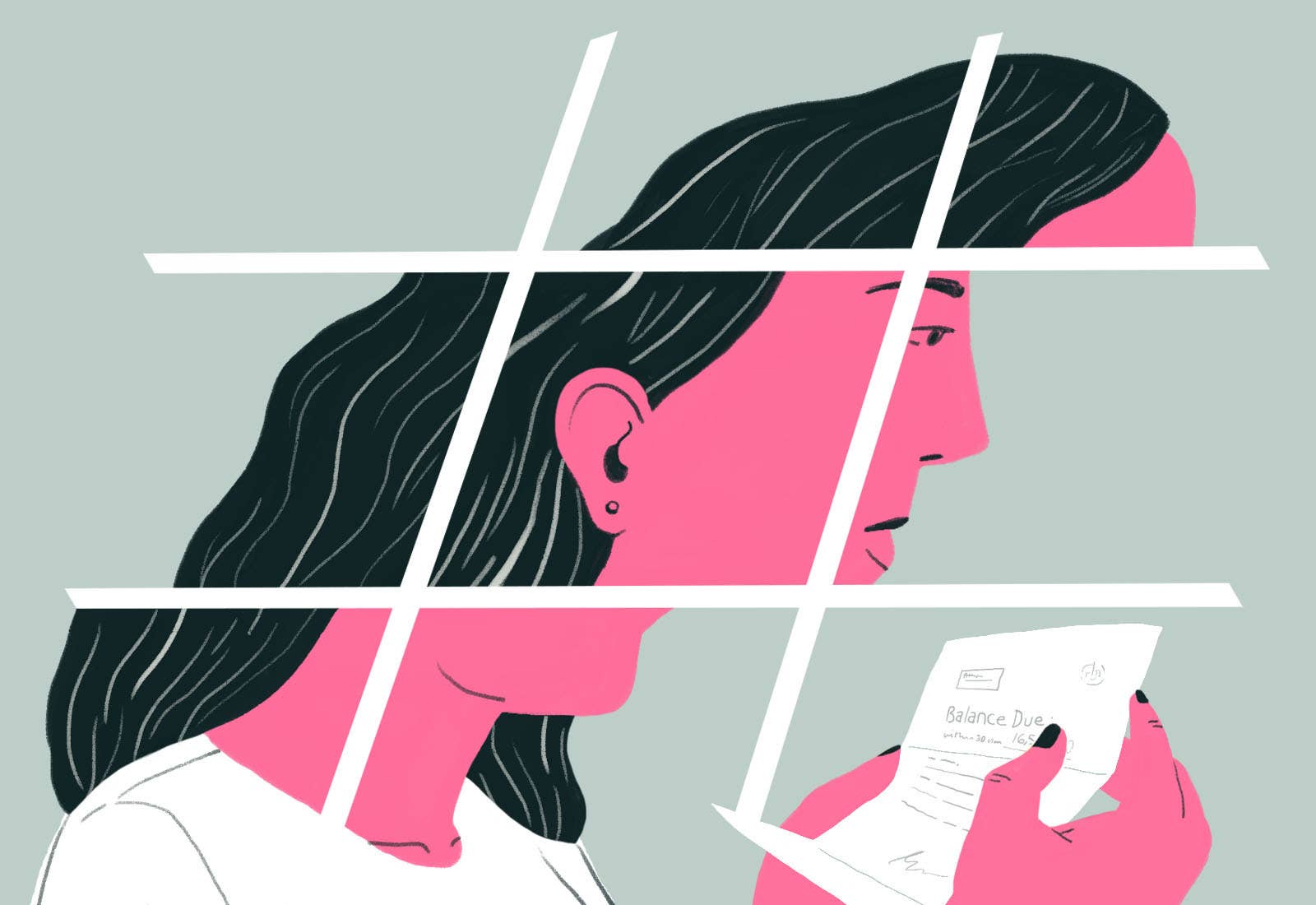 In a sign of #MeToo's influence in 2018, crowdfunding giant GoFundMe announced Thursday that a legal defense fund for victims of workplace sexual misconduct raised more money than any other campaign this year — making it the biggest fundraiser in the history of the platform.
The Time's Up Legal Defense Fund has brought in more than $22 million since its launch in December 2017. Last year's top campaign, which raised money for victims of the Las Vegas mass shooting, amassed just over half that: $11.7 million. Moreover, the Hollywood-backed campaign came close to matching what all of the top 10 campaigns of 2017 combined earned (about $23.5 million). And while nearly $30 million was raised on GoFundMe this year for California fires relief, those donations were spread across several campaigns; Time's Up is the largest single fundraiser.
As the Time's Up fund thrived in 2018, victims of sexual misconduct in desperate financial situations took notice.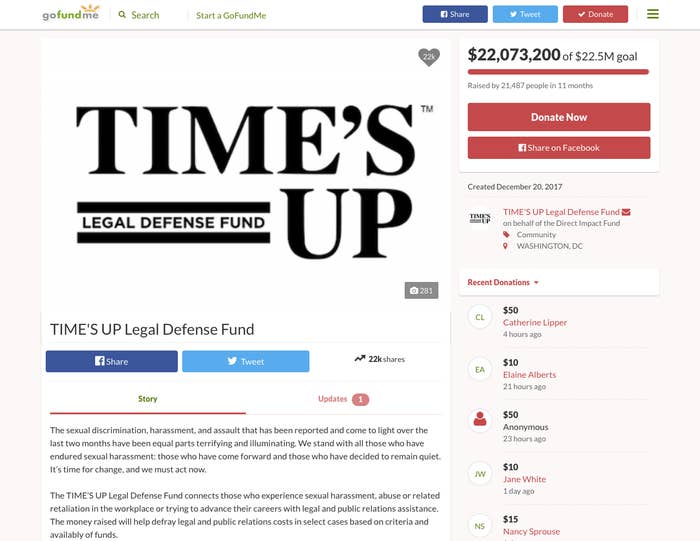 A search for "rape" on the platform yields about 4,000 campaigns, while "sexual harassment" turns up nearly 500. Some of these pages date back years; some were created this week. Some campaigns are run by do-gooders, like marathon runners and youth organizations looking to support local victims charities, or artists working on zines and stage productions devoted to survivors. But many fundraisers have been created by the victims themselves, or in their names by loved ones.
Most famously, a campaign for Christine Blasey Ford launched in September, about a week before she testified before the Senate Judiciary Committee, asking for help covering her family's security, transportation, and temporary relocation expenses. The goal was $150,000, but Ford raised $647,610 before ending the campaign in November. "Because of your support, I feel hopeful that our lives will return to normal," she wrote to nearly 14,000 donors. Any leftover funds would be donated to organizations that help trauma survivors, she added.
"Throughout the year, we saw people respond to the news and come together to stand up for women's rights and fight sexual harassment and violence against women," GoFundMe CEO Rob Solomon said in a statement. "From friends supporting each other in local communities to women on the national stage, such as Dr. Ford, we saw people engage, find community, and turn compassion into action."

But the remarkable prosperity of Ford's and Time's Up's campaigns is not the norm. Crowdfunding can only go so far, and sometimes it doesn't go anywhere at all. Scores of campaigns for sexual assault victims have raised $0, or received a handful of donations but then dried up, meeting less than 10% of their goals. This can be devastating for the people behind the fundraisers, particularly when the stakes are so high — a matter of life or debt.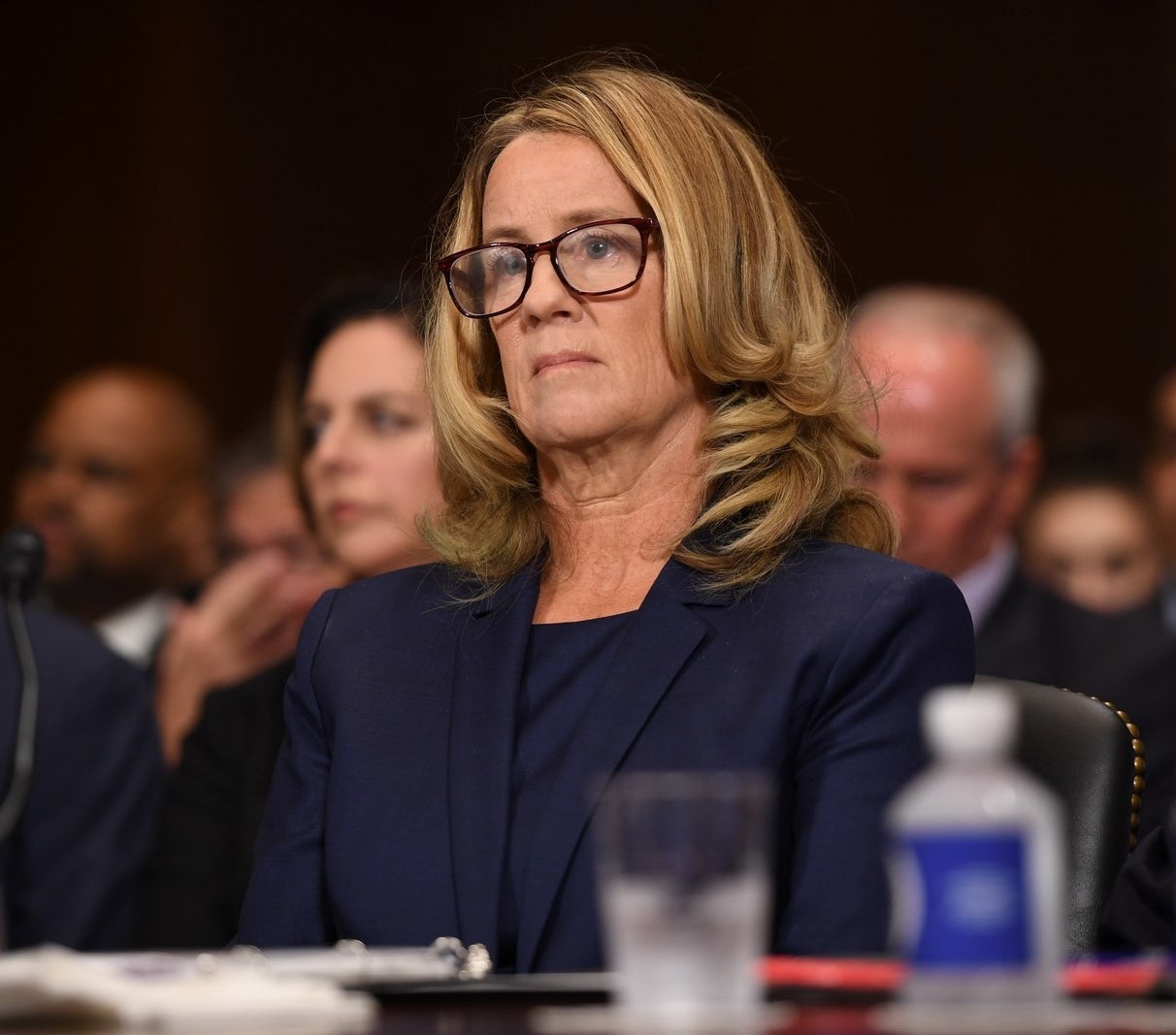 Lesser-known GoFundMe campaigns offer an incomparable glimpse into the private aftermath of sexual assault: An Ohio campaign sought funds for a woman's second-trimester abortion after her rapist impregnated her; a woman pleaded for help paying her phone bill, explaining she'd been out of work since being diagnosed with PTSD following her rape; another asked for $300 to replace her bedding "to remove the emotional stain" of her attack. Dozens more sought help paying medical or therapy bills. And many victims, looking for the same kind of relief Time's Up promised, have asked for thousands or tens of thousands to help pay legal bills incurred while either suing abusers or defending themselves against lawsuits.
For three years, singer-songwriter Katie Armiger has been in an on-and-off legal battle with her former record label, Cold River Records, stemming largely from her allegations that she was groped and harassed by country music industry professionals when she was as young as 15. Early on, Armiger learned that even though her lawyers had taken on her case pro bono, she was still responsible for a variety of legal fees and court costs. When her first case settled in 2016, for example, she had to pay a mediator a few thousand dollars — her total earnings from touring that year.
Last November, Armiger, 27, decided she wanted to take her case to trial once and for all, and she knew that would cost her. So she launched a GoFundMe with a $20,000 goal for legal expenses. A year later, she's raised about $9,000 from 200 donors.
This spring, Armiger was relieved to hear that Time's Up would begin sponsoring her legal fight. She's studying sociology at a Nashville community college while trying, in spurts, to make music again. Without crowdfunding — her own or Time's Up's — she said she'd be "living in fear, every day," figuring out how to afford these legal costs on top of her living expenses and student loans.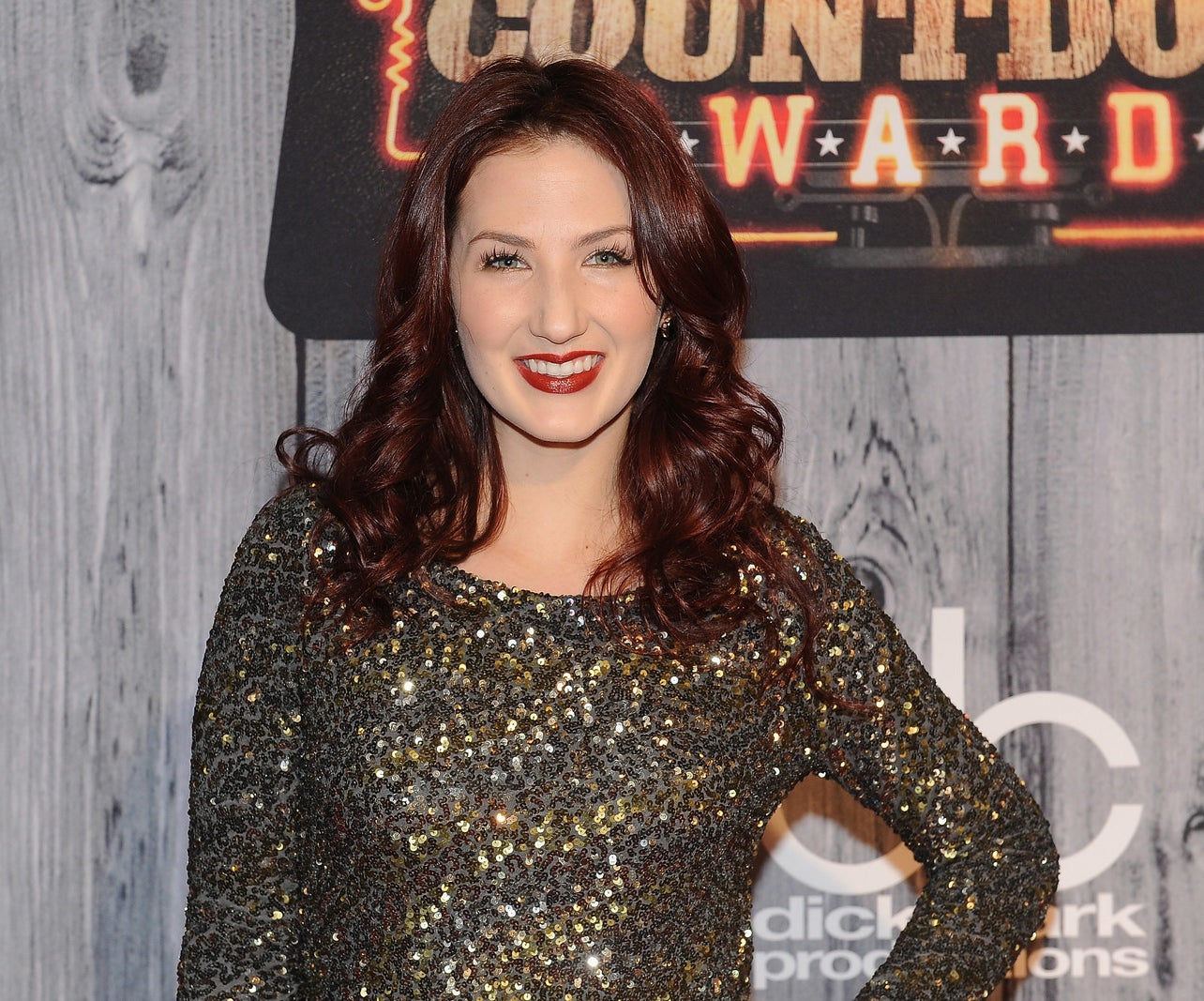 "That's why a lot of these cases don't go to trial," Armiger said. "Even if your attorneys are kind enough to donate their time, there's still a lot of money you have to pay on top of that. People don't have it."
This fall, Alex McCall, a 50-year-old contractor for a federal agency in Colorado, struggled to find an attorney. In August, she'd reported to her supervisors and authorities that a colleague sexually assaulted her while they were on a break at work, she said. While her allegations were being investigated, she learned the accused coworker had apparently hired a criminal defense lawyer. She thought she should have an attorney too.
McCall first contacted the National Women's Law Center, which administers the Time's Up Legal Defense Fund. The organization gave her a list of Denver-area lawyers who might be able to help. She called a few but couldn't get an appointment. She ended up hiring an attorney recommended by a friend. He charged $2,000 for a retainer, which McCall said she didn't have.
Her GoFundMe, created in mid-October to help cover the retainer, had raised $965 at publication time. McCall paid for the rest, sending her "personal finance situation into turmoil," she said. As she waited for months to hear anything from her bosses or the district attorney's office on the fate of her alleged assailant, she began feeling like she was "going broke fighting what looks like a lost cause."
"I'm out of gas. I don't know that I have much left for this fight," McCall continued. "I feel a lot of regrets that I ever said a word."
When crowdfunding is successful, the money can become a symbol of community solidarity and reassurance, even validation. "When it's not successful," explained another GoFundMe campaigner, Monica Morrison, "we can feel abandoned and isolated."
"People seem to think rape victims are opportunistic, like they're trying to get a cash settlement. When really, there are so many untold costs."
In April, when a friend offered to set up a GoFundMe for her, Morrison was grateful but nervous about how people might react. The 33-year-old writer from Queens, New York, was trying to raise $5,000 to hire a First Amendment attorney to protect her from being silenced by the man she accused of sexual assault.
"People seem to think rape victims are opportunistic," Morrison said, "like they're trying to get a cash settlement. When really, there are so many untold costs of victimization that never get paid for."
In January, partially inspired by the #MeToo movement, Morrison decided to contact the employer of the man she said assaulted her at a Dartmouth College fraternity party in 2005. She'd seen on LinkedIn that he had a high-powered job that involved working with colleges. Concerned, she said, she notified his HR department that he'd sexually assaulted her when she was in college.
When the man then threatened a slander lawsuit and tried to get her to sign a promise to never talk about the alleged assault again — or face a $500,000 penalty — Morrison said she knew she needed an attorney.
Her GoFundMe has fallen thousands of dollars short, though. Within the campaign's first month, Morrison raised nearly $3,000 from 50 donors, all of which went to her lawyer's retainer, she said; she paid the remaining $2,000 out of pocket. Her costs only increased when she and her attorney decided to seek a declaratory judgment against her alleged abuser. Essentially, they wanted a judge to assert that Morrison's efforts to talk about what had happened were protected under free speech laws and that any slander claims or demands she sign nondisclosure agreements were baseless. They filed the complaint on Nov. 1. By then Morrison's bill had risen to $15,000, a wrecking ball aimed at her savings.
In response, she tripled her GoFundMe goal, but donations have only trickled in over the past few months. Morrison said she's a "novice in the world of crowdfunding," held back by not knowing how to successfully market a campaign, but also by her concern over public perception. Being both a victim of sexual violence and a woman asking for money, she feels stigma on top of stigma.
"I can see the comments now. ... Why did she file if she couldn't afford it?" Morrison said. "I've had people not support me and tell me it's a waste of money, that it's not worth it, that I should just keep my money and keep my mouth shut."
But Morrison never thought this would be an expensive legal fight, she said. In the beginning, she even hoped she could get Time's Up funding, though she was eventually denied because her alleged assault didn't take place at work. Today, as steadfast as she is about the righteousness of her cause — securing the freedom to tell her story without fear of retribution — she knows it's likely that even more financial turbulence and stress lie ahead.
"What is daunting for me is the looming prospect of ongoing litigation, which could be exponentially expensive," she said. "But this is the hill I'm willing to die on. I'm not going to be silent any longer." ●

A year after #MeToo became a household term, BuzzFeed News is bringing you stories about how far we've come, who's been left out, and where we go from here.

Read more here

.