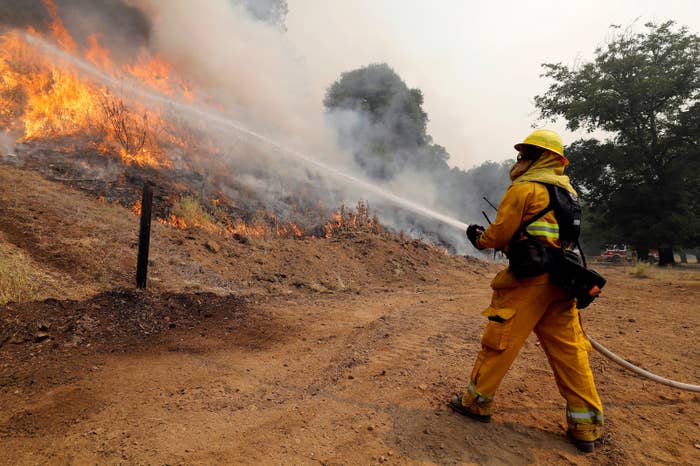 As wildfires continue to burn hundreds of thousands of acres across California, President Donald Trump has decided to weigh in, seemingly blaming the state's water policies for the disaster, in tweets that have perplexed experts who say those policies have nothing to do with the fires.

Trump first tweeted about the fires Sunday — the same day he declared a "major disaster" for a devastating blaze — claiming that the crisis has been "magnified and made so much worse by the bad environmental laws which aren't allowing massive amounts of readily available water to be properly utilized."
Trump later deleted and reposted a similar tweet Monday.
The tweet baffled scientists and firefighters. But despite pushback, Trump doubled down Monday, calling on California Gov. Jerry Brown to allow the "free flow of the vast amounts of water coming from the North." That water, Trump argued, could be put to a variety of uses, including battling wildfires.
This is not the first time Trump has criticized California's water policies. In 2016, during his presidential campaign, he similarly claimed that the state was "taking the water and shoving it out to sea."
"We're going to start opening up the water," he told a rally in Fresno, "so that you can have your farmers survive so that your job market will get better."
Trump's latest comments come amid a genuinely dire fire situation in California. Cal Fire was actively battling at least 20 different blazes Monday, two of which — the Mendocino Complex and the Carr fire — are already among the top 20 largest in state history.
Cal Fire
So far this year, the fires have burned more than 980 square miles of California land — larger than the combined area of Los Angeles and New York City. The fires have killed at least nine people and destroyed more than a thousand homes.
The devastation prompted Brown to request the president's disaster declaration, which frees up federal resources for relief and recovery efforts.
Asked about Trump's tweets, a spokesperson for Brown said, "This does not merit a response."
Trump's main gripe about the fire situation seems to be that California allows some water to flow through its rivers and eventually out into the ocean — something that multiple experts said has no bearing on firefighting.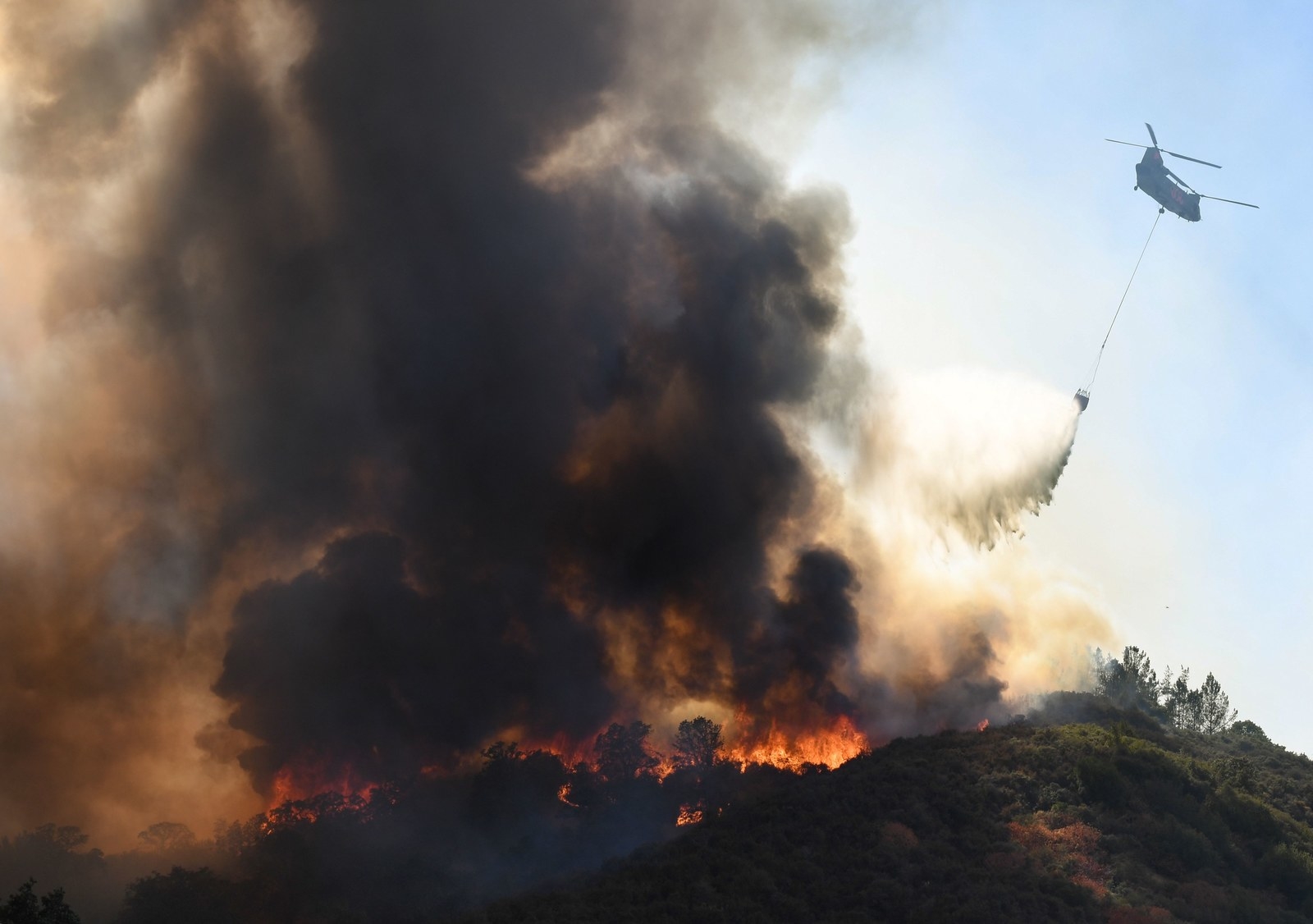 Cal Fire Deputy Chief Scott McLean told BuzzFeed News that his agency has not had any trouble getting access to water. Many of the fires currently burning in California are located near bodies of water, and helicopters fighting the various blazes use hanging buckets to dip into reservoirs and lakes.
Firefighting does consume a lot of water — Cal Fire aerial craft dumped 11.1 million gallons on fires last October, for example — but that has not significantly affected levels in any of the state's bodies of water, McLean said.
He also noted that fighting wildfires includes many tactics — clearing brush with bulldozers and hand crews, for example, and setting backfires — that don't use any water at all.

"This is gobbledygook bullshit," said Peter Gleick, a scientist and cofounder of the environmental think tank Pacific Institute, in response to Trump's tweet Sunday. He told BuzzFeed News that Trump's comments were "absurd."
"There's no shortage of water to fight these fires, and we don't use that much to fight them," Gleick said. "The amount of water that's used for these fires is tiny compared to the amount that is available."
There are serious problems with diverting river flows, he noted, including threats to sensitive ecosystems. In California, populations of fish like salmon and delta smelt have declined significantly due to restricted river flows, he said.
Freshwater also needs to flow out of rivers in order to hold the sea at bay. If salty seawater from the San Francisco Bay flows upstream into the fertile Sacramento–San Joaquin River Delta, farms and communities will suffer as they lose access to arable land and fresh water.
"Instead of freshwater flowing out the delta, we have salt water pushing its way in," Gleick said.
"The bottom line is he's confusing, intentionally or not, the terrible California wildfires with California's complicated water policy and history," he said of Trump's tweets. "And he seems to be suggesting that somehow California water policy has made it more difficult to fight these fires or has contributed to making these fires worse. And both of these ideas are completely bogus."
California does face serious challenges when it comes to water. The state's system relies heavily on winter snowpack, which has been steadily shrinking. Temperatures are rising and much of California is currently in a drought. But experts said that these issues have not been a factor in fighting the state's wildfires, except in so far as all of the state's environmental crises have been exacerbated by climate change.
And while Trump has blamed California's wildfire woes on the state's famously progressive politics, it conveniently overlooks the fact that states of varying political persuasions across the West have also faced catastrophic wildfires this summer. The entire region has been plagued by drought and decreasing snowpack, with some landlocked states suffering the most severe shortages.
Trump's mention of the need to "tree clear" — apparently a reference to the dry brush that fuels wildfires — did hit on a much-debated topic in California, though it was not clear what exactly the president meant.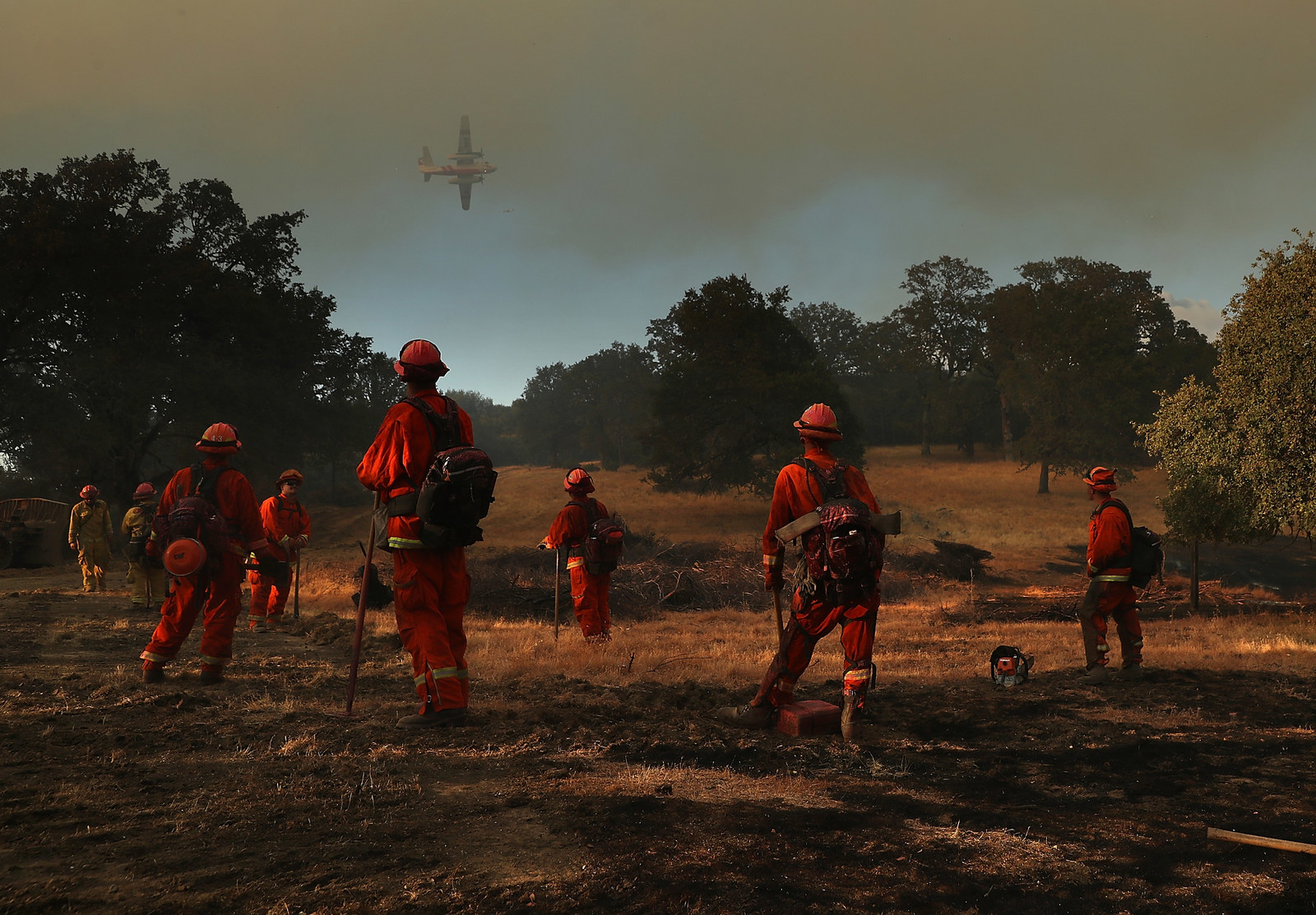 Some experts have long suggested that California has too much dry brush — a problem that has worsened in recent years as bark beetles have killed millions upon millions of trees. In 2015, NASA scientist Bill Patzert criticized the practice of putting out every fire, which allows dry brush to accumulate, as "Smokey the Bear bullshit."

McLean, the Cal Fire deputy chief, told BuzzFeed News that the state is working to manage dry fuel more effectively and received more than $200 million in state funds to clear dead trees and dry brush. The funding comes from revenue generated by California's cap-and-trade program to lower its greenhouse gas emissions — an irony given that Trump criticized the state's "bad environmental laws."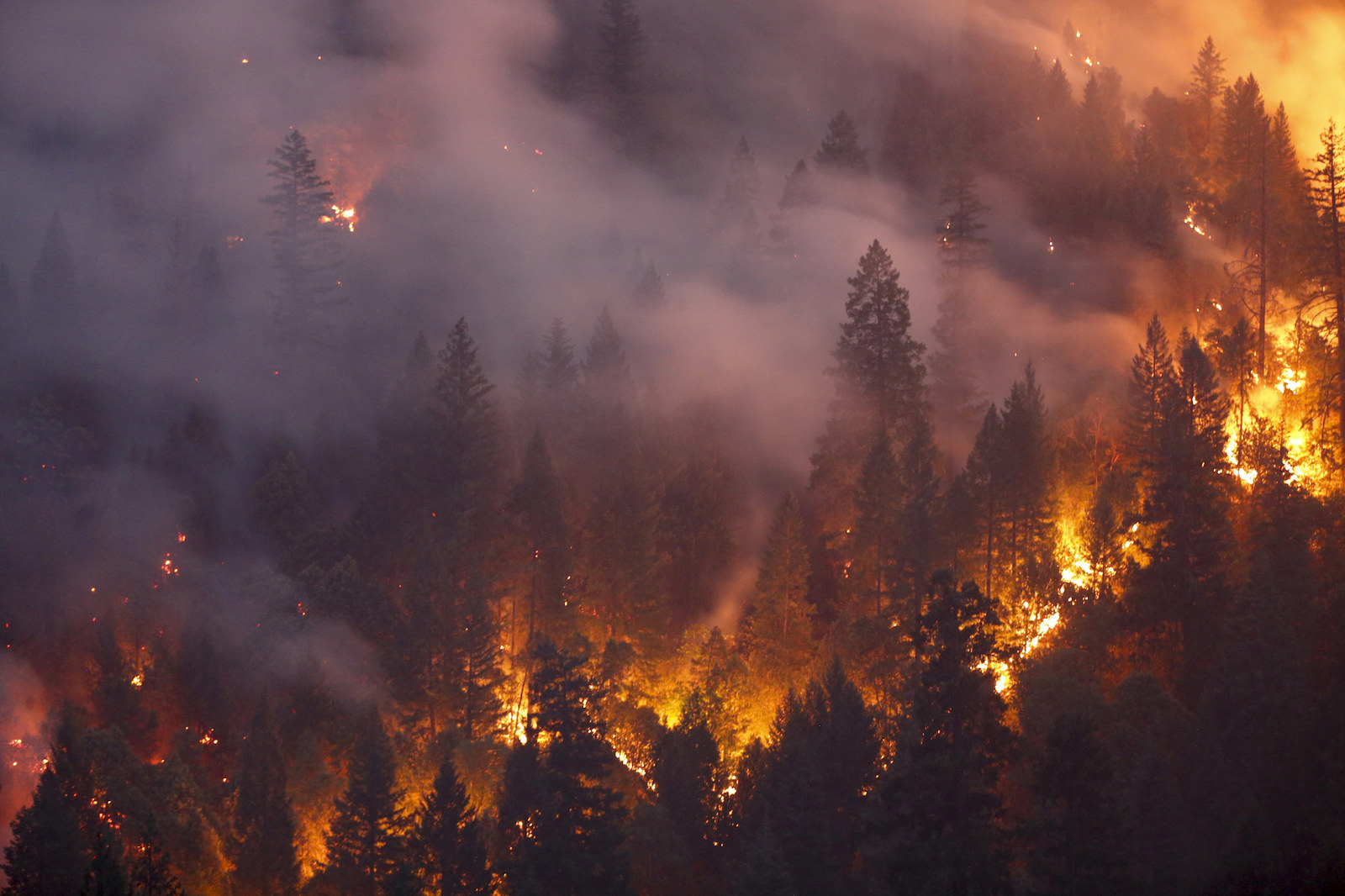 Susie Kocher, a University of California forester, told BuzzFeed News that historically the state forests burned every few years, creating a "natural fire regime that made for" healthier wildlands.
In more recent years, suppressing those fires has had a negative impact, she said, and today officials are working to thin out those areas as a way of reducing the severity of blazes.
If Trump was referring to that effort with his "tree clear" comment, Kocher said, it would be "amazing."
"I might actually agree with him," she said. "But it's very unclear what he means."
Slade Giles, a firefighter currently battling the Carr fire, expressed skepticism about Trump's comments, telling BuzzFeed News that "clearing trees is not the answer." "Tree clearing is not a part of responsible forest management unless it is repopulated," he said. "Thinning would be more sensible."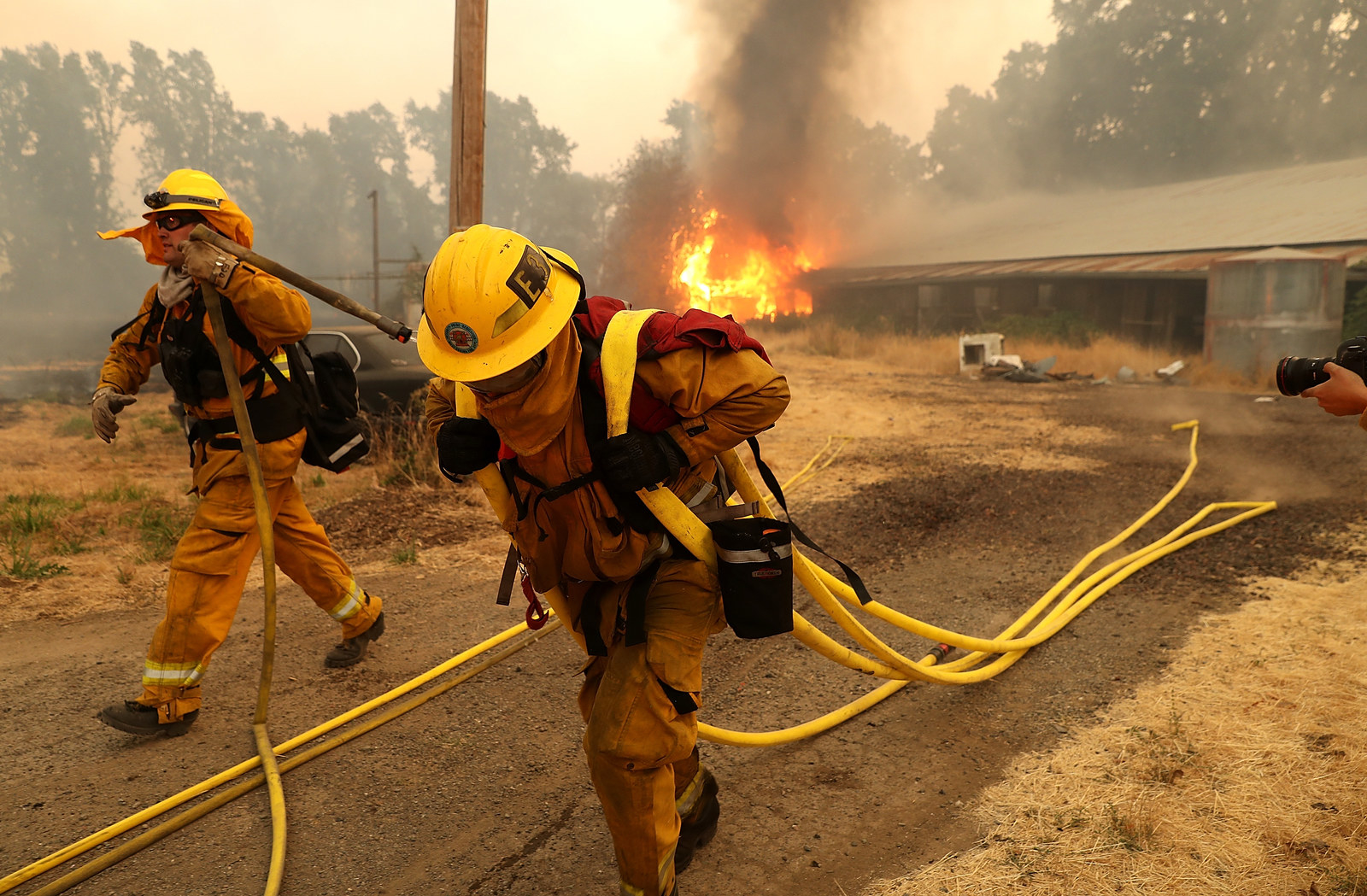 Like Trump's previous comments about "opening up the water," his tweets seem to be targeted at Californians who oppose environmental and land use regulations, and who would like to see more water allocated to agricultural uses.
There is a faction of people "that feel that the drought is happening because we have been allowing too much water going out to the sea, that we could've been doing a better job of keeping the water in the reservoirs," said Chris Austin, who runs a website dedicated to California's water issues.
Trump's tweets also come as officials are set to vote on whether they should increase flows in the San Joaquin River, potentially boosting ecosystems but reducing agricultural use, and after Trump's Interior Secretary Ryan Zinke recently returned from visiting rural California districts.

But no one except Trump seems to have conflated the debate over water with the state's ongoing wildfires. A spokeswoman for Rep. Jeff Denham, a California Republican who has called for more water for farms, told the AP that she wasn't aware of the congressman ever making such claims.
Austin said she was unaware of any politicians previously making such an argument — and, she added, water diversions "have nothing to do with firefighting capability."
"He doesn't know what he's talking about," Austin said. "I have never heard anybody complain, 'Oh they took all the water out to fight a fire.' I've also never heard that it impacted water supplies at a later date."
CORRECTION
Cal Fire Deputy Chief Scott McLean's name was misspelled in an earlier version of this post.