Donald Trump tackled California's drought Friday, saying he would respond to shortages by "opening up the water."
The Republican presidential candidate made the comments during a rally in Fresno, California, where many attendees hoisted "farmers for Trump" signs. Early on, he said California has "a water problem that is so insane. It's so ridiculous."
"They're taking the water and shoving it out to sea," Trump exclaimed.
Trump was referring to California's long-running drought, which is now in its fifth straight year and covers 94.5% of the state. Trump did not go into detail on his drought plan but did promise that if elected he would address it.
"If I win, believe me we're going to start opening up the water so that you can have your farmers survive so that your job market will get better," Trump announced.
Later, Trump cast doubt on the existence of the drought, recalling a conversation with farmers who told him water was being pumped into the ocean.
"When I just left 50 or 60 farmers in the back and they can't get water, and I say, 'how tough is it, how bad is the drought?'" Trump recalled. "There is no drought, they turn the water out in to the ocean. And I said 'I've been hearing it.'"
Trump seemed to be saying he would divert water away from wetlands and threatened species and send it to farms.
The specific problems mentioned by Trump included "a certain kind of three inch fish" — a reference to the delta smelt that lives in central California. The fish is controversial; officials listed it as threatened in 1993, leading to frustration among farmers who say billions of gallons of water are sent downstream to maintain its habitat.
When Trump mentioned the fish, the crowd broke out in boos.
Trump's "shoving" comment also seemed to be a reference to how much water California devotes to environmental uses. The state generally allocates 10% of it's water to cities, 40% to agriculture, and 50% to "environmental" uses such as rivers and wetlands. About 7% of the state's water is used just to keep seawater out of the Sacramento-San Joaquin River Delta, according to KPCC.
It was unclear how exactly Trump would deliver on his water promises. Though endangered species listings are federal designations, California's overall system is the product of a byzantine web of state and local agencies, regulations, and century-old water rights.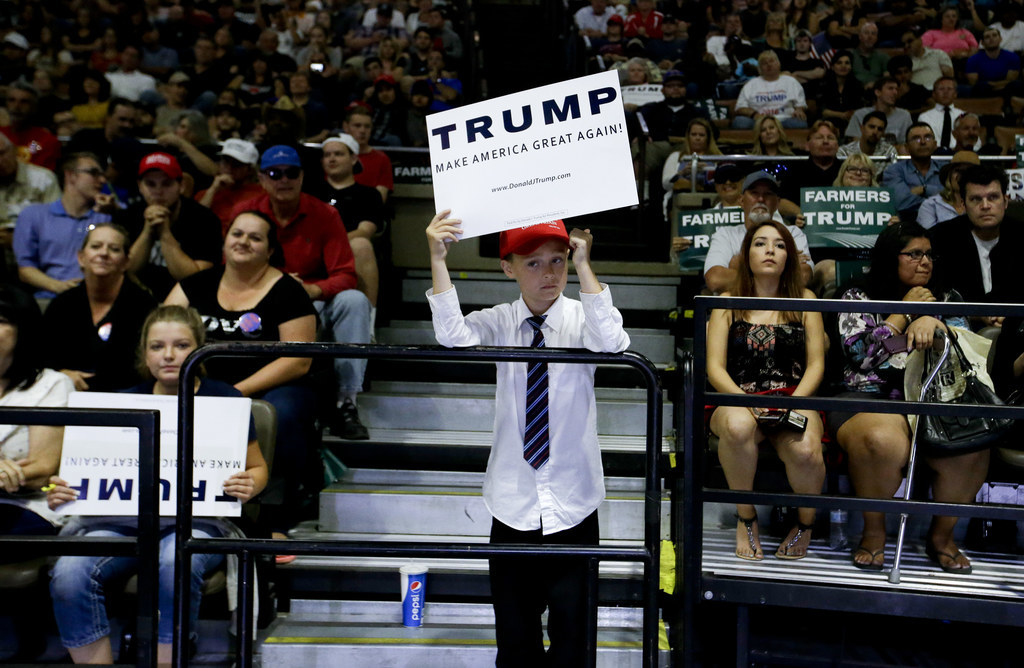 Despite indicating he would use water for farms rather than fish, Trump insisted Friday that when it comes to the environment, "I'm all for it."
Trump said that he has "received many, many environmental rewards. Really. Rewards and awards."
"I have done very well environmentally," he added, "and I'm all for it."
The candidate went on to say that his environmental policy "is very simple" and includes clean air and clean water. Later, he criticized California's senators saying they were both ineffective on water issues and were playing both sides in the debate between farmers and environmentalists.
"When you're with the senators they want you," he said. "And then they go over to the environmental side and they want them."