Paul Manafort was pushing the unfounded conspiracy theory — now part of the impeachment inquiry into President Donald Trump — that Ukraine hacked the Democratic National Committee's emails as early as 2016.
The president's former personal lawyer, Michael Cohen, "had to keep Trump out of the messaging related to Russia" in preparation for his testimony to Congress under oath and that the false testimony was "not his idea."
Top Trump campaign aide Rick Gates said the campaign was "very happy" when a foreign government helped release the hacked DNC emails.
These are some of the revelations that BuzzFeed News pried loose after pursuing five separate Freedom of Information Act lawsuits for all the subpoenas and search warrants that then–special counsel Robert Mueller's team executed, as well as all the emails, memos, letters, talking points, legal opinions, and interview transcripts it generated.
In response to a court order, the Justice Department released the first installment of documents: hundreds of pages of summaries of FBI interviews with witnesses, available here for the first time. Another installment will be released every month for at least the next eight years.
[Make more work like this possible: Become a BuzzFeed News member today.]

The documents revealed Saturday, known as "302 reports," are summaries of interviews with former White House official and Trump campaign manager Stephen Bannon, Cohen, Gates, and more. They are some of the most important and highly sought-after documents from Mueller's investigation. They reveal what key players in the campaign told FBI agents about Russia, Trump, the email hack during the 2016 presidential campaign, and Trump's associates' handling of the special counsel's investigation.
Mueller's 448-page report released last April was the most hotly anticipated prosecutorial document in a generation, laying out the evidence of Russia's interference in the 2016 election and the Trump administration's efforts to obstruct the inquiry. The report, however, reflected only a small fraction of the billions of primary-source documents that the government claims Mueller's team may have amassed over the course of its two-year investigation.
[We want your help! If you see something in these memos, you can email reporter Jason Leopold at jason.leopold@buzzfeed.com or reach us securely at tips.buzzfeed.com.]

Those documents are a crucial national legacy, a key to understanding this important chapter in American history. But the public has not been allowed to see any of them. Until now.
After years of speculation and accusation, these documents offer a chance for everyone to view a key function of American democracy. That opportunity — hard-won, but enshrined anew with each additional FOIA release — commences today. It will last long after all the players have departed.
Some takeaways from the memos:
Manafort was pushing the conspiracy theory that Ukraine hacked the DNC as early as 2016
In an April 2018 interview with the special counsel's office, Rick Gates, who had served as deputy Trump campaign chair and had long been Paul Manafort's right hand, told investigators that after the campaign learned the DNC had been hacked, Manafort pushed the theory that Ukraine, not Russia, had orchestrated the attack. It's a conspiracy theory that's persisted in right-wing circles, even after the US Intelligence Community concluded Russia was responsible, and one that Trump brought up in his July 2019 call with Ukrainian President Volodymyr Zelensky.

In a written memorandum of the July call released by the White House, Trump at one point says to Zelensky, "I would like you to find out what happened with this whole situation with Ukraine, they say CrowdStrike… I guess you have one of your wealthy people… The server, they say Ukraine has it."
Relevant document on page 14: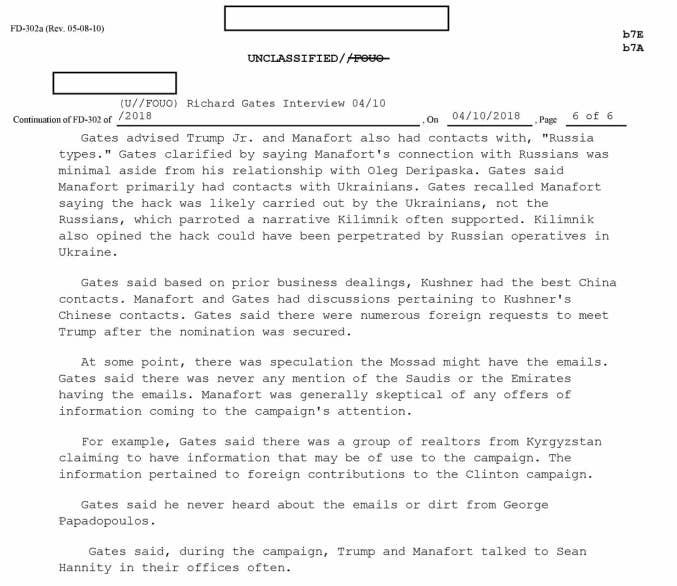 Michael Cohen "had to keep Trump out of the messaging related to Russia"
The documents reveal how Cohen, Trump's former personal lawyer who spent years in his inner circle, worked through how to talk about issues related to Trump and Russia.
In preparation for his testimony to Congress, "Cohen's message had several components," according to notes of his FBI interview. "COHEN has to keep TRUMP out of the messaging related to Russia and keep TRUMP out of the Russia conversation." He also told investigators that any false testimony was "not his idea."

Cohen told Congress in February, "In his way, he was telling me to lie," about concealing negotiations to build a Trump Tower in Moscow.
Cohen pleaded guilty in 2018 to lying to Congress about when discussions related to the Trump Tower Moscow deal had ended.

Relevant document on page 77:
Cohen also "learned the message to have the Russia investigations end early from discussions with TRUMP, SEKULOW" and a third person whose name is redacted.
Relevant document on page 74:

Gates said the Trump campaign was "very happy" about the release of hacked DNC emails
Gates, who served as Trump's deputy campaign chair, told Mueller's team in late 2018 that the release of the hacked emails "offered a mode of deflection for the campaign after a sink in polling numbers following Trump's comments about Ted Cruz's father at the end of the Republican National Convention."

WikiLeaks founder Julian Assange said in June 2016 that the group had an upcoming email leak related to Hillary Clinton. After that, Manafort instructed Gates to "periodically call" someone whose name is redacted from the documents "to check in on where the information was and when it would be coming," Gates told the FBI.
"Trump was generally frustrated Clinton's missing emails had not been found," Gates also told investigators.

After the hacked DNC emails, Trump told Gates that "more leaks were coming"
Shortly after the Democratic National Convention in 2016 — which came right after Russian hackers stole DNC emails, throwing the party into disarray — Trump and Gates, a top campaign aide, were riding in a car from Trump Tower in Manhattan to LaGuardia Airport.
Trump told Gates that "more leaks were coming."
When it came to the Trump campaign conspiring with Russia to influence the election, Mueller's report, released in April, found that no charges were warranted, but that there is still information he did not know.
"While the investigation identified numerous links between individuals with ties to the Russian government and individuals associated with the Trump campaign," Mueller wrote about a conspiracy with Russia, "the evidence was not sufficient to support criminal charges."
Relevant document on page 42: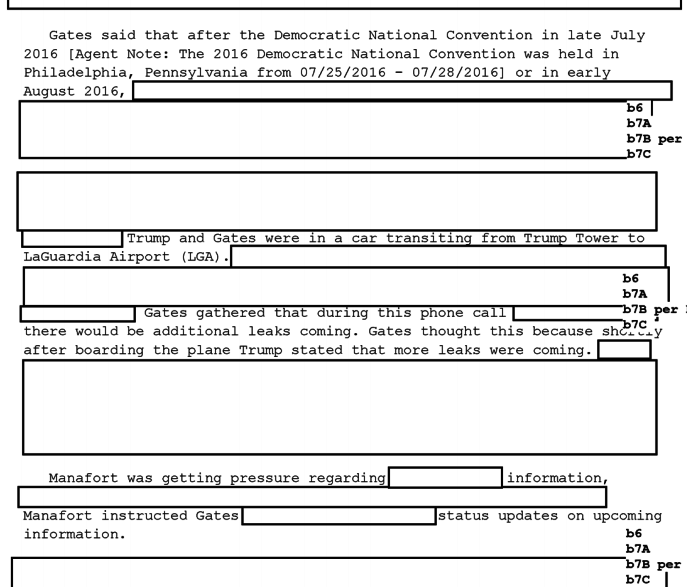 Bannon told the FBI that Jared Kushner vacationed with a Russian oligarch
Bannon told FBI investigators that Ivanka Trump and Jared Kushner were on vacation in Croatia with a "Russian billionaire" in August 2016 — appearing to confirm a long-suspected and long-denied connection between Trump world and a Russian oligarch.

Messages between Bannon and an unnamed individual with a Breitbart domain email address — exchanged in July 2017, one month before Bannon was fired from his position as White House chief strategist — revealed that they were hoping to leverage this information against Kushner. Bannon cofounded the far-right Breitbart and rejoined it in August 2017.
The messages and information were documented as part of an interview with then–special counsel Robert Mueller's investigators, and were revealed by BuzzFeed News for the first time Saturday.
Representatives for Kushner and Ivanka Trump didn't immediately return requests for comment.
In a Feb. 14, 2018, interview with the special counsel's office, Bannon said that Kushner had been on vacation with a Russian oligarch when he took over the Trump campaign in August 2016.
In the documents released Saturday, Bannon told investigators that Kushner had been in Croatia with the unnamed Russian billionaire, Rupert Murdoch's ex-wife Wendi Deng, and the Russian's girlfriend, whom Bannon said his sources in the intelligence community found to be "questionable."
Relevant document on page 109:
Kushner and his family's Croatian vacation in August 2016 was widely covered in the media. Throughout the trip, Deng was photographed with Kushner and his wife, Ivanka, who also shared a picture of herself and Deng in Dubrovnik on her Instagram account.

Deng didn't immediately return a request for comment.
Bannon referenced Kushner's vacation in an email dated July 24, 2017, to an individual with a Breitbart domain email address whose name has been redacted. Bannon appeared to indicate that the information, if reported and confirmed, could be valuable against Kushner, his rival for power in the Trump administration.
"He was on 'vacation' off the coast of Croatia with a Russian billionaire when I took over the campaign," Bannon wrote.

"How do we prove that?" The unnamed person replied. "That's game set match."
Relevant document on page 178:
The same day as these emails, Bannon exchanged messages with someone at Breitbart about a Guardian story reporting that Kushner secured a real estate deal with another Soviet-born oligarch.

"Don't touch yet," Bannon said.
"k this is big though isn't it? It's the ball game…" the Breitbart person responded.
"All and everything," Bannon replied.
Relevant document on page 179: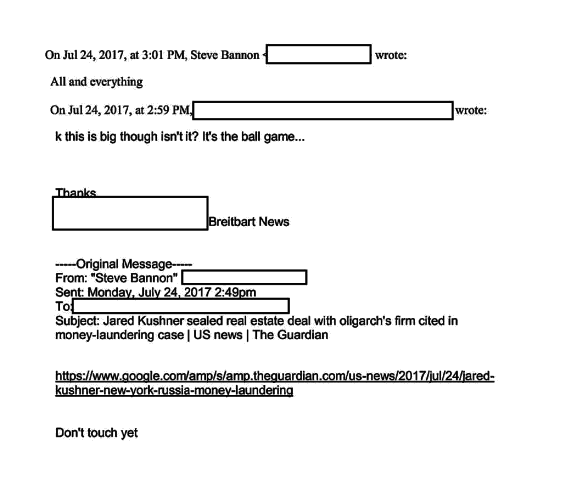 Manafort was advising the Trump campaign up until days before the election
Bannon's emails show that Manafort was still advising the Trump campaign three days before the Nov. 8, 2016 election — despite having been fired in August — and said the campaign needed to hide that fact.
Manafort emailed Kushner on Nov. 5 and wrote that he was "feeling really good about our prospects on Tuesday." He said that he was focused "on preserving the victory" and had sent Kushner "a memo deal[ing] with this concern." Manafort wrote that he had sent the memo to Reince Priebus, the former chair of the Republican National Committee and Trump's former chief of staff, and "briefed Rick Gates and Hannity."
Kushner forwarded the email to Bannon the same day and asked him what he thought.
"We need to avoid this guy like the plague," Bannon said in an email to Kushner dated Nov. 5. "Paul is nice guy but can't let word get out he is advising us."
"They are going to try to say the Russians worked with wiki leaks to give this victory to us."
Relevant document on page 238:
Gates said Trump's "Russia if you're listening" line was an "ad lib." He was referring to Trump's comment, "Russia, if you're listening, I hope you're able to find the 30,000 emails that are missing," at a July 27, 2016, press conference in Florida. He was urging Russian hackers to work to find emails belonging to his opponent, Hillary Clinton.
Gates also said that he recalled "staff meeting conversations about 'someone out there has to have the missing emails.'"

Related document:

A Trump associate sent Bannon a bizarre debate tactic
Trump supporter and associate Ted Malloch emailed Bannon before the first debate and said Trump should start by handing Hillary Clinton a "Writ of Indictment."

Trump and his associates by that time had led "lock her up" chants at his rallies at the Republican National Convention. And he told Clinton during the second debate she'd "be in jail" if he became president over her email controversy.
Relevant document on page 230: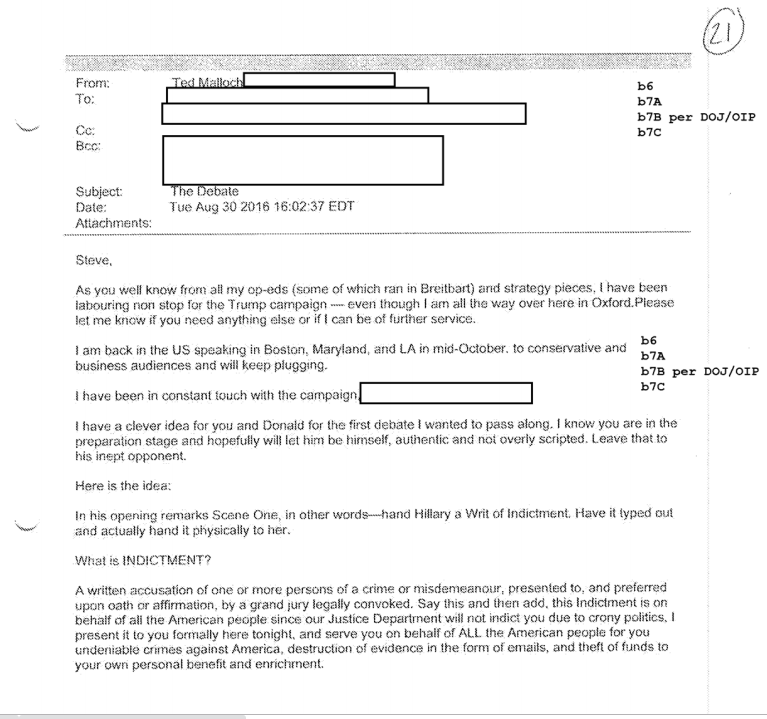 Bannon on recognizing the Israeli capital as Jerusalem
In December 2017 Trump formally recognized the contested city of Jerusalem as the capital of Israel.
The move broke with the long-standing international consensus to refrain from recognizing Jerusalem as Israel's capital until it brokered a peace agreement with the Palestinians. But Trump made it a major campaign pledge.
After a Feb. 14, 2018, interview, the FBI wrote, "Bannon had been working on a proposal to move the Israeli capital to Jerusalem, the Christian right movement, putting money into a 501(c)(4) using UAE money or 'those guys' which didn't end up happening, and putting together a security conference over in the Middle East in the Spring/Summer of 2017.
Relevant document on page 118: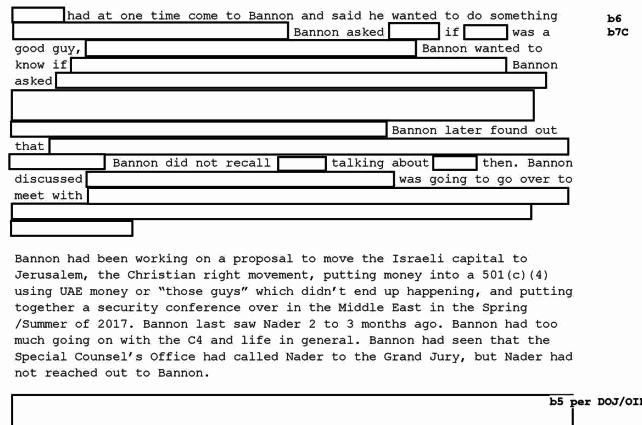 This is just, well, lol
"Bannon first met Trump in August of 2010. Their first meeting was approximately 2 hours long. David Bossie was present and said that Trump was thinking of running for president in 2012. Bannon said 'for what country?'"

Relevant document on page 111:

The file for Cohen's FBI interview from August 2018 contained a few handwritten pages, with one note that read, "DJT Jr.: I have a meeting in order to get dirt on Clinton. (or, 'Hillary')."

Relevant document on page 265:


CORRECTION
Ivanka Trump and Wendi Deng vacationed in the Croatian city of Dubrovnik. A previous version of this post said they vacationed in the Croatian capital, which is Zagreb.