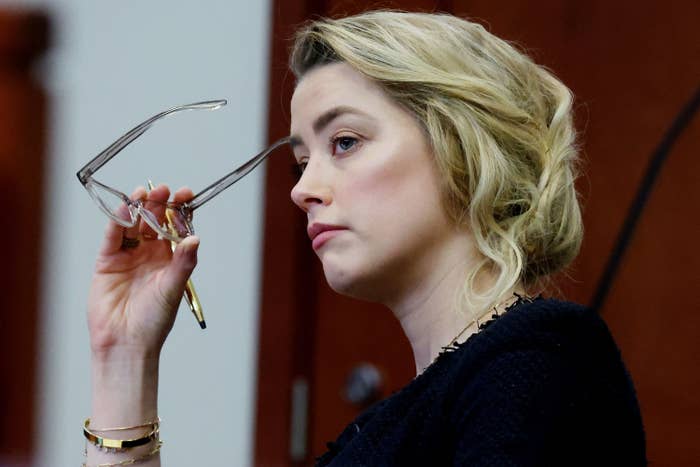 This is an excerpt from Please Like Me, a social news team newsletter about the week that was in internet culture. You can sign up here.
The sheer number of people creating TikToks, posting YouTube comments, and live-tweeting about the Johnny Depp and Amber Heard trial this week is staggering — and even brands are getting on board.
The defamation case against Heard that is currently being heard in a Virginia courtroom is the second time Depp has sued over published allegations by Heard that he was violent and abusive during their relationship.
On the first day of the trial, Amber Heard's attorney, Elaine Bredehoft, said that Johnny Depp had punched and kicked Heard during a three-day blackout in Australia. Depp argues that the allegations are untrue and that he lost film offers and other job opportunities because of them.
The trial has become a viral moment, with millions online dissecting every word and serving as an online jury. And the content seems to overwhelmingly be on Depp's side, pushed by a very large fan base that appears to be a combination of OG actor fans, Harry Potter stans, and true crime aficionados. The Potterheads joined the mix after he appeared in two of the Fantastic Beasts movies, while several of the true crime accounts are ones obsessed with the Menendez brothers, who were convicted of killing their parents in the 1990s and have seen a recent resurgence of support on TikTok.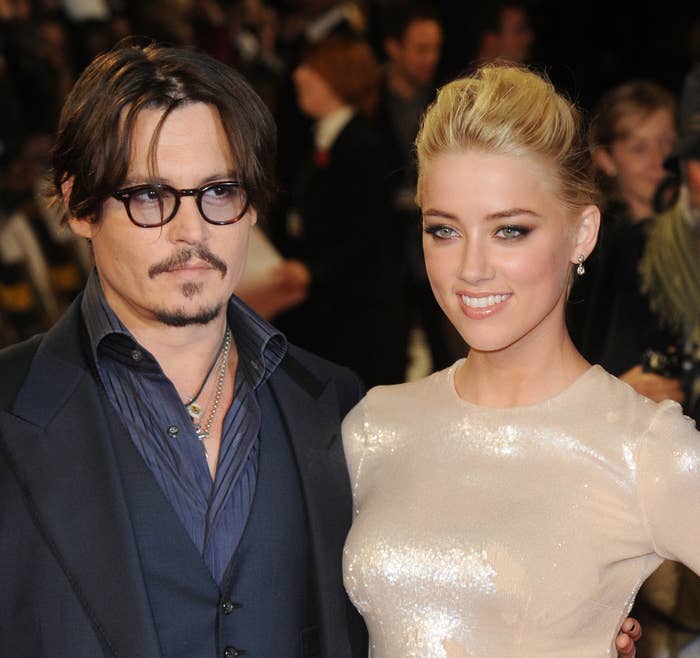 But when it comes to Heard and Depp, people seem to be forgetting that there are two real people in the midst of this, who are having to relive the worst parts of their relationship. Even if we don't know the full truth of what happened between them, we do know these are people who were in a complicated, volatile relationship, and now their most intimate moments are being mined for tweets, memes, and hashtags.
This is not the first time we've seen fans and self-appointed detectives comb over every detail of a public figure's life looking for clues. We see it every day with people who are fans of the Kardashians, or are trying to decipher Taylor Swift conspiracies, or were obsessively investigating the Gabby Petito case.
When it comes to Heard and Depp, there is a massive difference in how viral the posts go depending on which person it is supporting — on TikTok, videos under the #JusticeForAmberHeard hashtag have over 21 million views, but ones under #JusticeForJohnnyDepp have over 5 billion. On Facebook, there have been 1,667 posts this week using the hashtag supporting Depp, with a total of over 7 million interactions (likes and shares), and the one for Heard has just 16 posts with 10,415 interactions.
Depp's fans have been using not only stan accounts but also their own personal accounts to take on what they deem to be misinformation. Some analyze Heard's physical appearance — for example, people have accused her of copying Depp's outfits and said she might be faking her eyesight when she wore glasses after not wearing them the day before. There's even a theory that Heard's attorney is a Depp fan and that she is attempting to make Heard look bad on purpose.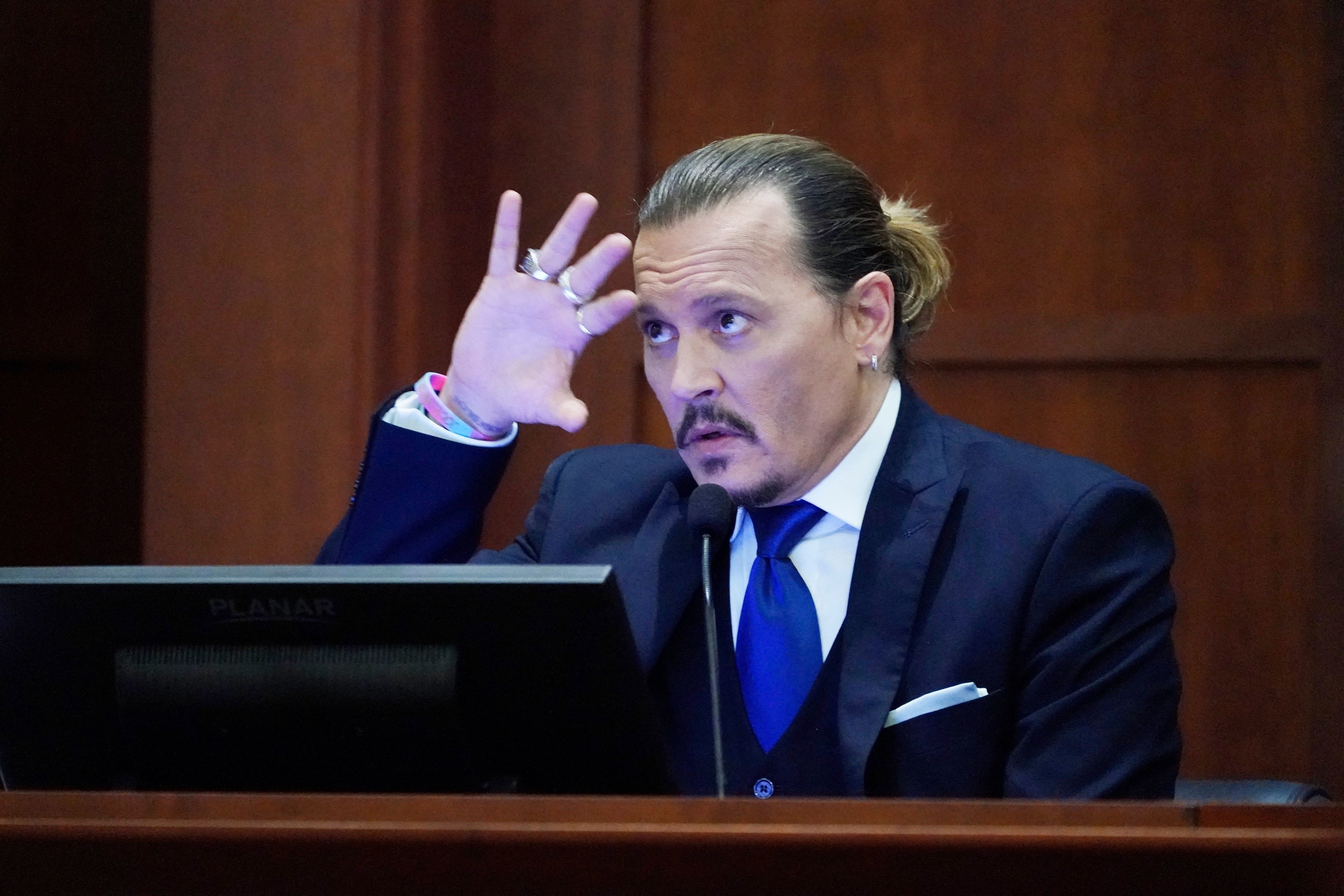 Last week, Depp testified about seeing feces on his side of the bed, which led to memes about "Amber Turd" and the hashtag #MePoo trending on Twitter. I can't imagine what it must have been like for anyone who has spoken out about sexual harassment and assault as part of #MeToo to see that parody hashtag trend.
Among Heard supporters on TikTok, one viral video posted on the @justiceforamberheard account is a clip from the trial that focuses on a text that Depp allegedly sent, which reads, "Lets burn Amber!!!"
But the internet has really fixated on one specific part of Heard's attorney's opening statement after a cosmetics company got involved, also via TikTok. Bredehoft held up a makeup set known as a correcting kit and said, "This is what Amber carried in her purse for the entire relationship with Johnny Depp."
One Depp fan posted a video edit of the trial where they pointed out that the item Bredehoft was holding appeared to be by Milani Cosmetics.
Milani then took a chunk from that video and created its own trending content. In it, someone marches to the sound of a viral Backyardigans song while showing that the brand's correcting kit was released in 2017, while Heard and Depp's relationship ended in 2016. Depp fans took this as proof that Heard must be lying, since that specific product did not exist at the time and she couldn't have used it to cover her alleged bruises.

This video is now Milani Cosmetics' most-watched TikTok, with 5 million views. Prior to this, none of their videos had been breaking 500,000 views (only one had over 400,000 at the time of writing).
A spokesperson for Milani told BuzzFeed News that they cannot officially claim it was their product. "Our video was to verify the claim that our eagle-eyed and loyal fan base made about the product named in the trial. Milani Cosmetics is not taking a formal stance on the trial, evidence, or future outcome of the case," they said.
But comments posted to the Milani Cosmetics TikTok account seem to say otherwise. The account has been replying to Depp's fans and liking comments, including one reading "newest Milani model - Johnny Depp."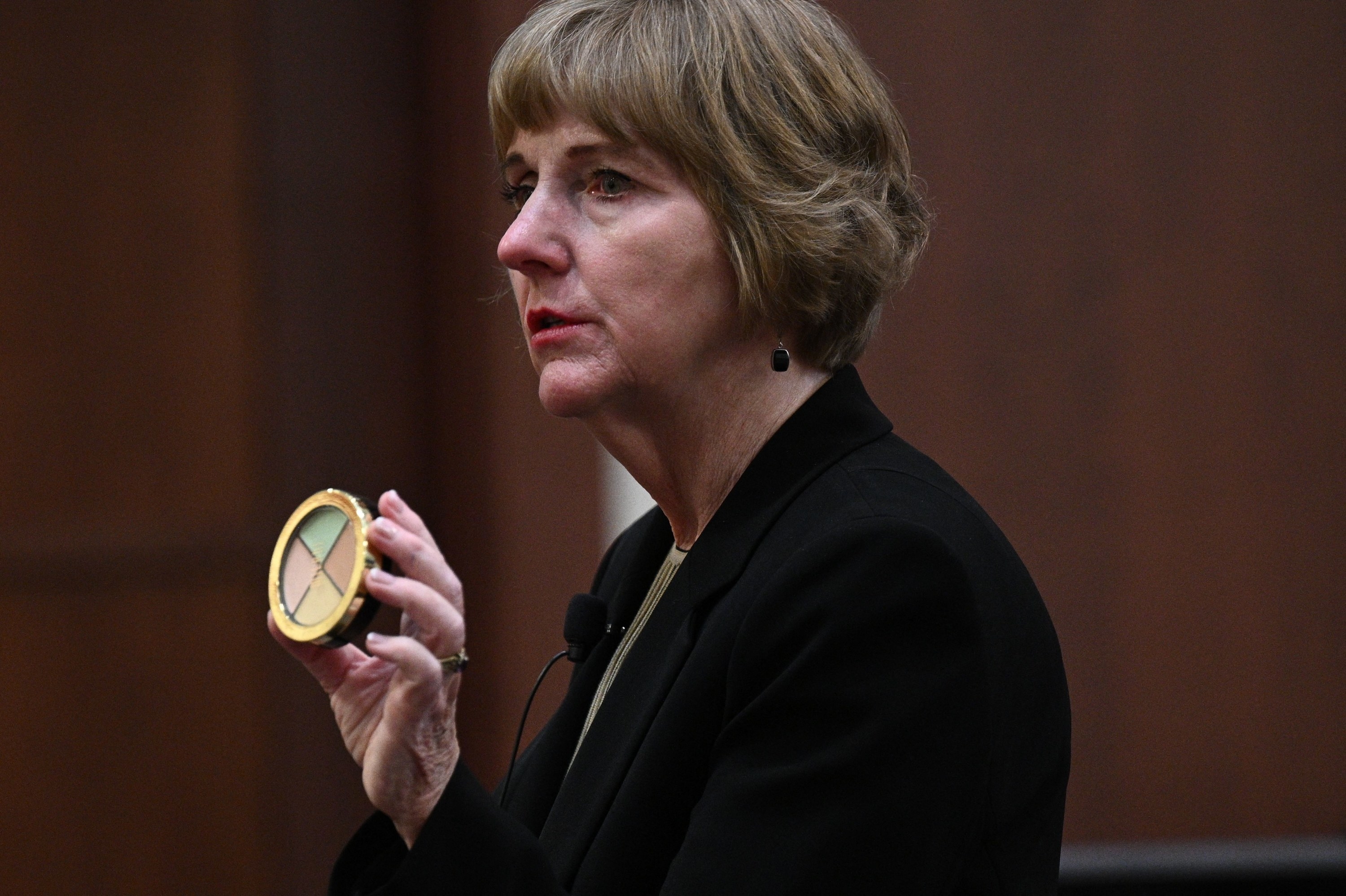 What has been completely lost in the noise is that Bredehoft at no point said Milani Cosmetics' name. Instead, she was explaining that Heard had learned the different colors to use to cover bruises depending on their appearance. Milani did not invent color-correcting, and there were plenty of other color-correcting products on sale before 2017.
"She became very adept at it, and you're gonna hear the testimony from Amber about how she had to mix the different colors for the different days of the bruises," Bredehoft said. "As they were, as they developed in the different coloring and how she would use these to touch those up to be able to cover those."
A public relations representative for Depp has been sending the Milani TikTok to journalists. In an email seen by BuzzFeed News, the PR professional asked to be identified as a "source close to JD" and claimed that what the attorney said had been refuted. Milani Cosmetics said it was not aware of this.
By responding with that TikTok, Milani made itself the main character and got the TikTok clout it had probably been looking for a long time. But it did this by participating in the online hate train focused on a woman who says she was abused.
The campaigning for Depp hasn't all been online, either — it's been an event for fans in person too. The judge addressed the court to say that no overnight camping would be allowed on courthouse grounds and warn spectators against making gestures or facial expressions.
But this didn't stop fans from showing support in creative ways. One fan has been showing up with alpacas, telling the Washington Post that she brought them along to brighten Depp's day. Depp fans have also been heard screaming "Witch!" and booing Heard outside the courtroom.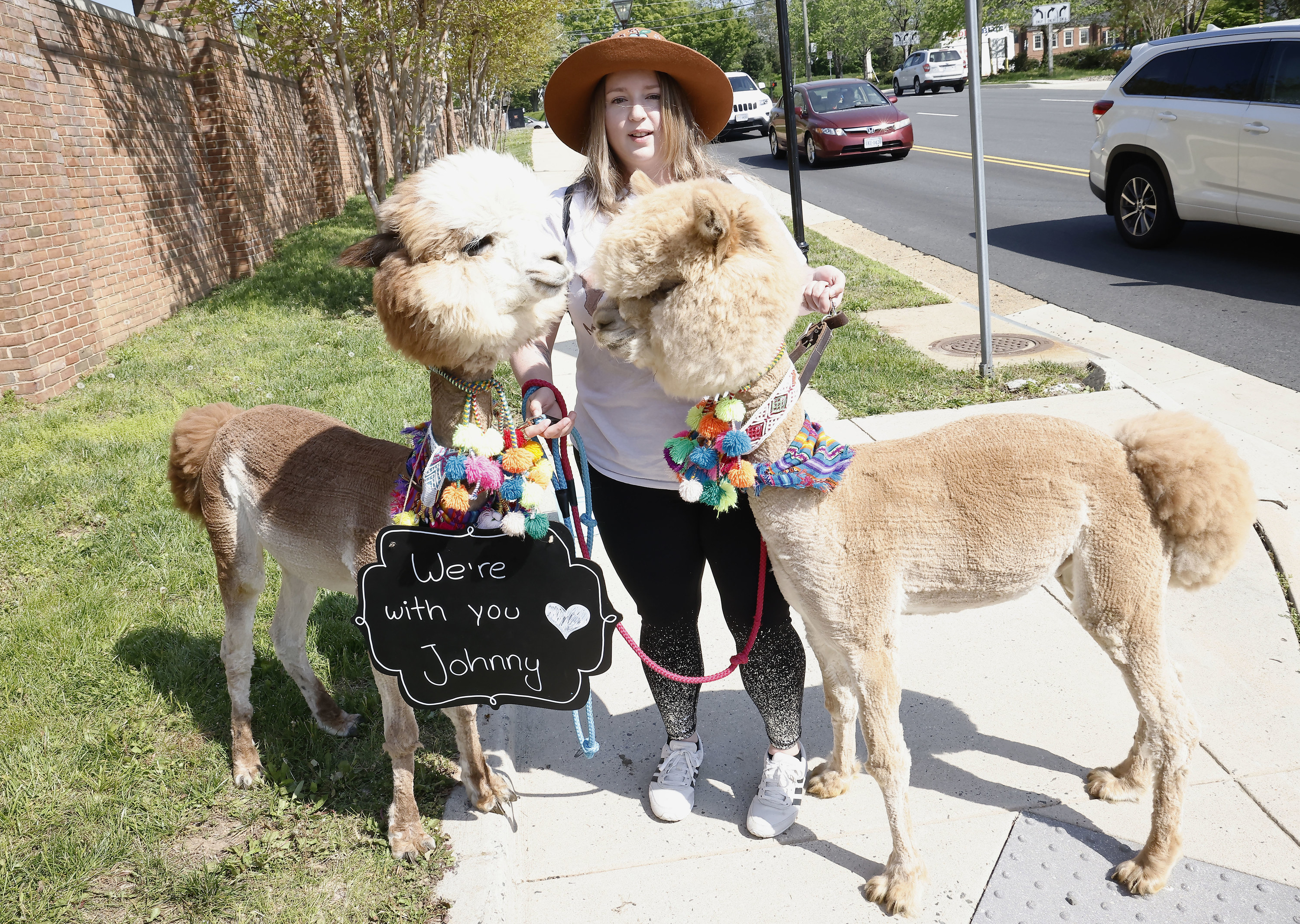 A Starbucks in Los Angeles had two tip jars on display, one labeled Johnny Depp and the other labeled Amber Heard, where customers could express their support. The Depp one was filled with bills, whereas the Heard one was empty. BuzzFeed News spoke to 28-year-old Summer Canova, who filmed a TikTok showing the jars after spotting them and said they made her coffee break more fun.
"I have been keeping up with the trial a little bit, and I am a huge Johnny Depp fan and I'm hoping that he can find justice in this case," she said.
After other Depp fans found Canova's TikTok, it went viral. "It seems like most of the comments are Johnny fans rooting for him," she said. "But of course, there are some angry people that thought that this tipping game was bad because it's referencing a domestic violence case."

The former couple's marriage counselor testified in court this week that there was "mutual" abuse, and that both actors suffered from abuse growing up. Fans and brands turning pain into memeable moments — like a fun game of good vs. evil, trying to figure out who is right and who is wrong, when we know life and relationships are a lot messier than that — is only making things worse for everyone.