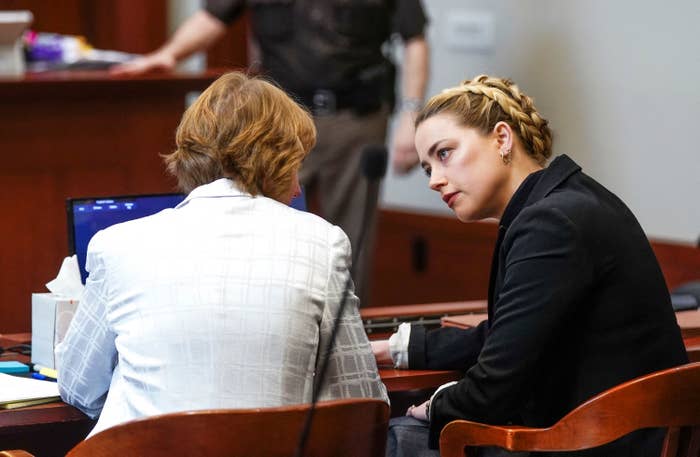 There was "mutual abuse" between Amber Heard and her ex-husband Johnny Depp, said Laurel Anderson, a clinical psychologist and the couple's former marriage counselor, during testimony Thursday.

Anderson's video deposition recorded in February — where she told lawyers that Heard and Depp admitted to her during counseling that they were physically abusive toward each other — was played in a Virginia courtroom on the third day of the defamation trial involving the two actors.
Anderson, a Los Angeles-based therapist, counseled Heard and Depp in late 2015, the same year they got married. While in counseling, Heard had a "jackhammer style of talking" and cut off Depp because he couldn't keep a similar pace, according to Anderson.
The therapist also testified that Depp had been "well controlled" for the majority of his life but was "triggered" by Heard. She said that both of them were victims of abuse growing up.
"And then with Ms. Heard, [Depp] was triggered and they engaged as what I saw as mutual abuse," Anderson said, during the recorded deposition played in court.
She said that when Heard was "triggered" by something Depp did, she considered it a "point of pride" to "initiate" a fight, and "if [Depp] was going to leave her to deescalate the fight, she would strike him to keep him there."
The couple's counselor also said that Heard started the fights with Depp on more than one occasion to "keep him with her because abandonment and having him leave was her worst nightmare."
Anderson added, "I think [Depp] may have initiated it on occasions too. That I am less sure on."
In December 2015, Heard called Anderson to tell her she had bruises on her face, the therapist recalled in the deposition, adding that she saw the bruises on Heard's face in photos and in person days later.
Depp told Anderson during a session that "Amber gave as good as she got." Anderson testified that she took that to mean that Heard "fought as hard as he did and he tried to deescalate far more than I think she did."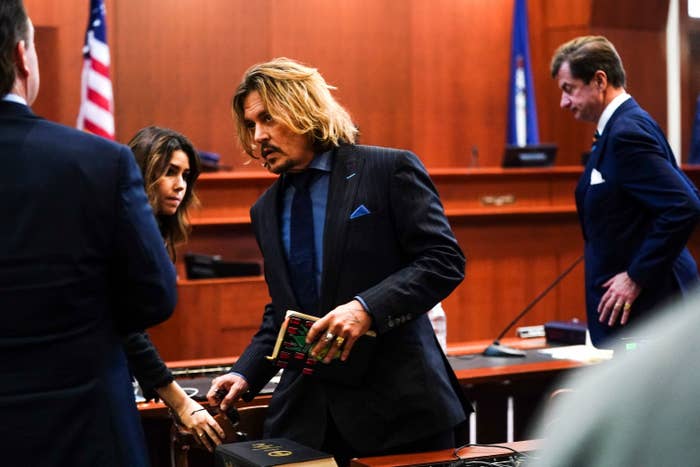 Kimberly Lau, partner and chair of the Title IX and college discipline practice of the law firm of Warshaw Burstein LLP in New York, told BuzzFeed News that marriage counselors such as Anderson are able to break their therapist-patient privilege when the patient or patients are a danger to themselves or others or when the therapist's services were obtained to "aid in the commission of a crime or tort."
"Given Dr. Anderson's testimony about 'mutual abuse,' that could form the basis of an exception to confidentiality," Lau said. "That said, if Dr. Anderson's testimony is being offered in Depp's case-in-chief, I would expect he believes the counselor's testimony supports his defamation claims against Heard."
Depp is suing Heard for defamation after she wrote a 2018 Washington Post op-ed in which she called herself a victim of domestic abuse, without naming Depp. However, the actor claims that the implication that the op-ed is about him has damaged his reputation and cost him movie deals.
During the trial, which began with opening statements on Tuesday, Depp's sister and childhood friend have both testified for him, saying that they never saw him be physically violent toward Heard.
Kate James, Heard's former assistant, also testified for Depp, saying she never saw any bruises on Heard's face and that Heard would regularly verbally abuse her over the phone and in person. James testified that at times, Heard got so close to her that when she screamed at her, spit flew in her face.

Depp and Heard met in 2009 and got married in 2015. More than a year later, Heard filed for divorce and obtained a restraining order, accusing Depp of assaulting her. Depp then accused her of "alleging abuse" to "secure a premature financial resolution."
In 2016, they settled the divorce and released a joint statement, which in part read, "Neither party has made false accusations for financial gain. There was never any intent of physical or emotional harm. Amber wishes the best for Johnny in the future."