Chechen leader Ramzan Kadyrov — a man once described as being addicted to Instagram — briefly regained access to his account on Wednesday, after being blocked from the platform for nearly a year.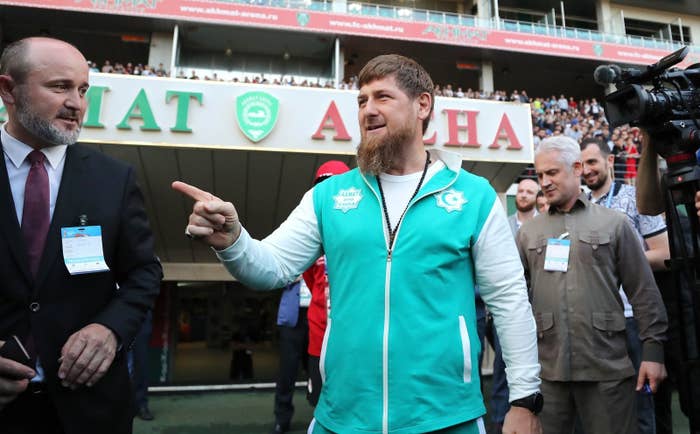 His extended absence was due to the small matter of his being banned from the platform late last year as a result of US sanctions.
Kadyrov has been the leader of Chechnya, a Muslim majority region of Russia, since 2007. His reign, with support and funding of Russian president Vladimir Putin, has been one filled with lavish luxury for himself, the rebuilding of the destroyed city of Groznyy, a crackdown on LGBT Chechens, and a general climate of fear and repression.
For those reasons, he was one of a number of individuals sanctioned under the US's Global Magnitsky Act last December, resulting in Facebook — Instagram's parent company — removing him from both services.
Which is why it was a surprise to see his account pop back up. It wasn't to last though: after BuzzFeed News reached out to Instagram to inquire about why Kadyrov was back on the site, it was pulled back down.
"This account was mistakenly restored and has now been removed," a spokesperson for Instagram told BuzzFeed News in an email.
(If you think he sounds familiar, you may be recalling his feud with John Oliver in 2016, when the Last Week Tonight host called on people to inundate him with pictures of cats.)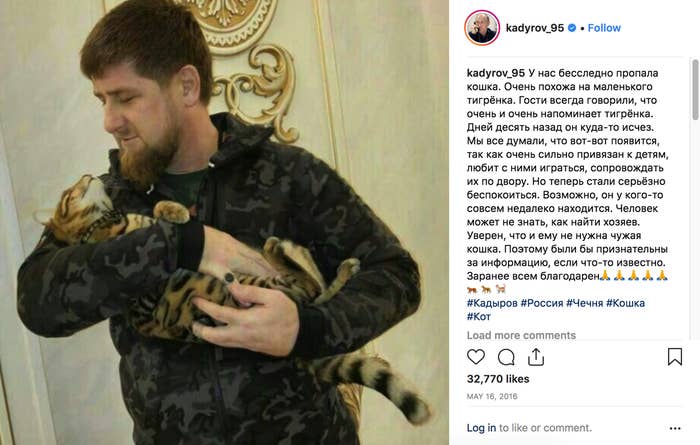 For a few glorious hours, after 11 months' exile, he found himself back in possession of his account and from the jump he was already being himself — which is to say extremely goddamn strange, penning a poem to his gun.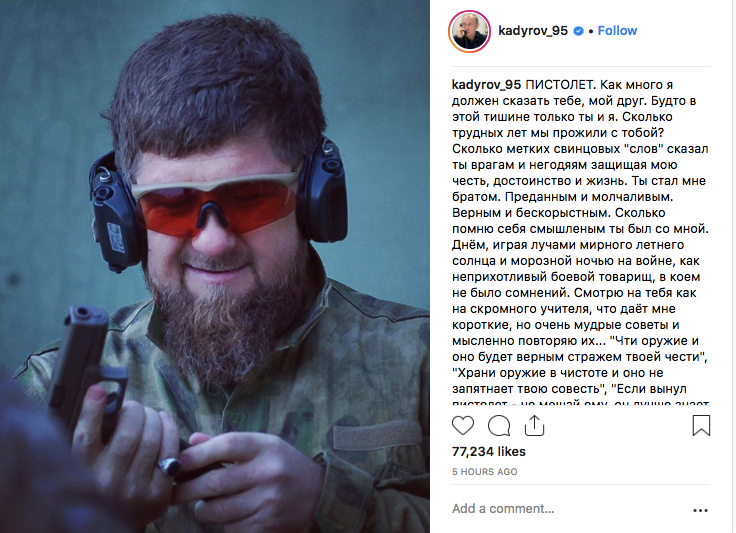 Rather than giving you a snippet of the caption that went with the picture, which has now been removed, we believe you need to read a translation of the thing in full.
"PISTOL. How much I have to tell you, my friend. As if in this silence only you and me. How many difficult years have we lived with you? How many accurate lead 'words' you said to enemies and villains defending my honor, dignity, and life. You became my brother. Devoted and silent. Faithful and selfless.
"[...] In the daytime, playing with the rays of a peaceful summer sun and a frosty night in the war, like an unpretentious comrade, there was no doubt about it. I look at you as a humble teacher, who gives me short but very wise advice and mentally repeat them ...
"'Honor a weapon and it will be a faithful guardian of your honor,' 'Keep your weapon clean and it will not stain your conscience,' 'If you took out a gun - do not bother him, he knows his work better,' 'If you fuss, then the best place for your weapon is a museum...'
"You are a member of my family. My children love you. Only my stern look stops them from playing a funny game with you. How cute you are asleep under my pillow, leaning your hand on my palm. And when, before going to bed, I get a silver clip from you, I see a slender row of fighters with sparkling helmets. They rush into battle, fully entrusting me with their own destiny. And here I remember my brothers. Its fighting COMRADE. And then comes peace. And with him, and undisturbed sleep. And then I wish you good night. GUN, MY BROTHER."
In another post to his 3.2 million followers, he lauded his father, who was leader of the region until his assassination in 2004. (You'll have to trust us, the image got taken down before we could screengrab it.)
In a post on Telegram earlier, Kadyrov had said that "justice prevailed" in the unlocking of his account.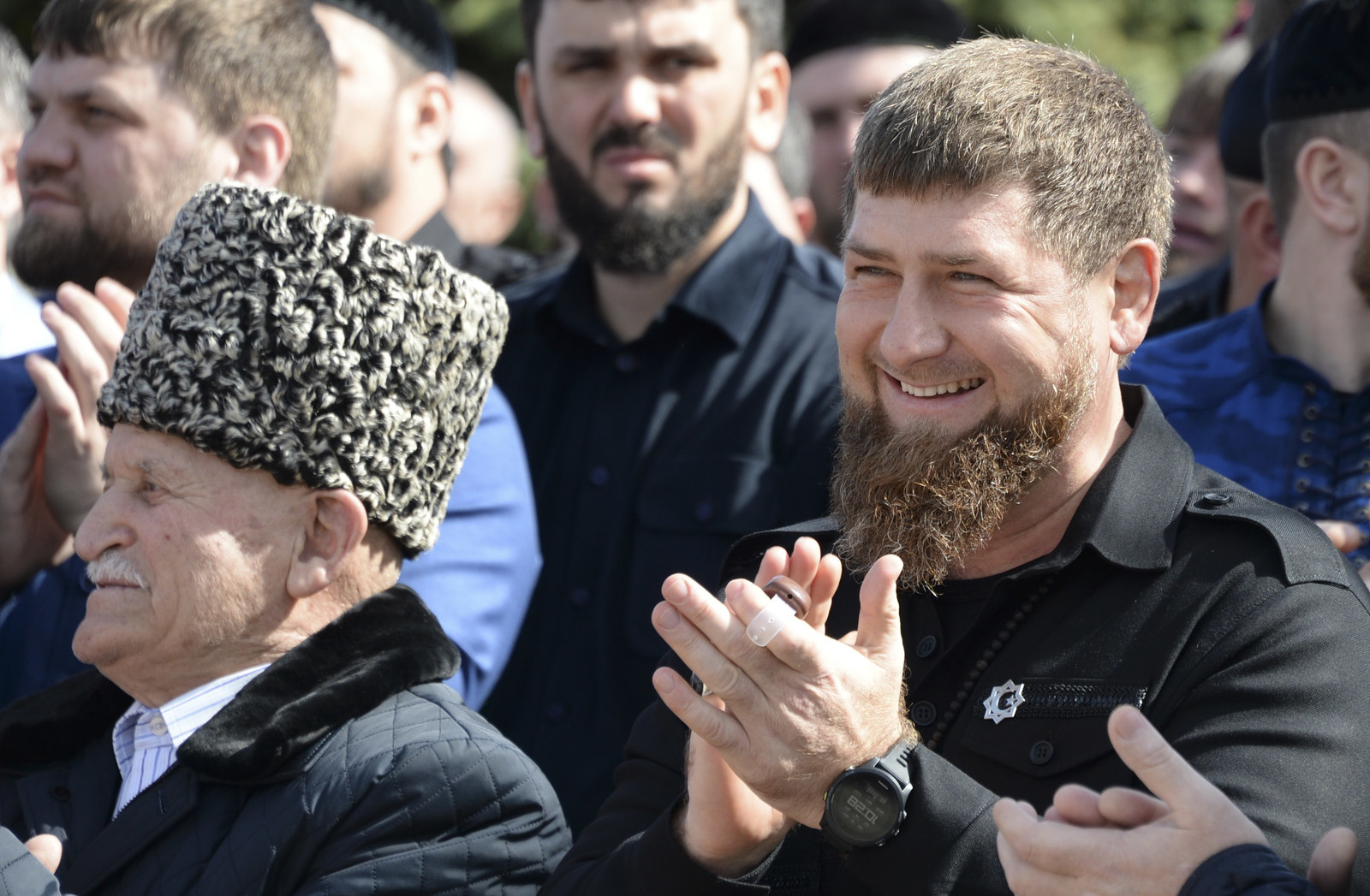 He also lamented how in the time he'd been deprived of Instagram access, "thousands of residents of Chechnya and other regions could not directly contact [him], who previously, bypassing all bureaucratic authorities, raised problems and promptly received help on vital issues."
We will update this post once Kadyrov realizes what's happened.