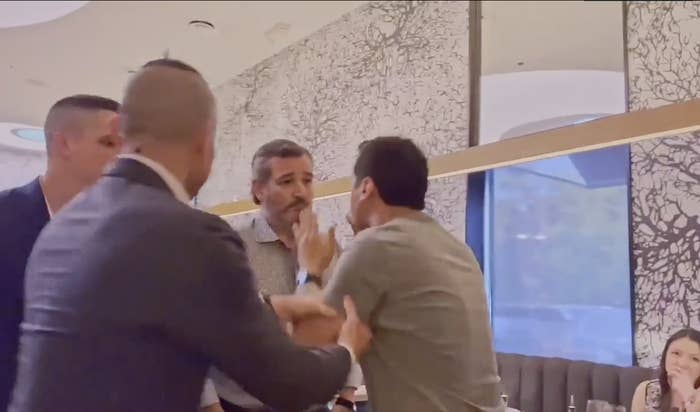 An activist confronted Texas Republican Sen. Ted Cruz at a Houston sushi restaurant Friday night to grill him about his inaction on gun reform and his attendance at the NRA convention, just days after a shooter went on a horrific rampage at an elementary school in Uvalde, Texas, killing 19 children and two teachers.
In video clips of the encounter shared on social media, a man, who is being escorted out of the restaurant by Cruz's detail, is heard yelling at the senator, "But why does this keep happening? And why did you come here to the convention to take blood money? Why? When 19 children died. Nineteen children died. That's on your hands. That is on your hands. Ted Cruz, that's on your hands!"
That man was Benjamin Hernandez, a board member for liberal advocacy group Indivisible Houston, who happened to be dining with his wife at Uptown Sushi on Friday night when Cruz walked in through the door.
"I feel like it was fate," Hernandez told BuzzFeed News in an interview Saturday.

The 39-year-old Houston native, who runs a digital agency, had spent the entire day livestreaming the anti–gun violence protest outside the NRA convention, where Cruz was among the high-profile speakers, alongside former president Donald Trump, who didn't pull out of the event despite the Uvalde shooting tragedy.

Hernandez said he and his wife love the Suito Roll at Uptown Sushi, so they decided to dine there that night.
"I look over, and guess who comes walking through that door," he said.
The restaurant, Hernandez said, is in a nice area and close to a conservative district.
"So I imagine [Cruz] would feel safe in that space," he told BuzzFeed News. "But I'm like, if you think this is a safe space, well, guess what? I'm here too."
A video of the entire encounter, filmed by Hernandez's wife, was posted by Indivisible Houston on Twitter on Saturday. It begins with the activist pretending to pose for a photo with Cruz before turning to him and immediately grilling him on why he doesn't support stronger gun reform laws.
"I'm also like, How many times are they gonna fall for this bit! The 'Can I take a picture with you?' You know what I mean? At a moment like this? Come on," Hernandez told BuzzFeed News.
During the confrontation, Hernandez asks Cruz, "Did you know this shooter waited until the day he was 18? Why is it so hard to get stronger gun laws in this country?"
"Sir," Cruz says.
Hernandez later tells him, "It is harder when there are more guns to stop gun violence."
The senator responds, "You combine ignorance and hatred."
"It is not ignorance!" Hernandez says.
"You don't know what you're talking about," Cruz says.
Hernandez also asks, "What about background checks? ... Is that so hard?"
As the two argued, Hernandez said, a restaurant staff member asked him to sit down, but ultimately, it was Cruz's detail and a person sitting at his table who "pushed [him] out" of the restaurant.
Hernandez said that the sole of his shoe got ripped off while he was being escorted out by Cruz's detail "because I was trying to stand my ground while they were yanking me back."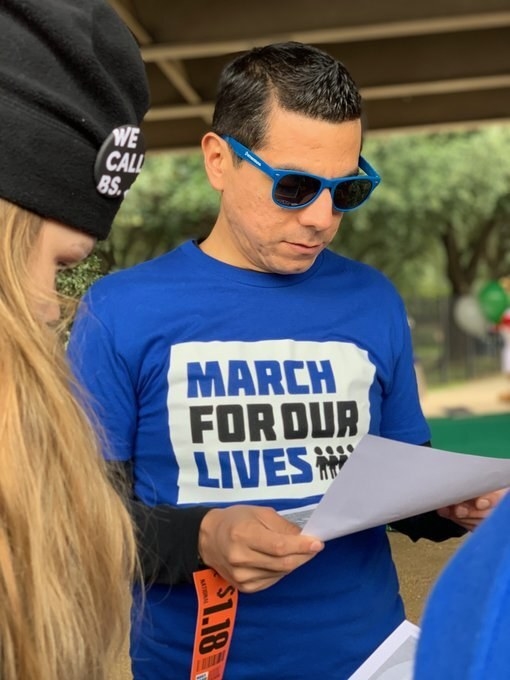 The confrontation was not planned, Hernandez said, "but I had to do what I had to do."
"It's real easy to tweet, but it's something else when Ted Cruz walks into a place where you're having dinner. Now it gets real. For me, there was just no question," he said.

Cruz's office did not immediately respond to a request for comment.

Hernandez said he had to confront Cruz because "he isn't doing anything," adding that he was particularly insulted that Cruz didn't back out of his planned speech at the NRA convention like other Republican lawmakers, including Texas Rep. Dan Crenshaw and Texas Sen. John Cornyn.
"Just the most simple things, [Cruz] refuses to do," Hernandez said. "Plus, he shows up at the NRA convention. For me, that just lacks decency. At least Cornyn and Crenshaw pulled out."

Speaking to the NRA convention hours before he went to eat sushi, Cruz insisted that "what stops armed bad guys is armed good guys." This is despite Texas authorities admitting earlier that day that Uvalde police had made the "wrong decision" to delay confronting the shooter for more than an hour, even as children begged 911 to send police.
"The media blames you, the millions of members of the NRA, for these crimes," Cruz said at the convention. "That is a lie. Nobody here has committed these kinds of unspeakable crimes. Everybody here is horrified."

Earlier in the week, Hernandez and Daniel Cohen of Indivisible Houston left a cardboard cutout of the Texas senator outside the NRA convention venue. Scrawled in red marker on the chest of Cruz, who is smiling and giving a thumbs-up, are the words, "I murder teachers and children."
Hernandez said it was important that he confront Cruz for the families suffering from the impact of gun violence.
"And it's not just Uvalde — it's El Paso, it's Santa Fe, it's Texans, the things that have happened here," Hernandez said, recalling other mass shootings in the state.
"It's easy to talk. It's easy to tweet," he said. "At some point, we have to confront them and ask them the questions they refuse to answer."

This is not the first confrontation Cruz has been on the receiving end of this week. On Wednesday, the Texas senator called a reporter a "propagandist" after being asked why mass shootings are endemic to American life.

"Why is this just an American problem?" BuzzFeed News reporter Paige Skinner interjected as the Texas senator walked away. "Why is America the only country that faces this kind of mass shooting?"
"You can't answer that, can you, sir?" Sky News reporter Mark Stone asked Cruz. "You can't answer that."
Cruz then confronted Stone, telling him, "Why is it that people come from all over the world to America? Because it's the freest, most prosperous, safest country on Earth, and stop being a propagandist."
Hernandez said he took notice when former Texas representative Beto O'Rourke confronted Texas Gov. Greg Abbott during a press conference Wednesday, telling the governor, "The time to stop the next shooting is now, and you are doing nothing."
"Confront all hypocritical assholes like [O'Rourke] just did," Hernandez tweeted Wednesday.
This is also not the first time Cruz has been confronted at a restaurant. In September 2018, during the fraught confirmation hearings for now–Supreme Court Justice Brett Kavanaugh, protesters confronted Cruz inside Fiola, a high-end Italian restaurant in Washington, DC. The senator and his wife, Heidi Cruz, quickly left as demonstrators chanted, "We believe survivors!"
Hernandez, who was born in Mexico, came into the US undocumented at 8 months old and became naturalized in his teens. He avoided politics until 2016, he said, when immigrants from Mexico were being targeted and vilified. To get a "crash course" in something he'd actively resisted, he said, he unsuccessfully ran for Texas's 9th Congressional District as an independent in 2018.
Cruz has received more money from gun rights groups than any other member of Congress since he was elected in 2012, according to government transparency group Open Secrets. He has an A+ rating from the NRA and frequently votes against measures aimed at hindering gun violence. He has accused Democrats and the media of politicizing the issue when discussions about gun laws come up after a mass shooting.

Gun violence is a uniquely American problem, one characterized by the American Public Health Association as a public health crisis. It is a leading cause of premature death in the country, responsible for more than 38,000 deaths annually. At least 17,550 people have died from gun violence so far this year, according to data from the Gun Violence Archive.

In another view of Friday night's confrontation, taken from a different angle and uploaded in a TikTok, as Hernandez is escorted out, Cruz waves bye and sits back down at his table.
Hernandez said he doesn't believe Cruz will learn anything from such encounters.
"But I'll tell you this: If he thinks there are safe spaces where people aren't going to confront you ... I want you to know that's not the case. Whether that's Uptown Sushi, anywhere in the Galleria, anywhere in River Oaks, you're going to be confronted. I think, deep down inside, he knows. … I think that's what he'll take away," Hernandez said. "Sadly, I wish he took more away from it."