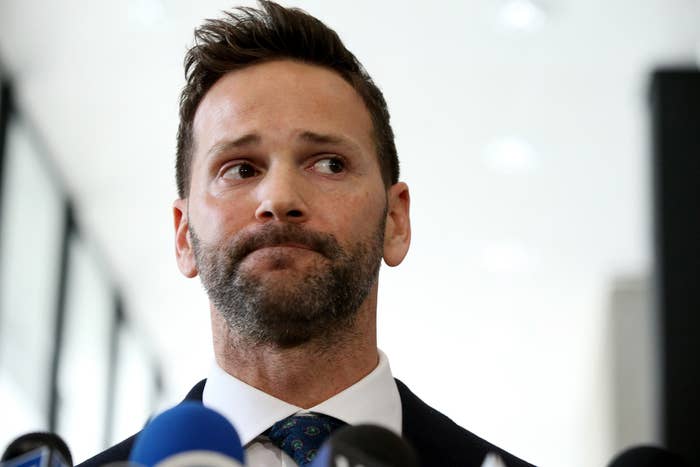 Former Republican member of Congress Aaron Schock came out as gay on Thursday in a long statement posted to Instagram and his personal website.
Schock spoke about his years of struggling with his sexuality and estrangement from his conservative family, and added that if he were in Congress now, he would "would support LGBTQ rights in every way [he] could."

During his six years in Congress representing Illinois, Schock consistently voted against policies supported by the LGBTQ community, including the 2010 repeal of "don't ask, don't tell," which allowed gay and bisexual people to openly serve in the military, and the Matthew Shepard and James Byrd Jr. Hate Crimes Prevention Act.

Although he did not explicitly apologize for his legislative record, Schock said that when he first ran for office in 2008, presidential candidates John McCain, Barack Obama, and Hillary Clinton publicly opposed marriage equality.

"That fact doesn't make my then position any less wrong," he said, "but it's sometimes easy to forget that it was leaders of both parties who for so long wrongly understood what it was to defend the right to marry."
When Schock was in Congress, his sexuality was often the subject of gossip. As he was known for wearing fashionable clothes and for posing shirtless on the cover of Men's Health, DC figures openly discussed Schock's sexual orientation. "He spent entirely too much time in the gym for a straight man," former Rep. Barney Frank, who is himself gay, once said. Frank urged the media to out Schock to expose his voting "hypocrisy," but Schock denied the rumors.

In his statement Thursday, Schock said that he had been "cautioned" about how the LGBTQ community would respond to his coming-out after nearly a decade of open speculation about his sexuality. "Where was I, they will ask, when I was in a position to help advance issues important to gay Americans?"

"No one gets to choose when we learn our lives' big lessons," he said.


Schock, who resigned from Congress in 2015 following media scrutiny of his spending habits, was indicted on 24 charges of misuse of federal and campaign funds in 2016. The felony charges were dropped after he made a deal with federal prosecutors last year, something that Schock referenced in his statement as a factor in his decision to publicly come out.

"The government's tactics in prosecuting my case made it obvious that coming out would be better discussed after the charges against me were dropped," he said, accusing prosecutors of "weaponiz[ing] questions about my personal life and us[ing] innuendo in an attempt to cast me as a person of deceptive habit and questionable character."

After "the four years of legal hell" ended, Schock planned to visit his family and come out to them, he said. On his way there, he attended the Coachella music festival, where he was photographed partying with and making out with men. "Pictures online made clear what I was en route to tell my mother in person," he wrote. "She told me to turn around and go back to LA. I wasn't welcome at home for Easter."

Schock said that he is still estranged from the members of his conservative family, who responded to his news with "sadness, disappointment, and unsympathetic citations to Scripture" and still send him emails "trying to sell [him] on conversion therapy."

"This journey has taught me a valuable lesson," he wrote. "That, whether you are gay or straight, it's never too late to be authentic and true to yourself."