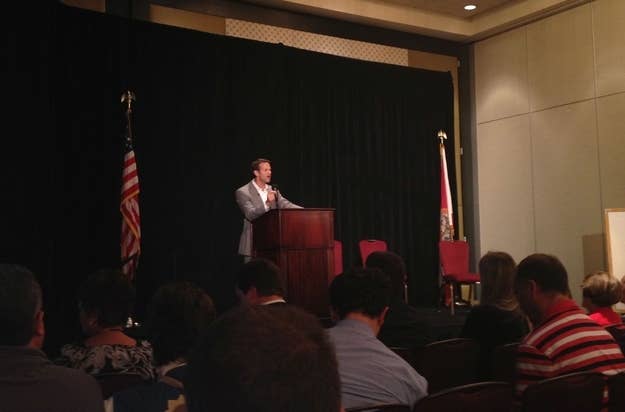 Rep. Aaron Schock, the Illinois Republican seen — and photographed — as one of the batch of potential future leaders of the Republican Party, acknowledged that America "is changing its positions" on issues like marriage equality, which he says "will be hammered out primarily in the states."
When asked whether he supports the Federal Marriage Amendment endorsed in the party's platform, however, he hedged, at first saying that he supported it but then telling BuzzFeed that he "ha[s]n't really thought too much about it" and would "have to read it."
A speaker in the first session of former House Speaker Newt Gingrich's "Newt U" today in Tampa, Schock — who voted against the Matthew Shepard and James Byrd Jr. Hate Crimes Prevention Act and "Don't Ask, Don't Tell" repeal in 2010 and has opposed President Obama's decision not to defend the Defense of Marriage Act — talked with BuzzFeed about the role that he sees social issues playing in American elections.
"I come from a pretty moderate to liberal state, it's a pretty blue state," he said, when asked about the impact of the party's platform on abortion and LGBT issues on voters. "And, despite the platform, more voters in Illinois voted for a Republican congressman two years ago than a Democratic congressman. Clearly, not all those voters — and, arguably, a majority of them — would agree with some of the platform positions you've laid out.
"There are pro-life Democrats, there are pro-choice Republicans. For people who wake up and that's their single issue — whether it be abortion or gay rights or guns or any of those single issues — if that's their sole issue, then I'm not sure either party really has an ability to get that voter," he said. "But, I think what the last election showed was the bigger issue that matters is the economy."
Schock also acknowledged, at least implicitly, a broader call for inclusion within his party than others have done.
"It was the president who said, at the Democratic convention, 'We're not a white America and a black America, we're not a gay America and a straight America, we're one United States of America.' And you know what, I agree with the president," he said, quickly pivoting: "And the one thing that all those demographics care about is having a job."
Asked about ongoing lawsuits brought in Illinois by the American Civil Liberties Union and Lambda Legal seeking marriage equality in his state, Schock replied he was unaware of their existence, saying, "That's all news to me."
He did, however, take aim at the February 2011 decision by Obama and Attorney General Eric Holder to stop defending court challenges to the federal Defense of Marriage Act, which defines "marriage" as only consisting of opposite-sex couples in federal law.
"I think that it's important for us to follow the law of the land. And so I think if we're going to have a debate federally, like the president has started with him changing his position on gay marriage, then that's all fine and well," he said. "But, I think what's more harmful is that, no matter who the president is ... I don't think you just say to your chief law enforcement officer, the attorney general, 'Hey, don't enforce the law because I don't agree with it.'"
Schock has backed that position up with his vote. In May, he supported an amendment to the Commerce, Justice, Science, and Related Agencies Appropriations Act "to prohibit the use of funds to be used in contravention of the Defense of Marriage Act."
The congressman said he believes Obama is "starting to do the same thing" with use of executive power that then-Senator Obama had criticized then-President George W. Bush as abuse. Schock did note, however, that, in at least one situation, he agrees with Obama's aims — if not means — saying, "On the need to deal with comprehensive immigration reform, to deal with people who have been brought here illegally on no effort of their own, I think we need to deal with that."
Summing up, he said, "I think those debates are healthy, and I think America, certainly on immigration, on other issues, is changing its positions. On the issue of the marriage, though, that will be hammered out primarily in the states."
Asked, then, if he opposed a federal marriage amendment, support for which was included in the draft party platform hammered out this past week, Schock replied, "No, I support that."
When it was explained to him that a federal marriage amendment that would prohibit states from allowing same-sex couples to marry under their state's law, he then hedged, saying, "I haven't really thought too much about it."
He then asked if the amendment had been voted on in Congress in the past four years. When told that it hadn't and that he had not taken a position on it yet, he replied, laughing, "I'll have to read it."
BuzzFeed has a request in to his office get an answer on whether or not he supports the amendment.
Schock Is Popular With The Media In Tampa