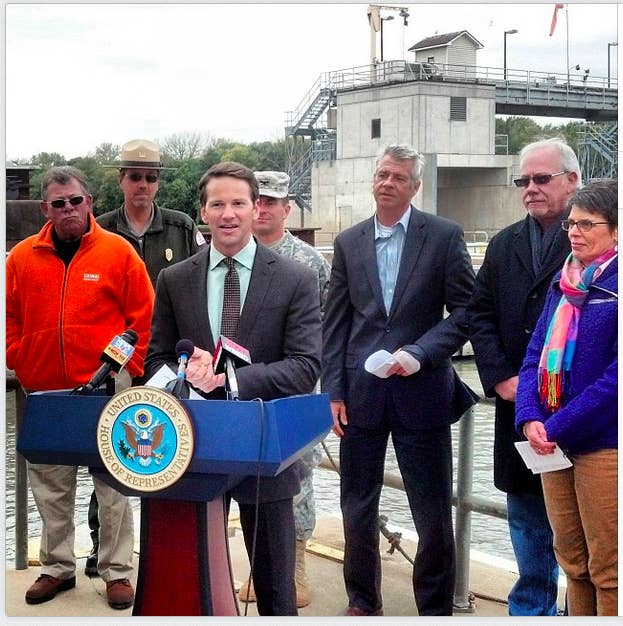 WASHINGTON — Rep. Aaron Schock owns what appears to be a fairly accurate replica of "The Falcon" — the internal White House nickname for one of President Obama's official podiums — and based on photos, uses it at times when speaking in his Peoria, Illinois, district.
USA Today reported last month that Schock spent $79,061 in federal money on furniture in 2009, and $5,123 of that went to Mulnix Industries, a firm that makes custom furniture for public speaking in a town 40 miles outside of Jefferson City, Missouri. Page 2563 of the 2010 Statement of Disbursements of the House of Representatives shows the outlay to Mulnix, but it doesn't say exactly what the money purchased.
Schock's office did not respond to USA Today about the expenditures. But multiple photos of Schock back home in his district — including this one taken March 6 by an AP photographer — show him standing behind The Presidential, a discontinued Mulnix model still listed in the company's online catalog of "Standing Podiums."
In an interview, Mulnix General Manager Phil Crane said it was "very likely" he sold a Presidential to Schock, though he said he'd have to laboriously go through old records to be sure. The model was pretty popular when Mulnix made it — the company sent four to the U.S. Consulate in Pretoria, South Africa — and Crane said it sold for "somewhere around" $5,000 a piece.
Mulnix is a specialty firm that makes everything custom for each order, Crane said, and it was the profit margin from The Presidential that led to it being discontinued, not a drop-off in demand.
"They're a time-consuming product," he said. "The reason we discontinued them is that we just weren't making any money on them. It's a lot of handwork."
Asked about the podium and whether the congressman's office purchased it, a representative for Schock pointed to images of other members standing by podiums similar in design to the "The Falcon." The podium used regularly by speakers in the U.S. Senate's Ohio Clock Corridor has a similar design to "The Falcon" but also significant differences. The Mulnix Presidential physically resembles "The Falcon" almost exactly.
"This style podium is similar to that used by many Members of Congress at events so that members of the media have a place to attach their microphones and recorders," the Schock representative said.
"The Falcon" is the middle child of the three official podiums most commonly used by Obama. The larger is known as The Blue Goose. The smallest is called "The Toast," and is basically a very small platform atop a metal pole. As Politico reported in 2009, "The Falcon" was invented by George W. Bush's team "so more of the background is visible on television" versus The Blue Goose.
Members of Congress purchasing their own podiums for use in their districts is not rare, according to House veterans reached by BuzzFeed News, though it's also not very common. Many members carry a portable House seal to put on the front of whatever podium they're speaking behind on the road.