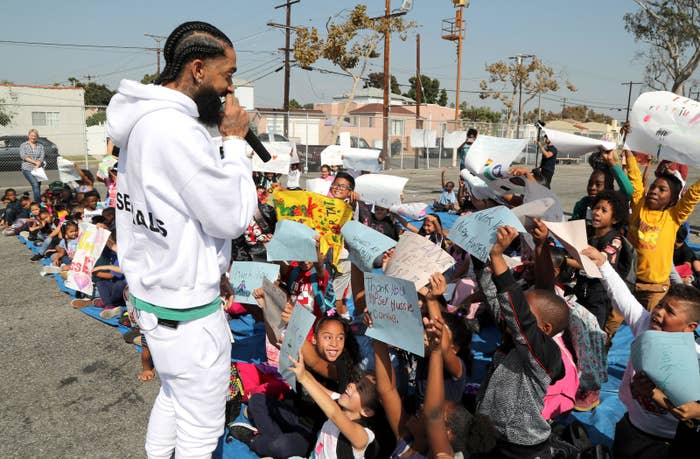 Grammy-nominated rapper Nipsey Hussle's death has set off a firestorm of baseless conspiracy theories online, and one hoax that quickly went viral involves tweets and YouTube videos linking his death to a quack celebrity doctor — despite there being no evidence that is true.
Details about Hussle's death are still coming to light. But after arresting Eric Holder, their primary suspect, Los Angeles Police Department Chief Michael Moore said Tuesday the motivation "appears to be a personal matter between the two of them." He added that the area of LA where Hussle was shot has been experiencing a significant increase in gun violence in recent weeks — and mentioned that Holder and Hussle knew each other previously.
Despite the police's statements, and without citing any evidence, people online linked Hussle's death to a documentary he said he was producing about Alfredo Bowman, known as a healer for celebrities who goes by Dr. Sebi and who does not hold any doctoral qualifications.
In the wake of Hussle's death, many people online wondered how the rapper could have been shot in his own community that he's worked to uplift — and some fell to an old conspiracy theory surrounding Bowman as an explanation for the shooting. Bowman's name trended on Twitter and a search for his name in Google already brings up a video claiming Hussle was killed because of the documentary.
Despite any evidence, searches on almost any social media platform turn up the conspiracy. According to Google Trends, searches for "Dr Sebi" increased immediately following Hussle's death. The search for "Dr Sebi" on Google's front page recommends a video titled "Why The Illuminati Killed Nipsey Hussle" which already has over 750,000 views. The next video suggested by the recommendation engine, titled, "Nipsey Hussle Shot and Killed - Find out why! Dr Sebi Conspiracy" has over 2,400,000 views. On Facebook and Twitter, countless posts are promoting the conspiracy, many getting tens of thousands of shares.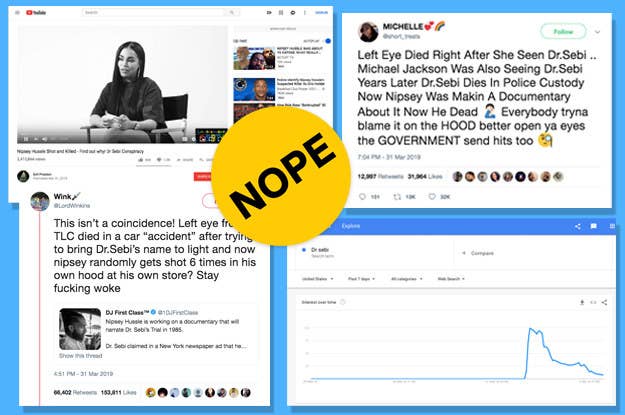 Bowman was a Honduran man who promoted himself as a natural healer and herbalist who didn't believe in Western medicine or the germ theory. Bowman rose to prominence in the 1980s when his USHA Herbal Research Institute took out an advertisement in the Village Voice and other New York newspapers with a false sell: "AIDS HAS BEEN CURED."
Through the '80s, he falsely claimed a miracle cure he developed — called African Bio-Electric Cell Food Therapy — could heal people of various ailments including cancer, asthma, heart problems, arthritis, and mental health issues, to name a few.
In 1987, Bowman was charged in New York for practicing medicine without a license. However, a jury found Bowman not guilty: the jury was not convinced that Bowman was making diagnoses or prescribing medicine. After a separate, civil lawsuit brought by the New York Attorney General's office, Bowman was prevented from "making therapeutic claims" about his products.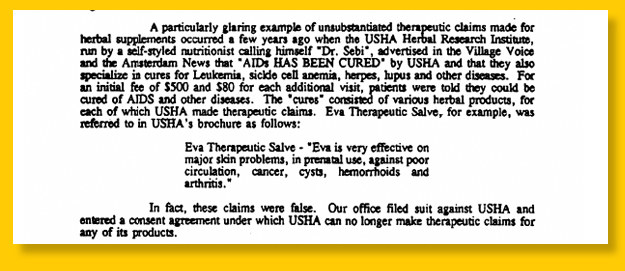 After the 1987 trial, Bowman's profile exploded. By the '90s, he reportedly counted John Travolta and Eddie Murphy among his clients, as well as Lisa "Left Eye" Lopes, the L in TLC. By 2004, Michael Jackson was reportedly spending nearly $4,000 a night praying and meditating with Bowman, who was supposedly helping the singer deal with a painkiller addiction.
Bowman and an associate were arrested by Honduran authorities in 2016 at an airport on charges of money laundering, after he had $37,000 in cash with him and was trying to board a private plane to a different location in the country. Bowman died of pneumonia complications at 82, while in police custody in Honduras. After his death, many people online baselessly claimed Bowman was killed because his products were a threat to the pharmaceutical industry. There is no evidence that conspiracy is true or that his expensive products work.
What does this have to do with Nipsey Hussle's death? Hussle spoke openly about taking Bowman's products. On a popular hip-hop radio talk show, Hussle said Bowman was killed because he was "playing with some pharmaceutical money," and the rapper said he was working on a documentary on Bowman's trial. That interview fueled the Hussle conspiracies; in it he said if he died it would be because of the documentary.
There is no evidence that Hussle was killed because of his faith in Bowman, but his status as a celebrity counter-establishment "healer" has lent unwarranted credibility to speculation that those who follow his teachings will become targets.
Conspiracy theorists cite the death of TLC's Lopes in a car crash in Honduras as "proof." To this day, they claim she was killed because of her connection to Bowman, but there's nothing in the recordings or other testimony to suggest that was the case.
Hussle's death expands on that conspiracy. Without evidence, fans claim that Hussle's documentary project made him a target of unseen forces that prop up the pharmaceutical industry. Now, artist and famous Mariah Carey ex-husband Nick Cannon says he will step in to finish Hussle's documentary. Already, tweets saying that Cannon may become a target have started to go viral.
As of now, there is no evidence whatsoever that Hussle's death is connected to the Bowman documentary he was working on. But his last tweet, typical of most rappers' flair for the dramatic on the platform, may be leading people to suspect otherwise.
CORRECTION
Nick Cannon is Mariah Carey's ex-husband. An earlier version of this story said he was her ex-boyfriend.