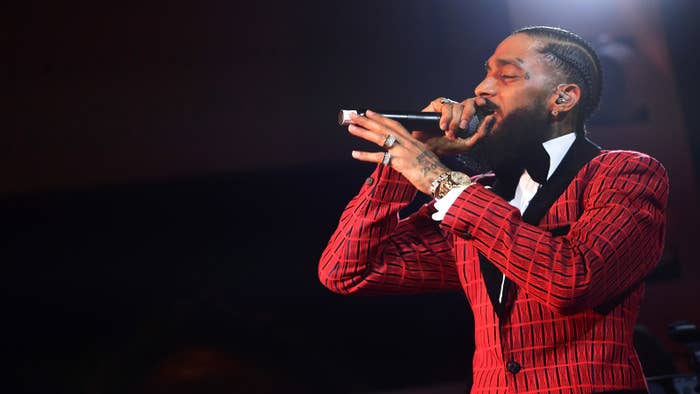 The suspect in the shooting death of rapper Nipsey Hussle was arrested Tuesday, Los Angeles police said.
Eric Holder, a 29-year-old from Los Angeles, was taken into custody after being detained by Los Angeles County sheriff's deputies in the town of Bellflower, ending a two-day manhunt, officials said.

Hussle, a Grammy-nominated artist and entrepreneur, was shot and killed outside his store, Marathon Clothing, on Sunday afternoon in South LA.

Detectives believe Hussle's death "is not related to rivalries between gangs," but "rather a dispute between the individuals," LAPD Chief Michel Moore said at a news conference Tuesday.
Hussle, 33, had been open about his ties as a teen to the Rollin 60's, part of the infamous Crips gang, but encouraged other young people from his neighborhood to look toward technology and business opportunities. Moore said the suspect was also a member of a gang, but did not identify which one.
The police chief did not explain the men's relationship to each other or the possible reason for the argument, but said it "appears to be a personal matter between the two of them."

Police said video evidence and witness statements showed that Holder walked up to Hussle in the parking lot and spoke with him outside his store on multiple occasions Sunday before returning with a handgun and "purposefully and repeatedly" shooting Hussle. Two men with Hussle were also injured.

The suspect then escaped in a car driven by an unidentified woman, who the LA Times reported had turned herself into police.

"The community is the one helping us solve this case," Moore said in asking people with information to come forward.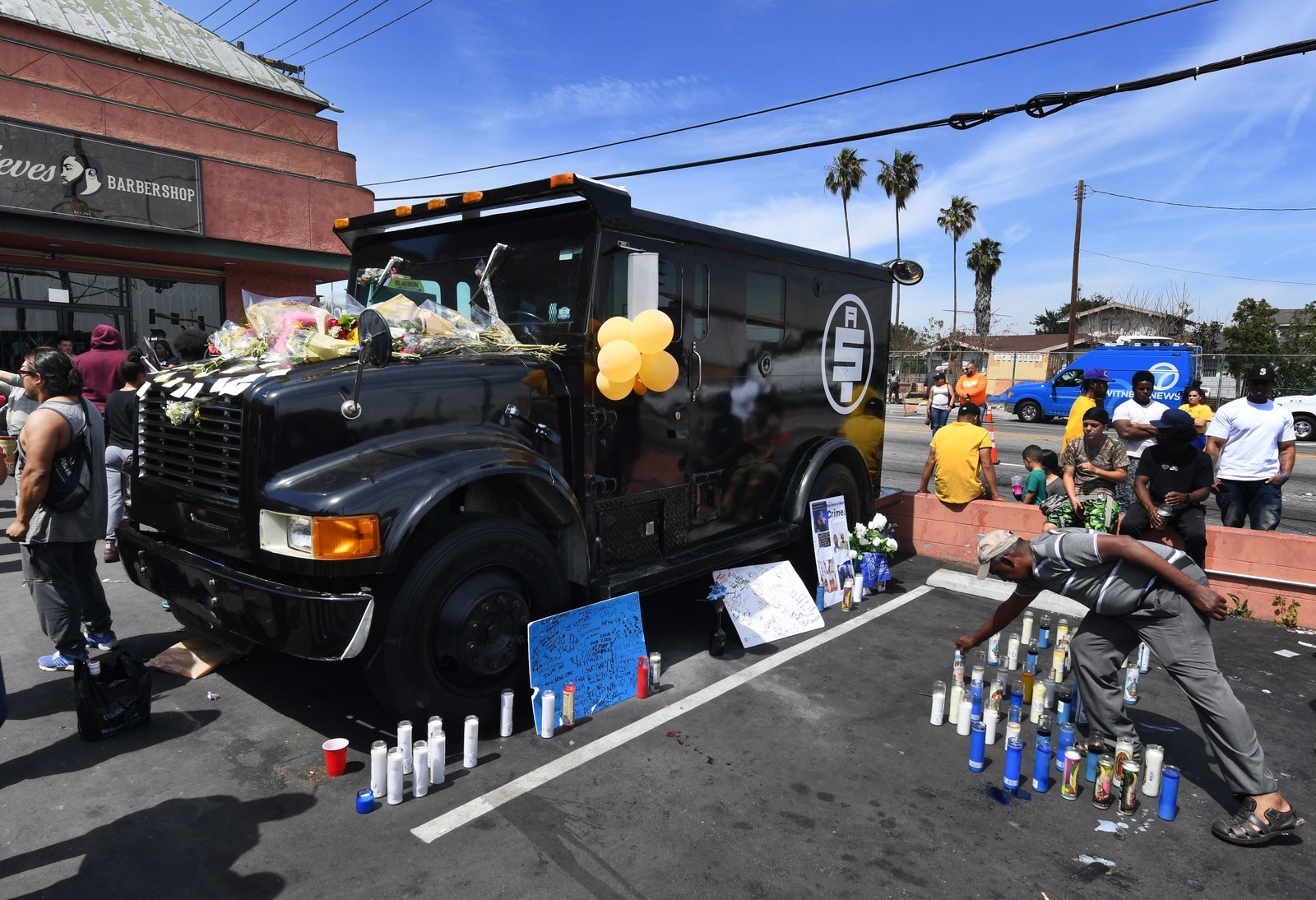 On Monday night, the parking spot where Hussle was killed turned into a memorial, attracting hundreds of mourners.

The vigil had been peaceful, but shortly after 8 p.m., a man began brandishing a handgun, Moore said.
Police had "no information right now" that he shot anyone with it, but another person in the crowd tried to disarm the man and panic broke out, Moore added.
Nineteen people were injured in the stampede that took place as hundreds of people tried to flee at once.
The majority of injuries were sprains and cuts. One injured individual was reportedly stabbed.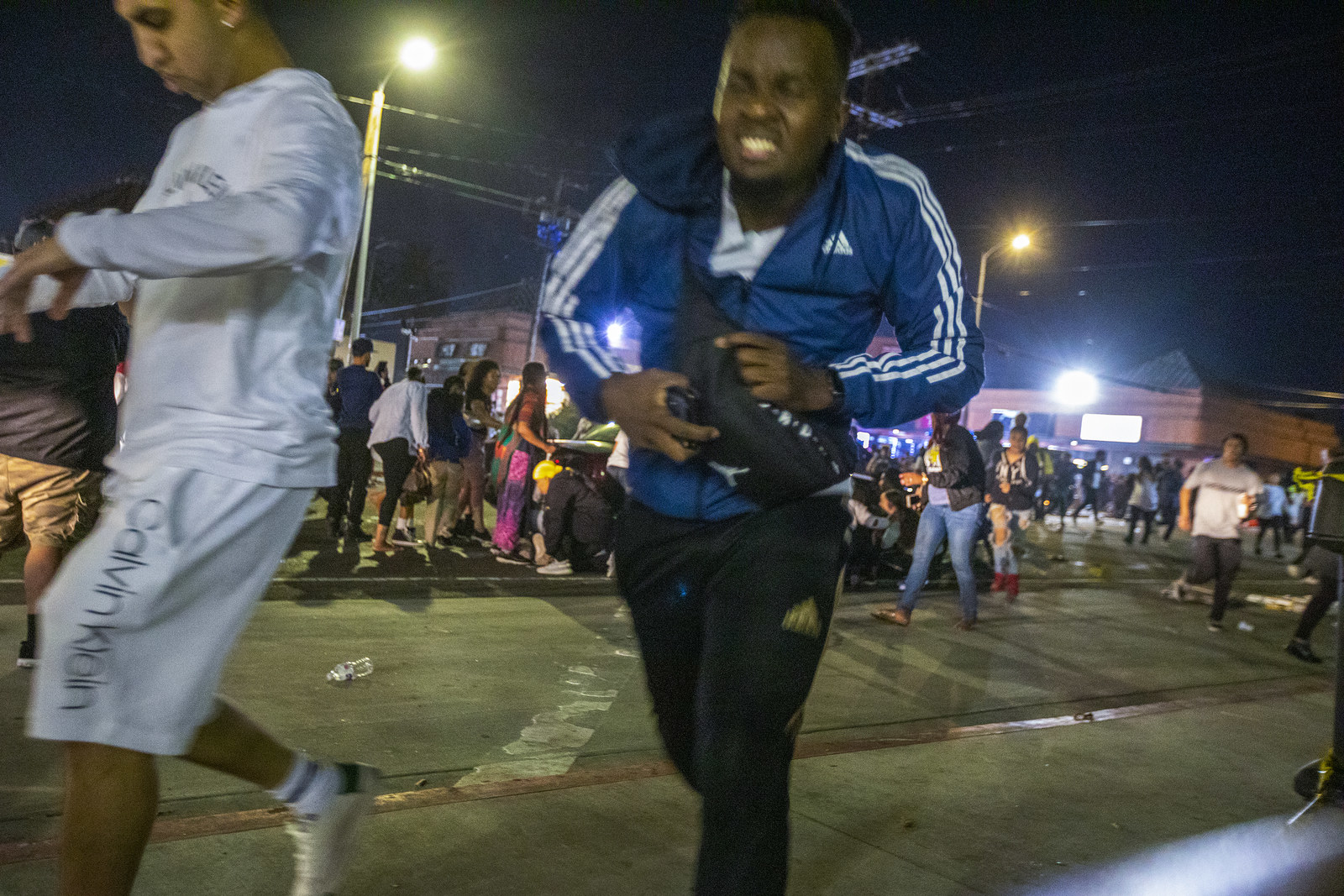 Two women appeared at a local hospital after 11 p.m., saying they had been shot at the vigil, but it was unclear what actually happened, Moore said.
The police chief noted that a commander was at the vigil and witnessed the stampede and said there were no reports of gunfire.
"At this point, I'm lacking information that a shooting occurred," Moore said.
He also encouraged people to gather at the memorial space peacefully and to "not allow this sacred ground to be the site of any further violence."
Moore noted that there had been a worrying increase in gun violence in South LA in recent weeks, particularly involving black men.
Incidents of gun violence had averaged 13 victims a week in January and February, but doubled in March to 26 a week, with the spike "nearly entirely" occurring in the 77th Street area of South LA where Hussle was killed.
Moore and police commissioner Steve Soboroff had been scheduled to discuss gang violence with Hussle and representatives from Roc Nation on Monday, the day after he was killed.
During the press conference, Soboroff read out the email he received from Hussle on Feb. 26 requesting the meeting.
"Our goal is to work with the department to help improve communication, relationships and work towards changing the culture and dialogue between the LAPD and the inner city. We want to hear about your programs and your goals for the department as well as how we can help stop gang violence and help you help kids," it stated.
Moore said sometimes in policing, officers do a double take and struggle to process the horror in front of them.

"Sunday afternoon was that for me," he said, recounting the moment he received a message from the LA Fire Department about three shooting victims, including the rapper.
"I was reading it, standing in the street, exactly where I was, and then saw the name, Nipsey Hussle, and I looked at it again, and I looked at it again. I could not believe it," Moore said. "Nipsey Hussle represents the enormity of the lives we have lost."
Stephanie K. Baer contributed to this report.